Five Biggest Offseason Storylines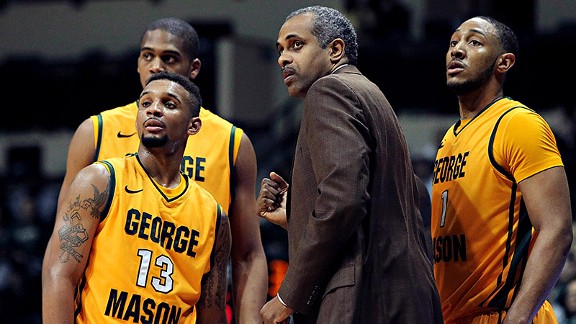 Kim Klement/USA TODAY SportsBest known for its run to the Final Four in 2006, George Mason joins a restructured A-10.
1. The new Atlantic 10: Get your notecards ready for this one. Things have changed in the A-10. Again. For a moment or two, the league seemed positioned to shed its standing as one of the nation's top gray conferences: not necessarily one of the top six, but definitely not a mid-major league, either. But then Butler (after just one season) and Xavier bolted for the new Big East. Temple left for the American. And Charlotte joined Conference USA. Desperate for some new blood, the league invited George Mason. Got that? Four gone, one new squad for a total of 13 teams (with Davidson joining next season). The good news for the conference is that it's still relatively strong, if not as deep as previous years. La Salle, Saint Louis and VCU should warrant top-25 consideration in the preseason polls. For fans (and sportswriters), however, it might take some time to grasp realignment's impact on this league.
2. John Giannini signs extension: After La Salle reached the Sweet 16 in March, rumors about Giannini's future began to circulate. The Explorers' coach told reporters the buzz was fabricated, but it certainly seemed reasonable to consider him a possible target after he'd led the program to its first NCAA tournament appearance since 1992 and its best run in it since 1955. Minnesota, UCLA, USC, Rutgers and other high-major programs possessed spring openings that Giannini could have filled, but the extension he signed with La Salle in late April ended that chatter. The move gives his program the stability it needs to build off last season's surge. The Explorers should be league contenders again. Ramon Galloway is gone, but three double-digit scorers -- Tyreek Duren, Tyrone Garland and Jerrell Wright -- return. Giannini has the tools to repeat 2013's postseason triumph, or even top it.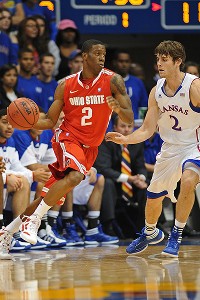 Peter G. Aiken/USA TODAY SportsAfter a year at Ohio State, Jordan Sibert headed west on I-70.
3. Jordan Sibert gets fresh start at Dayton: When he joined Ohio State's 2010 recruiting class, Sibert was ranked 82nd in the ESPNU 100 and even higher by other sites. But the 6-foot-4 wing got lost within the Buckeyes' vast talent pool (3.0 points and 11.4 minutes a game in 2011-12) and decided to transfer to Dayton last year. The Flyers lost top scorer Kevin Dillard (15.3 PPG) so they need an explosive player who can consistently get to the rim. Maybe Sibert can play that role. His ESPN.com high school scouting report described him as a player with "exceptional athleticism." Sibert told the Dayton Daily News that he felt like he was "just another number" at Ohio State, but he could be a star for Archie Miller's program. Here's his chance to prove it.
4. VCU searching for new leader: Shaka Smart might possess the most skilled team of his tenure. Juvonte Reddic, Treveon Graham, Briante Weber and Rob Brandenberg return. And Florida State transfer Terrance Shannon (7.9 PPG, 5.6 RPG in 2012-13) will be eligible to compete this season. Plus, former top-100 recruits Mo Alie-Cox and Jordan Burgess will be available in 2013-14 after sitting out last season due to academic issues. There are few questions about VCU's talent level. But who will lead? Darius Theus was the heart of the program and the team's assists leader last season. Troy Daniels contributed on some of the best teams in the program's history. The Rams don't have a complete leadership void. They have multiple candidates. But someone on the roster must assume that role if this squad intends to fulfill its vast potential.
5. UMass loses Jesse Morgan: Derek Kellogg's program appeared to be the A-10's dark horse as the summer approached. Star Chaz Williams (15.3 PPG, 7.3 APG, 2.0 SPG) returned after considering the NBA. That was major news for a program that won 21 games and finished 9-7 in conference play last season. With former Western Kentucky standout Derrick Gordon (11.8 PPG, 6.7 RPG in 2011-12) eligible, this team has some notable pieces. Morgan (13.4 PPG in 14 games in 2012-13) would have elevated the team even more, but he suffered an ACL injury midway through last season, and he withdrew from school in April, a decision that reportedly was linked to disciplinary actions. With Williams' sidekick, Terrell Vinson, gone, Morgan could have given UMass a significant boost in its bid to finally return to the NCAA tournament and fight for the A-10 crown. It's a major loss for the team.
ESPN Staff Writer
Covers college basketball
Joined ESPN.com in 2011
Graduate of Minnesota State University, Mankato
Best-Case/Worst-Case Scenarios
Dayton
Best case: The Flyers have always been competitive, both under former coach Brian Gregory and current coach Archie Miller. What they've lacked is consistency, particularly on the defensive end. If promising sophomores Dyshawn Pierre and Jalen Robinson can do enough to maintain this team's efficient offensive output, and Dayton shores things up on defense (incoming freshman small forward Kendall Pollard could factor here), Miller's third year might yet provide the March breakthrough. A more forgiving conference schedule will help.
Worst case: The loss of seniors Kevin Dillard and Josh Benson might hurt most on the Flyers' already-shaky defensive end; Benson was one of the best shot-blockers in the conference. If that portion of Dayton's game doesn't improve, another inconsistent, .500-ish season is the likely outcome.
Duquesne
Best case: Considering the struggles at Rhode Island and Fordham, finishing dead last in the A-10 last season took some doing. But Duquesne did it, going 1-15 in league play, and the best case in Jim Ferry's second season as coach involves a nudge up to respectability, if not relevance.
Worst case: The dreaded, rare zero-win conference season. Perish the thought.
Fordham
Best case: The Rams weren't much better than the Dukes, but they do have the prospective advantage of youth -- all but two contributors last season were freshmen or sophomores. (And the lone senior, leading scorer Chris Gaston, was an inefficient possession magnet.) Building from that foundation is the goal.
Worst case: Youth is nice, but whether any of Fordham's young pieces can elevate the program is a huge question.
George Mason
Best case: With former coach Jim Larranaga pushing Miami to the hoops elite, and former Patriots forward Luke Hancock playing a star role in Louisville's national title run, 2012-13 was a bittersweet year for George Mason fans. The good news? The Patriots escaped the struggling Colonial in time to join the more prestigious, albeit weakened, Atlantic 10. With a handful of seniors, Paul Hewitt's team should be able to transition fairly well, but the best case still feels well short of a tournament berth.
Worst case: Stasis. The Patriots finished ranked No. 131 in Ken Pomeroy's adjusted efficiency rankings last season. With many of the same players returning and minimal help on the way, the added nightly challenge of a better league could make a repeat of last season look far worse to the untrained eye.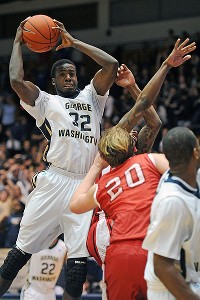 MCT/ZUMA Press/Icon SMIAfter transferring from Villanova, Isaiah Armwood had a quietly effective season at GW.
George Washington
Best case: The Colonials were a sneaky-tough out last season thanks primarily to their defense, which was top-50 quality for most of the year. The problem was offense, but if a crop of sophomores plays more fluidly, senior shot-blocking beast Isaiah Armwood and GW could be one of the season's surprise stories.
Worst case: No matter how well Armwood protects the basket, it won't matter much if the Colonials keep turning it over on more than 23 percent of their possessions -- one of the highest rates in the country last season.
La Salle
Best case: La Salle was a fun offensive team that never quite got there defensively, but some sizzling play in March (and a few favorable matchups) took the Explorers from the opening round in Dayton to the Sweet 16. Senior Ramon Galloway is the only notable loss to contend with; everyone else is back, promising forward Steve Zack will return from injury, and an A-10 title should be coach John Giannini's realistic goal.
Worst case: La Salle has a crop of intriguing guards waiting to take over for Galloway, but the fact remains that the senior put up an efficient offensive performance -- and made scores of key plays -- while consistently dominating the ball. Can fellow usage maven Tyrone Garland maintain that consistency? If not, will La Salle be the same offensive team? If the Explorers squander the giddy momentum swelling around this once-proud, long-dormant Big 5 program, that's the worst possible outcome.
Massachusetts
Best case: UMass loved to run these past two seasons, which made sense, given the quick-twitch skills of generously listed 5-foot-9 point guard Chaz Williams. Expect more of the same this season, minus senior forward Terrell Vinson. If lanky 6-9 junior Raphiael Putney puts it together, the Minutemen might turn their preference to play as fast as any team in the country into a decided strategic advantage.
Worst case: At the end of the day, if you finish ranked 82nd in points per possession and 115th against (as UMass did in 2012-13, per Pomeroy), hitting the 70 possessions per game mark is less a tactic than a stylistic preference.
Rhode Island
Best case: It only translated into three conference wins, but if you look closer at Rhode Island's 2012-13 effort, you see an undermanned team that frequently pushed superior opponents to the brink. Coach Dan Hurley still has a long way to go with this program, but with a hard-working foundation in place, the Rams could get a nice boost in its reputation.
Worst case: Wins and losses aren't really the barometer here, but with so many close games against good teams in league play, the Rams had to feel like they left something on the table last season. Doing so again in Hurley's second year would be brutal, whether the final league record is better than 3-13 or (gulp) worse.
Richmond
Best case: Spiders coach Chris Mooney appeared close to completing his post-Sweet 16 rebuilding project last season, but his team was hampered by injuries for huge swaths of the campaign. If everyone can stay healthy, and if Rhode Island can add some defense (incoming freshman forward Josh Jones has earned high marks from scouts here) to their already-excellent offensive play, a return to the tournament is well within reach.
Worst case: If the newcomers can't nudge Richmond closer to above-average -- or if the Kendall Anthony/Derrick Williams/Cedrick Lindsay trio doesn't collectively improve on the defensive perimeter -- it again will be difficult for the Spiders to set a consistent night-to-night baseline.
Saint Joseph's
Best case: Everything finally comes together. Two years ago, coach Phil Martelli's young team was full of promise. Before last season, when it returned all five starters, it was picked to win the A-10. That never happened, as a group of promising juniors (Ronald Roberts, Langston Galloway, C.J. Aiken) plateaued, and rumors of discord emanated from Hagan Arena. Second chances are rare in life, as the cliché goes, but this definitely qualifies.
Worst case: This team is what it is. There's nothing wrong with that; if anything, calling last season disappointing has just as much to do with offseason perceptions (and our old-school obsession with a lack of turnover) as reality. It's hard to imagine this team actually regressing, even without senior leader Carl Jones, but after two almost identical seasons, what if the ceiling is already visible?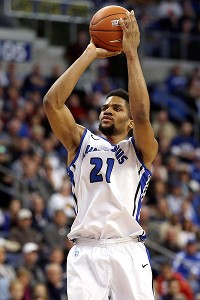 AP Photo/Jeff RobersonSLU's leading scorer and rebounder, Dwayne Evans, is back to lead the Billikens.
Saint Louis
Best case: Saint Louis did its former coach (the legendary Rick Majerus) a great honor last season, persevering through his death in December en route to a 28-7 season and a No. 18 final adjusted efficiency ranking. Losing Cody Ellis and Kwamain Mitchell hurts, but getting Dwayne Evans, Jordair Jett, Mike McCall and Rob Loe back means the Billikens should be able to replicate most of 2012-13's brutally tough defensive work -- and maybe make an even deeper tournament run this time around.
Worst case: One can't simply wave away the losses of Ellis and Mitchell, both team leaders and stalwart defenders (Mitchell, in particular, who was utterly ruthless against opposing ball handlers). Evans looks primed for a monster offensive year, but can SLU replicate last season's success if the defense dips?
St. Bonaventure
Best case: The Bonnies were almost a mirror image of George Washington last season -- perfectly capable on offense, downright putrid on defense. With their most frequent offensive contributors gone, maybe the best case for coach Mark Schmidt's group is a season that builds around some defensive principles as part of a multiyear reformation project.
Worst case: Barring some surprise explosion from players stepping into larger roles, or some equally surprising defensive leap, it will be almost impossible for Schmidt to replace guard Eric Mosley's high volume (31.4 percent shot rate) and efficiency (117.3 offensive rating), to say nothing of fellow departed senior Demitrius Conger (who posted a 116.9 offensive rating while playing 90.3 percent of his team's available minutes). A step back seems almost inevitable; the worst case is a significant one.
Virginia Commonwealth
Best case: For all of the attention VCU's ingeniously branded "HAVOC" defense received last season, the Rams were actually better on offense, where they mixed a lethal cocktail of easy turnover points with 3-point shooting. Losing Troy Daniels and Darius Theus is a knock in both cases, but if the Rams become less dependent on forcing turnovers (while still forcing lots of turnovers, don't get me wrong) they could simultaneously maintain last season's impressive success and be less stylistically vulnerable come tournament time.
Worst case: Last season, VCU was the best in the country at making other teams cough up the rock, better even than eventual national champion Louisville. But when the Rams didn't force a turnover, their defense was woeful. If this trend continues, and the loss of Daniels reduces offensive potency in more conventional games, coach Shaka Smart may have to slightly recalibrate before he can engineer another deep tournament run.
ESPN Staff Writer
Covers college basketball
Joined ESPN.com in 2009
Graduate of Indiana University
Five Freshmen To Watch
Jordan Burgess, VCU: Academic issues kept Burgess off the floor last season, but he was allowed to practice with the team as a partial qualifier. Burgess, ranked 96th in the 2012 recruiting class by ESPN.com, gives Shaka Smart a talented 6-foot-5 wing who enhances the HAVOC defense with his size and athleticism.
Tanner Lancona, Saint Louis: Coach Jim Crews picked up one of the league's steals when Lancona, a former Washington State signee, chose the Billikens over multiple high-major programs. The 6-8 forward averaged 19.0 PPG and 11.0 RPG as a senior star in California. Lancona could make an immediate impact.
E.C. Matthews, Rhode Island: Coach Danny Hurley has acquired a multitude of young building blocks at URI since he accepted the job last year. Matthews, a four-star prospect on ESPN.com, is one of the top incoming prospects in the Atlantic 10. The 6-4 wing could be the anchor of the Rams' future.
Jon Severe, Fordham: The reigning Mr. Basketball in the state of New York picked a struggling program in part because he wanted to stay home. He had offers from Kansas State, Pitt and West Virginia after averaging 21.6 PPG his senior prep season. The 6-2 guard could be a game-changer in the Bronx.
Dayshon Smith, Dayton: Meanwhile, this Bronx native attracted high-major offers from Providence and Illinois before signing with coach Archie Miller's program. Smith is a big, savvy point guard who matured toward the end of his prep career, which is why he drew so much late interest.
ESPN Staff Writer
Covers college basketball
Joined ESPN.com in 2011
Graduate of Minnesota State University, Mankato
Most Important Player
Dayton: Vee Sanford

After the Flyers lost two of their top three scorers (Josh Benson, Kevin Dillard), Sanford will be vital for their offense. He was ranked 21st in efficiency in the Atlantic 10 per KenPom.com (among players who used at least 20 percent of their team's possessions) after averaging 12.3 PPG in 2012-13. The Flyers owned one of the nation's most efficient offenses, but their defense struggled (136th in adjusted defensive efficiency). Sanford's improvement will be critical in maintaining the former and improving the latter. But it's a new role for him.
Duquesne: Derrick Colter

The sophomore point guard is the most important player on the team because he's one of the few who stayed after last season's 1-15 finish in the Atlantic 10. Four players from the 2012-13 squad have transferred, and there are eight new players. Colter (13.5 PPG, 5.2 RPG) is one variable that hasn't changed; he is the only player who started in all 30 games last season, when he was the team's top scorer, and will be responsible for holding the new nucleus together. That's a grand responsibility for any underclassman. But the adversity Colter endured a year ago and this offseason prepared him for it.
Fordham: Travion Leonard

The Rams went 3-13 in the A-10 last season, but it was a young team. Five of the top six scorers, including Branden Frazier (14.2 PPG, 5.0 APG), are back. So coach Tom Pecora's program could make strides in 2013-14, especially if Leonard blossoms. He had 12 points and four rebounds in 26 minutes against Saint Louis in February. But he had 10 points and nine rebounds in 23 minutes against Butler a few weeks later. The 6-foot-8, 275-pound mountain has the tools to mature into a more consistent, conditioned threat for Fordham.
George Mason: Sherrod Wright

Last year's CBI championship summed up the benefits and frustrations of riding with Wright. The senior guard went 0-for-6 in Game 1 against Santa Clara; 4-for-11 with 20 points in Game 2; and 9-for-16 with 24 points and 10 rebounds in the third and decisive game. Wright (16.6 PPG, 4.9 RPG) was GMU's most productive offensive player last season, and the only one who averaged double figures. He's the star again, but spreading the load and reducing turnovers (2.6 per game in 2012-13) will be significant for Wright and coach Paul Hewitt's program.
George Washington: Isaiah Armwood

The Villanova transfer was a major addition for a young team last year. After sitting out in 2011-12, Armwood registered 11.9 PPG, 8.8 RPG, 2.3 BPG and 1.0 SPG. His athleticism and versatility helped the Colonials evolve into one of the league's top defensive units (No. 52 in adjusted defensive efficiency, per KenPom.com). GW brings back the young core of a program that finally showed signs of life last season. With Armwood inside and Indiana transfer Maurice Creek likely in the mix, George Washington could make some serious noise in the league in 2013-14.
La Salle: Jerrell Wright

The bad news for the Explorers? Prolific scorer Ramon Galloway is gone. The good news for the Explorers? The bulk of the contributors return from a squad that reached the Sweet 16 last season. Tyreek Duren (14.2 PPG) and Tyrone Garland (13.1 PPG) will help coach John Giannini's program sustain its status as an Atlantic 10 contender. But Wright (10.8 PPG, 6.7 RPG, 1.0 BPG) is the most important player on the roster. If the 6-8 junior can build off his impressive effort in the NCAA tournament -- 6-for-6 with 21 points and eight rebounds in a win over Kansas State; 16 points and five rebounds in a Sweet 16 loss to Wichita State -- he could be a star in 2013-14.
Massachusetts: Chaz Williams

He could have gone pro but probably made a wise move by returning. The seasoned point guard has a talented group around him at UMass. Now he has to make it all work. And that's a difficult task for any point guard, more so for a player who took 169 more shots than the No. 2 returning shooter on the roster (Raphiael Putney had 214 field goals to Williams' 383). Will Williams continue to evolve as a leader? Or will he revert to the "me-first" ball that's caused problems for him in the past? Either way, his 3.5 turnovers per game won't suffice.
Rhode Island: Xavier Munford

Danny Hurley's rebuilding project got off to an expectedly rough start in 2012-13 when Rhode Island won just eight games and finished 3-13 in conference play. But progress should be evident this season. The three Division I transfers who sat out last year will be eligible. And Munford (17.4 PPG), a senior, is the top returning scorer in the league and fourth-best in offensive efficiency (95.9) last season. The Rams could turn the corner if the transfers produce and Munford is consistent. His shooting clip (39.4 percent), free throw shooting (71.4 percent) and turnovers (2.7 per game) were problematic last year. Upticks in all three would benefit the program.
Richmond: Cedrick Lindsay

With Darien Brothers gone, Lindsay will be Richmond's offensive catalyst in 2013-14. Three players who averaged double-figures last season are back for a UR team that won 19 games. So the Spiders could rise, but Lindsay's production will be pivotal. His final performance of the season was an ugly 3-for-10 effort in a loss to Wright State in the quarterfinals of the CBI. And that wasn't an anomaly. Those shaky outings were just as common as his great nights. But Lindsay (12.0 PPG, 3.1 APG, 1.3 SPG) could be a star this season. Correction: Lindsay should be a star this season.
Saint Joseph's: Langston Galloway

C.J. Aiken should've been the most important returning player, but the forward entered the NBA draft and went undrafted. So Galloway (13.8 PPG, 39.4 percent from beyond the arc) becomes the leader of a Hawks team that features four seniors. But they'll go into 2013-14 without top scorer Carl Jones and top defender Aiken. Still, this is a promising group due to its experience. Galloway's numbers were down a year ago. He was a better 3-point shooter, free throw shooter and rebounder in 2011-12, even though he averaged 35.7 minutes per game in both years. Coach Phil Martelli needs an efficient Galloway in his program's mission to contend with the league's best.
Saint Louis: Dwayne Evans

Coach Jim Crews had the interim tag removed following a successful stint with the Billikens that ended with an A-10 championship in 2012-13. Kwamain Mitchell and Cody Ellis are gone from that team, but Evans is back. The 6-5 senior led the team in scoring and rebounding last season (14.0 PPG, 7.7 RPG and 1.3 SPG) and finished with a 115.0 offensive rating, per KenPom.com. From mid-February through the end of the season, Evans was one of the league's most dominant players. If he continues to anchor a Saint Louis squad that finished eighth in adjusted defensive efficiency, the Billikens could make an impressive run in next year's NCAA tournament
St. Bonaventure: Youssou Ndoye

No team in the Atlantic 10 has as many question marks as the Bonnies. The program's top three scorers from last season -- Demitrius Conger, Eric Mosley and Chris Johnson -- were seniors on a squad that went 14-15 overall and 7-9 in league play. So multiple players will be asked to assume larger roles. Ndoye is at the top of that list. The 7-footer was a raw sophomore last season in need of some polish. When he put it all together, however, he looked like a big man with a bright future. He had 14 points, 14 rebounds and 4 blocks in a December loss to NC State. The Bonnies need more of that from Ndoye in 2013-14.
VCU: Treveon Graham

The junior is a significant factor in the early hype about this Rams team. This is a very deep roster with impact players at every spot on the floor -- coach Shaka Smart reached the Final Four a few years ago with less talent. Graham (15.1 PPG), last season's top scorer, had an explosive sophomore campaign in 2012-13. Don't be surprised if he's on a few preseason All-American lists. This season, however, Graham needs more balance. In four of VCU's pre-NCAA tournament losses, he took 16 or more field goals. He's a proven scorer who can carry the load for the Rams. But he has to realize that he doesn't have to go solo in tough situations or force shots.
Goodman: A-10 Power Rankings
The Atlantic 10 was all-powerful a year ago after commissioner Bernadette McGlade added VCU and Butler. One season later, it's not quite as top-heavy, after the departure of the Bulldogs, Xavier, Temple and Charlotte. However there's still plenty of quality depth in the league, which now totals 13 teams after the addition of George Mason.

VCU is the clear-cut top choice to win the A-10, but after that it's a tough call, with minimal separation among the next eight or nine teams. There won't be quite as many easy conference victories this season, either, with Rhode Island, Fordham and Duquesne moving in the right direction.
1. VCU Rams
Coach Shaka Smart will have his deepest team since he's been at VCU, but the key will be leadership after losing veteran point guard Darius Theus. Defensive-minded guard Briante Weber likely will get the first shot at replacing Theus as the team's floor leader, but Smart has other options. The strength of VCU won't just be in numbers (Smart hopes to play 11 guys consistently), but it's with the duo of forward Treveon Graham (15.1 PPG and 5.8 RPG) and senior Juvonte Reddic (14.6 PPG, 8.1 RPG). With the addition of Florida State transfer Terrance Shannon, Graham will see more time at small forward, his natural position.
To see how Goodman ranks the rest of the A-10, read the rest of his Insider predictions here.
La Salle Aims To Maintain Momentum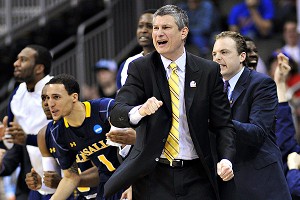 Peter G. Aiken/USA TODAY Sports
La Salle coach John Giannini certainly has reaped the benefits of a magical March run.
He threw out the first pitch at a Phillies game. He picked up transfers from out of the region, not the norm for a school considered more or less regional for much of its history.
And most importantly, he picked up a contract extension after the team's Sweet 16 appearance. The loyalty both sides have shown since Dr. John arrived in 2004 -- despite only reaching the postseason the past two seasons -- is admirable.
Still, Giannini is well aware that for the Explorers to be nationally relevant again, they cannot shrink from A-10 title contention, and they have to be a consistent visitor to the NCAA tournament. Last season's tourney berth was the school's first since 1992, and the trip to the regional semifinals was its best run since 1955.
"First we had to win consistently in the A-10,'' Giannini said. "We did. Then making the NIT was the next step, then making the NCAA tournament. I like our team. We're talented. We're experienced. We're bigger. We're confident. But we're also realistic.''
To read the rest of Andy Katz's story on the Explorers, click here.