Five Biggest Offseason Storylines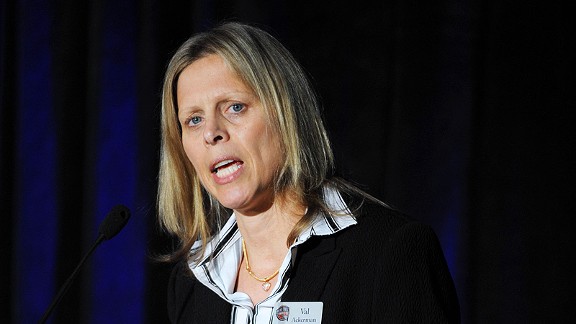 Andrew D. Bernstein/NBAE/Getty ImagesIt took awhile, but this summer the new Big East found its new commissioner: Val Ackerman.
1. Existence: What's the biggest Big East storyline from this offseason? How about the fact that the league is beginning? The conference's stops and starts, both furious and slow, have been well documented for the past several months but it officially was born on July 1, 2013 and that in and of itself is a victory. The road getting here wasn't pretty at times and it wasn't easy -- the bickering and in-fighting among the presidents and athletic directors would make middle school girls blanch -- but at least it's here. There are still questions to answer. The partnership with Fox Sports 1 will be worth watching, just to see if the startup league and startup network can gain a foothold in the crowded television block, especially with ACC games moving into the Big East's old Big Monday slot on ESPN.
An office would be nice. Maybe a staff would be a good thing. But let's face it. This could have been a disaster. Most of these schools easily could have been conference realignment roadkill, left on the side of the road by the football bus. Instead, the league has been reborn mostly in its own image. These are basketball-first programs, and there is little to quibble with the additions of Creighton, Xavier and Butler. The league did the wise and prudent thing to stop at 10 members now and reconsider later.
2. The new boss in town: The last piece of the Big East puzzle fell into place, albeit belatedly, when the league announced Val Ackerman as its new (or is it first?) commissioner in late June. For most of the summer, she's been a one-woman show. The Big East still needs to round out its staff. Heck, the league really could use an office. Most rightly applauded the hire. There is no denying Ackerman's basketball chops, from her playing days at Virginia through her experience at USA Basketball, the NBA and WNBA. She knows the game and has a lifelong commitment to it.
Still, it's an interesting, borderline risky hire for a fledgling conference. She has little experience in the college game and right now, the league commissioners run this little pocket of the world. Her charge, sans football, is different than her peers but she still has to elbow her way in to the gilded circle, especially now with the cries to find a new division for college football. That's all good and well, but someone will be asked to fight the basketball fight and Ackerman will have to be the woman to do it.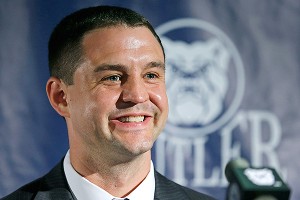 AP Photo/Michael ConroyBrandon Miller takes over Butler just as the school transitions to a new league.
3. A new face at Butler: The most stunning bit of news out of this offseason came with the firework announcement that Brad Stevens was bolting Butler for the Boston Celtics. The hush-hush shocker shook up what had been a pretty quiet offseason. Into the pretty big loafers walks new head coach Brandon Miller. The assistant coach follows Butler's long-standing tradition of hiring from within (Thad Matta, Todd Lickliter and Stevens), a tradition that has served the school extremely well. But Miller's job, few would argue, is a little tougher than his predecessor's. As good as the Bulldogs have been, they have long been the big dog in the show. Now Butler will tango with some of the biggest names and traditions in college basketball and it will be up to Miller, a first-year head coach, to lead the program through it. Betting against Butler has been seriously bad advice for a long time now so those counting Miller out would probably be wise to change their thinking. Still, there is no denying that the most surprising departure of the offseason has led to one of the more intriguing situations to monitor this season.
4. The game's best walk-on: Whether Creighton has the best team in the Big East and the best player in the nation will be determined. There's no arguing the Bluejays have the best walk-on in the country. After the NCAA agreed to give Grant Gibbs his sixth year of eligibility, coach Greg McDermott tabbed son, Doug, a non-scholarship player. With no scholarships left to offer, someone had to take the financial hit and the coach, arguing he could afford the tuition, chose his son. It's a funny twist but also big news for Creighton because McDermott now has his wingman back. Gibbs, a Gonzaga transfer whose career has been hamstrung by injuries, petitioned the NCAA for the extra year, arguing that microfracture surgery prevented from playing in his first year at Creighton. Buoyed by the support of his ex-coach, Mark Few, Gibbs got the year. A superb leader, he also is a terrific playmaker, the kind of guy who will have no problem setting up the prolific McDermott for points. And the walk-on likely will deliver.
5. A nice way to start off the New Year: Lost in all of the start-up news this offseason was the Big East's announcement about how it is actually going to start the conference. It's tremendous. The league will officially debut with a five-game, all league marathon of games on Dec. 31: St. John's at Xavier at noon ET; Seton Hall at Providence at 2:30; DePaul at Georgetown at 5 p.m.; Villanova at Butler at 7:30 p.m.; and Marquette at Creighton at 10 p.m. Rare do I fall for marketing gimmicks as big news but this one is too good to pass up. If you're going to start a league, start it with a bang.
ESPN Senior Writer
College basketball reporter.
Joined ESPN in 2007.
Graduate of Penn State University.
Best-case/worst-case scenarios
Butler
Best case: Butler fans were shocked when wunderkind coach Brad Stevens bolted for the Celtics this summer, but some small part of their reaction had to include gratitude: In a half-decade, Stevens not only guided Butler to two Final Fours but to a spot in the Atlantic 10, and then the new Big East, a far cry from the tiny Horizon League role he inherited. He also left behind some talent, most notably hot-shooting guard Kellen Dunham, who could return more well-rounded and ready for a monster sophomore season.
Worst case: The long-term strength of the program is secured, but the Bulldogs could struggle a bit in their first Big East season. Losing stalwart forward Andrew Smith hurts, as Butler's roster still looks much more like its old undersized Horizon editions, to say nothing of leading scorer and (makeshift) point guard Rotnei Clarke. Dunham, Roosevelt Jones and Khyle Marshall represent a good place to start, but without a true point and some bigs, the Big East transition could be rocky. If that happens, expect the Stevens-related laments to amplify. That sounds like a worst case to me.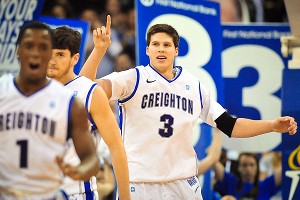 Dave Weaver/USA TODAY SportsThe nation's second-leading scorer last season, national POY candidate Doug McDermott hopes to lead Creighton to a Big East title.
Creighton
Best case:
Getting Doug McDermott back for Creighton's inaugural Big East season was massive; he has a chance to be the first three-time, first-team All-American since Patrick Ewing. The return of sixth-year senior guard Grant Gibbs (following an NCAA appeal) and his lights-out passing might be just as important. After two years of good offense and bad defense, the Bluejays have to be sturdier on the defensive end. If they are, they're a league title contender -- and then some.
Worst case: I suppose you could worry about playing in a tougher league, but the realistic nightmare scenario isn't some slap in the face; it's the risk that Creighton still plays great offense and bad defense, and in some sense squanders McDermott and Gibbs' final years with another merely good campaign.
DePaul
Best case: Winning six league games in three seasons is bad enough, but far worse was the idea that coach Oliver Purnell would never earn the respect of a bruising local recruiting scene. Major progress in the latter is evident in the arrival of Morgan Park product Billy Garrett Jr., a four-star point guard who should help solid seniors Brandon Young and Cleveland Melvin get DePaul somewhere closer to respectability this season.
Worst case: New conference, a new Chicago arena in the works, a promising local prospect, two tenured seniors -- the worst case is that all of the natural momentum these facts imply is squandered, and the new DePaul that Purnell is so eager to build is nowhere to be found this season.
Georgetown
Best case: Few teams in the new Big East have recruited and developed as well in the past half-decade or so as the Hoyas under coach John Thompson III, which is why, despite losing Otto Porter, they belong on the short list of league title contenders as a baseline. The ceiling is even higher if sophomores Stephen Domingo (a sweet-shooting 6-foot-7 wing who joined the Hoyas a year early last summer) and D'Vauntes Smith-Rivera improve. If UCLA transfer Josh Smith gives the Hoyas anything remotely approaching his potential, that's all icing.
Worst case: There's a lot returning here, and plenty of talent ready for larger roles, but there is no downplaying the loss of Porter, the college game's most versatile player on both ends of the floor last season. Forget production; filling the psychological gap of not having Porter to fall back on (see both regular-season games against Syracuse, for instance) may take time.
Marquette
Best case: Buzz Williams has a gravel pit for a voice and suits that make Sinatra look like a hobo, but don't let the style overshadow the substance -- Williams hasn't missed a tournament in his five-year tenure, nor a Sweet 16 in the past three years. With Davante Gardner in line for a monster season, there's little reason to expect change, even if the Eagles' ceiling might not be quite as high.
Worst case: Gardner is going to be very good again, and having Jamil Wilson and Todd Mayo in larger roles sounds promising. But even for a coach who specializes at wringing good seasons out of unheralded prospects and hard-nosed junior college transfers, losing Vander Blue, Junior Cadougan and Trent Lockett all at once could force a step-back sort of year.
Providence
Best case: Elite prospect Ricardo Ledo was supposed to take the Friars out of the cellar this season, but after being ruled academically ineligible as a freshman, Ledo decided to leave for the NBA draft before playing a minute for his hometown school. That's not ideal, but it's OK, because 2013's No. 2-ranked point guard Kris Dunn is back and getting better; immensely underrated guard Bryce Cotton is still in the building; and four-star small forward Brandon Austin arrives this summer. Providence was much better than its 19-15 record last season; a tournament bid would be just scratching the surface in 2013-14.
Worst case: The bullishness you just read was not a put-on for the sake of a best-case argument; it really is difficult to imagine how Providence won't be at least as good as it was last season. Failing to follow up on 2012-13's promise is the biggest risk here.
St. John's
Best case: If you had to project teams based on recent recruiting rankings, St. John's might be the Big East title favorite. Few coaches in the country have stockpiled well-regarded preps as Steve Lavin has in recent seasons. The hope is that this underachieving group of former four-stars -- which is adding another stud, No. 3-ranked point guard Rysheed Jordan, this season -- finally coalesces into something formidable.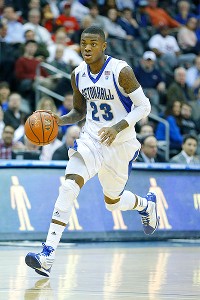 Jim O'Connor-USA TODAY SportsFuquan Edwin has done his part, but Seton Hall hasn't had a winning league record since 2006.
Worst case: The other option is more of the same: Super-talented guys who notice each other only slightly more often than they notice their defensive responsibilities, which is to say not very often at all. This team has too much talent to go 17-16 again, but basketball, as always, is so much more than talent.
Seton Hall
Best case: The Pirates limped to a 3-15 finish in the Big East last season. Can they do more in a new league? Seniors Fuquan Edwin and Eugene Teague provide skill and experience in varied measure, and a crew of sophomores and juniors should fill in around the edges. Let's call the best case "make some noise." That would be an improvement, at least.
Worst case: Tom Maayan has to get better. The sophomore point guard played big minutes for coach Kevin Willard last season despite turning the ball over on 54.1 percent of his possessions. That has to stop. The Pirates have the pieces, but the question is whether they are talented enough to weather that kind of sloppiness.
Villanova
Best case: After an extended swoon -- which followed a period of consistent, almost routine, excellence -- coach Jay Wright appears to have his Wildcats on the upward track once again. Juniors JayVaughn Pinkston and Darrun Hilliard played quality defensive minutes last season; Ryan Arcidiacono appears to be a credible career point guard type, and fellow sophomore Daniel Ochefu has the tools to dominate on the interior. Throw four-star prospects Kris Jenkins and Josh Hart into this mix, and Villanova should be able to build on last season's impressive defensive foundation and get back to the tournament, at the very least.
Worst case: The Wildcats did two things well last season. They guarded people and they got to the foul line. If those limits exist in 2013-14, they'll still be decent, but unless they find some perimeter shooting at the absolute minimum, it's hard to project much more.
Xavier
Best case: Xavier is not a program accustomed to down years, but after waves of standard turnover in recent seasons, coach Chris Mack had to rebuild slightly around intriguing but incomplete guard Semaj Christon last season. Christon, a sophomore this fall, got better as the season progressed and could be a star if he shores up his shooting. Incoming four-star point guard Brandon Randolph should be able to assist in this regard.
Worst case: For a program that went to the Sweet 16 four times between 2008-12, missing the tournament two seasons in a row seems unthinkable. But it's still within the realm of possibility here.
ESPN Staff Writer
Covers college basketball
Joined ESPN.com in 2009
Graduate of Indiana University
Most Important Player
Butler: Roosevelt Jones

The good news for Brandon Miller -- he inherited a pretty well-stocked cabinet, including the tough-as-nails Jones. The versatile junior led Butler in assists, was second in rebounding and third in scoring. Listed at 6-4, Jones plays bigger and stronger, two skills that will be of big value in the bruising Big East.
Creighton: Doug McDermott

What else can be said about McDermott? The All-American and national player of the year candidate of last season gave the college game -- and of course, the Bluejays -- a boost when he opted to return to college for his senior year. He will be the runaway leader to land most of the national awards this season.
DePaul: Cleveland Melvin

Blue Demon fans keep waiting for the breakthrough and waiting for the breakthrough. If anyone will ever get them through the wall, it will be Melvin. The senior already has more than 1,400 points in his career and has proven he can stand his own against whatever the competition.
Georgetown: Markel Starks

The Hoyas face a double-whammy of reconstructing this season, with Otto Porter gone to the NBA and Greg Whittington's return to the lineup now sidelined by a torn ACL. A lot of the workload will fall on Starks' shoulders. He was the second-leading scorer behind Porter last season, averaging 12.8 points per game, But it was easier to find those points when Porter offered a distraction.
Marquette: Davante Gardner

The old Big East's Sixth Man of the Year, Gardner has proven to be a Big East beast. He averaged 11.5 points per game and offered a serious paint presence to the Golden Eagles last season. Without Vander Blue and Junior Cadougan, Gardner is now the top returner and could emerge as the go-to scorer for Marquette.
Providence: Bryce Cotton

Cotton stemmed the tide through injuries so well last season that he eventually emerged as a legit league player of the year candidate for the Friars. He led the league in scoring, averaging 18.3 points per game. Ed Cooley has people talking about PC for the first time in a long time and it's because of guys like Cotton.
Seton Hall: Fuquan Edwin

Put Edwin in the same category as Cotton -- a darkhorse for Big East player of the year (presuming somehow Mc Dermott doesn't win it). He averaged 16.5 points and 5.8 rebounds as a one-man wrecking crew for the Pirates a year ago. Seton Hall might be in transition this season, but Edwin won't be. He's a terrific player worth watching.
St. John's: JaKarr Sampson

The Big East rookie of the year earned the award the easy way, finishing as the leading freshman scorer and rebounder. The young Red Storm struggled to finish in 2012-13, but with a solid roster returning, is expected to be more consistent this year. Sampson will have a lot to say about that.
Villanova: Ryan Arcidiacono

The freshman playmaker had a serious baptism by fire, pressed not only into service, but also into a lot of it. He averaged 34 minutes per game, a workload that at times hurt his shot selection and choices. But all of that experience should pay huge dividends as Arcidiacono returns, after a summer with USA Basketball, for his sophomore season.
Xavier: Semaj Christon

The point guard got all of the hot invites this summer -- the Nike Basketball Point Guard Skills Academy and the LeBron James Skill Academy. Deservedly so. Arguably one of the best at his position last season, Christon was the Atlantic 10 Rookie of the Year, averaging 15.2 points per game and 4.6 assists.
Goodman: Big East Power Rankings
The new Big East is as difficult a league to project as any in the entire country. Butler, Xavier and Creighton have joined seven programs from the old Big East to form a "basketball-centric league" that doesn't have much separation from one to eight. Even the bottom of the league has made strides and won't be a compete walkover.

There's no clear favorite. Creighton brings back a superstar, Georgetown lost its stud, Marquette will be a factor despite significant turnover and Villanova returns the core from a team that went dancing a year ago. St. John's and Xavier should be improved after sub-par seasons while Ed Cooley could have Providence in the hunt. We haven't even mentioned a Butler team that no longer has Brad Stevens at the helm.
Plenty of questions abound -- and we help you answer them in our Big East Preseason Power Rankings.
1. Marquette Golden Eagles
Buzz Williams and the Golden Eagles lost a bunch of last season's team. Vander Blue made a poor decision and decided to leave school early, and the team also lost true point guard Junior Cadougan and fellow starter Trent Lockett. However, this program has been pretty successful since Williams took over five years ago, going to the NCAA tournament each time and winning at least 22 games in five consecutive seasons. Marquette will need Jamil Wilson to step into a starring role, and he's certainly more than capable.
To see how Goodman ranks the rest of the Big East, read the rest of his Insider predictions here.
Five Freshmen To Watch
Reggie Cameron, Georgetown: The 6-7 swingman can score from beyond the arc, but also post up inside. Sound familiar? Yes, people invariably will make comparisons to Otto Porter, which of course will be unfair. Then again, if Cameron can become Porter-esque, watch out.
Kris Jenkins, Villanova: Jenkins is a typical Jay Wright big man -- slightly undersized but ferocious. He likes to rebound and do the dirty work, and isn't afraid to bang bodies in the paint. Without Mouphtaou Yarou, the Wildcats need a presence inside and Jenkins could help to provide it.
JaJuan Johnson, Marquette: One of four recruits in ESPNU's top 100 for Buzz Williams, Johnson arguably has the most tongues wagging. Versatile and athletic, the Memphis native can play the point and small forward.
Rysheed Jordan, St. John's: The Philadelphia native is another recruiting feather in Steve Lavin's cap. Jordan picked St. John's over UCLA and hometown Temple. He gives the Red Storm yet another terrific athlete -- he averaged 24.8 points per game in his senior year of high school and drained 53 3-pointers.
Duane Wilson, Marquette: Expect Wilson to roll into the sneakers vacated by Junior Cadougan. The point guard, who opted to stay home, is a top-100 recruit who can score effectively but also is a terrific floor general.
Will Slimmer Smith Help Hoyas?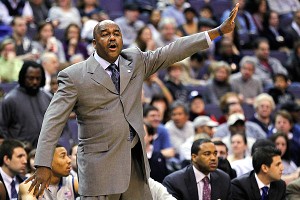 Geoff Burke/US PresswireJohn Thompson III hopes to have Josh Smith available in the paint by the second semester.
Joshua Smith's ability to get on the court in his new role at Georgetown and be productive, to play a full season without any issues, is not simply about his weight.
This is about his commitment to working, finding cardiovascular endurance and believing in himself enough to crave the sustained energy that will help him be a contributing member of Georgetown's basketball team and, most importantly, staying healthy in the years ahead.
Smith said he weighed 350 pounds when he arrived at Georgetown last winter after transferring from UCLA. He's around 310 now and, at 6-foot-10, would like to play at 290. These are numbers he has set for himself -- with no one's instruction. There is no correct weight compared to height in sports. Some can move quickly at a certain weight, some cannot.
"I've taken the approach that let's not talk about numbers," Georgetown coach John Thompson III said. "I've told him, 'Let's get to a point where you can stay on the court for two minutes, then stretch it to five and then five to nine and then nine to 15.' Some people can play at 200, some at 250, some above 3 and some can't play above 150. He's got to get to a point where he can stay on the court for an extended period of time."
If that happens, Thompson has high hopes for the highly touted center out of Kent, Wash.
"A committed Josh Smith, I'm not sure there is a better big man in the country," Thompson said. "He has the instincts and the physical tools to be better than any big man I've had."
To read the rest of Andy Katz's story on Smith, click here.