Five Biggest Offseason Storylines
AP Photo/John BazemoreOle Miss guard Marshall Henderson averaged 20.1 PPG last season but has put his career in jeopardy.
1. Marshall Henderson suspended: Henderson (20.1 PPG) led Ole Miss to a win in the NCAA tournament weeks after the program had appeared to stumble into the NIT. His effort also helped Andy Kennedy change his status from "coach on the hot seat" to "coach with an extension." But Henderson was also known for his, uh, flamboyant demeanor, one that affected his performances on and off the court. Tweets about guzzling beers and something called White Girl Wednesday made the former junior college standout the most enigmatic character in college basketball last season. But he was suspended in July due to multiple failed drug tests. In addition, police allegedly found marijuana and cocaine in his vehicle during a traffic stop in May. Henderson's return or potential dismissal will be the most important storyline for both Ole Miss and the entire SEC. The Rebels have lost two of their top three scorers. Henderson would make three. He carried the program last season, but his off-court behavior could bring doom in 2013-14.
2. Tennessee loses Trae Golden, gains Antonio Barton: The loss of Golden was a discouraging development for a UT program that emerged from the offseason's rubble as an SEC sleeper talented enough to potentially challenge Kentucky and Florida for the league title. Golden (12.1 PPG, 3.9 APG), who was a veteran point guard for the program, was forced to withdraw in April. Even though Jarnell Stokes and Jordan McRae return, Golden's departure seemed to jeopardize the promise the Volunteers possessed. Enter Barton (the brother of former Memphis star Will Barton), who transferred to Tennessee weeks after Golden had departed. The 6-foot-2 point guard will be eligible immediately after graduating from Memphis in the offseason. Although he averaged just more than 16 minutes per game and 5.6 PPG last season, his experience and versatility will give the Vols a much-needed veteran ball handler in what could be a stellar season in Knoxville.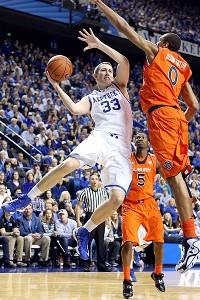 Andy Lyons/Getty ImagesInstead of a third season at UK, Kyle Wiltjer opted for a transfer.
3. Kyle Wiltjer leaves Kentucky: John Calipari assembled one of the greatest recruiting classes in NCAA history. Perhaps you've heard about it. Julius Randle is one of six McDonald's All Americans who will join UK in 2013-14. There's plenty of talent in Lexington, enough to place the Wildcats atop many lists of national-title favorites. But leadership and experience could be concerns -- much like they were in 2012-13 -- with Wiltjer transferring to Gonzaga. The process began with a pair of letters from both Calipari and Wiltjer that conveyed some uncertainty about the Canadian's future. But when he officially announced his decision last month, Kentucky lost a player who can stretch the floor (10.2 PPG, 37 percent from beyond the arc in 2012-13) and its only link to the 2011-12 national championship squad. The Cats still have more talent than any other team in college basketball without him. But inexperience could be a problem again.
4. Pro decisions shift the league: The NBA draft changed the SEC. There were some good decisions, some bad decisions and a few ridiculous ones. Jarnell Stokes pondered the jump but returned to Tennessee. Smart move for a young man who needs to prove he can dominate -- consistently -- in 2013-14. Ditto for LSU's Johnny O'Bryant. Kentucky sophomores Willie Cauley-Stein and Alex Poythress chose to come back for another season, too. Those moves were boons for their respective teams. But former Missouri point guard Phil Pressey diminished the Tigers' potential when he turned pro. He wasn't drafted, but a standout effort in summer league ball led to a guaranteed one-year deal with the Boston Celtics. Arkansas went from sleeper to barren when B.J. Young and Marshawn Powell left early. Neither was drafted. Young signed a deal with the Houston Rockets, and Powell went overseas, which will force Arkansas to rely on young players next season. And Vanderbilt's Kevin Bright recently signed a contract with a German team so he could be closer to his sick mother.
5. Dismissals hurt trio of teams: Disciplinary challenges have hurt a few SEC programs this offseason, too. Last month, Vanderbilt lost Bright and Kedren Johnson (13.5 PPG), the Commodores' top scorer from last season, for the entire 2013-14 season. The junior was suspended by the university for a "violation," according to a letter he penned about the situation. This season was supposed to be a promising one for Kevin Stallings' squad, but these departures could lead to another season filled with struggles. Tony Barbee recently dismissed starter Shaquille Johnson following an arrest on a charge of marijuana possession. And Devonta Pollard, a former McDonald's All American, left Alabama. Pollard is facing a federal charge for his alleged part in a scheme to kidnap a girl in a land dispute. His mother was the alleged ringleader of the operation. Pollard could have helped a Bama team that also lost Trevor Lacey, who transferred to North Carolina State.
ESPN Staff Writer
Covers college basketball
Joined ESPN.com in 2011
Graduate of Minnesota State University, Mankato
Best-Case/Worst-Case Scenarios
Alabama
Best case: Anthony Grant has had his share of challenges at Alabama, but he has checked every box a program like the Crimson Tide's needs: He has established a style (hard-nosed, physical, defensive); he has recruited well, but to his own system; and he has handled off-court issues (such as when he suspended three starters in the midst of a crucial bubble stretch in 2012) swiftly and with zero corners cut. Now the Tide are finding their rhythm. Combining four-star freshmen Jimmie Taylor and Shannon Hale with a group that returns basically everyone -- save transfer Trevor Lacey -- should produce one of the top five teams in the SEC, and maybe more.
Worst case: If the freshmen don't pop, there's a chance this is the same team as in 2012-13 -- a merely OK bubble-bound squad that defends well but can't put the ball in the bucket. That's hardly a disaster, but it's not the trajectory Grant has in mind.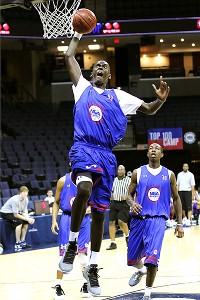 Courtesy of Kelly Kline/Under ArmourMcDonald's All American Bobby Portis is No. 16 in the ESPN 100.
Arkansas
Best case: Mike Anderson drew raves upon his hire at Arkansas, uniting a proud but deflated fan base around the right-hand man of glory days architect Nolan Richardson. The Razorbacks have been better since Anderson's arrival, but they've yet to totally work the "40 Minutes of Hell" system to their advantage. If freshmen big men Bobby Portis and Moses Kingsley can get up and down the floor, Anderson could have a fearsome combo on his hands. Best case? Let's start with a tournament bid -- and some really entertaining basketball to boot.
Worst case: Losing B.J. Young and Marshawn Powell (NBA draft) and Hunter Mickelson (transfer to Kansas) probably doesn't hurt as much as it might seem at first glance, but Young dominated possession as a sophomore, and if Anderson can't mold some semblance of consistency out of the talented parts that remain, another underachieving effort is probably on deck.
Auburn
Best case: Since he took over three years ago, coach Tony Barbee has had as many program departures -- whether through transfer, dismissal, or (as in the case of point guard Varez Ward) point-shaving scandal -- as he does conference wins. After another wave of defections, some signs of life are all that's required.
Worst case: Barbee's diligence in ridding his program of malcontents or worse has been impressive; coaches in his position typically suffer fools in exchange for wins. But it has put him in a dire position in Year No. 4.
Florida
Best case: After three seasons playing with shot-happy Kenny Boynton (and two with Erving Walker, it should be noted), the physical specimen that is Patric Young should get his star turn as a senior. The question is what he does with it. If he hits the most bullish projections -- if he dominates the rim on both ends of the floor -- Florida has Final Four potential.
Worst case: It's also possible that Young is what he is at this point. If so, it will take some immediate stardom from freshman point guard Kasey Hill -- and/or positive news on the Chris Walker front -- for the Gators to keep their Elite Eight streak intact.
Georgia
Best case: The Kentavious Caldwell-Pope era came and went with minimal fuss, a point emphasized by the NBA draft this summer, when Caldwell-Pope served as the classic "but I never watched him play" test subject among late-coming NBA analysts. Now Georgia coach Mark Fox has to rejigger an already-anemic offense that sent 33.1 percent of its shots to one player. Even the best-case scenario looks like rebuilding.
Worst case: It's possible that Caldwell-Pope was the only thing keeping the bottom from totally falling out under the UGa offense, in which case this season looks even worse than rebuilding -- it looks like a step back.
Kentucky
Best case: An undefeated season. I know, I know: That's crazy. But when you consider how close the 2012 group came (a last-second shot at Indiana and one blase SEC tournament performance were their only losses) and the talent the 2013-14 group has at its disposal, is it really that crazy? A national title is the obviously expectation going into the season; what if the Cats somehow do more?
Worst case: Losing in the Final Four? Losing in the national title game? Expectations are so high that almost anything but a national title will feel like the worst possible outcome. Crazy, but that's where we are.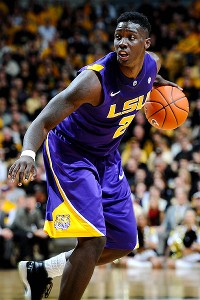 Dak Dillon/USA TODAY SportsWith Johnny O'Bryant leading the way, LSU seems to be a popular sleeper pick out of the SEC.
LSU
Best case: The Tigers were already better than you probably remember last season; they even flirted with the tournament bubble for a week or two. They'll bring back every starter save senior Charles Carmouche, and they're adding the No. 11-ranked player in this loaded recruiting class, Baton Rouge's own Jarrell Martin. A tournament bid -- and a huge local profile boost for the program -- is absolutely in play.
Worst case: Adding Martin, it's hard to imagine the Tigers won't noticeably improve, but if they don't, and Martin takes his raw potential to the NBA draft next summer, a huge opportunity will have been missed.
Mississippi State
Best case: Rick Ray inherited almost nothing from the Rick Stansbury era when he took over the program last year, and he's still in full-on rebuild mode this season.
Worst case: If we're still here in a couple years' time, it might be different, but for now there's no such thing.
Missouri
Best case: It will be a fascinating season at Mizzou. Almost all of the vestiges of the team that won the 2012 Big 12 tournament title are gone, including ball-dominating point guard Phil Pressey, in their place a mix of Frank Haith's intriguing 2013 recruiting class and a swath of recent transfer additions. There's talent here, but is it enough to get in the NCAA tournament?
Worst case: Missouri won't be bad, but its worst case could basically end up as a holdover year as Haith stacks pieces for seasons to come.
Ole Miss
Best case: Speaking of fascinating seasons, things are going to be wild in Oxford, Miss. That's due in large part to Marshall Henderson, who will be likely returning after his manic junior year helped get the Rebels to the NCAA tournament for the first time in Andy Kennedy's tenure. He's currently in a highly publicized drug-related suspension, and assuming he's reinstated, he will have to develop his game in a variety of areas for Ole Miss to repeat its March performance this season.
Worst case: Even if Henderson exceeds last season's performance (a big if), the loss of three seniors, including bruising forward Murphy Holloway, could make the repeat tournament hopes moot.
South Carolina
Best case: The Gamecocks are going to get better in the years to come. That's essentially guaranteed, given the recruiting boost new coach Frank Martin has produced in just a year's time. The fruits of those efforts should show up right away -- South Carolina will feature a top-100 recruit (Sindarius Thornwell) this season, which is not something I've ever written, ever -- but for now an NCAA tournament trip is too much to ask.
Worst case: Meh. What's the worst that could happen? Barring some personnel issue, it's all uphill climb in Columbia.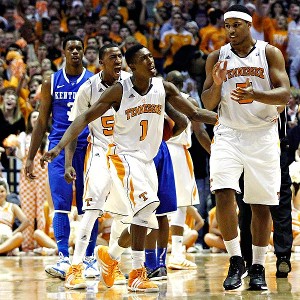 AP Photo/Wade PayneMost major contributors return to a Tennessee team that has narrowly missed out on the NCAA tournament in each of the past two seasons.
Tennessee
Best case: The Volunteers lost Trae Golden this offseason, but most of the other key pieces are back, including rangy perimeter scorer Jordan McRae and pounding forward Jarnell Stokes. If UT can shore up the so-so defense of a year ago and big-time recruit Robert Hubbs lives up to the hype, it might be the best challenger to Kentucky the SEC has to offer.
Worst case: The Vols finished No. 75 in Pomeroy's adjusted efficiency rankings last season, which might be a good place to plant the worst-case flag for the year ahead.
Texas A&M
Best case: Junior college product Fabyon Harris was key in 2012-13, and 6-foot-9 sophomore Kourtney Roberson looked capable of an even larger offensive load. But A&M has a lot to replace in departing senior Elston Turner, and the best case is probably still short of the tournament.
Worst case: An even worse year than last season's definition-of-mediocre 18-15 campaign.
Vanderbilt
Best case: Before late June, the best case here might have been a return to the tournament. But on June 29, the school announced that rising junior Kedren Johnson was suspended for the entire season for the result of what Johnson called "very poor judgment." It also announced that promising would-be sophomore guard Kevin Bright had taken a pro contract in his native Germany. Kevin Stallings' rebuilds are steady, textbook affairs. The textbook is out the window now.
Worst case: Vanderbilt probably can get by without Johnson and Bright, but it almost certainly isn't going to go to the tournament, and any worst-case scenario involves the kind of single-digit-wins season that everyone will want to forget as soon as it happens.
ESPN Staff Writer
Covers college basketball
Joined ESPN.com in 2009
Graduate of Indiana University
Most Important Player
Alabama: Trevor Releford

Releford will carry one of the heaviest loads in the SEC next season, even with two top-100 recruits entering the mix at Bama (Jimmie Taylor, Shannon Hale). Trevor Lacey (11.3 PPG, 3.8 RPG, 3.2 APG, 1.4 SPG, 37 percent from 3) transferred to NC State in June. And former McDonald's All American Devonta Pollard withdrew from the school because of legal issues. Four of the team's top five scorers return, but Lacey helped Releford as much Releford helped Lacey. Releford (14.9 PPG, 2.5 APG, 41 percent from the 3-point line), however, can carry the Crimson Tide. The All-SEC first-teamer is that dynamic. But his load might be somewhat heavier in 2013-14
Arkansas: Bobby Portis

It's rare for a freshman to occupy the "most important player" slot, but the decisions to turn pro by B.J. Young and Marshawn Powell left a void for Arkansas. And Portis, a five-star prospect per RecruitingNation, might be asked to fill it. The 6-9 prospect could be a one-and-done performer for the Razorbacks. Ranked 16th in his class, he won't be afforded the typical grace period that most freshmen enjoy. Arkansas has a bunch of question marks. So expect Portis to earn early opportunities to help. The Razorbacks need a lot of it.
Auburn: Chris Denson

Tony Barbee had enough challenges with the loss of his No. 1 and No. 3 scorers, Frankie Sullivan and Rob Chubb. Then, he dismissed former top recruit Shaq Johnson after a drug-related arrest. So Denson has to be a leader for a program that went 3-15 in the SEC and 9-23 overall last season. The Tigers will need the 6-foot-2 wing to do everything in 2013-14. He's versatile (11.9 PPG, 3.0 RPG, 1.6 APG, 1.0 SPG) at least, but most high-level 2-guards don't shoot 28 percent from beyond the arc. He also has to improve his 66 percent mark from the charity stripe.
Florida: Patric Young

With Young inside, Florida is definitely Kentucky's greatest threat in the SEC title race. The senior (10.1 PPG, 6.3 RPG, 1.6 BPG) could end his career as one of the country's top post players -- if he gets the ball. He was a stalwart defensively, but just fourth on the team with 261 field goal attempts last season. Cody Zeller finished with 354 at Indiana. Jeff Withey took 318 for Kansas. Mason Plumlee finished 2012-13 with 369. Young was one of the best players in the country last season. With more opportunities, he could be an All-American for the Gators.
Georgia: Nemanja Djurisic

Before he was a lottery pick for the Detroit Pistons in June, Kentavious Caldwell-Pope was the SEC's player of the year for a team that rallied for a 9-9 league record. KCP alone was responsible for 30 percent of Georgia's points total last season. How important was he for UGA? Djurisic, a 6-8 junior, averaged 7.9 PPG, and he's the squad's top returning scorer. One player will not replace Caldwell-Pope. Mark Fox's program will demand more balance next season. But every program needs a star. And Djurisic could assume that role for the Bulldogs. Someone has to.
Kentucky: Willie Cauley-Stein

Cauley-Stein was clearly raw through his first season, but there's always room in the NBA for a shot-blocking 7-footer who averaged 2.1 BPG and 23.6 MPG last year. Cauley-Stein, however, should blossom in his second year. It's a boost for John Calipari, who will have an athletic big man with some experience next to his fleet of McDonald's All Americans. Cauley-Stein's offense was limited last season, but the Wildcats will have multiple players who can fill up stat sheets. His defensive tools and ability to score in transition could be the elements that push Kentucky to the top of NCAA pyramid in April.
LSU: Johnny O'Bryant

O'Bryant considered the NBA, and his departure would have been a major hit for the Tigers. But he's back. Bryant and McDonald's All American Jarrell Martin will anchor what could be one of America's emerging programs this season. LSU's struggles overshadowed the impact that O'Bryant (13.6 PPG, 8.7 RPG) had throughout the SEC slate, as the 6-9 forward was a member of the All-SEC first team. With Martin available, he'll have more help and the Tigers have some capable building blocks for the 2013-14 season, one that could be special for the program if O'Bryant continues to grow.
Mississippi State: Craig Sword

Rick Ray had terrible luck in his first season at Mississippi State. The former Clemson assistant lost four players to season-ending knee injuries in what was a turbulent year that featured few ups and a plateful of downs. But Sword was a bright spot for the program. He was a member of the SEC's all-freshman team after averaging 10.9 PPG, 2.9 RPG and 2.3 APG. Now he's back to help Ray make strides with the Bulldogs in Year 2.
Missouri: Jabari Brown

In his first season with the program, Brown made an immediate impact when he became eligible mid-semester. The former Oregon signee averaged 13.7 PPG and hit 37 percent of his 3s in 24 games (23 starts) for the Tigers. The 6-3 wing's role will grow in 2013-14. Missouri will enter the year without four of its top five scorers from last season. That magnifies the pressure on Brown, who was ranked 26th in the 2011 recruiting class by ESPN.com
Ole Miss: Jarvis Summers

Sure, Henderson probably deserves this slot. But he's in limbo right now. So Summers could be the most crucial player on the team and its top returning scorer if Henderson fails to return. A 6-3 guard, Summers made 31 starts last season and averaged 9.1 PPG and 3.8 APG. Even if Henderson plays again, Andy Kennedy has to find replacements for veterans Murphy Holloway and Reginald Buckner. So Summers will have to step up offensively and defensively in his second season. And if Henderson gets dismissed, the spotlight will shine even brighter.
South Carolina: Brenton Williams

Frank Martin is doing a lot more than bumping Pitbull as his second season at South Carolina approaches. He's building a program. His 2013 recruiting class is anchored by Sindarius Thornwell, a 6-5 wing ranked No. 41 in RecruitingNation's list of the top 100 prospects. Plus, Williams is one of three returning players who averaged 9.9 PPG or more last season. The 5-11 guard hit 40 percent of his 3s and averaged 11.0 PPG in 2012-13. There are multiple SEC squads that could turn the corner in 2013-14. With Williams & Co. back, South Carolina is definitely on that list.
Tennessee: Jarnell Stokes

The junior big man finished the 2012-13 campaign with 16 double-doubles. Few players can match his size and strength. And if the motor stays on all season, Stokes (12.4 PPG, 9.6 RPG, 1.1 BPG) could be one of the nation's top post players. That, however, is just a possibility. Stokes' season was also hampered by his willingness to defer in tough situations or his refusal to play with more aggressiveness when his squad needed that from him. But the tools are there for an All-American season.
Texas A&M: Fabyon Harris

The Aggies are in a solid spot, too, in terms of returning talent. Three starters from last season are back. Harris, a senior, is the leader of that crew. He averaged 12.0 PPG for Texas A&M in 2012-13, and his 45.3 percent clip from beyond the arc was ranked 32nd nationally. The Ags crumbled in the final stages of last season, losing five of their last seven games. But Harris recorded double figures in all seven, a stretch that included 12 assists and seven steals. The bad? He also had 15 turnovers in those seven contests.
Vanderbilt: Rod Odom

Vandy finished strong in 2012-13, winning six of its final eight games. It was the perfect way to conclude the season for a squad with some talented young players and zero seniors. But the offseason gutted the program. Four players and nearly half the scoring load from a year ago, including star Kedren Johnson, are gone. That elevates the pressure on Odom (10.4 PPG, 4.5 RPG), who averaged 30.3 minutes per game last season. He'll join Tulsa transfer Eric McClellan and top-100 recruit Damian Jones in Vanderbilt's mission toward relevancy in the SEC.
Goodman: SEC Power Rankings
The top three in the SEC are fairly easy, but it's almost a guessing game after that. The league that is known for its pigskin prowess will have some powerhouse teams towards the top, but the majority of the conference took a step back from a year ago.

1. Kentucky
The million dollar question is whether the 2013-14 edition of the Cats will be more like the national title squad two seasons ago or the one that earned a trip to the NIT last year? Just two holdovers remain from last season, talented 7-footer Willie Cauley-Stein and combo forward Alex Poythress, who could wind up in a reserve role after averaging nearly 26 minutes per game as a freshman. The incoming class ranks No. 1 in the nation and boasts five players ranked in ESPN.com's top 10: power forward Julius Randle (No. 3), point guard Andrew Harrison (No. 5), center Dakari Johnson (No. 7), small forward James Young (No. 8) and shooting guard Aaron Harrison (No. 9). It's a young group and leadership and chemistry will likely determine whether another banner is hoisted to the rafters at Rupp.
To see how Goodman ranks the rest of the SEC, read the rest of his Insider predictions here.
Five Freshmen To Watch
Andrew Harrison, Kentucky: Harrison, ranked fifth in his class by RecruitingNation, is a 6-5 floor leader who could be John Calipari's next great one-and-done point guard. His size alone will make him a tough matchup. But he's also an elite playmaker. Young players, however, have to put the team first. Putting egos aside will be UK's greatest challenge. Harrison has to set the example with his performance.
Kasey Hill, Florida: Folks have thrown out Allen Iverson comparisons in conversations about the five-star recruit from the Bronx who turned down offers from Kentucky and Louisville to play for Billy Donovan. He's a shifty, speedy point guard who could make an immediate impact at the next level. He's another reason the Gators could surpass Kentucky as the team to beat in the SEC.
Moses Kingsley, Arkansas: The 6-9 freshman played next to Andrew Wiggins at Huntington Prep last season. And now he'll team with top-100 prospect Bobby Portis at Arkansas. The duo could form one of the league's best young frontcourts. He's long and energetic. He can block shots and run the floor. Remember the name.
Jarrell Martin, LSU: The No. 11 prospect in the 2013 class will have a chance to take part in a program's potential resurgence next season. Martin is a versatile forward who didn't play basketball during his first two years of high school. His elevation within his class is testament to his recent growth. And the latter could continue during his first year of college basketball.
Julius Randle, Kentucky: A 6-9, 220-pound individual shouldn't be able to pull off a behind-the-back, left-handed dunk. But that's exactly what the star of Kentucky's highly anticipated 2013 recruiting class did last summer at the Under Armour Elite 24 slam dunk contest. The No. 3 player in his class, per RecruitingNation, possesses a guard's mobility with an NBA power forward's skills.