Five Biggest Offseason Questions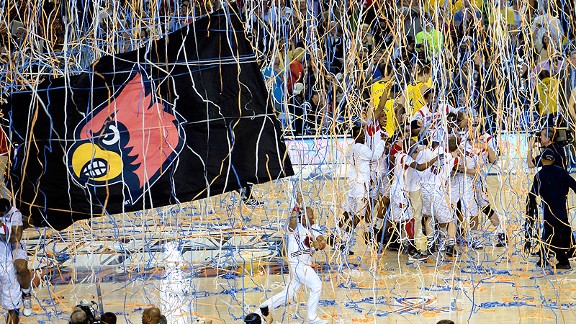 Richard Mackson/USA TODAY SportsLouisville will be one-and-done in the American Athletic Conference. Can it repeat as national champ?
Louisville's title defense looks very real: The Cardinals are not only the clear favorite in their one season in the American (before joining the ACC), but could make a strong case for No. 1 in the preseason polls. The last team that looked this prepared for a back-to-back title run was 2006-07 Florida. The Gators had more NBA prospects, but the Cardinals have just as many core players returning. Russ Smith, Montrezl Harrell, Luke Hancock, Chane Behanan and Wayne Blackshear are all back, and with the addition of highly touted guards Chris Jones and Terry Rozier, there are more than enough options for Rick Pitino to play the way he wants and most importantly, win. Kevin Ware could be in this mix as well. He's made a remarkable recovery from the gruesome compound fracture he suffered during the Elite Eight. Ware is walking well and is set to start running late in the summer.
UConn and UCF are eligible again: Connecticut and Central Florida were banned from the postseason last March. The Huskies were a legitimate NCAA tournament contender before injuries befell the team late in the season. UCF may have had a different vibe if the Knights were eligible heading into the C-USA tournament. But both programs get a fresh start this season. UConn should have a top-25 team. The Huskies may not have the ability to knock off Louisville for the American title, but there is no reason they can't hold off Memphis and Cincinnati for second. The pieces are in place for them to do so. Meanwhile, UCF has a real chance to make a name for itself in the new league. Louisville (and Rutgers) will be gone in a year, so before Tulsa, East Carolina and Tulane arrive, Central Florida needs to establish itself as a threat to UConn, Cincinnati, Memphis and Temple in the future. But the Knights will have company with SMU, Houston and South Florida all vying for the same goal -- to expand the top four into five or more.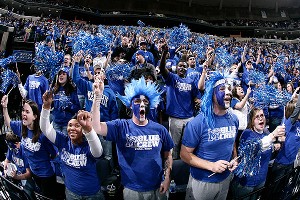 Joe Murphy/Getty ImagesThe Memphis fans who routinely pack FedExForum have great expectations for their Tigers.
The arrival of Memphis into the league: The Tigers should have been one of the first adds by the Big East -- before the breakup. Memphis provides a hoops hotbed, a passionate fan base, a pro arena and a perennial contender. Memphis also is a destination, one of the few in the league, and was a natural to host the first men's basketball tournament. The Tigers shouldn't have a shortage of talent in any year, but this is also the toughest conference Memphis has been in since the five schools left Conference USA and moved to the Big East in 2005. The onus is on Memphis to ensure that it competes for the title -- even this season with Louisville -- and beyond. Temple was a nice add as well due to its rich tradition and its inclusion of a major East Coast city in the fold. But Memphis should give the American an anchor for years to come.
The hiring of Eddie Jordan at Rutgers: The Mike Rice scandal smeared Rutgers with a stain that will take some time to remove. While Jordan had a degree flap -- it was revealed he never completed his requirements -- the school has gotten over this latest issue. Jordan is taking his studies seriously and is intent on getting a degree. He has brought a number of different factions back together in the Rutgers community in the hope that he'll deliver a competitive program that doesn't cause any problems. He's been able to secure transfers, but Jordan needs time to recruit. He has coached at the highest level, so that shouldn't be cause for concern. The key will be recruiting to the Big Ten in a year and ensuring Rutgers continues to move in an upward trajectory. The Scarlet Knights are going through a major transition, but Jordan seems to be the right person for the job at this time because he wanted the position and has unbelievable passion for his alma mater.
The reality for UConn and Cincinnati and UConn: The Huskies and Bearcats didn't get an ACC invite and the Big Ten hasn't called. The American is home. They have realized this for awhile now and aren't begging for a new address. If an opening occurs, then they will pursue. Until then, they are smart enough to realize the best course of action is to ensure they are the two best programs in this conference. No one is expecting Louisville to be unseated this season, but the Huskies and Bearcats can continue to produce top-25 teams, run national-level programs and compete at the highest level. They need to be the two benchmark programs in this conference. Memphis will have a say in that, of course. Temple would love to as well. But this league needs Cincy and Connecticut to be stable for it to survive long term.
Best-Case/Worst-Case Scenarios
Cincinnati
Best case: After fits and starts early in his tenure, coach Mick Cronin has his program in a productive groove, in that solid space where top-half conference finishes and NCAA tournaments are the norm. Some fans may be eager for Cronin to bust out of said groove soon, but the ceiling for a 2013-14 team led by guards Sean Kilpatrick and Titus Rubles is probably about where it has been in years past.
Worst case: Cincinnati brings in the No. 11-ranked power forward in Jermaine Lawrence, who wields a robust offensive skill set and plenty of athleticism to boot. The biggest questions surround his motor, which might not be the best news for a so-so offensive team that played great defense -- and lost reliable stoppers Cashmere Wright and Cheikh Mbodj to graduation this spring.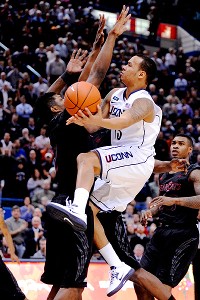 AP Photo/Fred BeckhamShabazz Napier stuck with UConn during troubled times and now both have high hopes for 2014.
Connecticut
Best case: The Huskies weren't down for long. Sure, this may not be a Ray Allen/Rip Hamilton/Emeka Okafor-vintage team, but what could have been a disastrous transition from legendary program-builder Jim Calhoun to hand-picked mentee Kevin Ollie -- which came the same year UConn was suspended from the postseason for APR penalties -- actually produced an intriguing, competitive team full of talented guards. The 2012-13 edition would have gone to the tournament had it been eligible; this year's group should rightfully aim for much larger goals than that.
Worst case: After an up-and-down career, don't expect Shabazz Napier to squander his last chance on campus. But if incoming freshman forward Kentan Facey doesn't improve the Huskies' rebounding on both ends of the floor -- and/or Omar Calhoun and DeAndre Daniels don't make big steps forward -- this may be the same team as last season.
Houston
Best case: The fruits of two years of excellent recruiting by James Dickey are paying off. Junior forward TaShawn Thomas averaged 16.9 points and 9.8 rebounds per game last season; rising sophomore Danuel House posted 12.4 points and 4.9 boards. Even better is the newfound eligibility of Preston "Chicken" Knowles. Not only is "Chicken" the best name ever, Knowles can really play, and that trio gives Houston a shot at relevance for the first time in a long time.
Worst case: However good that trio will be, it would have been better with the efficient perimeter scoring of Joseph Young. Young left the program for Oregon this summer after his father, a former Houston star, was effectively demoted from his position as director of basketball operations. Young's efficient 18.0 PPG would've been nice, and without him Houston might lack the balance it needs to get to tourney readiness this season.
Louisville
Best case: The defending national champions are hardly going away. Indeed, with the exception of their rivals in Lexington, no team will begin the season with shorter odds of a national title than the one led by Russ Smith, Chane Behanan, Luke Hancock and their crew of talented newcomers and developing vets.
Worst case: Whatever the worst case is, it will feel much less worse with a national title trophy still fresh on the shelf.
Memphis
Best case: The Tigers got the zero-tournament-wins monkey off Josh Pastner's back last season; now, with a new league (albeit not quite the one they signed up for), a senior-led backcourt could get enough from Pastner's constantly replenished ranks of young talent to set their sights a deep stay in March.
Worst case: Bowing out of the tournament early is probably the worst of all worlds in Memphis right now, because it would only increase the scrutiny and pressure.
Rutgers
Best case: The Scarlet Knights suffered one of the weirdest and most highly publicized scandals in recent years, when video of former coach Mike Rice's insane practice tirades were leaked to the media. Best case, worst case … who cares? Just getting back to basketball will be an improvement.
Worst case: Provided Melissa McCarthy (excuse me, Sheila Kelly) doesn't show up on campus, there's no such thing.
South Florida
Best case: The Bulls were never dazzling on offense in their 22-win campaign in 2012, but their regression from a top-15 defense to sub-100 in 2013 was the main reason they won only 12 games a season later. Center John Egbunu could help shore up that defensive interior, and if he does, junior guard Anthony Collins might be able to swing the pendulum back toward the tournament.
Worst case: Unless Egbunu and a band of newcomers bring some offense, the ceiling here is limited. And if the Bulls defend like last season, it's hard to see how a team that had just one player with an offensive rating above 100 last season (freshman Zach LeDay) will make up the slack.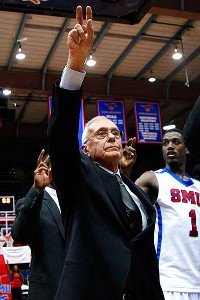 AP Photo/Tony GutierrezWith more talent on hand, Larry Brown enters his second season in Dallas with higher expectations.
SMU
Best case: A high-profile coach like Larry Brown probably isn't used to the radio silence that greeted his program for much of last season -- for most of its history, really. But Brown's hire of high-powered assistant coaches already has yielded recruiting results, namely No. 11-ranked shooting guard Keith Frazier, who reports for duty this fall. SMU is probably a year or three away from really making noise, but it will be fascinating to watch Brown try to tug them there.
Worst case: Other than Brown jumping at an NBA job, which is always a risk, SMU is still deep in program foundation mode at this point. Not applicable.
Temple
Best case: Few players were as reliable -- or as relied-upon -- as Temple guard Khalif Wyatt (see his NCAA tournament performance against Indiana for proof). His loss, plus those of seniors Scootie Randall and Rahlir Hollis-Jefferson, leave the Owls with tempered expectations this season.
Worst case: Don't expect Fran Dunphy's team to fall off the map; he's too good a coach for that. But the first "down" season he's had to endure at Temple in years may be on deck in 2013-14.
UCF
Best case: UCF has had as many program-wide fits and starts in recent seasons as any in the country; just when it seems the Knights are on their way, some misfortune befalls them. This might be a good year to get on board, as Isaiah Sykes, Tristan Spurlock and Kasey Wilson represent a productive trio in a league with no clear-cut second-fiddles.
Worst case: That said, Donnie Jones has to get some more engaged defense on a more regular basis; the Knights allow too many offensive rebounds and rarely turn opponents over, a recipe for defensive disaster. If that remains the same, the tournament won't be in play.
ESPN Staff Writer
Covers college basketball
Joined ESPN.com in 2009
Graduate of Indiana University
Most Important Player
Cincinnati: Sean Kilpatrick

Kilpatrick has been an anchor for Mick Cronin the past three seasons. He can score. He can board. He can make free throws. His shooting percentages could still use a spike, but if the Bearcats are going to be a contender in the American, then Kilpatrick has to be a league player of the year candidate. Cronin also will lean on the senior's experience and locker room demeanor to ensure there are no slip-ups.
Connecticut: Shabazz Napier

Napier has been battling injuries the past few seasons, but was one of the top point guards in the Big East a year ago and should be in contention for American player of the year. He could have bolted for the NBA draft (even though he was hardly a lock to get selected), but he came back to get to the NCAA tournament. He made the right call. Napier should once again lead this team, and play well off Ryan Boatright and Omar Calhoun. This is still his team and the onus will be on him to lead.
Houston: TaShawn Thomas

The departure of Joseph Young to Oregon puts even more of the onus on Thomas. He is now the Cougars' leading scorer (16.9) and best rebounder (9.8). He ate up the most minutes last season, leading UH in field goal percentage, blocks and steals, and tied for third in assists. The 6-8 forward did a little bit of everything for Houston and has a real shot to be a first-team all-conference candidate in his first year in the league. James Dickey desperately needs him to be a stud.
Louisville: Montrezl Harrell

This may surprise some people who would assume the choice here would be Russ Smith or Final Four MVP Luke Hancock or even Juco transfer point guard Chris Jones. But Harrell is possibly the top pro prospect on this team. He had a tremendous summer for the FIBA U-19 gold-winning team. He has quite a task ahead of him in replacing Gorgui Dieng in the paint. He's not the same type of player but he has the game to be a scorer/defender/rebounder inside. Louisville can repeat as champs if Harrell is a star.
Memphis: Joe Jackson

The Tigers were the class of Conference USA for years and have a real shot to be a regular atop the American in future years. To do that they'll need a player of the year candidate. They've got one in Jackson. Josh Pastner can lean on his senior guard, who has the ability to affect the game in nearly every statistical category. Jackson will have more help on the perimeter this season, so he doesn't have to do as much. But he has the ability to carry them through some rough spots.
Rutgers: Myles Mack

Eddie Jordan needs a playmaker he can rely on, one who can lead this team out of a hole and get everyone involved. The Scarlet Knights are still a roster in progress, but if Pitt's J.J. Moore and Iowa State's Kerwin Okoro get eligible, to go along with Kadeem Jack and Jerome Seagears, then Mack won't be leaned on quite as heavily. Regardless, he will be counted on to produce at a high clip. He has shown the ability to do so.
South Florida: Anthony Collins

Collins was a steady force for USF last season, but it was a highly disappointing campaign for the Bulls after they had won multiple NCAA tournament games the year before. This is now a new league, and a new era for South Florida. Collins will have more help with four-star recruits Chris Perry and John Egbunu on the way, but still will need to dominate the ball at times and ensure the Bulls make intelligent decisions on offense.
SMU: Nic Moore

Moore was the point guard at Illinois State under associate head coach Tim Jankovich. He started 29 games for Jankovich two years ago and led the team in assists while keeping his turnovers down. He has had a year to work under Larry Brown in practice and already knows how to play for Jankovich. If he can defend well for Brown and team up with ESPN 100 recruit Keith Frazier, the Mustangs should have a highly competitive backcourt that can hang with the rest of the conference.
Temple: Anthony Lee

The Owls are going through a rebuilding process for the first time under Fran Dunphy. He has had to tweak the team in the past, but this may be the first time that he has to rely on a host of inexperienced players. The pressure is on Lee to produce at a high level. His numbers have steadily increased the past two seasons. That must continue without Khalif Wyatt on the roster.
UCF: Isaiah Sykes

Like UConn, the Knights weren't eligible for the postseason this past spring. They have a shot this season, but if UCF is going to be a factor in the American race, then Sykes will have to be a major factor. He averaged 16 points, 7.5 rebounds, 4.5 assists and 2.3 steals and led the country with two triple-doubles, according to UCF. The versatility of Sykes, who can play all three perimeter positions, gives Donnie Jones options.
Greenberg: American Predictions
The American Athletic Conference will be deep in its inaugural season, with as many as five programs having a strong chance to reach the NCAA tournament. Louisville's only year in the league could produce another trip to the Final Four, but Cincinnati, Memphis and Connecticut all have teams capable of making deep runs in the postseason.
Houston and SMU both have talented young players while Temple has been to the NCAAs in six of Fran Dunphy's seven seasons as head coach of the Owls. UCF and South Florida are extremely athletic and return players who can take over a game. Rutgers' new coach, Eddie Jordan, will try to bring stability to the Scarlet Knights.

1. Louisville
The defending national champions are poised to make their lone season in the American a special one. Despite losing dynamic point guard Peyton Siva and defensive stalwart Gorgui Dieng, Louisville is the team to beat. Rick Pitino's style of play puts constant pressure on the opponent, and although the Cardinals will be undersized up front, I expect them to be even more aggressive in their full-court pressure and matchup defense. Louisville will be hard to contain offensively and tough to score against defensively.
To see how Greenberg ranks the rest of the American, read the rest of his Insider predictions here.
Five Freshmen To Watch
Kentan Facey, Connecticut: The Huskies' most pressing concern going into this season is up front. They have to get production from any newcomer joining them who can produce and board inside. Facey may have some eligibility issues, dealing with his international status (he's from Jamaica). But there is still plenty of time to sort this out. UConn can ill afford to be depleted up front.
Keith Frazier, SMU: If Larry Brown's Mustangs are going to make a splash in the American, Frazier will have a huge say in what occurs. Getting this ESPN 100 recruit who was coveted by Big 12 schools was a coup for Brown and his staff. It also doesn't hurt that the 6-5 shooting guard hails from Dallas' Kimball High School, proving SMU could be relevant in its own city.
Jermaine Lawrence, Cincinnati: The Bearcats have traditionally done a great job of recruiting in the New York area. Getting Lawrence away from St. John's and UNLV was a solid get by UC. Mick Cronin has done well in developing big men and the Cats needed another presence inside. The hope is that Lawrence can produce immediately.
Austin Nichols, Memphis: The beat on Nichols is that he is a face-up forward who can score. He also can finish around the basket. The Tigers are loaded on the perimeter, but definitely could use another frontcourt scoring presence after some offseason defections. If Nichols can deliver, Memphis will get some much-needed pop in the middle.
Terry Rozier, Louisville: So much emphasis has been on the arrival of junior college point guard Chris Jones, and with good reason. The reviews on Jones have been extremely positive. But he can't do this alone. The Cardinals play at a high level and need fresh legs. That means Rozier must be a contributor. Russ Smith can't afford to be laboring as a point guard. He needs to focus on being a wing scorer.
An Offer He Couldn't Refuse
The words kept coming out of Rick Pitino's mouth, but it had gotten to a point where they had become indiscernible to Mike Balado.
Louisville's head coach was recalling a story back in the day when he was Boston University's head coach, and was passed over for the Penn State job.
It was an attempt to put what Balado had endured over the previous couple of weeks in perspective, to make the now-unemployed assistant coach feel at peace with his current situation.
"I had no idea where he was going with it," Balado said. "It was a great story, but I had no idea how it related."
To read about what Pitino did for Balado, check out the rest of the story here.