Five Biggest Offseason Storylines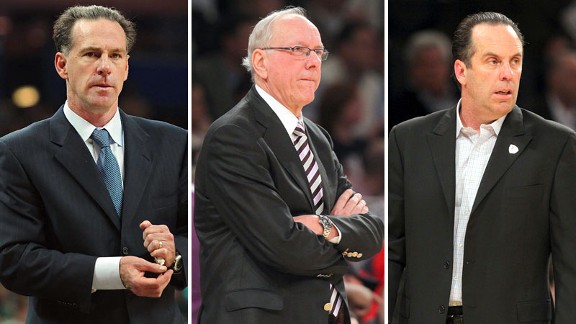 USA TODAY SportsThe ACC welcomes three new coaches to the fraternity: Jamie Dixon, Jim Boeheim and Mike Brey.
1. The new ACC: No college basketball conference in the country can match the ACC following the latest phase of realignment that kicked into effect last month. Three of the Big East's top programs -- Syracuse, Pittsburgh and Notre Dame -- became official members of the league on July 1, and 2013 NCAA champion Louisville will join the conference next season. Adding Rick Pitino, Jim Boeheim, Jamie Dixon and Mike Brey to a coaching stable that includes Roy Williams and Mike Krzyzewski makes the tradition-rich ACC even more intimidating. This league's football might still leave a bit to be desired, but this is truly a megaconference when it comes to college hoops.
2. Schedule creates more hype: The ACC's new members will make a grand entrance into the league thanks to a conference schedule that's loaded with marquee games. Syracuse, in particular, has a slate that should be appealing to fans. The Orange's home schedule at the Carrier Dome includes tilts with the ACC's top two programs, Duke and North Carolina. And Cuse also plays the Blue Devils on the road. The conference also took care of new member Notre Dame in terms of scheduling, as the Fighting Irish will host both Duke and North Carolina at the Joyce Center, one of the toughest venues in college basketball.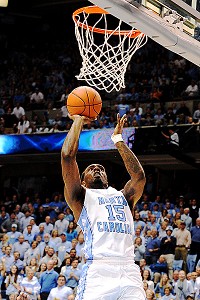 Cal Sport Media via AP ImagesWith his numerous off-court issues in the offseason, P.J. Hairston put himself in a tough spot.
3. Hairston under fire: An air of uncertainty surrounds North Carolina following the offseason antics of guard P.J. Hairston, who averaged a team-high 14.6 points in 2012-13. Hairston was suspended July 28 after being ticketed for driving 93 mph in a 65 mph zone. Hairston also encountered trouble on June 5, when he was arrested on charges of possessing marijuana and driving without a license. A gun was also found outside of his vehicle, a 2013 GMC Yukon rented by a convicted felon named Haydn "Fats" Thomas. All charges from that arrest were dropped, but USA Today later reported that a car rented by Thomas received 12 parking citations on UNC's campus between April 1 and May 28.
4. Maryland's swan song: Forgotten amid the hype surrounding the upcoming campaign is the fact that Maryland will be playing its final season in the ACC. The Terrapins made the head-scratching decision to join the Big Ten, which makes zero sense from a geographic standpoint. It's a shame the ACC will be losing a top program with such a passionate fan base during such an exciting time. Maryland is hopeful it can make its final ACC season a memorable one. Mark Turgeon's squad lost center Alex Len to the NBA draft but returns enough key pieces to contend for an NCAA tournament berth.
5. Pittsburgh departures: The Panthers were traditionally one of the top teams in the Big East under Jamie Dixon, but their first year in the ACC could be a struggle. Promising center Steven Adams left after one season for the NBA draft, where he was selected with the 12th overall pick. Trey Zeigler and J.J. Moore transferred, and guard Tray Woodall graduated. It seems almost inevitable that depth and experience issues will plague Pitt in 2013-14. Lamar Patterson returns at small forward and James Robinson could have a breakthrough year at point guard. The Panthers, though, are incredibly thin in the paint, where Talib Zanna is the only player with significant experience.
College basketball writer for ESPN.com
Longtime writer at the Kansas City Star
Author of two books
Best-Case/Worst-Case Scenarios
Boston College
Best case: In a way, this is just the third year of fourth-year coach Steve Donahue's rebuild; his first season in 2010-11, which featured star guard Reggie Jackson and four seniors in the starting lineup, doesn't really count. That's the frame of reference we're operating within, but the outer projections should be bullish. Everyone from last season's young, promising group is back, and if the Eagles can merely play average defense, they could absolutely break through to the NCAA tournament.
Worst case: In three seasons, even when the offense has flowed -- as it did last season, or in 2011 especially -- the Eagles have yet to rank higher than No. 174 in Ken Pomeroy's adjusted defensive efficiency metric. Frankly, Donahue's teams at Cornell (which, OK, it's Cornell, but still) never really played great defense. Until that half of BC's game gets better, the potential for a triumphant post-rebuild breakthrough is minimal.
Clemson
Best case: Brad Brownell, on the other hand, had a pretty solid defensive team on his hands last season; he just couldn't find anyone to score efficiently. On paper, losing senior forwards Devin Booker and Milton Jennings (Booker especially) could make that search more difficult, but if one of a handful of young defensive-minded guys adds a new dimension, the Tigers could still compete in the ACC.
Worst case: Could that player be K.J. McDaniels? He's the likeliest candidate, but he's also the team's best defender -- rebounding, blocking shots and forcing steals at highly respectable rates. Is more offense too much to ask? Where do now-sophomores Jordan Roper and Adonis Filer fit in? If the best case is a competitive ACC campaign and (at the most) an NCAA tournament bid, the worst-case scenario is symmetrically mild.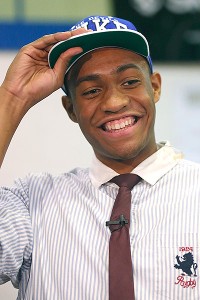 AP Photo/Charles Rex Arbogast Jabari Parker enters Duke with mammoth expectations.
Duke
Best case: A national title, but that's always the case at Duke. Ho-hum. What makes this Duke season especially fascinating is the arrival of arguably the most talented player Mike Krzyzewski has ever coached: Chicago's Jabari Parker. Until he broke his foot last summer and Andrew Wiggins reclassified, Parker was the one earning all the "best since LeBron" comparisons on covers of magazines. His game actually resembles Carmelo Anthony's more than James'; he is a good but not freak athlete on what has to be some vague outer limit of teenage offensive versatility. He can do it all. It is going to be fascinating to see how he and Coach K -- who may be the best ever at tailoring his team's style to its talent -- put those skills to work. So a best-case scenario isn't just a national title. It's a chance to see a transcendent young talent play for one of the greatest coaches ever. Does that sound like something you might be interested in?
Worst case: It's hard to imagine Parker not panning out at the collegiate level, and the risk of a Harrison Barnes-style disappointment relative to expectations seems minimal; Barnes was never as versatile (or as good) as this. But he is just one player, a freshman to boot, and given the landscape and talent that arrives alongside Parker in this class (see Wiggins at Kansas, Kentucky's insane haul, etc.), Duke will have to get title-level performance from Quinn Cook, Rasheed Sulaimon and a cast of younger players in lieu of productive alums Mason Plumlee, Seth Curry and Ryan Kelly.
Florida State
Best case: After four seasons of top-15 defense and back-to-back years in which the Seminoles ranked No. 1 in the country in defensive efficiency, the loss of seniors Bernard James, Xavier Gibson and Luke Loucks sent FSU plummeting down the defensive rankings, finishing 2012-13 ranked No. 165. Correcting that drastic slide is the top priority going forward. If the Noles can get back to playing even top-30 defense, they might get enough from star senior Okaro White, sophomore Devon Bookert and four-star freshman Xavier Rathan-Mayes to push back into the top half of the ACC.
Worst case: You really can't say enough about White's development in his three years in Tallahassee. When he arrived in 2010-11, he was an athletic defender and rebounder and little more. Last season, he posted a 117.6 offensive rating and made 25 of his 80 3-point attempts. FSU is already priming an All-American campaign for White's senior season, but even if he lives up to the branding -- and he very well could -- if FSU doesn't start playing stingy defense, it won't be enough. Another .500-ish season is possible, if not likely.
Georgia Tech
Best case: The Yellow Jackets established an impressive backbone last season, when they ranked 33rd in per-possession defense, but their stalled-out offensive play kept them from really pushing good teams. To improve on that, senior center Daniel Miller needs more designed post touches (according to Synergy, he got just 87 post-ups in 2012-13, far too low a number for the most efficient offensive player on the team) and sophomore breakout candidate Marcus Georges-Hunt needs to take that proverbial leap.
Worst case: There isn't much new talent in the pipeline besides maybe transfer Trae Golden, so any bullish predictions rely on the collective growth of three rising sophomores who all started as freshmen last season: Robert Carter, Chris Bolden and Georges-Hunt. If all three can't cook together on the offensive end just yet, Tech is probably going to be about where it was last season. Not bad for a worst-case scenario, but still.
Maryland
Best case: Mark Turgeon's teams at Texas A&M were defined by their slow-paced, methodical defensive leanings, but his first two teams at Maryland have shown far more inclination for transition. Turgeon might have to double-down on tempo this season. That's where the runaway freighter that is Dezmine Wells (go ahead, take a charge, I dare you) is at his best; the gulf between Wells' half-court production (0.795 PPP) and the open floor (1.336) is too wide not to exploit. Maryland's young, wing-infused lineup -- including freshman point guard Roddy Peters -- might yet have a few surprises up its sleeve ("Mark Turgeon, fast-break devotee" chief among them).
Worst case: Of course, that's all theoretical. Even if Turgeon does push his stylistic chips to the middle of the table, he still has to account for the loss of center Alex Len, who protected the rim and scored reliably in the half court. This program isn't far from completing its post-Gary Williams restart, but getting there this season could be too much to ask.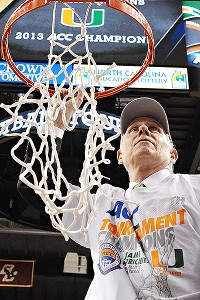 AP PhotoLast season was magical, but it's doubtful Jim Larranaga will be cutting down any nets in 2014.
Miami
Best case: Let's hope Hurricanes fans enjoyed the party while it lasted. It really was one of a kind, a rare ACC regular-season title built on a perfect collaboration between veteran players pre-dating Jim Larranaga's arrival and Larranaga's irrepressible personality. The party is over now: Seniors Durand Scott, Kenny Kadji, Trey McKinney Jones, Julian Gamble and Reggie Johnson are all gone, as is point guard Shane Larkin, who smartly dove into a weak NBA draft and landed in the first round for his troubles. Losing all that talent and experience in one offseason almost always requires recovery time, as all good parties do.
Worst case: Which is not to say Miami is about to turn into Wake Forest (shudder). The Hurricanes are getting a really intriguing player in Miami native Deandre Burnett. Scouts love his sheer scoring talent. And there are some promising holdovers: sophomore center Tonye Jekiri, senior wing Erik Swoope and senior guard Rion Brown. But the loss of Larkin, and the wait for Kansas State transfer Angel Rodriguez, leaves the Canes in shaky position at the point. Don't expect a complete fall from grace, but a .500 season is looking likely.
North Carolina
Best case: It's hard to make a prediction about North Carolina without a prediction about star guard P.J. Hairston, whose well-documented brushes with local traffic officers have exposed his strange propensity to drive cars rented to the address of a convicted felon nicknamed "Fats." The Hairston drama has in some ways obscured what could be a very good UNC team with or without him, a mix of stud freshmen (Isaiah Hicks, Kennedy Meeks), still-developing sophomores (Brice Johnson, Marcus Paige, Joel James) and Hairston's classmate, junior James Michael McAdoo, whose rough sophomore season in the limelight necessitated a return. If McAdoo can polish his interior game (and purge those inefficient 10-foot jumpers he loves so much) -- or if Carolina can find a suitable offensive alternative on the block, which shouldn't be too difficult -- the Summer of Haydn "Fats" Thomas will soon be forgotten.
Worst case: There are some big ifs attached to that best case; assuming McAdoo will morph into the player his prep talent implied is hardly a guarantee. But the biggest one is obviously Hairston. Whatever his off-court question marks, on the floor Hairston shot 40 percent from 3, created three steals per 100 possessions, rarely turned the ball over and posted a 120.3 offensive rating on 25.2 percent usage. Without NBA-bound wing Reggie Bullock (who was a slightly more efficient carbon copy of Hairston), Roy Williams could lose a lot of 3-point shooting in one fell swoop and his team could repeat last season's mediocrity. In Chapel Hill, 8-seeds are the worst-case scenario.
NC State
Best case: This year's Wolfpack won't have as many talented players as in 2012-13, but it might end up being a better all-around team. Lorenzo Brown, C.J. Leslie, Richard Howell, Scott Wood and Rodney Purvis are gone. It's never ideal to bid farewell to so much in one summer, but the upside is the attitude and effort issues that plagued the Pack so obviously on the defensive end should be gone too. In its place will be a young group Mark Gottfried can mold around T.J. Warren's underused, hyper-efficient offensive game.
Worst case: Even if the atmosphere around the team is better (and the talent level is still high), the sheer youth could be a lot to overcome. The long-term direction is clearly positive, but NC State might still be a year away -- if not more.
Notre Dame
Best case: Mike Brey is eager to break through in the NCAA tournament, and understandably so, but in the meantime, his program's workmanlike consistency typically makes the Irish an entity to project. Even in a new conference, this season should be no different. With almost everyone (save rebound machine Jack Cooley) back, a trip to the NCAA tournament feels like a given.
Worst case: The loss of Cooley's immense rebounding on both ends of the floor -- grabbing 17.4 percent of available offensive rebounds (third-best in the country) and 24 percent of opponents' -- shouldn't be brushed aside. Garrick Sherman should be able to compensate, but if the Irish are hollow up front, a downgrade could be in order.
Pittsburgh
Best case: Like its fellow lost Big East travelers at Notre Dame and Syracuse, you almost always know what you're going to get from Pitt: lots of hard-nosed physical play, very good offense and tons of offensive rebounds. With the lion's share of Jamie Dixon's trademark front-line bruisers back plus incoming standout Mike Young (whom scouts love for having an actual post game, a rarity among talented young bigs), the Panthers will present a constant stylistic challenge to the finesse-oriented denizens of the ACC.
Worst case: Still a top-half team in the league. Unless there's some sort of adjustment period involving officiating styles -- which some fans have raised as a concern; I'm not convinced -- it's hard to slot Dixon's team any lower than that.
Syracuse
Best case: Winning an ACC title is probably not something Jim Boeheim ever thought he'd have the chance to do, but now that he's here, you can bet he'd love to get it done in his first season in the league. (How sweet would that be?) With Boeheim's steady pipeline of talent ready to fill the perimeter holes left by Brandon Triche and Michael Carter-Williams and with brutally long forwards C.J. Fair, Rakeem Christmas and Baye Keita patrolling the back of the 2-3 zone, said accomplishment is well within reach -- along with a repeat trip to the Final Four.
Worst case: Since 2003, Boeheim has missed exactly two tournaments (2007 and 2008), and his team has never been seeded lower than fifth. Let's just keep this simple and call a 6-seed the worst case. Deal? Deal.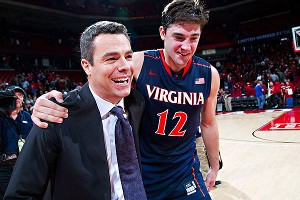 AP Photo/David StlukaWill Tony Bennett, Joe Harris and the Cavaliers take it to the next level in 2013-14?
Virginia
Best case: Don't sleep on the Cavaliers. Tony Bennett's team plays the stout pack-line defense his father pioneered at Green Bay, which, combined with Virginia's Wisconsin-esque pace, makes every game against his team a grinder. Even better, Joe Harris and Akil Mitchell -- the former a smooth outside-in wing scorer, the latter a do-everything post presence -- are back for their senior seasons. Mix in some interesting sophomores-to-be (Justin Anderson and Evan Nolte) and you have an outfit worth being bullish about, even if it isn't always thrilling to watch. ACC title contention is well within reach.
Worst case: Tempo-free stats tell us UVa underachieved last season; on a per-possession basis, it ranked just below 4-seed Kansas State. But Virginia suffered a score of RPI-killing early-season losses and missed the tournament as a result. Harris & Co. are too good to let that happen again.
Virginia Tech
Best case: Rookie head coach James Johnson got an absolutely brilliant offensive season out of senior Erick Green, who averaged 25.0 PPG with a 120.0 offensive rating on 31.7 usage, placing him atop the efficiency-plus-volume mountain alongside the Doug McDermotts and Trey Burkes of the world. With Green gone, an already bad team is due for a major, long-term rebuild.
Worst case: No such thing. Progress, foundation, long-term goals, you know the drill.
Wake Forest
Best case: For all the Sturm und Drang surrounding coach Jeff Bzdelik and athletic director Ron Wellman -- a good deal of it justified -- the Demon Deacons did improve last season. That improvement didn't show up in the win-loss record, but given Bzdelik's first two seasons (in which Wake ranked outside the Pomeroy top 200), the jump up to No. 132 last season, and the few promising wins that came with it, was at least a step in the right direction. Forward Travis McKie will be the senior next season; all other contributors of note (as Wellman is fond of pointing out) were freshmen last year. In a general way, that might set Wake up for a collective jump this season, even if a tournament bid still feels like a long way off.
Worst case: Wellman has been steadfast in support of Bzdelik, but the fact that he felt compelled to announce Bzdelik's return this season should serve as a pretty big hint of what will happen if the Deacons don't noticeably improve in Year 4. Another hopeless year and the Bzdelik experiment is probably over. For many Wake fans, that doesn't sound like a worst-case scenario.
ESPN Staff Writer
Covers college basketball
Joined ESPN.com in 2009
Graduate of Indiana University
Most Important Player
Boston College: Ryan Anderson

The versatile 6-foot-9 forward averaged 14.9 points and a team-high eight rebounds as a sophomore last season, and it's not as if he padded his stats against weak nonconference opponents. Anderson averaged 14.5 points in ACC play and ranked fourth in the league in rebounding. He'll team with reigning ACC Freshman of the Year Olivier Hanlan (15.4 PPG) to form one of the better inside-out duos in the league. The Eagles went just 16-17 last season but finished strong by winning five of their last eight games. There is clearly momentum within the program.
Clemson: K.J. McDaniels

One season after ranking second on the team in scoring with 10.9 PPG, McDaniels will have to play an even bigger role following the departures of Devin Booker and Milton Jennings. McDaniels is a bit undersized at 6-6, but that didn't stop the small forward from leading the ACC in blocks with two per game. He swatted at least one shot in 25 of 28 games while ranking third on his squad in rebounding with five boards per contest.
Duke: Rodney Hood

The athletic wing is just the fourth player to transfer to Duke in the Mike Krzyzewski era. Hood averaged 10.3 points and 4.8 rebounds as a freshman at Mississippi State in 2011-12. He'll be counted on to provide some of the scoring punch that was lost by the departures of standouts such as Seth Curry, Ryan Kelly and Mason Plumlee. The 6-8 Hood is big enough and strong enough to defend in the post, but his length and quickness could make him an elite perimeter defender.
Florida State: Okaro White

The senior forward is hoping to lead the Seminoles back to the NCAA tournament following a one-year hiatus. White ranked second on the team in scoring (12.4 PPG) as a junior and shot an impressive 81 percent from the free throw line. The loss of clutch guard Michael Snaer to graduation means the onus will be on White and highly touted freshman Xavier Rathan-Mayes to be two of FSU's top performers. The 6-8 White is versatile and athletic enough to excel both in the paint and on the perimeter, although he needs to improve his accuracy (25 percent) from 3-point range.
Georgia Tech: Trae Golden

If the Tennessee transfer is eligible -- Golden is seeking a waiver that would allow him to play immediately -- the Yellow Jackets could be an NCAA tournament bubble team. Wing Marcus Georges-Hunt is ready to be the go-to guy after leading the team in scoring as a freshman. Robert Carter is poised to be an impact player in the post, where Daniel Miller and Kammeon Holsey also return. The biggest issue appeared to be the loss of standout point Mfon Udofia, but the offseason addition of Golden (who averaged 12.1 PPG and 3.9 APG last season) will squelch any concerns about Georgia Tech's backcourt. As long as he gets that waiver.
Maryland: Shaq Cleare

The Terrapins took a huge loss when center Alex Len left to enter the NBA draft, where he was the fifth overall selection. Mark Turgeon is hoping players such as Cleare and Charles Mitchell step up and assume a heavier load. Turgeon has been particularly impressed with Cleare, who has decreased his body fat from 22 percent to 10 percent this offseason. "He's such a hard worker," Turgeon said last month. "He was behind a lottery pick last year, and it was hard to play them together. He's gained a lot of confidence. He's much more skilled than I thought he was going to be. He's ready to do his part."
Miami: Rion Brown

The Hurricanes are expected to take a significant step back following a 29-win season that earned Jim Larranaga national coach of the year honors by various media outlets. Brown, who averaged 6.4 points off the bench, is Miami's leading returning scorer. He has never averaged more than 22 minutes per game and is shooting 38.5 percent from the field for his career. He'll need to make significant strides if the Canes have any hope of competing with the ACC's upper-echelon teams.
North Carolina: James Michael McAdoo

Once a projected lottery pick, McAdoo had an underwhelming sophomore season -- at least based on expectations. He averaged 14.4 points and a team-high 7.3 rebounds but rarely showed flashes of being the type of dominant player so many people expected him to become. That doesn't mean it can't happen this year. The skill set and talent level are certainly there, as the 6-9 McAdoo is athletic and versatile enough to score from anywhere on the court. He can also be very sloppy, as last season's 96 turnovers indicate.
NC State: T.J. Warren

A 6-9 forward, Warren was one of the country's most underrated freshmen in 2012-13, when he averaged 12.4 points and 4.3 rebounds as a part-time starter. Even more impressive is that Warren shot 62.2 percent from the field, a mark that ranked among the best in the country. With standouts such as C.J. Leslie, Richard Howell, Scott Wood, Lorenzo Brown and Rodney Purvis no longer on the roster, Warren will be leaned on heavily as a sophomore.
Notre Dame: Jerian Grant

By the end of last season, Grant had emerged as one of the better players in the Big East. The point guard led the Fighting Irish with 13.3 PPG, including a 14.2 mark in conference play. He also tied Eric Atkins for the team lead in assists with 5.5 per contest. With high-scoring forward Jack Cooley no longer on the roster, Grant might have to assume an even bigger offensive load. His shooting percentages need to improve both from the field (40.6 percent) and 3-point range (34.4 percent). Grant's performance will go a long way toward determining how Notre Dame fares in its first season in the ACC.
Pittsburgh: Talib Zanna

A senior, Zanna has been a solid player the past three years. But Panthers fans are hoping his final season is his best following the departure of center Steven Adams to the NBA draft after just one year. Pitt has a glaring lack of depth in the paint, meaning Zanna, who averaged 9.6 points as a junior, will have to come through in a big way. Coach Jamie Dixon said Zanna, who has mostly played power forward, will see more action at the 5 this season than he has in the past. Zanna snared 19 rebounds against Villanova last season while subbing for an injured Adams.
Syracuse: Jerami Grant

Orange fans were delighted when leading scorer C.J. Fair announced he was returning to school instead of entering the NBA draft. And rightfully so. Still, for Syracuse to maintain its Final Four form, it needs increased production from players such as Grant, who showed flashes of brilliance while filling in for a suspended James Southerland last season. Grant averaged just 3.9 points and three rebounds as a freshman. But he averaged 9.8 points and 5.6 boards during a six-game stretch in Big East play when he saw extensive minutes.
Virginia: Joe Harris

The swingman was named to the first-team All-ACC squad last season after averaging 16.3 points, 2.2 assists and four rebounds. The Cavaliers could be NCAA tournament-bound if Harris plays that well in 2013-14. Virginia lost just one rotation player (Jontel Evans) and adds South Carolina transfer Anthony Gill in the paint. They also return point guard Malcolm Brogdon, who missed last season with a foot injury. Harris, though, is the key.
Virginia Tech: Jarell Eddie

Although a bit undersized at 6-7, Eddie saw a lot of action at power forward as a junior and usually held his own against bigger opponents. He ranked second on the team (behind Erick Green) in scoring with 12.3 PPG. He also ranked second in rebounds with 5.6 per contest. With Green now in the NBA, Eddie will be depended upon heavily to lead Virginia Tech out of the ACC cellar. The Hokies finished 4-14 in conference play last season.
Wake Forest: Travis McKie

A senior, McKie enters the 2013-14 campaign as the ACC's leading returning career scorer and rebounder with 1,334 points and 680 boards in three seasons. He's started every game he's ever played in college and averaged 13.5 points and seven rebounds last season. A long, athletic wing who can finish in transition, McKie can play either forward position. As a senior, he'll attempt to rejuvenate a Wake program that hasn't won more than six ACC games during Jeff Bzdelik's three seasons.
Bilas: ACC Power Rankings
This season ushers in a new era for the Atlantic Coast Conference. With the arrival of Syracuse, Notre Dame and Pittsburgh, the league is elevated in stature and takes on a Big East feel in terms of size and differing styles. Those vying for the title will include three Naismith Hall of Fame coaches (Mike Krzyzewski, Jim Boeheim and Roy Williams), some established veteran winners unafraid to challenge entrenched power (Mike Brey, Jim Larranaga, Jamie Dixon, Leonard Hamilton and Mark Gottfried) and coaches who are building programs to be in a position to challenge in the future (Tony Bennett, Mark Turgeon, Brian Gregory, Brad Brownell, Steve Donahue, Jeff Bzdelik and James Johnson).

From uptempo fast breaks to smash-mouth possession-oriented play, the ACC will have something for everyone, and teams had better be able to adapt from game to game. It will be a fun ride.
The ACC was not the best in 2013. It was merely good. That could change this season in a big way. The best of the broken-up Big East is now in the ACC, and the league trades Maryland to the Big Ten and takes in Louisville next season. It could very well be the nation's best, deepest and most powerful basketball conference in 2014 and beyond, but with a few notable question marks. Here is how I expect things to shake out, with teams ranked in order and by tier.
1. Duke
Mike Krzyzewski has four NCAA titles and 11 Final Fours under his belt at Duke. Last season looked like another notch, but 2013 was a mixed bag for Krzyzewski. He really liked his team and their chances, but injuries kept him from seeing exactly what they could have been. Seth Curry was hobbled all season and unable to practice and Ryan Kelly broke his foot and was never the same. In the end, Duke was an excellent offensive team, but not a great defensive unit without Kelly. This season Duke will be different -- and more dynamic -- on both ends. Gone are Curry, Kelly and Mason Plumlee and in come some athletic and explosive wings.
To see how Bilas ranks the rest of the ACC, read the rest of his Insider predictions here.
Five Freshmen To Watch
Anthony Barber, NC State: The Wolfpack beat out Kansas and Alabama for the services of Barber, who is known for his speed and his cat-quick first step. Those qualities -- and his length -- also make him an excellent defender both on and off the ball. With Lorenzo Brown leaving school early for the NBA, Barber is in line to make an immediate impact.
Tyler Ennis, Syracuse: Is there a chance the Orange could actually experience an upgrade at point guard, where Ennis replaces lottery pick Michael Carter-Williams? It's certainly possible. Ennis is a better long-range shooter than MCW and is regarded as a better vocal leader. Such confidence is imperative for a player who is expected to start as a freshman.
Isaiah Hicks, North Carolina: The Tar Heels are in desperate of need of help in the paint, and Hicks appears poised to make an immediate impact. Although his post moves are still developing, Hicks' athleticism and leaping ability will make him an offensive threat from the get-go. On the defensive end, he's a tremendous shot-blocker who will be a nice complement to James Michael McAdoo.
Demetrius Jackson, Notre Dame: Eric Atkins' experience gives him the edge to retain the Fighting Irish's starting point guard spot. But you can bet he'll be pushed by Jackson. A 6-foot-1, 170-pounder, the McDonald's All American uses his speed to create opportunities off the bounce, with his pull-up jumper being his biggest weapon. Don't be surprised if coach Mike Brey finds ways to have Jackson and Grant on the court at the same time.
Jabari Parker, Duke: Although he's ranked No. 2 overall behind Kansas' Andrew Wiggins, Parker is regarded as the most skilled player in the Class of 2013 and is also said to have the highest basketball IQ. The 6-8, 220-pounder handles the ball like a guard and can score from anywhere on the court. But he's also incredibly unselfish, which makes him a good teammate and a coach's dream.