Top 50 coaches: No. 11 Sean Miller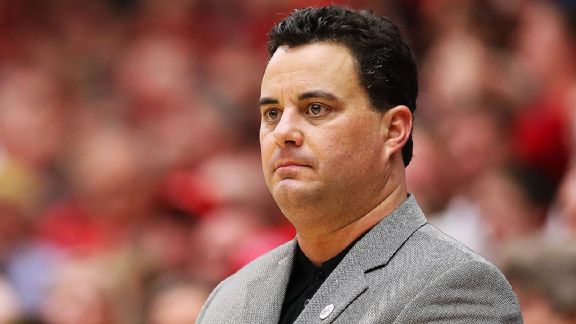 Christian Petersen/Getty ImagesSean Miller's first head job was at Xavier -- where he spent five seasons -- before arriving at Arizona.
Editor's note: During the next five weeks, we will reveal the top 50 coaches in college basketball as decided by our ESPN Forecast panel. Today we unveil No. 11: Arizona's Sean Miller. On Monday, we release No. 11.
---
On Saturday, Feb. 1, Arizona entered Haas Pavilion in Berkeley, California, with 21 wins and zero losses. The Wildcats weren't beneficiaries of a soft schedule, either. Their nonconference slate had taken them to San Diego, where they handled San Diego State; to Madison Square Garden, where they smothered Duke; and to Ann Arbor, Michigan, where they held on against the Wolverines. They had swept aside all Pac-12 comers. Sometimes the games were close. Most of the time, Arizona rolled.
Until Feb. 1, when it could have -- and maybe should have -- all come unraveled.
More from ESPN.com

Despite being a head coach for only a decade, Billy Donovan feels Sean Miller is one of the game's best, writes C.L. Brown. Blog »
---

What does Arizona need to do to land another top-flight recruiting class, asks Adam Finkelstein. Blog »
That Feb. 1 game was a loss to Cal, of course, thanks to a Justin Cobbs fallaway that sent Cal fans into a premature court storm. It was worse than a loss, though: Brandon Ashley, the third piece of a unique and versatile three-forward front line that gave the Wildcats an interior advantage over pretty much everybody, suffered a season-ending foot injury. Now the questions swirled: How would Sean Miller re-calibrate Arizona's lineup? How much would the team have to change? Could Arizona -- which had the nation's best mix of size, guard play, talent and experience -- still win the national title?
Arizona didn't go on to win the national championship, obviously. But neither did it come apart in the wake of a key injury. There was a brief bit of offensive awkwardness in the next few games -- Nick Johnson struggled without the spacing Ashley provided, and Rondae Hollis-Jefferson proved better as a reserve than a starter -- but they soon recovered, and the Wildcats' final month was almost indistinguishable from what came before.
Even with the injury to Ashley, Miller's team was so good, and his coaching so deft, that the Wildcats ended up a possession away from going to the Final Four. It took a white-hot Wisconsin team, and one of the NCAA tournament's tightest games, to keep Arizona out.
That's a pretty fair summary of how well Miller has done in his first five years in Tucson, Arizona. In 2009, Miller inherited a program in the midst of a brief slide, its fans smarting from the uncertain end of the Lute Olsen era (and, no doubt, the terrifying notion that their beloved program would be left in the hands of noted luminary Kevin O'Neill). Thanks to a brilliant 2010-11 campaign from former USC commit Derrick Williams, it took Miller little more than a season to remind everyone how good Arizona was supposed to be. The Wildcats finished Miller's second year as Pac-10 champs with a 30-8 overall record, an Elite Eight run, and a Sweet 16 pulverization of Kyrie Irving and Duke.
When an elite basketball program slips and starts plotting its return to glory, it wants that old loving feeling: big games, top talent, vintage opponents. For Arizona fans, destroying Duke in March was just what the doctor ordered.
The Miller-era Wildcats have been off and running from there. The one disappointing season -- the 2011-12 NIT year, when the Pac-12 was laughably awful -- came less as a result of Miller's coaching than one very unfortunate recruiting selection. Had Josiah Turner panned -- and not flamed -- out, he was probably talented enough to elevate the Wildcats into the tournament even as a freshman.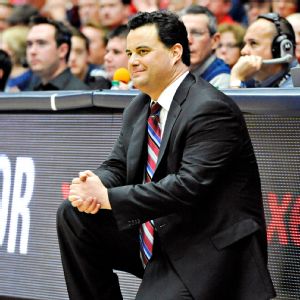 Casey Sapio/USA TODAY SportsMiller has rebuilt Arizona with defense. The Wildcats allowed just 58.6 points per game last season.
Oh well. Two years later, the Wildcats are coming off a 33-5 campaign in which they ranked No. 1 in the country in adjusted defensive efficiency -- allowing just .885 points per possession -- and No. 2 overall. They are sending Turner's classmate, Nick Johnson, who had a player-of the-year-level campaign for all but a handful of games, to the NBA draft. Joining him is the gem of Miller's almost nonstop recruiting success in Tucson: freshman forward Aaron Gordon, the defensive terror whom folks can't stop comparing to Blake Griffin.
In 2014-15, Miller will return key portions from that team. Ashley will be back from injury. Center Kaleb Tarczewski will keep blossoming in the middle. Point guard T.J. McConnell will be a senior. Hollis-Jefferson should slide into a starting spot, Gabe York will have plenty of experience under his belt after last season; Elliott Pitts should get more minutes. And then there is the latest crop of talent: No. 11-ranked point guard Parker Jackson-Cartwright, No. 9-ranked power forward Craig Victor and, best of all, No. 1-ranked power forward Stanley Johnson. Arizona will emerge this fall deeper, and maybe even more talented, than before.
That's how good Miller has been in every facet of coaching. He has recruited almost mind-bogglingly well, and then he's turned that mind-boggling talent into dust-grinding defenses and high-flying, counterattacking offenses.
Arizona might have missed out on the national title last season, through no fault of Miller's. There will be plenty more opportunities to come.
-- Eamonn Brennan
---
Previous: Nos. 50-25 » No. 24: McKillop » No. 23: McDermott » No. 22: Amaker »
• No. 21: Brown » No. 20: Matta » No. 19: Wright » No. 18: Fisher » No. 17: Few »
• No. 16: Williams » No. 15: Hoiberg » No. 14: Bennett » No. 13: Smart »
• No. 12: Boeheim »
Full Top 50 Coaches List
No. 50: Tie -- Randy Bennett, Saint Mary's; Scott Drew, Baylor
No. 49: Richard Pitino, Minnesota
No. 48: Stew Morrill, Utah State
No. 47: Bob Hoffman, Mercer
No. 46: John Thompson III, Georgetown
No. 45: Mike Brey, Notre Dame
No. 44: Rick Barnes, Texas
No. 43: Chris Mack, Xavier
No. 42: Josh Pastner, Memphis
No. 41: Ed Cooley, Providence
No. 40: Bruce Weber, Kansas State
No. 39: Tubby Smith, Texas Tech
No. 38: Buzz Williams, Virginia Tech
No. 37: Rick Byrd, Belmont
No. 36: Steve Alford, UCLA
No. 35: Phil Martelli, Saint Joseph's
No. 34: Tad Boyle, Colorado
No. 33: Fran McCaffery, Iowa
No. 32: Tim Miles, Nebraska
No. 31: Lon Kruger, Oklahoma
No. 30: Bob Huggins, West Virginia
No. 29: Jim Crews, Saint Louis
No. 28: Jim Larranaga, Miami
No. 27: Mick Cronin, Cincinnati
No. 26: Archie Miller, Dayton
No. 25: Jamie Dixon, Pittsburgh
No. 24: Bob McKillop, Davidson
No. 23: Greg McDermott, Creighton
No. 22: Tommy Amaker, Harvard
No. 21: Larry Brown, SMU
No. 20: Thad Matta, Ohio State
No. 19: Jay Wright, Villanova
No. 18: Steve Fisher, San Diego State
No. 17: Mark Few, Gonzaga
No. 16: Roy Williams, North Carolina
No. 15: Fred Hoiberg, Iowa State
No. 14: Tony Bennett, Virginia
No. 13: Shaka Smart, VCU
No. 12: Jim Boeheim, Syracuse
No. 11: Sean Miller, Arizona
COACHES WHO JUST MISSED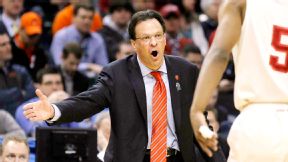 AP Photo/Kiichiro Sato
Some big names missed our list of top 50 coaches. Here are the 25 names who just missed, listed in alphabetical order.
Dana Altman, Oregon
Tim Cluess, Iona
Tom Crean, Indiana
Keith Dambrot, Akron
Johnny Dawkins, Stanford
Fran Dunphy, Temple
Leonard Hamilton, Florida State
Ben Jacobson, Northern Iowa
Derek Kellogg, Massachusetts
Larry Krystkowiak, Utah
Mike Lonergan, George Washington
Cuonzo Martin, California
Chris Mooney, Richmond
Craig Neal, New Mexico
Matt Painter, Purdue
Dave Paulsen, Bucknell
Bruce Pearl, Auburn
Steve Prohm, Murray State
Dave Rose, BYU
Herb Sendek, Arizona State
Kevin Stallings, Vanderbilt
Andy Toole, Robert Morris
Brad Underwood, Stephen F. Austin
Brian Wardle, Wisconsin-Green Bay
Michael White, Louisiana Tech
HOW DOES IT WORK?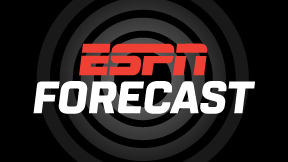 What is ESPN Forecast?
Our engine for creating more accurate sports predictions and opinion.
Does it work?
Yes. This is the future of forecasting, as demonstrated by the 2012 presidential election and Fortune 500 companies.
How does it work?
Our approach, in a nutshell, is to create a diverse panel of people with college basketball expertise and aggregate predictions and opinions. For ESPN Forecast, we have a panel of 45 members that collectively possess vast college basketball experience, knowledge and perspective.
Why does it work?
This panel has a collective intelligence that's greater than any individual member's knowledge and sharper than that of any single statistical system.
Diversity is a key factor in creating accurate predictions and opinion. The wisdom of the crowd comes from having diverse views that emerge from independent thinking.
The ESPN Forecast panel is a diverse mix of contributors from across the spectrum.
The result?
More accurate, insightful forecasts and views.
This is the wisdom of the crowd in action. This is ESPN Forecast.
COACHING CENTRAL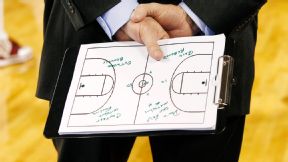 AP Photo/Mel Evans