Top 50 coaches: No. 12 Jim Boeheim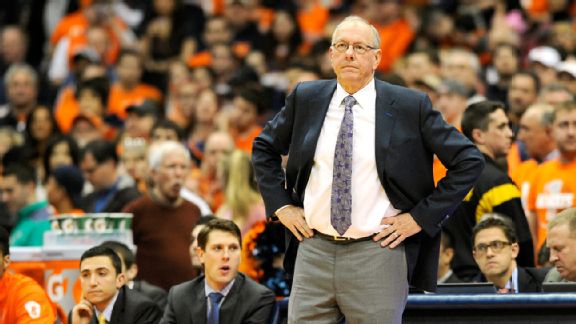 Cal Sport Media via AP ImagesJim Boeheim took over at Syracuse in 1976, when the Orange didn't belong to a conference.
Editor's note: During the next five weeks, we will reveal the top 50 coaches in college basketball as decided by our ESPN Forecast panel. Today we unveil No. 12: Syracuse's Jim Boeheim. On Friday, we release No. 11.
---
This is not a legacy measure.
For all of the different ways our 45 ESPN Forecast college hoops panelists might have weighed their scores of the nation's top 50 -- and there are all sorts of ways individual emphases can come into play -- this was the defining criterion. These rankings were never meant to be about the aggregate work of a coach's lifetime. They are meant to cover current performance. It's a broadly limited term.
More from ESPN.com

When the time comes for Jim Boeheim to walk away from Syracuse, who will replace him? Jeff Goodman lists the candidates. Blog

We've repeated that reminder as much as possible these last few weeks. Really, we can't stress it enough. And it's as important as ever now, as the countdown bears in on the top 10, and the names we so closely associate with tenure and legacy are revealed through this intentionally short-sighted prism.
Having said that: Is Jim Boeheim at No. 12 too low?
Given the lofty company, the panel is probably right. And No. 12 is hardly an insult.
In any case, it's not hard to make the argument for Boeheim -- and not just the career argument, but the accounting of his last few years -- about the current strength of Syracuse men's basketball. It was just a year ago, after all, that the Syracuse went to its fourth Final Four under its monolithic coach, when a team that lost seven Big East games congealed into one of the most ferocious postseason defenses in the past decade. (In their five 2013 tourney games, the Orange held Montana, California, Indiana, Marquette and Michigan to 244 points in 313 possessions. That's insane.) Last spring, Boeheim lost his top three perimeter players (one of whom, Michael Carter-Williams, went on to look like a future star in the NBA) and then, led by brilliant freshman guard Tyler Ennis, started the 2013-14 season 25-0.
Syracuse had a bit of an offensive breakdown toward the tail end of the season; the Orange lost six of their last nine, including a round-of-32 loss against Dayton. Maybe that hurt Boeheim in the voting slightly. But a larger view of the man's past six seasons makes it hard to overlook the successes. In six years, Syracuse has never been lower than a No. 4 seed (which they were last season). They've been a No. 3-seed three times. They've been seeded No. 1 twice. They won two regular-season Big East titles (2009-10, 2011-12).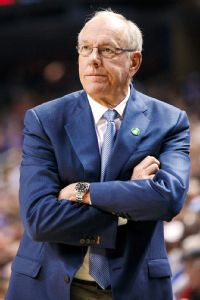 Rich Barnes/Getty ImagesBoeheim also helped USA Basketball win gold as an assistant at the 2008 Beijing Olympics.
Most impressively, they've done it every season despite suffering significant personnel losses. In 2010-11, after losing Wes Johnson, Andy Rautins, and Arinze Onuaku, the Orange went 27-8 despite getting almost nothing from top recruit Fab Melo. Then, Boeheim had sophomore guard Dion Waiters waiting in the wings, a new star for another excellent team. In 2012-13, Carter-Williams emerged in similar fashion. And so on. Boeheim recruits well, sure, but he also develops players at their own pace. Whatever roster holes appear to open up in June end up looking silly by December. And he does this every single year.
Speaking of every year: What about the 2-3 zone? Think about this: Every year, every game, Boeheim's team plays the exact same defense. The exact same! Every time! And every year, his teams play some of the nation's best defense: They haven't ranked outside the top 20 in adjusted efficiency since 2008-09. In a world of fetishized tactical flexibility, of coaches obsessed with over-thinking, this dude is still playing the exact same defense he's trotted out for the past God-knows-how-many-games, and people still can't figure it out.
That, in the end, is the greatest testament to Boeheim's ability. It's not just the longevity, the consistency, so many seasons in the same place, so many wins. It's that after all that, in the twilight of his career, Boeheim is every bit as good as he's ever been. Maybe even better.
-- Eamonn Brennan
---
Previous: Nos. 50-25 » No. 24: McKillop » No. 23: McDermott » No. 22: Amaker »
• No. 21: Brown » No. 20: Matta » No. 19: Wright » No. 18: Fisher » No. 17: Few »
• No. 16: Williams » No. 15: Hoiberg » No. 14: Bennett » No. 13: Smart »
Full Top 50 Coaches List
No. 50: Tie -- Randy Bennett, Saint Mary's; Scott Drew, Baylor
No. 49: Richard Pitino, Minnesota
No. 48: Stew Morrill, Utah State
No. 47: Bob Hoffman, Mercer
No. 46: John Thompson III, Georgetown
No. 45: Mike Brey, Notre Dame
No. 44: Rick Barnes, Texas
No. 43: Chris Mack, Xavier
No. 42: Josh Pastner, Memphis
No. 41: Ed Cooley, Providence
No. 40: Bruce Weber, Kansas State
No. 39: Tubby Smith, Texas Tech
No. 38: Buzz Williams, Virginia Tech
No. 37: Rick Byrd, Belmont
No. 36: Steve Alford, UCLA
No. 35: Phil Martelli, Saint Joseph's
No. 34: Tad Boyle, Colorado
No. 33: Fran McCaffery, Iowa
No. 32: Tim Miles, Nebraska
No. 31: Lon Kruger, Oklahoma
No. 30: Bob Huggins, West Virginia
No. 29: Jim Crews, Saint Louis
No. 28: Jim Larranaga, Miami
No. 27: Mick Cronin, Cincinnati
No. 26: Archie Miller, Dayton
No. 25: Jamie Dixon, Pittsburgh
No. 24: Bob McKillop, Davidson
No. 23: Greg McDermott, Creighton
No. 22: Tommy Amaker, Harvard
No. 21: Larry Brown, SMU
No. 20: Thad Matta, Ohio State
No. 19: Jay Wright, Villanova
No. 18: Steve Fisher, San Diego State
No. 17: Mark Few, Gonzaga
No. 16: Roy Williams, North Carolina
No. 15: Fred Hoiberg, Iowa State
No. 14: Tony Bennett, Virginia
No. 13: Shaka Smart, VCU
No. 12: Jim Boeheim, Syracuse
COACHES WHO JUST MISSED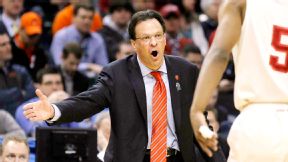 AP Photo/Kiichiro Sato
Some big names missed our list of top 50 coaches. Here are the 25 names who just missed, listed in alphabetical order.
Dana Altman, Oregon
Tim Cluess, Iona
Tom Crean, Indiana
Keith Dambrot, Akron
Johnny Dawkins, Stanford
Fran Dunphy, Temple
Leonard Hamilton, Florida State
Ben Jacobson, Northern Iowa
Derek Kellogg, Massachusetts
Larry Krystkowiak, Utah
Mike Lonergan, George Washington
Cuonzo Martin, California
Chris Mooney, Richmond
Craig Neal, New Mexico
Matt Painter, Purdue
Dave Paulsen, Bucknell
Bruce Pearl, Auburn
Steve Prohm, Murray State
Dave Rose, BYU
Herb Sendek, Arizona State
Kevin Stallings, Vanderbilt
Andy Toole, Robert Morris
Brad Underwood, Stephen F. Austin
Brian Wardle, Wisconsin-Green Bay
Michael White, Louisiana Tech
HOW DOES IT WORK?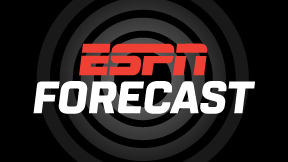 What is ESPN Forecast?
Our engine for creating more accurate sports predictions and opinion.
Does it work?
Yes. This is the future of forecasting, as demonstrated by the 2012 presidential election and Fortune 500 companies.
How does it work?
Our approach, in a nutshell, is to create a diverse panel of people with college basketball expertise and aggregate predictions and opinions. For ESPN Forecast, we have a panel of 45 members that collectively possess vast college basketball experience, knowledge and perspective.
Why does it work?
This panel has a collective intelligence that's greater than any individual member's knowledge and sharper than that of any single statistical system.
Diversity is a key factor in creating accurate predictions and opinion. The wisdom of the crowd comes from having diverse views that emerge from independent thinking.
The ESPN Forecast panel is a diverse mix of contributors from across the spectrum.
The result?
More accurate, insightful forecasts and views.
This is the wisdom of the crowd in action. This is ESPN Forecast.
COACHING CENTRAL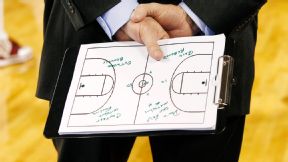 AP Photo/Mel Evans