Top 50 coaches: No. 13 Shaka Smart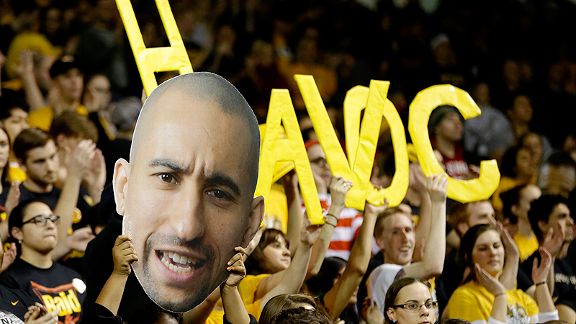 AP Photo/Steve HelberShaka Smart has developed a style that suits him and VCU quite nicely. The Rams haven't gone away.
Editor's note: During the next five weeks, we will reveal the top 50 coaches in college basketball as decided by our ESPN Forecast panel. Today we unveil No. 13: VCU's Shaka Smart. On Thursday, we release No. 12.
---
VCU could have been a fun, one-time thing, a piece of trivia. In 2011, the first year of the First Four, the Rams did the unthinkable: They turned their surprising NCAA tournament at-large bid into a five-win trip to the Final Four. They beat USC in Dayton, then Georgetown and Purdue in Chicago. And that already was enough of a story -- the stylish young coach with the undersized, chaotic, irrepressibly hot team. But VCU would win a thriller against Florida State, then stood toe to toe with top-seeded Kansas. And Shaka Smart was in the Final Four in just his second season as a head coach.
It could have ended then. Betting as much wouldn't have been an unwise move. VCU had a couple of insanely hot weeks at the end of an otherwise marginal season; they could have reverted to solid but unspectacular form. Or Smart could have taken another job. Or both.
Instead, Smart has stayed -- turning down just about every high-major coaching opening in the country in the process -- and turned VCU into a consistent, sustained program in the top-25 level. VCU doesn't sneak up on anyone now, and it doesn't need the committee's generosity to get in the tournament. Smart's long-term strategy -- on and off the court -- is the obvious reason why.
It's also the reason why Smart ranks so high on our ESPN Forecast panel's top 50 coaches list. As we mentioned in Tuesday's entry on Virginia coach Tony Bennett, we're getting to the point of this list where young, fresh insurgents are becoming rarer.
Initially, it was a surprise to see Smart this high, especially given how some panelists seemed to penalize coaches for early tournament losses despite otherwise impressive seasons. (The "current performance" emphasis in our voting meant different things to different voters, no doubt.) But the more you think about Smart's career at VCU thus far, the more difficult it is to argue with his lofty placement.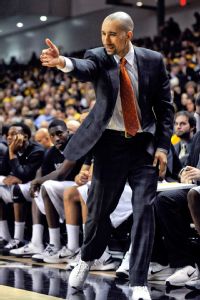 AP Photo/Clement BrittShaka Smart has built a successful program by identifying and recruiting talent that fits in his system.
For example: In five seasons, Smart has been to the tournament four times. His lowest win total as a head coach is 26, which came last season, arguably VCU's best wire-to-wire campaign. The Rams finished 2013-14 ranked No. 17 in adjusted efficiency, with a 12-4 record in Atlantic-10. That's the same record they put up in their first season in the A-10, back in 2012-13; the conference upgrade the Rams made was thanks in large part to Smart in the first place.
Smart's defining hoops strategy is widely known now; he's branded himself and his teams better than just about any coach in the country not named John Calipari. Smart calls it "havoc," and the name fits. VCU's defenders swarm and swat at opposing teams relentlessly, pressuring the length of the court for all 40 minutes of the game.
The brand wouldn't work if the defense didn't: In the past three seasons, VCU has ranked No. 19, No. 45 and No. 6 in adjusted defensive efficiency. In each season, the Rams forced opponents into the highest average turnover rate in the country. VCU opponents typically cough up more than a quarter of their possessions; sometimes 30 percent or more. And the Rams get a steady flow of easy buckets as a result.
Havoc survived the great freedom-of-movement scare of 2013-14, but it is not without its flaws. Namely this: When the Rams don't turn people over, they typically aren't very good at getting stops. This was slightly less of an issue last season. It was a fundamental problem in 2013-14. The Rams' defense was ferocious against overmatched backcourts (see: Butler), but when it faced good teams with capable ball handlers, it was easily shredded (see: Michigan). (Last season, offense was more of an issue.) The challenge for Smart going forward is how to blend what makes his style unique with good, old-fashioned things like defensive rebounding.
Still, is there any doubt he'll figure it out? And even if he doesn't, that VCU will keep being a ferocious, dynamic opponent? Next season, the Rams will return much of last season's typically guard-heavy and versatile squad, while adding three top-100 players in the school's best-ever recruiting class. They're an easy preseason top-25 pick, and then some.
There are two kinds of Cinderella stories. There are the underdogs who rise and fade in a flash of glory. And there are those who, once in the spotlight, refuse to cede it. Gonzaga took the latter path a decade ago. Smart looks determined to do the same at VCU. He's off to a rousing start.
-- Eamonn Brennan
---
Previous: Nos. 50-25 » No. 24: McKillop » No. 23: McDermott » No. 22: Amaker »
• No. 21: Brown » No. 20: Matta » No. 19: Wright » No. 18: Fisher » No. 17: Few »
• No. 16: Williams » No. 15: Hoiberg » No. 14: Bennett »
Full Top 50 Coaches List
No. 50: Tie -- Randy Bennett, Saint Mary's; Scott Drew, Baylor
No. 49: Richard Pitino, Minnesota
No. 48: Stew Morrill, Utah State
No. 47: Bob Hoffman, Mercer
No. 46: John Thompson III, Georgetown
No. 45: Mike Brey, Notre Dame
No. 44: Rick Barnes, Texas
No. 43: Chris Mack, Xavier
No. 42: Josh Pastner, Memphis
No. 41: Ed Cooley, Providence
No. 40: Bruce Weber, Kansas State
No. 39: Tubby Smith, Texas Tech
No. 38: Buzz Williams, Virginia Tech
No. 37: Rick Byrd, Belmont
No. 36: Steve Alford, UCLA
No. 35: Phil Martelli, Saint Joseph's
No. 34: Tad Boyle, Colorado
No. 33: Fran McCaffery, Iowa
No. 32: Tim Miles, Nebraska
No. 31: Lon Kruger, Oklahoma
No. 30: Bob Huggins, West Virginia
No. 29: Jim Crews, Saint Louis
No. 28: Jim Larranaga, Miami
No. 27: Mick Cronin, Cincinnati
No. 26: Archie Miller, Dayton
No. 25: Jamie Dixon, Pittsburgh
No. 24: Bob McKillop, Davidson
No. 23: Greg McDermott, Creighton
No. 22: Tommy Amaker, Harvard
No. 21: Larry Brown, SMU
No. 20: Thad Matta, Ohio State
No. 19: Jay Wright, Villanova
No. 18: Steve Fisher, San Diego State
No. 17: Mark Few, Gonzaga
No. 16: Roy Williams, North Carolina
No. 15: Fred Hoiberg, Iowa State
No. 14: Tony Bennett, Virginia
No. 13: Shaka Smart, VCU
COACHES WHO JUST MISSED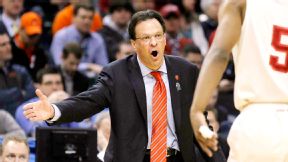 AP Photo/Kiichiro Sato
Some big names missed our list of top 50 coaches. Here are the 25 names who just missed, listed in alphabetical order.
Dana Altman, Oregon
Tim Cluess, Iona
Tom Crean, Indiana
Keith Dambrot, Akron
Johnny Dawkins, Stanford
Fran Dunphy, Temple
Leonard Hamilton, Florida State
Ben Jacobson, Northern Iowa
Derek Kellogg, Massachusetts
Larry Krystkowiak, Utah
Mike Lonergan, George Washington
Cuonzo Martin, California
Chris Mooney, Richmond
Craig Neal, New Mexico
Matt Painter, Purdue
Dave Paulsen, Bucknell
Bruce Pearl, Auburn
Steve Prohm, Murray State
Dave Rose, BYU
Herb Sendek, Arizona State
Kevin Stallings, Vanderbilt
Andy Toole, Robert Morris
Brad Underwood, Stephen F. Austin
Brian Wardle, Wisconsin-Green Bay
Michael White, Louisiana Tech
HOW DOES IT WORK?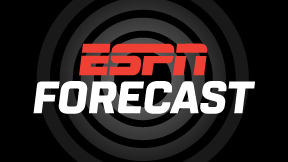 What is ESPN Forecast?
Our engine for creating more accurate sports predictions and opinion.
Does it work?
Yes. This is the future of forecasting, as demonstrated by the 2012 presidential election and Fortune 500 companies.
How does it work?
Our approach, in a nutshell, is to create a diverse panel of people with college basketball expertise and aggregate predictions and opinions. For ESPN Forecast, we have a panel of 45 members that collectively possess vast college basketball experience, knowledge and perspective.
Why does it work?
This panel has a collective intelligence that's greater than any individual member's knowledge and sharper than that of any single statistical system.
Diversity is a key factor in creating accurate predictions and opinion. The wisdom of the crowd comes from having diverse views that emerge from independent thinking.
The ESPN Forecast panel is a diverse mix of contributors from across the spectrum.
The result?
More accurate, insightful forecasts and views.
This is the wisdom of the crowd in action. This is ESPN Forecast.
COACHING CENTRAL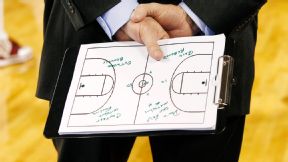 AP Photo/Mel Evans