Top 50 coaches: No. 14 Tony Bennett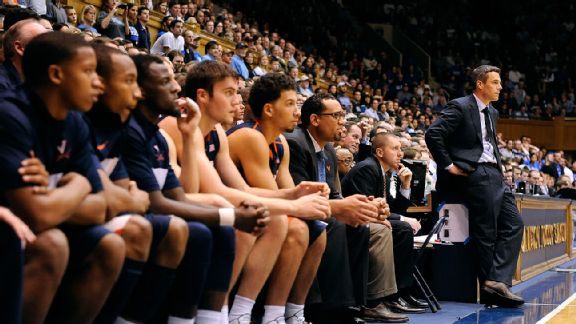 Grant Halverson/Getty ImagesVirginia's Tony Bennett temporarily loosened the stranglehold North Carolina schools have had on the ACC title.
Editor's note: During the next five weeks, we will reveal the top 50 coaches in college basketball as decided by our ESPN Forecast panel. Today we unveil No. 14: Virginia's Tony Bennett. On Wednesday, we release No. 13.
---
The ESPN Forecast Top 50 Coaches List is a strictly no-spoilers affair. We've been asked more than a few times (occasionally on live radio, which can be awkward) about the names to come: Who's in the top five? Who's No. 1? We've kept our cards close, though, because if we wanted to give you the whole list all at once, we would have. The daily countdown is part of the fun.
That said, there is one vague hint to offer today: We are running out of truly fresh faces. Closing in on the top 10, the list shifts to many of the usual suspects, the indisputables -- the guys who, whether had we asked our panel to vote on a list of the best coaches in the past decade or the past three decades, would end up in the top 10-12 names no matter what.
Virginia coach Tony Bennett may not belong in that long-term category yet. But in a reckoning of recent coaching performance, where current showing weighs so heavily, it's hard to do much better than Bennett.
Virginia was a remarkable team a season ago, and for a swath of different reasons. The first is a bit paradoxical. UVa played the typically physical, drastically down-tempo style Bennett's father, Dick Bennett, originated at Green Bay. They averaged 60.9 possessions per game adjusted, and only five teams -- Clemson, Cal Poly, Delaware State, Denver and Miami -- were slower.
But, strangely enough, UVa wasn't punishing to watch. It wasn't ugly. It was often thrilling. Watching the Cavaliers play at home -- the pack-line defense smothering opponents, the offense slicing up one ruthless possession after another, Malcolm Brogdon and Joe Harris sharp in attack, as John Paul Jones Arena reveled in its sudden basketball power -- was one of the more enjoyable viewing experiences in college hoops last season. By the end of the season, the same team that scored 38 points at home in a loss to Wisconsin was a truly can't-miss TV prospect, without sacrificing its style in the process. How weird is that?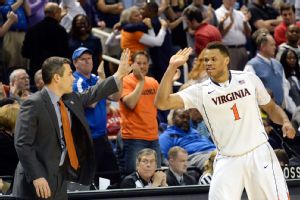 Toni L. Sandys/The Washington Post via Getty ImagesThink they had some fun this past season in Charlottesville? ACC regular-season and tournament titles will do that.
And then there were Virginia's accomplishments. The Cavaliers won 30 games, went 16-2 in the expanded ACC, and won the regular-season conference title, just their second ACC title. Here's another crazy statistic: Their regular-season title marked just the seventh time in ACC history, and the fifth in the past 34 seasons, that a team from North Carolina had not at least shared it. Seventh time ever! That's insane.
Oh, and then Virginia won the conference tournament title, just for good measure.
At age 45, Bennett has had a relatively steady rise to the top of the profession, but the operative word there is "relatively." His first season as a head coach was as good as they come: He tied the Washington State school record for wins, finished second place in the Pac-12, and won just about every possible national coaching accolade (AP Coach of the Year, Naismith COY, USBWA Henry Iba Award et. al.) He won 26 games again in the 2007-08 season. But his last season at Washington State was a just-over .500 letdown, and it took him until his third year at Virginia to break 20 wins and get on the right side of the conference record in the ACC. Still, in doing so, Bennett got to the tournament within that vaguely codified acceptable rebuilding time frame. Three years is the schedule, if not ahead of it. UVa was on track.
The 2012-13 season was arguably the biggest disappointment yet. With most of the same players who had jelled so magnificently a season later, Bennett's team played top-25 defense and finished 40th in adjusted efficiency, but lost to George Mason, Delaware, Old Dominion, Wake Forest and Clemson before Jan. 12. The bad losses and bad schedule ruined the Cavaliers' RPI and strength of schedule, and all of a sudden a clearly skilled UVa team was in the NIT.
For those who watched the 2012-13 team (and looked at its numbers) and thought they were taking Mugatu's crazy pills -- how is this team not better?! -- 2013-14 was a big sigh of relief. It was better. It took a year, but Bennett melded players with style as well as any coach in the country. The result was a cohesive and grinding team on both ends of the floor, one that looked miserable to play but was no less aesthetically pleasing for it. And now, with Brogdon and most everyone else (save Harris and Akil Mitchell, two crucial but not backbreaking losses), the Cavaliers appear likely to stay at or near the top of this jam-packed ACC for years to come.
-- Eamonn Brennan
---
Previous: Nos. 50-25 » No. 24: McKillop » No. 23: McDermott » No. 22: Amaker »
• No. 21: Brown » No. 20: Matta » No. 19: Wright » No. 18: Fisher » No. 17: Few »
• No. 16: Williams » No. 15: Hoiberg »
Full Top 50 Coaches List
No. 50: Tie -- Randy Bennett, Saint Mary's; Scott Drew, Baylor
No. 49: Richard Pitino, Minnesota
No. 48: Stew Morrill, Utah State
No. 47: Bob Hoffman, Mercer
No. 46: John Thompson III, Georgetown
No. 45: Mike Brey, Notre Dame
No. 44: Rick Barnes, Texas
No. 43: Chris Mack, Xavier
No. 42: Josh Pastner, Memphis
No. 41: Ed Cooley, Providence
No. 40: Bruce Weber, Kansas State
No. 39: Tubby Smith, Texas Tech
No. 38: Buzz Williams, Virginia Tech
No. 37: Rick Byrd, Belmont
No. 36: Steve Alford, UCLA
No. 35: Phil Martelli, Saint Joseph's
No. 34: Tad Boyle, Colorado
No. 33: Fran McCaffery, Iowa
No. 32: Tim Miles, Nebraska
No. 31: Lon Kruger, Oklahoma
No. 30: Bob Huggins, West Virginia
No. 29: Jim Crews, Saint Louis
No. 28: Jim Larranaga, Miami
No. 27: Mick Cronin, Cincinnati
No. 26: Archie Miller, Dayton
No. 25: Jamie Dixon, Pittsburgh
No. 24: Bob McKillop, Davidson
No. 23: Greg McDermott, Creighton
No. 22: Tommy Amaker, Harvard
No. 21: Larry Brown, SMU
No. 20: Thad Matta, Ohio State
No. 19: Jay Wright, Villanova
No. 18: Steve Fisher, San Diego State
No. 17: Mark Few, Gonzaga
No. 16: Roy Williams, North Carolina
No. 15: Fred Hoiberg, Iowa State
No. 14: Tony Bennett, Virginia
COACHES WHO JUST MISSED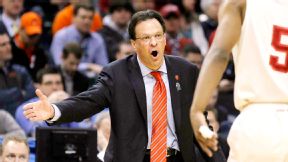 AP Photo/Kiichiro Sato
Some big names missed our list of top 50 coaches. Here are the 25 names who just missed, listed in alphabetical order.
Dana Altman, Oregon
Tim Cluess, Iona
Tom Crean, Indiana
Keith Dambrot, Akron
Johnny Dawkins, Stanford
Fran Dunphy, Temple
Leonard Hamilton, Florida State
Ben Jacobson, Northern Iowa
Derek Kellogg, Massachusetts
Larry Krystkowiak, Utah
Mike Lonergan, George Washington
Cuonzo Martin, California
Chris Mooney, Richmond
Craig Neal, New Mexico
Matt Painter, Purdue
Dave Paulsen, Bucknell
Bruce Pearl, Auburn
Steve Prohm, Murray State
Dave Rose, BYU
Herb Sendek, Arizona State
Kevin Stallings, Vanderbilt
Andy Toole, Robert Morris
Brad Underwood, Stephen F. Austin
Brian Wardle, Wisconsin-Green Bay
Michael White, Louisiana Tech
HOW DOES IT WORK?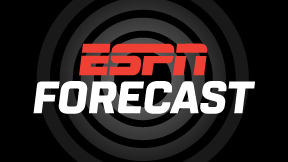 What is ESPN Forecast?
Our engine for creating more accurate sports predictions and opinion.
Does it work?
Yes. This is the future of forecasting, as demonstrated by the 2012 presidential election and Fortune 500 companies.
How does it work?
Our approach, in a nutshell, is to create a diverse panel of people with college basketball expertise and aggregate predictions and opinions. For ESPN Forecast, we have a panel of 45 members that collectively possess vast college basketball experience, knowledge and perspective.
Why does it work?
This panel has a collective intelligence that's greater than any individual member's knowledge and sharper than that of any single statistical system.
Diversity is a key factor in creating accurate predictions and opinion. The wisdom of the crowd comes from having diverse views that emerge from independent thinking.
The ESPN Forecast panel is a diverse mix of contributors from across the spectrum.
The result?
More accurate, insightful forecasts and views.
This is the wisdom of the crowd in action. This is ESPN Forecast.
COACHING CENTRAL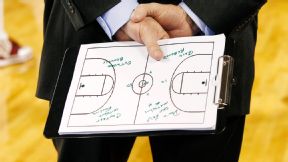 AP Photo/Mel Evans