Top 50 coaches: No. 15 Fred Hoiberg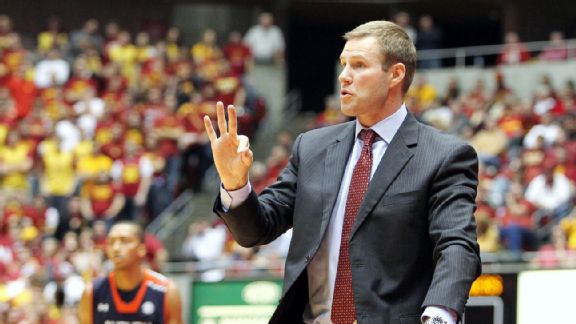 Reese Strickland/USA TODAY SportsFred Hoiberg has found comfort at home, leading Iowa State out of mediocrity and into national relevance.
Editor's note: Over the next five weeks, we will reveal the top 50 coaches in college basketball as decided by our ESPN Forecast panel. Today we unveil No. 15: Iowa State's Fred Hoiberg. On Tuesday, we release No. 14.
---
It was the fall of 2010, and Fred Hoiberg looked lost.
On the Sprint Center court in Kansas City, Missouri, the Big 12's basketball coaches were spread among various podiums, and almost everyone had a media day scrum to tangle with. Bill Self was mobbed, of course, but Kansas State coach Frank Martin -- whose team was the media pick to end Kansas' then-only-somewhat-silly conference title streak -- had his fair share of requests, too. Baylor's Scott Drew held court with a handful of reporters. Then-Mizzou coach Mike Anderson answered different versions of the same "40 Minutes of Hell" questions to a continuous stream. The journalists and video cameras moved magnetically, molecules seeking an opposite charge, self-ordering around newly available coaches.
It was a totally efficient process, except for one thing: They kept missing Hoiberg. He answered questions from a couple of local reporters, and then went unnoticed for almost an hour. He spent most of the time playing with his cell phone. When a reporter approached, and asked him if he had time to shoot a video, he deadpanned: "I don't know, I'm pretty busy over here." Then Hoiberg got up from his seat, formally introduced himself, thanked the reporter for giving him something to do, and asked where he needed to stand.
Such was the enthusiasm for Hoiberg's return to Iowa State: nonexistent. Four years later, a panel of 50 ESPN Forecast voters -- writers, editors, broadcasters and analysts obsessed with college basketball -- would score and rank Hoiberg to be the 15th-best college basketball coach in the country, one spot higher than two-time national champion Roy Williams. Hoiberg has spent most of this spring being casually name-dropped alongside John Calipari, Billy Donovan and Tom Izzo as top NBA coaching candidates; it is widely assumed that if Tom Thibodeau leaves the Chicago Bulls, Hoiberg will be the franchise's first call.
You couldn't blame people for not seeing Hoiberg coming. The Iowa State program he took over in 2010 was a picture of mediocrity. After a successful tenure at Northern Iowa, Greg McDermott never cracked .500 in his four seasons in Ames, and jumped back to the Missouri Valley Conference at the first possible opportunity. Meanwhile, Hoiberg was a first-time coach. After a solid pro career, Hoiberg spent a decade as an NBA scout, but he had never sat on a sideline on any level. Iowa State fans were worried: Hoiberg was a revered local hero, but what happened if the Mayor couldn't coach?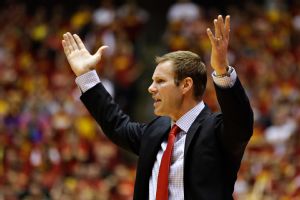 AP Photo/Charlie NeibergallPeople weren't exactly up in arms over Fred Hoiberg's return to Ames. Instead, they were pretty indifferent.
The Cyclones went 3-13 in the Big 12 in Hoiberg's first season, but there already were promising signs (such as Hoiberg's post-timeout possession efficiency) if you looked hard enough. And then, faster than anyone could have assumed, Iowa State got good. Minnesota transfer Royce White got his second chance under Hoiberg in 2011-12, and was brilliant: He led ISU in points, rebounds, assists, steals and blocked shots. His one season on the court got him drafted in the lottery despite his history (and open acknowledgement) of anxiety disorder and behavioral issues. (It is still the only productive season White has had in either college or pro basketball. Thanks to a prolonged falling out with the Houston Rockets, he didn't make his debut until this past March, 631 days after he was drafted.) White was only the best example of Hoiberg's early formula, which leaned heavily on transfers with baggage. It was a twist on Moneyball, in its own way: Without having to wait three or four years to reap conventional recruiting rewards, Hoiberg added very talented players who, because of past mistakes, were undervalued members of the talent pool.
The latest and best example came in Iowa State's best season under the Mayor. In 2013-14, the Cyclones were powered in large part by DeAndre Kane, a transfer from Marshall who left his former program on wretched terms. Even Kane admitted he was kind of a jerk with the Thundering Herd, that he had to learn to be a better teammate at Iowa State. But he did, and alongside senior Melvin Ejim and sophomore Georges Niang, the results were both effective -- Iowa State went 28-8, won the Big 12 tournament title, and with Niang sidelined by injury, played eventual national champ UConn to a five-point loss in the Sweet 16 -- and beautiful to watch.
That's another thing about Hoiberg's teams: They aren't merely good. They're aesthetically thrilling. The Cyclones play an inventive spread style; typically, all five of players on the court can play on the perimeter and the low block, can shoot 3s and pass and rebound. (Niang, Hoiberg's best recruit to date, is especially adept in this regard.) Last season, the Cyclones finished 16th in the country in adjusted tempo, eighth in Ken Pomeroy's possession length rank and sixth in adjusted offensive efficiency. They were simultaneously one of the best and fastest offensive teams in the country. They were so, so fun to watch.
Fun enough, in fact, that it is almost disheartening to hear Hoiberg's name mentioned among likely NBA candidates. The Mayor is one of college basketball's leading young lights, a rare burst of fresh air in what had often become a stifled, overcoached game. Four years ago, Hoiberg's arrival at Iowa State was greeted with a shrug at best, and skepticism at worst. Cyclones fans prepared themselves for the very real possibility that they might one day have to form a negative thought about their beloved native son. Now the only source of emotional distress is whether the Mayor might grow out of Ames once more.
They used to worry that Hoiberg wouldn't be a good enough coach. Now the only worry is that he's too good. Reporters used to skip past him at media day; now NBA GMs are poking around. Not bad for four years' work, huh?
-- Eamonn Brennan
---
Previous: Nos. 50-25 » No. 24: McKillop » No. 23: McDermott » No. 22: Amaker »
• No. 21: Brown » No. 20: Matta » No. 19: Wright » No. 18: Fisher » No. 17: Few »
• No. 16: Williams »
Full Top 50 Coaches List
No. 50: Tie -- Randy Bennett, Saint Mary's; Scott Drew, Baylor
No. 49: Richard Pitino, Minnesota
No. 48: Stew Morrill, Utah State
No. 47: Bob Hoffman, Mercer
No. 46: John Thompson III, Georgetown
No. 45: Mike Brey, Notre Dame
No. 44: Rick Barnes, Texas
No. 43: Chris Mack, Xavier
No. 42: Josh Pastner, Memphis
No. 41: Ed Cooley, Providence
No. 40: Bruce Weber, Kansas State
No. 39: Tubby Smith, Texas Tech
No. 38: Buzz Williams, Virginia Tech
No. 37: Rick Byrd, Belmont
No. 36: Steve Alford, UCLA
No. 35: Phil Martelli, Saint Joseph's
No. 34: Tad Boyle, Colorado
No. 33: Fran McCaffery, Iowa
No. 32: Tim Miles, Nebraska
No. 31: Lon Kruger, Oklahoma
No. 30: Bob Huggins, West Virginia
No. 29: Jim Crews, Saint Louis
No. 28: Jim Larranaga, Miami
No. 27: Mick Cronin, Cincinnati
No. 26: Archie Miller, Dayton
No. 25: Jamie Dixon, Pittsburgh
No. 24: Bob McKillop, Davidson
No. 23: Greg McDermott, Creighton
No. 22: Tommy Amaker, Harvard
No. 21: Larry Brown, SMU
No. 20: Thad Matta, Ohio State
No. 19: Jay Wright, Villanova
No. 18: Steve Fisher, San Diego State
No. 17: Mark Few, Gonzaga
No. 16: Roy Williams, North Carolina
No. 15: Fred Hoiberg, Iowa State
COACHES WHO JUST MISSED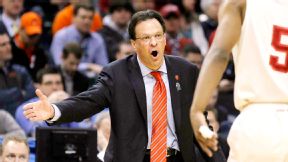 AP Photo/Kiichiro Sato
Some big names missed our list of top 50 coaches. Here are the 25 names who just missed, listed in alphabetical order.
Dana Altman, Oregon
Tim Cluess, Iona
Tom Crean, Indiana
Keith Dambrot, Akron
Johnny Dawkins, Stanford
Fran Dunphy, Temple
Leonard Hamilton, Florida State
Ben Jacobson, Northern Iowa
Derek Kellogg, Massachusetts
Larry Krystkowiak, Utah
Mike Lonergan, George Washington
Cuonzo Martin, California
Chris Mooney, Richmond
Craig Neal, New Mexico
Matt Painter, Purdue
Dave Paulsen, Bucknell
Bruce Pearl, Auburn
Steve Prohm, Murray State
Dave Rose, BYU
Herb Sendek, Arizona State
Kevin Stallings, Vanderbilt
Andy Toole, Robert Morris
Brad Underwood, Stephen F. Austin
Brian Wardle, Wisconsin-Green Bay
Michael White, Louisiana Tech
HOW DOES IT WORK?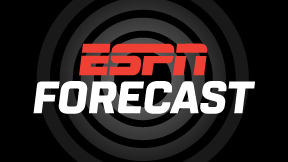 What is ESPN Forecast?
Our engine for creating more accurate sports predictions and opinion.
Does it work?
Yes. This is the future of forecasting, as demonstrated by the 2012 presidential election and Fortune 500 companies.
How does it work?
Our approach, in a nutshell, is to create a diverse panel of people with college basketball expertise and aggregate predictions and opinions. For ESPN Forecast, we have a panel of 45 members that collectively possess vast college basketball experience, knowledge and perspective.
Why does it work?
This panel has a collective intelligence that's greater than any individual member's knowledge and sharper than that of any single statistical system.
Diversity is a key factor in creating accurate predictions and opinion. The wisdom of the crowd comes from having diverse views that emerge from independent thinking.
The ESPN Forecast panel is a diverse mix of contributors from across the spectrum.
The result?
More accurate, insightful forecasts and views.
This is the wisdom of the crowd in action. This is ESPN Forecast.
COACHING CENTRAL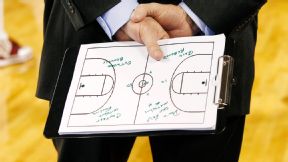 AP Photo/Mel Evans