Top 50 coaches: No. 16 Roy Williams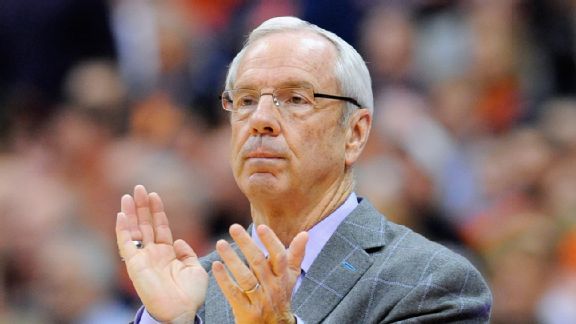 Rich Barnes/USA TODAY SportsRoy Williams -- who just finished his 11th year at North Carolina -- previously coached at Kansas.
Editor's note: Over the next five weeks, we will reveal the top 50 coaches in college basketball as decided by our ESPN Forecast panel. Today we unveil No. 16: North Carolina's Roy Williams. On Monday, we release No. 15.
---
Exactly seven days after one of his former national title-winning stars accused him of knowing about soft academic policies among athletes at the University of North Carolina, UNC head coach Roy Williams is No. 16 on our list. This is slightly awkward.
More from ESPN.com

Dating back to his time at Kansas, Roy Williams has always been judged by a different standard, C.L. Brown writes. Blog »
---

It's too early to tell what Rashad McCants' allegations will mean for the product UNC puts on the floor, Adam Finkelstein writes. Blog

It is difficult to look at Roy Williams' current coaching performance and not acknowledge the academic imbroglio Rashad McCants reignited -- and, after loud and widespread denunciation by Williams and his former teammates, reiterated -- last week. Likewise, it is worth noting the timing of the ESPN Forecast panel's voting. We finalized the list almost two weeks ago. Votes were tallied well before the McCants mess, in other words ... but they were also tallied after more than two years of academic self-investigation and the P.J. Hairston mess of a summer ago. None of it shines a particularly positive light on the job Williams has done off the court.
Because on the court, Williams has been excellent, and the 2013-14 team was some of his finest pure coaching work in years.
Losing Hairston wasn't just an ugly bit of press. It was a genuine blow to a team built around Hairston's unique blend of wing shooting and interior strength. Without him, Williams had to recalibrate a young team top to bottom. He put Marcus Paige into countless pick and rolls, discovered Paige's unique off-dribble shot-making and got a brilliant sophomore campaign out of his point guard. He persuaded James Michael McAdoo, one of the nation's most disappointing players a year ago, to be more direct and decisive on the offensive end. He oversaw the emergence of two young big men, and now Brice Johnson and Kennedy Meeks both project as stars in 2014-15. (Johnson needs more touches, but with McAdoo gone, that shouldn't be a problem.)
Gradually, Williams turned what could have been a disastrous season into an impressive one. The Tar Heels recovered from their weird nonconference months -- when they beat Michigan State, Kentucky and Louisville, and lost to Belmont and UAB -- to rattle off 12 straight wins from Jan. 26 to March 3. They were a late DeAndre Kane bucket away from the Sweet 16.
Oh, and Williams is recruiting well, just as he always does. The 2014 class is especially impressive. It comprises three players, all of whom are at least top-three at their position nationally: No. 2-ranked small forward Justin Jackson, No. 3-ranked small forward Theo Pinson and No. 3-ranked point guard Joel Berry. The Tar Heels' lone weakness last season -- off-ball wing play -- is now an embarrassment of riches.
AP Photo/Gerry BroomeWilliams won his first NCAA title in his second year at North Carolina.
Three coaches have won more than one national title since 2003-04: Florida's Billy Donovan, Connecticut's Jim Calhoun (now retired), and, of course, Williams. It's easy to forget, after Williams' cyclical and occasionally transcendent success at UNC (when his teams are good enough to win national titles, they destroy all comers in the process), that North Carolina's proud program was once in total disarray. Matt Doherty did his best in an overwhelming situation, and his recruits ended up being pretty good, but the program itself was in shambles. And then Williams stepped in and calmed everything down, got everybody to feel comfortable again, and the UNC machine he spent decades helping Dean Smith build was churning out top teams every year once again.
The last few years have taken some of the polish off. Williams' teams have vacillated between good and above-average, but worst of all is the intimation that North Carolina isn't as special as it insists, that it's just another school offering cheap grades to star athletes, that Williams and the rest of the athletic department allow it to happen. There's a faculty whistleblower, and a former player and public accusations back and forth. Whatever the truth about UNC's African-American Studies department is, that cool gentility that personified UNC has faded, even if slightly. The fact that one of the three men to win two national titles in the past decade didn't crack the panel's top 15 just about sums it up.
-- Eamonn Brennan
---
Previous: Nos. 50-25 » No. 24: McKillop » No. 23: McDermott » No. 22: Amaker »
• No. 21: Brown » No. 20: Matta » No. 19: Wright » No. 18: Fisher » No. 17: Few »
Full Top 50 Coaches List
No. 50: Tie -- Randy Bennett, Saint Mary's; Scott Drew, Baylor
No. 49: Richard Pitino, Minnesota
No. 48: Stew Morrill, Utah State
No. 47: Bob Hoffman, Mercer
No. 46: John Thompson III, Georgetown
No. 45: Mike Brey, Notre Dame
No. 44: Rick Barnes, Texas
No. 43: Chris Mack, Xavier
No. 42: Josh Pastner, Memphis
No. 41: Ed Cooley, Providence
No. 40: Bruce Weber, Kansas State
No. 39: Tubby Smith, Texas Tech
No. 38: Buzz Williams, Virginia Tech
No. 37: Rick Byrd, Belmont
No. 36: Steve Alford, UCLA
No. 35: Phil Martelli, Saint Joseph's
No. 34: Tad Boyle, Colorado
No. 33: Fran McCaffery, Iowa
No. 32: Tim Miles, Nebraska
No. 31: Lon Kruger, Oklahoma
No. 30: Bob Huggins, West Virginia
No. 29: Jim Crews, Saint Louis
No. 28: Jim Larranaga, Miami
No. 27: Mick Cronin, Cincinnati
No. 26: Archie Miller, Dayton
No. 25: Jamie Dixon, Pittsburgh
No. 24: Bob McKillop, Davidson
No. 23: Greg McDermott, Creighton
No. 22: Tommy Amaker, Harvard
No. 21: Larry Brown, SMU
No. 20: Thad Matta, Ohio State
No. 19: Jay Wright, Villanova
No. 18: Steve Fisher, San Diego State
No. 17: Mark Few, Gonzaga
No. 16: Roy Williams, North Carolina
COACHES WHO JUST MISSED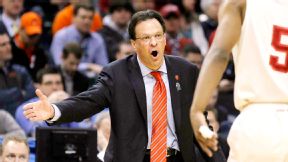 AP Photo/Kiichiro Sato
Some big names missed our list of top 50 coaches. Here are the 25 names who just missed, listed in alphabetical order.
Dana Altman, Oregon
Tim Cluess, Iona
Tom Crean, Indiana
Keith Dambrot, Akron
Johnny Dawkins, Stanford
Fran Dunphy, Temple
Leonard Hamilton, Florida State
Ben Jacobson, Northern Iowa
Derek Kellogg, Massachusetts
Larry Krystkowiak, Utah
Mike Lonergan, George Washington
Cuonzo Martin, California
Chris Mooney, Richmond
Craig Neal, New Mexico
Matt Painter, Purdue
Dave Paulsen, Bucknell
Bruce Pearl, Auburn
Steve Prohm, Murray State
Dave Rose, BYU
Herb Sendek, Arizona State
Kevin Stallings, Vanderbilt
Andy Toole, Robert Morris
Brad Underwood, Stephen F. Austin
Brian Wardle, Wisconsin-Green Bay
Michael White, Louisiana Tech
HOW DOES IT WORK?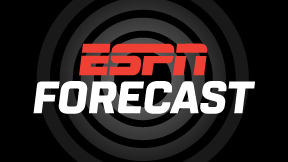 What is ESPN Forecast?
Our engine for creating more accurate sports predictions and opinion.
Does it work?
Yes. This is the future of forecasting, as demonstrated by the 2012 presidential election and Fortune 500 companies.
How does it work?
Our approach, in a nutshell, is to create a diverse panel of people with college basketball expertise and aggregate predictions and opinions. For ESPN Forecast, we have a panel of 45 members that collectively possess vast college basketball experience, knowledge and perspective.
Why does it work?
This panel has a collective intelligence that's greater than any individual member's knowledge and sharper than that of any single statistical system.
Diversity is a key factor in creating accurate predictions and opinion. The wisdom of the crowd comes from having diverse views that emerge from independent thinking.
The ESPN Forecast panel is a diverse mix of contributors from across the spectrum.
The result?
More accurate, insightful forecasts and views.
This is the wisdom of the crowd in action. This is ESPN Forecast.
COACHING CENTRAL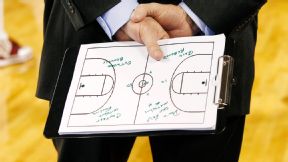 AP Photo/Mel Evans