Top 50 coaches: No. 18 Steve Fisher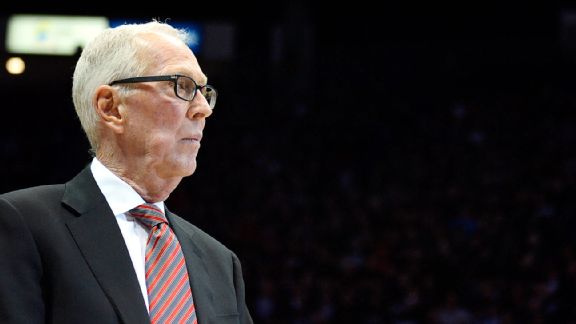 Christopher Hanewinckel/USA TODAY SportsSteve Fisher has come a long way since winning just five games in his first season at San Diego State.
Editor's note: Over the next five weeks, we will reveal the top 50 coaches in college basketball as decided by our ESPN Forecast panel. Today we unveil No. 18: San Diego State's Steve Fisher. On Thursday, we release No. 17.
---
It really felt like last year would be the year.
San Diego State had been good, and occasionally great, in every season since 2009, but in 2010-11, the Aztecs had a breakthrough -- a 34-3 season fueled by a deep group of seniors, a ferocious and athletic defense, and a previously unheralded sophomore named Kawhi Leonard, who turned out to be pretty good. In the seasons since, the Aztecs were always solid at the very least, and Jamaal Franklin & Co. had another nice campaign in 2012-13 (before they met the Florida Gulf Coast woodchipper on the first weekend of the tournament).
More from ESPN.com

Steve Fisher has a habit of churning out do-it-all stars. Junior forward Winston Shepard is next in line, C.L. Brown writes. Blog »
---

Jeff Goodman provides his list of the 12 college coaches NBA personnel believe are best at producing League-caliber talent. Blog

But last summer, with Franklin gone to the NBA, four-year sharpshooter Chase Tapley graduated, and with few obvious high-level replacements, it was unclear exactly how the Aztecs would maintain their typical 25-win pace. The 2013-14 season would be the one when San Diego State finally, after six years of mostly uninterrupted excellence, went back to the rebuilding board. That was the consensus.
Instead, Steve Fisher's team lost one game (to Arizona) before Feb. 11. It finished the regular season 27-3, and 16-2 in the Mountain West. It played stifling, top-10 efficiency defense. It took Xavier Thames, a previously unremarkable role player, and turned him into a ruthless player of the year candidate who averaged nearly 18 points per game, a 24.7 assist rate, a tiny 10.7 percent turnover percentage and a 120.0 overall offensive rating. It became the first nonconference team in 68 games to beat Kansas at Kansas. In the third round of the NCAA tournament, the Aztecs ground North Dakota State's highly efficient offense into a fine 44-points-in-54-possessions dust. In the Sweet 16, Thames scored 25 thrilling points; the Aztecs went right at No. 1 seed Arizona and nearly pulled it off.
It was the second-best team of Fisher's tenure at San Diego State, and one that nobody, save Fisher and his staff, saw coming.
Coming off that kind of season, it's no surprise to see Fisher rank safely inside our ESPN Forecast panel's top 20 coaches. The only surprise is that he isn't ranked higher.
Fisher's program has been great for years now, but 2013-14 was his coaching magnum opus. In late December, by the time San Diego State made us sit up and take notice, Fisher swore up and down that he wasn't surprised by his team's performance. Thames was a dedicated and intelligent player who spent all offseason learning the nuances of off-dribble scoring. The rest of his team, mainly anonymous to the outside world, had been recruited with the understanding that to play for San Diego State, you needed to defend -- and that if you could really guard, you would stay on the court. There was no secret to it, he insisted. He wasn't running some new, mind-blowing system. His guys were guarding, and Thames was scoring the ball.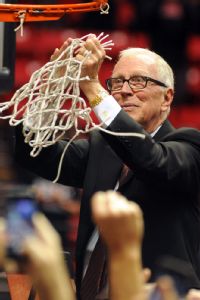 Kent C. Horner/Getty ImagesFisher's Aztecs have not missed the NCAA tournament since 2009.
Fair enough, but however Fisher wants to couch it, the fact of that matter is that he had to have those players in the first place. That's one overlooked aspect of Fisher's success. Few coaches have recruited the west coast more effectively in the past five years. Fisher hasn't always landed the top 10 players, but he has consistently found the right players for his system -- unselfish, athletic, defensively minded. Once found, Fisher and his staff must be among the most consistent in the country in delivering their message, their emphases, their style of play. And then those players develop.
Thames is the latest, and maybe the best, example. He arrived from Washington State as a transfer in 2010. After sitting out the required year, Thames was a solid but unspectacular point guard role guy. As a sophomore, he scored 10.4 points and had 4.1 assists per game, but his turnover rate was high (22.9 percent), and he shot just 30.8 percent from 3. Thames was quietly dinged up as a junior, which kept his profile nice and low. Last summer, when he was touted as the best player SDSU had returning, it wasn't meant as a compliment.
And then he went off. More usage, more points, yes, but also more efficient, a much better shooter, with far fewer turnovers per possession. He was the lone offensive weapon on a team built around his ability to score from anywhere, and he defended about as well as anyone on a very good defensive team to boot. And so San Diego State, facing what looked like a rebuild, had a massive year.
There are a handful of coaches in college basketball you never doubt. You assume their teams will be good no matter what the returning minutes or recruiting classes look like. You assume they'll always get it done. It's a rarefied place. After 2013-14, Fisher is in that group.
-- Eamonn Brennan
---
Previous: Nos. 50-25 » No. 24: McKillop » No. 23: McDermott » No. 22: Amaker »
• No. 21: Brown » No. 20: Matta » No. 19: Wright »
Full Top 50 Coaches List
No. 50: Tie -- Randy Bennett, Saint Mary's; Scott Drew, Baylor
No. 49: Richard Pitino, Minnesota
No. 48: Stew Morrill, Utah State
No. 47: Bob Hoffman, Mercer
No. 46: John Thompson III, Georgetown
No. 45: Mike Brey, Notre Dame
No. 44: Rick Barnes, Texas
No. 43: Chris Mack, Xavier
No. 42: Josh Pastner, Memphis
No. 41: Ed Cooley, Providence
No. 40: Bruce Weber, Kansas State
No. 39: Tubby Smith, Texas Tech
No. 38: Buzz Williams, Virginia Tech
No. 37: Rick Byrd, Belmont
No. 36: Steve Alford, UCLA
No. 35: Phil Martelli, Saint Joseph's
No. 34: Tad Boyle, Colorado
No. 33: Fran McCaffery, Iowa
No. 32: Tim Miles, Nebraska
No. 31: Lon Kruger, Oklahoma
No. 30: Bob Huggins, West Virginia
No. 29: Jim Crews, Saint Louis
No. 28: Jim Larranaga, Miami
No. 27: Mick Cronin, Cincinnati
No. 26: Archie Miller, Dayton
No. 25: Jamie Dixon, Pittsburgh
No. 24: Bob McKillop, Davidson
No. 23: Greg McDermott, Creighton
No. 22: Tommy Amaker, Harvard
No. 21: Larry Brown, SMU
No. 20: Thad Matta, Ohio State
No. 19: Jay Wright, Villanova
No. 18: Steve Fisher, San Diego State
COACHES WHO JUST MISSED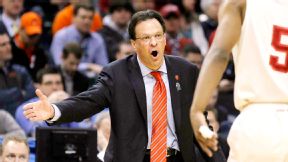 AP Photo/Kiichiro Sato
Some big names missed our list of top 50 coaches. Here are the 25 names who just missed, listed in alphabetical order.
Dana Altman, Oregon
Tim Cluess, Iona
Tom Crean, Indiana
Keith Dambrot, Akron
Johnny Dawkins, Stanford
Fran Dunphy, Temple
Leonard Hamilton, Florida State
Ben Jacobson, Northern Iowa
Derek Kellogg, Massachusetts
Larry Krystkowiak, Utah
Mike Lonergan, George Washington
Cuonzo Martin, California
Chris Mooney, Richmond
Craig Neal, New Mexico
Matt Painter, Purdue
Dave Paulsen, Bucknell
Bruce Pearl, Auburn
Steve Prohm, Murray State
Dave Rose, BYU
Herb Sendek, Arizona State
Kevin Stallings, Vanderbilt
Andy Toole, Robert Morris
Brad Underwood, Stephen F. Austin
Brian Wardle, Wisconsin-Green Bay
Michael White, Louisiana Tech
HOW DOES IT WORK?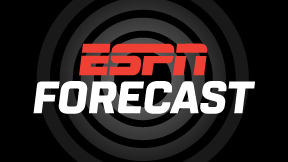 What is ESPN Forecast?
Our engine for creating more accurate sports predictions and opinion.
Does it work?
Yes. This is the future of forecasting, as demonstrated by the 2012 presidential election and Fortune 500 companies.
How does it work?
Our approach, in a nutshell, is to create a diverse panel of people with college basketball expertise and aggregate predictions and opinions. For ESPN Forecast, we have a panel of 45 members that collectively possess vast college basketball experience, knowledge and perspective.
Why does it work?
This panel has a collective intelligence that's greater than any individual member's knowledge and sharper than that of any single statistical system.
Diversity is a key factor in creating accurate predictions and opinion. The wisdom of the crowd comes from having diverse views that emerge from independent thinking.
The ESPN Forecast panel is a diverse mix of contributors from across the spectrum.
The result?
More accurate, insightful forecasts and views.
This is the wisdom of the crowd in action. This is ESPN Forecast.
COACHING CENTRAL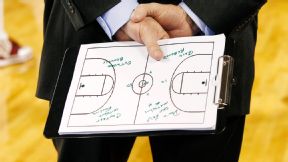 AP Photo/Mel Evans