Top 50 coaches: No. 2 John Calipari
Editor's note: Over the past five weeks, we revealed the top 50 coaches in college basketball as decided by our ESPN Forecast panel. Today we unveil No. 2: Kentucky's John Calipari and No. 1: Florida's Billy Donovan.
---
It was Oct. 18, 2013. Big Blue Madness. Like only they can, 24,000 Kentucky fans -- many of whom lined up for days before doors opened -- were packed in to Rupp Arena, crushed into seats and standing-room floor space. The ostensible purpose of this gathering was the usual Midnight Madness tradition: to celebrate the first practice of the 2013-14 season, to see the new Wildcats -- with a recruiting class hailed as the best since the Fab Five -- in action.
Instead, a political convention broke out.
In front of a giant concert stage, on a dais that jutted into the crowd, behind a clear glass podium fitted with transparent slate teleprompters, Kentucky coach John Calipari delivered what UK basketball's eventual news release would call a "state of the program speech." To describe it as grandiose would be an understatement.
"[Our fans are] a nation that stretches across 120 counties in Kentucky, all 50 states and to every country in the world," Calipari said. "We are borderless. We are everywhere. No corner is left untouched by the blue mist."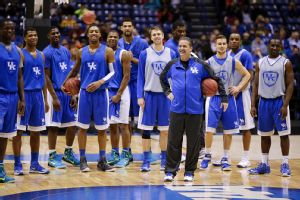 Mark Cornelison/Getty ImagesAfter limping into the postseason, John Calipari led last season's Wildcats to the championship game.
Having effectively juiced fans into a stupor, Calipari began speaking to recruits. Kentucky's biggest opponent, he said, was "ourselves."
"At Kentucky, we compete against ourselves every day," he said. "We cannot let the strain and spotlight of this program affect us. We are the place to help you achieve dreams.
And then the kicker: "We don't just play college basketball. We are college basketball!"
For a coach whose previous season ended in the first round of the NIT at the hands of Robert Morris, it was a funny thing to say. After spending nine minutes detailing his accomplishments at Kentucky -- the draft picks and the GPAs and the charitable donations former players have made -- that very loss even earned its own brief mention.
"Last year, we learned some very important lessons," Calipari said. He put his hand to his chest and furrowed his brow.
"We were humbled," said the man atop the dais, as a throbbing crowd cheered his every line. "I was humbled."
No college coach before or after has ever meshed the art of the sale with the substance of execution as well as this. And you know why it works? Because Cal, for all his amusing brio, is almost always right.
In the past five years, Kentucky really has been the dominant face of college basketball both on and off the court, which is exactly how Kentucky fans prefer it. The Wildcats have been to the Final Four more often than not in Calipari's tenure. Literally: In five years, they've gone three times.
More from ESPN.com
For five weeks, ESPN Forecast has counted down the top 50 coaches in college basketball. Eamonn Brennan takes a look at the final two.
No. 2 Calipari | No. 1: Donovan

How will Kentucky's John Calipari mesh another talented roster of Wildcats this coming season? Seth Greenberg explains how Calipari will do it. Story



• Recruiting: Donovan

Calipari


• Nation blog
They probably should have gone in 2009-10, the coach's first season, when he brought John Wall, DeMarcus Cousins and Eric Bledsoe into the program in the matter of one summer. The Wildcats' fatal flaw -- their lack of outside shooting -- sank them in the Elite Eight, and packed-in West Virginia went instead. Flawed though they were, Cal's first UK group was the best end-to-end team in the country that season. Two months after the season ended, it became the first team in history to have five players selected in the first round of the NBA draft.
And so the Calipari-Kentucky collaboration was officially introduced. With that rather remarkable accomplishment at his back, Calipari set about leveraging it. In 2010-11, he recruited another No. 1-ranked group of freshmen and then turned a so-so SEC start into an eventual Sweet 16 upset over the best team in the country that season (Ohio State) and a one-point, Final Four loss to Connecticut.
It was around this point, with Anthony Davis and Michael Kidd-Gilchrist leading a third straight No. 1 class, that Calipari started hammering home the defining marketing pitch of the past half-decade. His program was going to put "players first." He wouldn't encourage NBA-ready players to stay. He'd push them to leave. He would always have their best interests at heart. Their time at Kentucky would be mutually beneficial.
In this way, Calipari turned the one major criticism of his time at Kentucky -- that he was merely cycling through mercenaries on their way to the NBA -- into his chief strength. It also put Calipari in implicit opposition to every other program in the country. If you're not "players first," Senator, then what are you? The political instinct is pure, the rhetorical brilliance staggering. It also has the benefit of being (A) true and (B) exactly what many gifted young athletes and their families want to hear.
Then, in 2011-12, Calipari got all the substance he needed to back up his pitch: Davis, Kidd-Gilchrist, Marquis Teague, aided by two holdovers from the previous season (Terrence Jones and Doron Lamb) and one senior (Darius Miller) put together a 38-2 season -- and one of the most dominant national title runs in decades. Calipari got his first national title after years spent on the verge, but he also proved to everyone that his insanely ambitious, year-over-year system truly worked.
You know the story of the past two seasons. A curiously short-handed backcourt and a Nerlens Noel injury landed Kentucky in the NIT in 2012-13, when they were promptly upset by No. 8 seed Robert Morris. No matter: A super-hyped 2013-14 recruiting class, one good enough to make Kentucky the preseason AP No. 1, was on deck. That team made good on its own expectations during a roller-coaster of a runner-up run this past March. But the end result was all that mattered.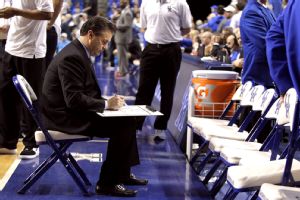 AP Photo/James CrispSince taking over at Kentucky in 2009, Calipari has compiled a 152-37 (.804) record over five seasons.
On deck for 2014-15? A hilariously massive (and massively talented) title contender.
Last season's March run was also a helpful reminder of Calipari's sheer coaching ability. We laud coaches for bringing their teams along at the right time, for finding their peak in March. That's the Tom Izzo specialty. Calipari found that gear in his team at the last possible moment last season, and once he figured it out, it was clear why everyone -- himself included -- was so high on Kentucky in October. There is real tactical substance here: a unique, restrained offensive system, an ability to coax great defense out of young players and real fluency in advanced scouting and statistical ideas.
That's the story of John Calipari, the No. 2-ranked coach in our ESPN Forecast top 50 poll. The man is a born salesman. Sometimes, it's subtle, and sometimes, it's about as subtle as a campaign ad. When Calipari refers to himself as a "dream maker," or when he says his program doesn't play college basketball but is college basketball itself, it's hard not to chuckle. But salesmanship resonates only when you have a quality product to sell.
Calipari has both.
He wins. His players compete for national titles. He really does turn more of them them into NBA millionaires than any other coach. Kentucky's fans really are the biggest, craziest and loudest in the sport. Just because he's saying it doesn't mean it isn't true.
-- Eamonn Brennan
---
Previous: Nos. 50-25 » No. 24: McKillop » No. 23: McDermott » No. 22: Amaker »
• No. 21: Brown » No. 20: Matta » No. 19: Wright » No. 18: Fisher » No. 17: Few »
• No. 16: Williams » No. 15: Hoiberg » No. 14: Bennett » No. 13: Smart »
• No. 12: Boeheim » No. 11: Miller » No. 10: Ollie » No. 9: Beilein » No. 8: Marshall »
• No. 7: Ryan » No. 6: Self » No. 5: Pitino » No. 4: Krzyzewski » No. 3: Izzo »
• No. 2: Calipari » No. 1: Donovan »
Full Top 50 Coaches List
No. 50: Tie -- Randy Bennett, Saint Mary's; Scott Drew, Baylor
No. 49: Richard Pitino, Minnesota
No. 48: Stew Morrill, Utah State
No. 47: Bob Hoffman, Mercer
No. 46: John Thompson III, Georgetown
No. 45: Mike Brey, Notre Dame
No. 44: Rick Barnes, Texas
No. 43: Chris Mack, Xavier
No. 42: Josh Pastner, Memphis
No. 41: Ed Cooley, Providence
No. 40: Bruce Weber, Kansas State
No. 39: Tubby Smith, Texas Tech
No. 38: Buzz Williams, Virginia Tech
No. 37: Rick Byrd, Belmont
No. 36: Steve Alford, UCLA
No. 35: Phil Martelli, Saint Joseph's
No. 34: Tad Boyle, Colorado
No. 33: Fran McCaffery, Iowa
No. 32: Tim Miles, Nebraska
No. 31: Lon Kruger, Oklahoma
No. 30: Bob Huggins, West Virginia
No. 29: Jim Crews, Saint Louis
No. 28: Jim Larranaga, Miami
No. 27: Mick Cronin, Cincinnati
No. 26: Archie Miller, Dayton
No. 25: Jamie Dixon, Pittsburgh
No. 24: Bob McKillop, Davidson
No. 23: Greg McDermott, Creighton
No. 22: Tommy Amaker, Harvard
No. 21: Larry Brown, SMU
No. 20: Thad Matta, Ohio State
No. 19: Jay Wright, Villanova
No. 18: Steve Fisher, San Diego State
No. 17: Mark Few, Gonzaga
No. 16: Roy Williams, North Carolina
No. 15: Fred Hoiberg, Iowa State
No. 14: Tony Bennett, Virginia
No. 13: Shaka Smart, VCU
No. 12: Jim Boeheim, Syracuse
No. 11: Sean Miller, Arizona
No. 10: Kevin Ollie, UConn
No. 9: John Beilein, Michigan
No. 8: Gregg Marshall, Wichita State
No. 7: Bo Ryan, Wisconsin
No. 6: Bill Self, Kansas
No. 5: Rick Pitino, Louisville
No. 4: Mike Krzyzewski, Duke
No. 3: Tom Izzo, Michigan State
No. 2: John Calipari, Kentucky
No. 1: Billy Donovan, Florida
COACHES WHO JUST MISSED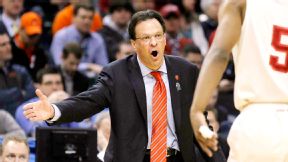 AP Photo/Kiichiro Sato
Some big names missed our list of top 50 coaches. Here are the 25 names who just missed, listed in alphabetical order.
Dana Altman, Oregon
Tim Cluess, Iona
Tom Crean, Indiana
Keith Dambrot, Akron
Johnny Dawkins, Stanford
Fran Dunphy, Temple
Leonard Hamilton, Florida State
Ben Jacobson, Northern Iowa
Derek Kellogg, Massachusetts
Larry Krystkowiak, Utah
Mike Lonergan, George Washington
Cuonzo Martin, California
Chris Mooney, Richmond
Craig Neal, New Mexico
Matt Painter, Purdue
Dave Paulsen, Bucknell
Bruce Pearl, Auburn
Steve Prohm, Murray State
Dave Rose, BYU
Herb Sendek, Arizona State
Kevin Stallings, Vanderbilt
Andy Toole, Robert Morris
Brad Underwood, Stephen F. Austin
Brian Wardle, Wisconsin-Green Bay
Michael White, Louisiana Tech
HOW DOES IT WORK?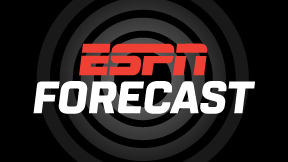 What is ESPN Forecast?
Our engine for creating more accurate sports predictions and opinion.
Does it work?
Yes. This is the future of forecasting, as demonstrated by the 2012 presidential election and Fortune 500 companies.
How does it work?
Our approach, in a nutshell, is to create a diverse panel of people with college basketball expertise and aggregate predictions and opinions. For ESPN Forecast, we have a panel of 45 members that collectively possess vast college basketball experience, knowledge and perspective.
Why does it work?
This panel has a collective intelligence that's greater than any individual member's knowledge and sharper than that of any single statistical system.
Diversity is a key factor in creating accurate predictions and opinion. The wisdom of the crowd comes from having diverse views that emerge from independent thinking.
The ESPN Forecast panel is a diverse mix of contributors from across the spectrum.
The result?
More accurate, insightful forecasts and views.
This is the wisdom of the crowd in action. This is ESPN Forecast.
COACHING CENTRAL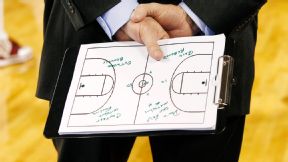 AP Photo/Mel Evans