Top 50 coaches: No. 21 Larry Brown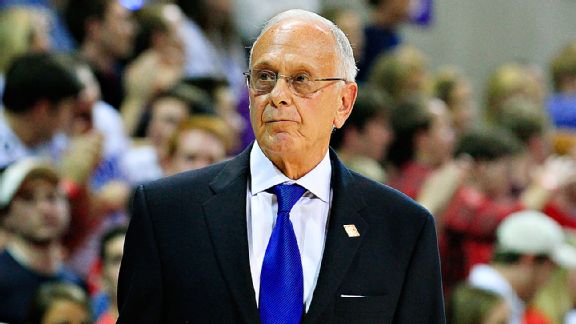 Ray Carlin/Icon SMIIt hasn't taken Larry Brown long to turn SMU's program around in his return to college basketball.
Editor's note: Over the next five weeks, we will reveal the top 50 coaches in college basketball as decided by our ESPN Forecast panel. Today we unveil No. 21: SMU's Larry Brown. On Monday, we release No. 20.
---
On Tuesday, ESPN's Mark Stein and Ramona Shelburne offered an update on the NBA's two richest franchises and the respective coaching searches therein. Phil Jackson wanted to talk to Derek Fisher about the New York Knicks job, drawing from his rather limited "former role players on Phil Jackson-coached title teams" candidate pool after Steve Kerr went to the Warriors instead.
But the Lakers were interested in Fisher too and were getting down to business in their own quest. They had interviewed a handful of usual suspects already (Alvin Gentry, Byron Scott, Mike Dunleavy), had pleasant chats with others (Kurt Rambis, George Karl) and, according to the report, were maybe, kind of, sort of thinking about reaching out to two others.
More from ESPN.com

Larry Brown has built a solid foundation at SMU, and it will only get better with the addition of Emmanuel Mudiay, Myron Medcalf writes. Blog »
---

Seth Greenberg identifies several contenders to break through next season, starting with Larry Brown's SMU Mustangs. Blog

The Lakers, sources add, have also internally discussed reaching out to Scott Skiles and former NBA championship-winning coach Larry Brown, who has spent the past two seasons in the college game at SMU.
And so there it was, the first NBA rumor of Brown's tenure at Southern Methodist. It's a wonder it took this long.
That was the risk SMU accepted when the university, investing heavily in basketball in advance of a transition to the American (née Big East), hired the only man in basketball history to win both an NBA and NCAA championship. There were two crucial things to know about Brown. The first was that, at 71 years old, he was both an immense symbolic figure and a razor-sharp X's and O's wizard. The second was that he usually doesn't stay in one place for very long.
So SMU hired accordingly. Brown persuaded Illinois State's Tim Jankovich -- then a head coach of his own program -- to accept a "coach-in-waiting" role (a $700,000 annual salary helped). The long-term transition accounted for, Brown then went about filling his staff with aggressive, vaunted recruiters. If SMU was going to profit from the Larry Brown Experience, it would have to do so quickly. How many years could it count on? Two? Three? The Mustangs needed players now.
Two years later, this grand experiment has gone about as well as one can imagine. In 2011-12, Matt Doherty's last year at the school, SMU won 13 games and finished ranked No. 206 in adjusted efficiency. Two seasons later, Brown's team would win 27 games (including four in the NIT, before a NIT title game loss to Minnesota), finish 30th in adjusted efficiency, play the 17th-stingiest per-possession defense in the country and head into the offseason ranked No. 11 in our too-early Top 25.
Much of those expectations are based on recruiting. Brown's staff (Ulric Maligi, who recruited top classes at Houston, and Jerrance Howard, seen by many as the best recruiter in the country, who has since left for Kansas) lured transfers to SMU quickly and then worked its previous connections relentlessly. The big payoff comes this summer, when the top-ranked point guard in the 2014 class, Emmanuel Mudiay, takes his talents to Moody Coliseum.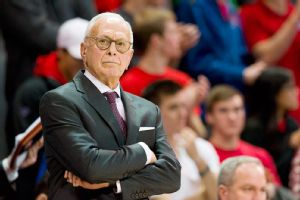 Cooper Neill/Getty ImagesIn 1988, his final season at Kansas, Brown led the Jayhawks to an improbable national championship.
But expectations for the season to come are only a small part of what we asked our ESPN Forecast panel to consider in scoring and ranking the top 50 coaches in the country. The ranking is more about what Brown has done thus far, and the grade is an almost perfect A. Within two seasons, this legendary journeyman turned SMU into a program with cachet, talent and a defined basketball personality.
On the court, Brown has almost immediately turned his group of mostly unknown players -- a fair number of them either freshmen or transfers; all of them new to his system -- into one of the most imposing defenses in the country. Off the court, Brown has turned Moody Coliseum into a bumping building, set up his staff for future success and provided a tantalizingly direct line to the NBA for players as talented as Mudiay.
On Tuesday night, Brown scoffed at the notion of leaving SMU for L.A., telling USA Today that any conversations with Lakers GM Mitch Kupchak are more about recruiting Kupchak's highly rated son Mitchell.
"I talk to Mitch all the time," Brown said. "But we're not talking about coaching the Lakers. I've read some of the names. They've got a long list of good people to choose from, and I'm here at SMU. I want to win a national championship."
Brown doesn't look likely to leave SMU anytime soon. When he does, it is just as likely to be for retirement than his 15th (or so) crack at the NBA. But even if Brown did jump back to the pros tomorrow, this ranking would be fair. In just two years, Brown has done what he's always done and what made him worth the SMU experiment in the first place: He's brilliantly coached his team.
-- Eamonn Brennan
---
Previous: Nos. 50-25 » No. 24: McKillop » No. 23: McDermott » No. 22: Amaker »
Full Top 50 Coaches List
No. 50: Tie -- Randy Bennett, Saint Mary's; Scott Drew, Baylor
No. 49: Richard Pitino, Minnesota
No. 48: Stew Morrill, Utah State
No. 47: Bob Hoffman, Mercer
No. 46: John Thompson III, Georgetown
No. 45: Mike Brey, Notre Dame
No. 44: Rick Barnes, Texas
No. 43: Chris Mack, Xavier
No. 42: Josh Pastner, Memphis
No. 41: Ed Cooley, Providence
No. 40: Bruce Weber, Kansas State
No. 39: Tubby Smith, Texas Tech
No. 38: Buzz Williams, Virginia Tech
No. 37: Rick Byrd, Belmont
No. 36: Steve Alford, UCLA
No. 35: Phil Martelli, Saint Joseph's
No. 34: Tad Boyle, Colorado
No. 33: Fran McCaffery, Iowa
No. 32: Tim Miles, Nebraska
No. 31: Lon Kruger, Oklahoma
No. 30: Bob Huggins, West Virginia
No. 29: Jim Crews, Saint Louis
No. 28: Jim Larranaga, Miami
No. 27: Mick Cronin, Cincinnati
No. 26: Archie Miller, Dayton
No. 25: Jamie Dixon, Pittsburgh
No. 24: Bob McKillop, Davidson
No. 23: Greg McDermott, Creighton
No. 22: Tommy Amaker, Harvard
No. 21: Larry Brown, SMU
COACHES WHO JUST MISSED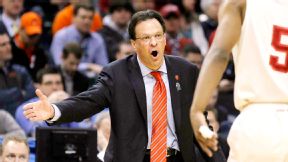 AP Photo/Kiichiro Sato
Some big names missed our list of top 50 coaches. Here are the 25 names who just missed, listed in alphabetical order.
Dana Altman, Oregon
Tim Cluess, Iona
Tom Crean, Indiana
Keith Dambrot, Akron
Johnny Dawkins, Stanford
Fran Dunphy, Temple
Leonard Hamilton, Florida State
Ben Jacobson, Northern Iowa
Derek Kellogg, Massachusetts
Larry Krystkowiak, Utah
Mike Lonergan, George Washington
Cuonzo Martin, California
Chris Mooney, Richmond
Craig Neal, New Mexico
Matt Painter, Purdue
Dave Paulsen, Bucknell
Bruce Pearl, Auburn
Steve Prohm, Murray State
Dave Rose, BYU
Herb Sendek, Arizona State
Kevin Stallings, Vanderbilt
Andy Toole, Robert Morris
Brad Underwood, Stephen F. Austin
Brian Wardle, Wisconsin-Green Bay
Michael White, Louisiana Tech
HOW DOES IT WORK?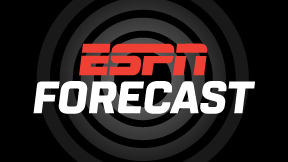 What is ESPN Forecast?
Our engine for creating more accurate sports predictions and opinion.
Does it work?
Yes. This is the future of forecasting, as demonstrated by the 2012 presidential election and Fortune 500 companies.
How does it work?
Our approach, in a nutshell, is to create a diverse panel of people with college basketball expertise and aggregate predictions and opinions. For ESPN Forecast, we have a panel of 45 members that collectively possess vast college basketball experience, knowledge and perspective.
Why does it work?
This panel has a collective intelligence that's greater than any individual member's knowledge and sharper than that of any single statistical system.
Diversity is a key factor in creating accurate predictions and opinion. The wisdom of the crowd comes from having diverse views that emerge from independent thinking.
The ESPN Forecast panel is a diverse mix of contributors from across the spectrum.
The result?
More accurate, insightful forecasts and views.
This is the wisdom of the crowd in action. This is ESPN Forecast.
COACHING CENTRAL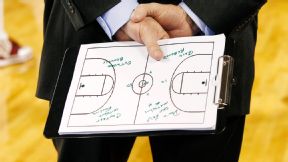 AP Photo/Mel Evans