Top 50 coaches: No. 22 Tommy Amaker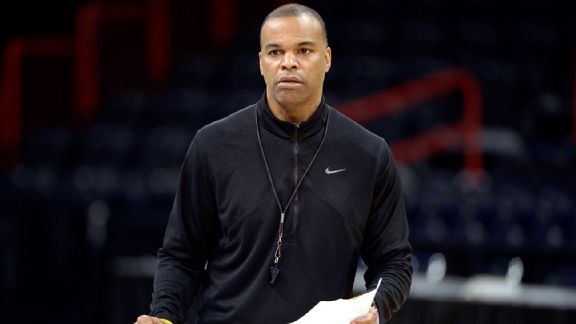 Kirby Lee/USA TODAY SportsTommy Amaker's time at Michigan did not go as planned, but he's built a powerful program at Harvard.
Editor's note: Over the next five weeks, we will reveal the top 50 coaches in college basketball as decided by our ESPN Forecast panel. Today we unveil No. 22: Harvard's Tommy Amaker. On Friday, we release No. 21.
---
I still remember how dreary the whole thing felt.
It was late February 2007, and I was covering the basketball beat for my student newspaper. My first trip to Ann Arbor, Michigan -- my first time in the Crisler Center, ground zero for my requisite early-'90s Fab Five idols -- was as gray as the weather outside. The building had as much personality, and as much concrete, as a Soviet-era housing block. Michigan's players looked mostly disengaged. The fans were good, particularly the student section, but the game was pretty ugly. And all afternoon, from the sideline to the postgame news conference, Michigan coach Tommy Amaker looked like he was miserable.
About a month later, Michigan would fire Amaker, and Amaker would accept the job at Harvard. I didn't think much of it. Who did? (I was a senior in college, so hoops-coach realpolitik was not exactly foremost among my thoughts back then, but still.) Amaker was receding from the Big Ten and taking a job at a historically bereft Ivy League school, never to be heard from again.
More from ESPN.com

Amaker's route to the top of the coaching profession has been unconventional, to say the least, Dana O'Neil writes. Blog »
So much for that. In 2008, Amaker inherited a program whose only NCAA tournament berth came in 1946, which had never won an Ivy League title. In the seven seasons since, Amaker has taken the Crimson to three NCAA tournaments, won two games while there, earned the school's first top 25 ranking, competed for some of the nation's best recruits, riled up all kinds of "Harvard: Just like any other college basketball program?!?" anger and completely redeemed himself.
It is unthinkable that Amaker, back when he was at a school with far greater resources and athletic motivation, would ever rank as high as No. 23 in a survey like our Top 50 Coaches ESPN Forecast. It's almost ironic, maybe, that Amaker was fired for never making the NCAA tournament at Michigan before eventually taking Harvard -- Harvard! -- to three straight March appearances. But here we are, and the esteem accorded him has risen exponentially.
How has Harvard gone from nothing to the class of the Ivy League in less than a decade? Recruiting is probably 80 percent of the answer. He had some help, too: Amaker's hiring came shortly after Harvard announced that families with yearly incomes of $60,000 or less would not be expected to pay anything for their student's education. Families earning between $60,000 and $180,000 would pay no more than 10 percent of their income. When your endowment is $30 billion, and you want to prove to the world that intelligence and drive -- and not familial wealth -- are the only criteria that matter, you can do these sorts of things.
No policy had more of an effect on what Amaker could do at Harvard. The Ivy League still doesn't offer scholarships, but for many players' families, the possibility of going $200,000 into debt to send your son to play basketball at Harvard -- when that same son could get a full ride to a bunch of other schools -- is no longer a prohibition. Since the change took effect, Amaker's recruiting has snowballed: Not only is he consistently recruiting the best players in Harvard hoops history, there may be no stretch in Ivy League lore that has brought so many talented basketball players to one school this quickly. This influx has not been without its minor controversies: Other Ivies alleged that Harvard relaxed its academic index standards for incoming athletes, charges the school has consistently denied. Amaker also got into hot water for a secondary recruiting violation in 2010.
Weighed against the lofty ambitions of the Ivy League, these criticisms feel crucial. Weighed against the rest of men's collegiate basketball, they're pretty silly. This is still Harvard, after all. Amaker is pulling from a vastly smaller number of players than most schools in the country.
Which gets to the heart of the job he's done since he left those dreary, unsuccessful days in Ann Arbor behind him. Amaker hasn't just made Harvard good relative to Harvard's own past. He hasn't just mastered the Ivy League. He's built a program that is recruiting against, and playing basketball at the same level as, the top 30 or 40 programs in the country. At Harvard. And the Crimson are only getting better.
-- Eamonn Brennan
---
Previous installments: Nos. 50-25 » No. 24: Bob McKillop » No. 23: Greg McDermott »
Full Top 50 Coaches List
No. 50: Tie -- Randy Bennett, Saint Mary's; Scott Drew, Baylor
No. 49: Richard Pitino, Minnesota
No. 48: Stew Morrill, Utah State
No. 47: Bob Hoffman, Mercer
No. 46: John Thompson III, Georgetown
No. 45: Mike Brey, Notre Dame
No. 44: Rick Barnes, Texas
No. 43: Chris Mack, Xavier
No. 42: Josh Pastner, Memphis
No. 41: Ed Cooley, Providence
No. 40: Bruce Weber, Kansas State
No. 39: Tubby Smith, Texas Tech
No. 38: Buzz Williams, Virginia Tech
No. 37: Rick Byrd, Belmont
No. 36: Steve Alford, UCLA
No. 35: Phil Martelli, Saint Joseph's
No. 34: Tad Boyle, Colorado
No. 33: Fran McCaffery, Iowa
No. 32: Tim Miles, Nebraska
No. 31: Lon Kruger, Oklahoma
No. 30: Bob Huggins, West Virginia
No. 29: Jim Crews, Saint Louis
No. 28: Jim Larranaga, Miami
No. 27: Mick Cronin, Cincinnati
No. 26: Archie Miller, Dayton
No. 25: Jamie Dixon, Pittsburgh
No. 24: Bob McKillop, Davidson
No. 23: Greg McDermott, Creighton
No. 22: Tommy Amaker, Harvard
COACHES WHO JUST MISSED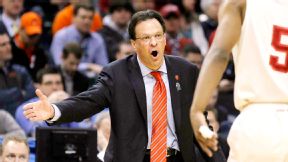 AP Photo/Kiichiro Sato
Some big names missed our list of top 50 coaches. Here are the 25 names who just missed, listed in alphabetical order.
Dana Altman, Oregon
Tim Cluess, Iona
Tom Crean, Indiana
Keith Dambrot, Akron
Johnny Dawkins, Stanford
Fran Dunphy, Temple
Leonard Hamilton, Florida State
Ben Jacobson, Northern Iowa
Derek Kellogg, Massachusetts
Larry Krystkowiak, Utah
Mike Lonergan, George Washington
Cuonzo Martin, California
Chris Mooney, Richmond
Craig Neal, New Mexico
Matt Painter, Purdue
Dave Paulsen, Bucknell
Bruce Pearl, Auburn
Steve Prohm, Murray State
Dave Rose, BYU
Herb Sendek, Arizona State
Kevin Stallings, Vanderbilt
Andy Toole, Robert Morris
Brad Underwood, Stephen F. Austin
Brian Wardle, Wisconsin-Green Bay
Michael White, Louisiana Tech
HOW DOES IT WORK?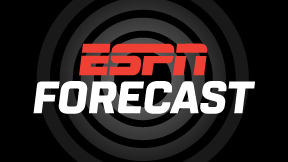 What is ESPN Forecast?
Our engine for creating more accurate sports predictions and opinion.
Does it work?
Yes. This is the future of forecasting, as demonstrated by the 2012 presidential election and Fortune 500 companies.
How does it work?
Our approach, in a nutshell, is to create a diverse panel of people with college basketball expertise and aggregate predictions and opinions. For ESPN Forecast, we have a panel of 45 members that collectively possess vast college basketball experience, knowledge and perspective.
Why does it work?
This panel has a collective intelligence that's greater than any individual member's knowledge and sharper than that of any single statistical system.
Diversity is a key factor in creating accurate predictions and opinion. The wisdom of the crowd comes from having diverse views that emerge from independent thinking.
The ESPN Forecast panel is a diverse mix of contributors from across the spectrum.
The result?
More accurate, insightful forecasts and views.
This is the wisdom of the crowd in action. This is ESPN Forecast.
COACHING CENTRAL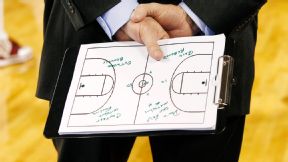 AP Photo/Mel Evans