Top 50 coaches: No. 23 Greg McDermott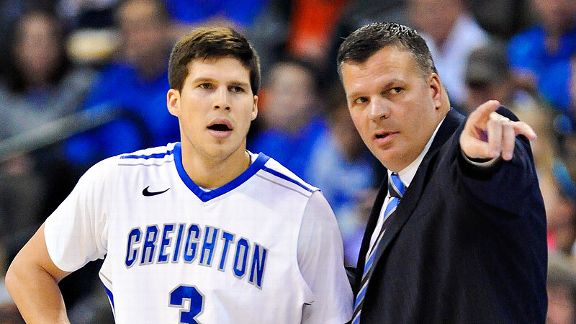 Dave Weaver/USA TODAY SportsGreg McDermott will always be tied to his son, Doug. That shouldn't be held against the coach.
Editor's note: Over the next five weeks, we will reveal the top 50 coaches in college basketball as decided by our ESPN Forecast panel. Today we unveil No. 23: Creighton's Greg McDermott. On Thursday, we release No. 22.
---
Where does Greg McDermott go from here?
That's the big question many will ask about McDermott, the hangover to what was otherwise one of his best years as both a coach and a father. Now that Doug McDermott, one of the best and most productive players in college hoops history -- the runaway 2013-14 national player of the year and the sport's fifth-leading scorer all-time -- has graduated to the NBA, what will his father do at Creighton?
It is not an unfair question. After all, before Doug McDermott transformed from a player his own father essentially passed on, Greg McDermott needed a lifeline out of Iowa State. Before he took the Cyclones job in 2006, Greg McDermott had a more-than-solid tenure at Northern Iowa. But the Cyclones years were rough ones, and by 2010, his fourth season, the coach could surely see the writing on the wall in Ames.
Luckily, Dana Altman vacated Omaha for a chance to ride the Nike wave at Oregon. The elder McDermott moved a couple hours west and brought his son -- who was all set to play for Ben Jacobson at Northern Iowa -- along for the ride.
What happens if Altman doesn't leave Creighton? The scenario is more fascinating than the plot of "Wolfenstein: The New Order" (though it probably contains less suspect psuedoscience). Instead, Altman left, Doug McDermott transmuted into a points-devouring monster, Creighton was invited to the new Big East, and the interesting scenario now before us -- what does a post-progeny McDermott tenure at Creighton really look like? -- raises the aforementioned questions.
But truth be told, we're not really interested in the future here. Our ESPN Forecast coach rankings are more about recent performance. In that realm, it's hard to quarrel much with McDermott's 23rd overall spot.
First of all, you have to give a guy credit for good genes. I mean, fair's fair. It's the best recruiting tool of them all! Second, and more seriously, Greg McDermott deserves at least some -- and probably a big chunk -- of his son's rapid development from decent freshman to amazing sophomore and beyond. Third, basketball teams require more than one really good player, and Greg McDermott built a team around his son full of pitch-perfect supporting players and offensive specialists. There are some objections worth raising about Creighton's consistent struggles on the defensive end, and the lack of deep tournament success is the one thing Doug McDermott's career didn't give us. But from pretty much any angle, Greg McDermott did about as good a job managing his son's -- and his team's -- rise to the national elite.
That includes the unusual challenge of, you know, coaching your own son. That's a challenge vexing youth league and high school coaches in every sport, everywhere, all the time. How do I treat my own kid fairly? How do I keep the rest of the team on board? Maybe college basketball has fewer warring parents than U-13 traveling soccer, but I doubt it. In any case, it's a delicate situation. You would never have known watching Creighton these past four years.
Next season will be an interesting one for Greg McDermott. His son will be in the NBA, which is as big a loss as any team will suffer year over year this summer. But three other excellent senior starters now gone -- Grant Gibbs, Jahenns Manigat and Ethan Wragge -- will make the task all the more difficult. We'll see how that goes and update accordingly. But for now? Greg McDermott brought one of the best players in college hoops history to Creighton and lifted the Bluejays to the best stretch in their history in doing so. That player just so happened to be his son. So what?
-- Eamonn Brennan
---
Previous installments: Nos. 50-25 » No. 24: Bob McKillop »
Full Top 50 Coaches List
No. 50: Tie -- Randy Bennett, Saint Mary's; Scott Drew, Baylor
No. 49: Richard Pitino, Minnesota
No. 48: Stew Morrill, Utah State
No. 47: Bob Hoffman, Mercer
No. 46: John Thompson III, Georgetown
No. 45: Mike Brey, Notre Dame
No. 44: Rick Barnes, Texas
No. 43: Chris Mack, Xavier
No. 42: Josh Pastner, Memphis
No. 41: Ed Cooley, Providence
No. 40: Bruce Weber, Kansas State
No. 39: Tubby Smith, Texas Tech
No. 38: Buzz Williams, Virginia Tech
No. 37: Rick Byrd, Belmont
No. 36: Steve Alford, UCLA
No. 35: Phil Martelli, Saint Joseph's
No. 34: Tad Boyle, Colorado
No. 33: Fran McCaffery, Iowa
No. 32: Tim Miles, Nebraska
No. 31: Lon Kruger, Oklahoma
No. 30: Bob Huggins, West Virginia
No. 29: Jim Crews, Saint Louis
No. 28: Jim Larranaga, Miami
No. 27: Mick Cronin, Cincinnati
No. 26: Archie Miller, Dayton
No. 25: Jamie Dixon, Pittsburgh
No. 24: Bob McKillop, Davidson
No. 23: Greg McDermott, Creighton
COACHES WHO JUST MISSED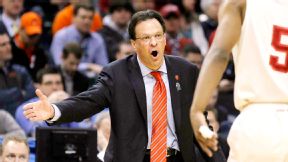 AP Photo/Kiichiro Sato
Some big names missed our list of top 50 coaches. Here are the 25 names who just missed, listed in alphabetical order.
Dana Altman, Oregon
Tim Cluess, Iona
Tom Crean, Indiana
Keith Dambrot, Akron
Johnny Dawkins, Stanford
Fran Dunphy, Temple
Leonard Hamilton, Florida State
Ben Jacobson, Northern Iowa
Derek Kellogg, Massachusetts
Larry Krystkowiak, Utah
Mike Lonergan, George Washington
Cuonzo Martin, California
Chris Mooney, Richmond
Craig Neal, New Mexico
Matt Painter, Purdue
Dave Paulsen, Bucknell
Bruce Pearl, Auburn
Steve Prohm, Murray State
Dave Rose, BYU
Herb Sendek, Arizona State
Kevin Stallings, Vanderbilt
Andy Toole, Robert Morris
Brad Underwood, Stephen F. Austin
Brian Wardle, Wisconsin-Green Bay
Michael White, Louisiana Tech
HOW DOES IT WORK?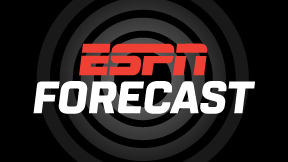 What is ESPN Forecast?
Our engine for creating more accurate sports predictions and opinion.
Does it work?
Yes. This is the future of forecasting, as demonstrated by the 2012 presidential election and Fortune 500 companies.
How does it work?
Our approach, in a nutshell, is to create a diverse panel of people with college basketball expertise and aggregate predictions and opinions. For ESPN Forecast, we have a panel of 45 members that collectively possess vast college basketball experience, knowledge and perspective.
Why does it work?
This panel has a collective intelligence that's greater than any individual member's knowledge and sharper than that of any single statistical system.
Diversity is a key factor in creating accurate predictions and opinion. The wisdom of the crowd comes from having diverse views that emerge from independent thinking.
The ESPN Forecast panel is a diverse mix of contributors from across the spectrum.
The result?
More accurate, insightful forecasts and views.
This is the wisdom of the crowd in action. This is ESPN Forecast.
COACHING CENTRAL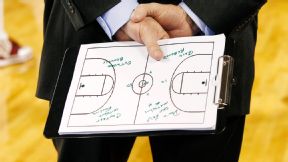 AP Photo/Mel Evans