Top 50 coaches: No. 4 Mike Krzyzewski
Editor's note: Over five weeks, we will reveal the top 50 coaches in college basketball as decided by our ESPN Forecast panel. Today we unveil No. 4: Duke's Mike Krzyzewski. On Wednesday, we will release No. 3.
---
Sometimes, when a career is especially lengthy or especially brilliant or both, it's easier to understand it by carving it up into arbitrary chunks.
Here's one such chunk: Since 2006-07, the Duke Blue Devils have won exactly one regular-season ACC title. In six of those eight seasons, Duke failed to progress past the Sweet 16. In three of those seasons, they lost their first NCAA tournament game. In two of the past three years, they've been sent home right away, by a No. 15 and No. 14 seed, respectively.
More from ESPN.com

The past few years might not have been perfect for Duke's Mike Krzyzewski, but that just underscores how good he's been, writes Eamonn Brennan. Blog


All the success has not softened Coach K. No, he still very much wants to win and keeps finding ways to do it, writes Myron Medcalf. Story

• Recruiting strategy


• Nation blog
This is -- if you choose to look at it this way -- the most fallow period in Duke hoops history since Coach K's first three seasons, 1980-81 to 1982-83, when the young former Army coach was still laying the relevant groundwork. By the mid-'80s, Duke was already getting dominant. After back-to-back titles in 1991 and 1992, the program was officially lofted into the college basketball firmament.
Here's another arbitrary chunk: From 1997 to 2006, the Blue Devils won seven ACC regular-season titles. They appeared in three Final Fours. They won one national title. They averaged 30.4 wins per season. They were, more than any program since John Wooden-era UCLA, omnipresent.
It is only in this context -- held next to the remarkable decades that preceded it -- that you could call Coach K's past handful of seasons "subpar."
Even then, it's pretty hilarious. After all, Duke won the national title in 2009-10, a 35-5 season that ended with a storybook final against upstart Butler. They've been seeded lower than No. 3 just once in the past 13 seasons; they've finished the season ranked in the top 10 in overall adjusted efficiency in nine of those seasons.
And then there's this: From Nov. 26, 2007, to Jan. 6, 2014, Duke never once ranked outside the Associated Press top 10. Not once! The Blue Devils spent 122 straight weeks without falling below No. 10, the second-longest such streak in college basketball history. The longest belongs to those vintage UCLA teams, who from 1966 to 1976 put together 155 straight weeks in the top 10. That was a different era in college basketball, when the game's grass roots were less developed, the talent less widespread.
Think about it: Duke fell 23 weeks shy of that unreachable mark in the modern era ... in a period that falls far short of the dominance of Duke's previous decade.
Few statistics sum up just how crazy good Coach K has been as well as that one. That he isn't No. 1 in our ESPN Forecast of the top 50 coaches is a perfect example of the nature of this exercise: We asked our panel to rate current performance as of the 2014 offseason, not lifetime achievement. That K ranks No. 4 proves the panel took the scope of the question to heart. It's also a testament to just how good the man still is, even at age 67, that he doesn't need the weight of his own reputation to factor in.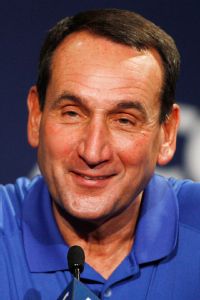 AP Photo/Nell RedmondWhy is Mike Krzyzewski smiling? Wouldn't you be smiling if you had his success -- and incoming recruiting class?
There have been some frustrating ends in the past few years, of course. The 2013-14 season ended with Mercer Nae Nae-ing and the subsequent NBA draft's No. 2 overall pick, brilliant freshman Jabari Parker, despondent. Two years ago, Duke was likewise undone by shaky defense (and Lehigh star C.J. McCollum). But the Blue Devils were in the Elite Eight two years ago and were a weird Kyrie Irving toe injury (and a difficult late-season reintroduction) from what could have been a national title run in 2010-11. Jon Scheyer & Co. added that aforementioned fourth national title to K's résumé in 2010. Even with the early exits and occasional schadenfreude, that's a pretty great five-year period. Upsets happen. High-single-digit seeds and viable national title contenders are a luxury a select few programs can expect every season. Duke is still one of them.
There are no visible signs of Coach K slowing down. (That he's managed this alongside his universally acclaimed work for USA Basketball is especially impressive.) The best indication might be still to come. In 2014, Duke welcomes the best recruiting class in the country and arguably the best of Coach K's career, which is not a statement you can lightly make. In one fell swoop, K will integrate No. 1-ranked center Jahlil Okafor, No. 1-ranked point guard Tyus Jones, No. 5-ranked small forward Justise Winslow and No. 6-ranked shooting guard Grayson Allen. They'll join a team that already has two high-level backcourt players in Rasheed Sulaimon and Quinn Cook and a pair of developing big men in Amile Jefferson and Marshall Plumlee. The youth and inexperience on hand will make the 2014-15 Blue Devils K's most interesting coaching challenge in years. But is there any real question it will work?
It's easier to understand a career such as K's when you break it down into chunks. We can more easily process the milestones, the changing eras, the contours and composition of all those seasons and all those wins.
The most recent chunk of Coach K's career is better than almost any other coach in the sport and just sort of OK for him. How crazy is that?
-- Eamonn Brennan
---
Previous: Nos. 50-25 » No. 24: McKillop » No. 23: McDermott » No. 22: Amaker »
• No. 21: Brown » No. 20: Matta » No. 19: Wright » No. 18: Fisher » No. 17: Few »
• No. 16: Williams » No. 15: Hoiberg » No. 14: Bennett » No. 13: Smart »
• No. 12: Boeheim » No. 11: Miller » No. 10: Ollie » No. 9: Beilein » No. 8: Marshall »
• No. 7: Ryan » No. 6 Self » No. 5 Pitino »
Full Top 50 Coaches List
No. 50: Tie -- Randy Bennett, Saint Mary's; Scott Drew, Baylor
No. 49: Richard Pitino, Minnesota
No. 48: Stew Morrill, Utah State
No. 47: Bob Hoffman, Mercer
No. 46: John Thompson III, Georgetown
No. 45: Mike Brey, Notre Dame
No. 44: Rick Barnes, Texas
No. 43: Chris Mack, Xavier
No. 42: Josh Pastner, Memphis
No. 41: Ed Cooley, Providence
No. 40: Bruce Weber, Kansas State
No. 39: Tubby Smith, Texas Tech
No. 38: Buzz Williams, Virginia Tech
No. 37: Rick Byrd, Belmont
No. 36: Steve Alford, UCLA
No. 35: Phil Martelli, Saint Joseph's
No. 34: Tad Boyle, Colorado
No. 33: Fran McCaffery, Iowa
No. 32: Tim Miles, Nebraska
No. 31: Lon Kruger, Oklahoma
No. 30: Bob Huggins, West Virginia
No. 29: Jim Crews, Saint Louis
No. 28: Jim Larranaga, Miami
No. 27: Mick Cronin, Cincinnati
No. 26: Archie Miller, Dayton
No. 25: Jamie Dixon, Pittsburgh
No. 24: Bob McKillop, Davidson
No. 23: Greg McDermott, Creighton
No. 22: Tommy Amaker, Harvard
No. 21: Larry Brown, SMU
No. 20: Thad Matta, Ohio State
No. 19: Jay Wright, Villanova
No. 18: Steve Fisher, San Diego State
No. 17: Mark Few, Gonzaga
No. 16: Roy Williams, North Carolina
No. 15: Fred Hoiberg, Iowa State
No. 14: Tony Bennett, Virginia
No. 13: Shaka Smart, VCU
No. 12: Jim Boeheim, Syracuse
No. 11: Sean Miller, Arizona
No. 10: Kevin Ollie, UConn
No. 9: John Beilein, Michigan
No. 8: Gregg Marshall, Wichita State
No. 7: Bo Ryan, Wisconsin
No. 6: Bill Self, Kansas
No. 5: Rick Pitino, Louisville
No. 4: Mike Krzyzewski, Duke
COACHES WHO JUST MISSED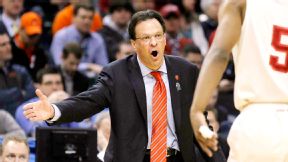 AP Photo/Kiichiro Sato
Some big names missed our list of top 50 coaches. Here are the 25 names who just missed, listed in alphabetical order.
Dana Altman, Oregon
Tim Cluess, Iona
Tom Crean, Indiana
Keith Dambrot, Akron
Johnny Dawkins, Stanford
Fran Dunphy, Temple
Leonard Hamilton, Florida State
Ben Jacobson, Northern Iowa
Derek Kellogg, Massachusetts
Larry Krystkowiak, Utah
Mike Lonergan, George Washington
Cuonzo Martin, California
Chris Mooney, Richmond
Craig Neal, New Mexico
Matt Painter, Purdue
Dave Paulsen, Bucknell
Bruce Pearl, Auburn
Steve Prohm, Murray State
Dave Rose, BYU
Herb Sendek, Arizona State
Kevin Stallings, Vanderbilt
Andy Toole, Robert Morris
Brad Underwood, Stephen F. Austin
Brian Wardle, Wisconsin-Green Bay
Michael White, Louisiana Tech
HOW DOES IT WORK?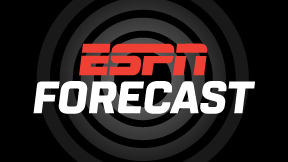 What is ESPN Forecast?
Our engine for creating more accurate sports predictions and opinion.
Does it work?
Yes. This is the future of forecasting, as demonstrated by the 2012 presidential election and Fortune 500 companies.
How does it work?
Our approach, in a nutshell, is to create a diverse panel of people with college basketball expertise and aggregate predictions and opinions. For ESPN Forecast, we have a panel of 45 members that collectively possess vast college basketball experience, knowledge and perspective.
Why does it work?
This panel has a collective intelligence that's greater than any individual member's knowledge and sharper than that of any single statistical system.
Diversity is a key factor in creating accurate predictions and opinion. The wisdom of the crowd comes from having diverse views that emerge from independent thinking.
The ESPN Forecast panel is a diverse mix of contributors from across the spectrum.
The result?
More accurate, insightful forecasts and views.
This is the wisdom of the crowd in action. This is ESPN Forecast.
COACHING CENTRAL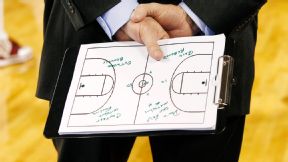 AP Photo/Mel Evans