Top 50 coaches: No. 24 Bob McKillop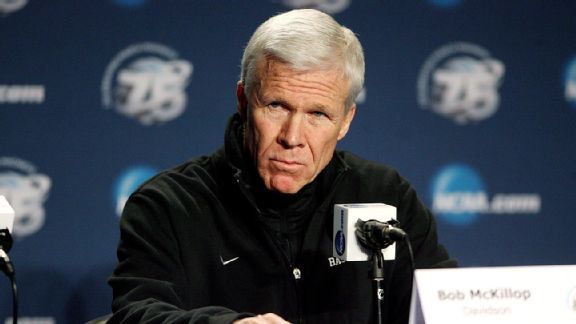 Mark Zerof/USA TODAY SportsDavidson's Bob McKillop has long been respected. Now he's getting more recognition.
Editor's note: Over the next five weeks, we will reveal the top 50 coaches in college basketball as decided by our ESPN Forecast panel. Today we unveil No. 24: Davidson's Bob McKillop. On Wednesday, we release No. 23.
---
Bob McKillop has coached basketball in exactly two places in his life. The first was Long Island. In 1973, McKillop was hired to coach and teach history at Holy Trinity High School in Hicksville, N.Y. He served one year as an assistant at Davidson, in 1978-79, and then back to Long Island he went, where, at Long Island Lutheran, he won five New York state titles in 10 years.
In 1989, he was hired at Davidson. In 2013-14, his 25th season at the school, the Wildcats renamed the Belk Arena court in his honor.
Our ESPN Forecast coaches rankings are about present performance. They are not designed to rank coaches based on historic performance, or legacy, or any of the truly long-term things you couldn't revise in a year's time without getting a somewhat different set of results. Which is why the No. 24 spot -- ahead of a score of high-profile coaches with impressive résumés of their own -- is an especially telling testament to the level of respect McKillop still commands in his profession.
Coaches love Bob McKillop. His wider name recognition is inexorably tied to Stephen Curry's glorious Elite Eight run in 2008 -- and if you want to pause here and run back a YouTube mix or two, we'll understand -- and to the brief spike of attention that brought the program. But coaches had ridden for McKillop years before Curry morphed from gangly overlooked prospect to a world-destroying NBA force.
The Sporting News' Mike DeCourcy summed it up well in February, as the Wildcats unveiled their new court: "[Fellow coaches] understand what Bob McKillop brings to a basketball game: perhaps not always the most talented players, but always five guys moving in the same direction, with the same sense of purpose." It's impossible to talk to people within college coaching about McKillop and not come away with a earful of superlatives.
Some of those suprelatives are related to X's and O's. (His work with USA Basketball gets special notice in this regard.) Some are about the added challenge of building teams at Davidson, which is hardly shy about its academic standards. And some of the respect is admiration bordering on jealousy. Years before mid-major athletics programs would become capable of retaining their budding coaching stars, McKillop could have had any number of high-major jobs. Davidson could have, and maybe should have, been a stepping stone. Instead, McKillop stayed. He's become a firmament in the Davidson community, an icon in his own right, the kind of coach every high school and college of every size wants in its building.
But the most likely reason McKillop is on this list -- not that I can speak for every voter -- is that he has managed to keep Davidson at the top of the Southern Conference, and in constant NCAA tournament contention in a league that gets one bid per year, in the post-Curry era. The experience in 2008 could have been a flash in the pan; the Wildcats fell back to .500-level basketball in 2010 and 2011. But McKillop won 51 combined games in 2011-12 and 2012-13, went to two more tournaments, and followed up with an overachieving 20-13 season (and a 15-1 conference record) in 2013-14. He has won at least 25 games in seven of the past nine seasons at Davidson. There's no reason to expect anything less in the years to come.
Davidson shot through the college hoops world in a flash in 2008. But long before it did, its coach poured his life's work into the place. That work is ongoing, and McKillop is as good now as he's ever been.
-- Eamonn Brennan
---
Previous installments: Nos. 50-25 »
Full Top 50 Coaches List
No. 50: Tie -- Randy Bennett, St. Mary's; Scott Drew, Baylor
No. 49: Richard Pitino, Minnesota
No. 48: Stew Morrill, Utah State
No. 47: Bob Hoffman, Mercer
No. 46: John Thompson III, Georgetown
No. 45: Mike Brey, Notre Dame
No. 44: Rick Barnes, Texas
No. 43: Chris Mack, Xavier
No. 42: Josh Pastner, Memphis
No. 41: Ed Cooley, Providence
No. 40: Bruce Weber, Kansas State
No. 39: Tubby Smith, Texas Tech
No. 38: Buzz Williams, Virginia Tech
No. 37: Rick Byrd, Belmont
No. 36: Steve Alford, UCLA
No. 35: Phil Martelli, Saint Joseph's
No. 34: Tad Boyle, Colorado
No. 33: Fran McCaffery, Iowa
No. 32: Tim Miles, Nebraska
No. 31: Lon Kruger, Oklahoma
No. 30: Bob Huggins, West Virginia
No. 29: Jim Crews, Saint Louis
No. 28: Jim Larranaga, Miami
No. 27: Mick Cronin, Cincinnati
No. 26: Archie Miller, Dayton
No. 25: Jamie Dixon, Pittsburgh
No. 24: Bob McKillop, Davidson
COACHES WHO JUST MISSED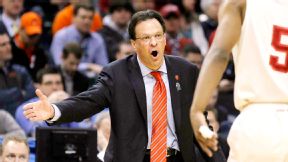 AP Photo/Kiichiro Sato
Some big names missed our list of top 50 coaches. Here are the 25 names who just missed, listed in alphabetical order.
Dana Altman, Oregon
Tim Cluess, Iona
Tom Crean, Indiana
Keith Dambrot, Akron
Johnny Dawkins, Stanford
Fran Dunphy, Temple
Leonard Hamilton, Florida State
Ben Jacobson, Northern Iowa
Derek Kellogg, Massachusetts
Larry Krystkowiak, Utah
Mike Lonergan, George Washington
Cuonzo Martin, California
Chris Mooney, Richmond
Craig Neal, New Mexico
Matt Painter, Purdue
Dave Paulsen, Bucknell
Bruce Pearl, Auburn
Steve Prohm, Murray State
Dave Rose, BYU
Herb Sendek, Arizona State
Kevin Stallings, Vanderbilt
Andy Toole, Robert Morris
Brad Underwood, Stephen F. Austin
Brian Wardle, Wisconsin-Green Bay
Michael White, Louisiana Tech
HOW DOES IT WORK?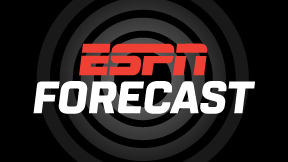 What is ESPN Forecast?
Our engine for creating more accurate sports predictions and opinion.
Does it work?
Yes. This is the future of forecasting, as demonstrated by the 2012 presidential election and Fortune 500 companies.
How does it work?
Our approach, in a nutshell, is to create a diverse panel of people with college basketball expertise and aggregate predictions and opinions. For ESPN Forecast, we have a panel of 45 members that collectively possess vast college basketball experience, knowledge and perspective.
Why does it work?
This panel has a collective intelligence that's greater than any individual member's knowledge and sharper than that of any single statistical system.
Diversity is a key factor in creating accurate predictions and opinion. The wisdom of the crowd comes from having diverse views that emerge from independent thinking.
The ESPN Forecast panel is a diverse mix of contributors from across the spectrum.
The result?
More accurate, insightful forecasts and views.
This is the wisdom of the crowd in action. This is ESPN Forecast.
COACHING CENTRAL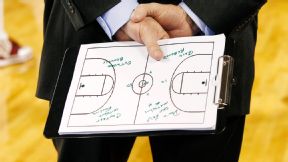 AP Photo/Mel Evans