Don't let lack of marquee matchups fool you
ideo1>
Editor's note: Rece Davis is the host of "College GameDay," which will be in Lawrence, Kan., for Saturday's Texas-Kansas game. Check out the video above as six of our writers preview six of the weekend's top games.
This is a landmark weekend. Only four weeks left until Selection Sunday. The season is racing by. If only more teams played as fast as the season seems to go, but that's a discussion for another day.
Only two top-10 teams play at home Saturday, but this is no road test Saturday. Think of it as more of an open-book quiz. Only one of the top-10 teams faces a squad that's more than a game over .500. None of them faces a team with a winning conference record. Road losses by highly ranked teams are the norm this season, but aside from Duke's trip to Maryland, there's no obvious spot in which the road trippers should be wary of tripping up.
The most interesting road trip of all will be Kentucky's visit to Tennessee. This is like the start of a new season for the Wildcats. Nerlens Noel's devastating knee injury derailed a team that I thought was starting to play closer to the way John Calipari demands. Early in the season, Cal's collection of five-star players still seemed to have that "me" mentality. Noel's defensive prowess was the centerpiece for the Cats.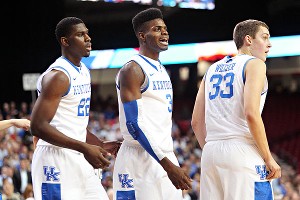 Daniel Shirey/US PresswireWith Nerlens Noel (center) out for the season, Alex Poythress (left) becomes even more important.
Now they have to reinvent themselves. As you've heard often, the tournament selection committee will evaluate the teams on what they are now. We don't know what Kentucky is now without Noel. But if the Big Blue are going to take these final four weeks and make their point to the committee, the guy who needs to step up his game is Alex Poythress. He's not a defensive stopper or ticket-taker at the rim like Noel, but he can have a huge impact on the other end of the floor.
But not playing the way he is now. Poythress hasn't scored in double figures in February. I don't mean to say the freshman hasn't had a good season. He's still averaging 12 points and six rebounds per game. But Kentucky doesn't need "solid for a freshman." They need spectacular. The good news is he's more than capable of delivering. He scored 20 or more in four of his first five college games, including a 20-point eight-rebound performance against Duke.
Should UK flounder without Noel and not make the tournament, and if Ole Miss keeps sliding, could the SEC really have only two teams in the field of 68? I doubt it. I think the Wildcats and Rebels will eventually make the field, but it's not beyond the realm of comprehension.
We will spend a lot of time looking at numbers over the next four weeks. The most insightful ranking system is the BPI, given how it weighs individual games, injuries and margin of victory, among other things. But I noticed recently that renowned numbers connoisseur Brad Stevens of Butler said the numbers are instructive in terms of showing a team's typical performance, but only the video shows what a team is capable of.
Nobody showed more capability than Michigan State in its demolition of Michigan. According to our BPI game scores, only Miami's mauling of Duke was a better performance. And frankly, that's splitting hairs. The Wolverines and Indiana have gotten the lion's share of the Big Ten attention. Wisconsin has had the signature moments with a win in Bloomington and Ben Brust's buzzer-beating heave in an eventual overtime win against Michigan.
But Sparty is under the radar no longer. Michigan State's numbers are good. But what this team can put on video, with Derrick Nix and Adreian Payne in the post and Keith Appling and Gary Harris in the backcourt, makes MSU look as dangerous as anyone and better than almost everyone. I know this is the Weekend Watch, and no disrespect intended to Saturday's opponent, Nebraska, but I'm looking ahead to Tuesday, when the Spartans get a rematch with Indiana. Put an impressive victory over the Hoosiers on film, and Tom Izzo's team will go from overshadowed in the conference to the team casting the biggest shadow in the nation's best league.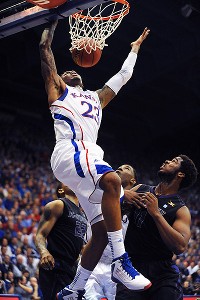 Denny Medley/USA TODAY SportsBehind Ben McLemore's 30 points, KU bounced back against K-State. The Jayhawks will host College GameDay this weekend.
Kansas also showed that its ceiling is very high with a dominant win over Kansas State. Ben McLemore went off for 30, but the most encouraging thing for the Jayhawks might have been the steady point guard play of Naadir Tharpe coming off the bench. Tharpe could actually help Elijah Johnson, freeing him up to be a shooter. College GameDay will be in Lawrence to see if the Jayhawks can put another award-worthy effort on film against Texas.
The Longhorns had waited for Myck Kabongo longer than Tom Hanks waited to get off that island in "Cast Away." In his first game back from a 23-game suspension (what he did clearly didn't rise to the level of a 24-game suspension), Kabongo got 13 points and seven assists in a double-OT win against Iowa State. The Horns come in feeling better about themselves than they have all season. Then again, they haven't been to the Phog yet.
A couple of other things worth a peek. The Mountain West is poised for a huge Selection Sunday. Keep an eye on Boise State. Leon Rice's Broncos have been ravaged by injuries to their top players. But when all top players are available, the Broncos are 11-3. They are 5-4 when not at full strength. Boise will be healthy when it takes on New Mexico. Last week, only a Chase Tapley buzzer-beating 3 kept BSU from a road win over San Diego State. The Broncos could use a win like this to move toward the bubble.
Surging Colorado State is at Air Force. The Rams will have to learn to handle success, but they are like a Rocky Mountain version of Miami. Larry Eustachy is starting five seniors. Maturity is their strong suit. They'll need it against a Falcons team that owns home wins against San Diego State and UNLV.
There are many great places for "College GameDay" to set up shop this weekend, but none better than Phog Allen Fieldhouse. We'll show you the original rules of basketball and discuss rules we'd like to change. Digger Phelps first danced at Kansas. Will the Silver Fox break out his dancing shoes? Thankfully, Digger is blissfully unaware of the Internet and hasn't proposed making his version of a Harlem Shake video. See you Saturday.
College Basketball and Football studio host; SportsCenter anchor/reporter
Rece Davis joined ESPN in March 1995 and currently serves as studio host for college football and college basketball, including his duties as host of the NCAA Women's Basketball Championship and the college basketball version of College GameDay.
There's a new leader in the Wooden Award race
Usually, by mid-February, it's pretty obvious who will win the Wooden Award. Or at the very least, the competition has been whittled down to two players.
Not this year.
With less than a month remaining in the regular season, the race for college basketball's most prestigious award is still wide open, with players and teams yo-yoing up and down from week to week. Here's my latest ballot.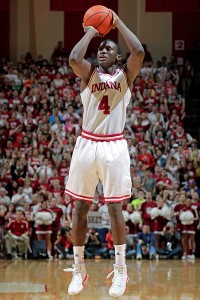 AJ Mast/Icon SMIOffense? Defense? What hasn't Victor Oladipo done for the No. 1 Hoosiers this season?
Victor Oladipo, Indiana -- The guard/small forward is averaging 19.5 points and eight rebounds in his past two games for No. 1-ranked Indiana. His energy is infectious, his leadership the main reason the Hoosiers lead the nation's toughest conference.
Mason Plumlee, Duke -- After a few mediocre weeks in early January, the early-season favorite for this award is beginning to surge once again. Plumlee is averaging 21.4 points and nine rebounds in his past five games.
Trey Burke, Michigan -- It's hard to stay at the top of this list when your team loses three of its past four games -- especially when you're a point guard. Not that the Wolverines' struggles are all Burke's fault. He's scored 15 or more points in 19 of his past 20 games.
Doug McDermott, Creighton -- The Bluejays, who are the heavy favorite to win the MVC title, have lost three in a row. McDermott is averaging 15.7 points and shooting just 44.7 percent in those setbacks. His season averages are 23 points and 55.3 percent.
Ben McLemore, Kansas -- The potential No. 1 pick in this summer's NBA draft leads Kansas with 16.8 points per game. He's shooting 51.3 percent from the field and 43.5 percent from 3-point range. McLemore scored 30 points in Monday's win against K-State.
To read about the 10 players that just missed the cut in this week's Wooden Watch, check out the rest of the post in the Nation blog.
College basketball writer for ESPN.com
Longtime writer at the Kansas City Star
Author of two books
Viewer's Guide
All times ET:
Friday
9 p.m.: Georgetown at Cincinnati (ESPN)
Saturday
10 a.m.: "College GameDay" from KU (ESPNU)
11 a.m..: "College GameDay" from KU (ESPN)
12 p.m.: Villanova at Connecticut (ESPN)
12 p.m.: Virginia at North Carolina (ESPN3)
12 p.m.: Notre Dame at Providence (ESPN3)
1 p.m.: Pittsburgh at Marquette (CBS)
1 p.m.: Kentucky at Tennessee (CBS)
1:30 p.m.: Florida at Auburn (ESPN3)
1:30 p.m.: Oklahoma at Oklahoma State (ESPN3)
2 p.m.: Purdue at Indiana (ESPN)
2 p.m.: Virginia Tech at NC State (ESPN2)
3 p.m.: Creighton at Evansville (ESPNU)
4 p.m.: Missouri at Arkansas (ESPN)
4 p.m.: UCLA at Stanford (ESPN2)
4 p.m.: Colorado State at Air Force (Altitude)
4:30 p.m.: Gonzaga at San Francisco (ROOT)
6 p.m.: Duke at Maryland (ESPN)
7 p.m.: Baylor at Kansas State (ESPNU)
8 p.m.: Syracuse at Seton Hall (ESPN3)
8 p.m.: Michigan State at Nebraska (BTN)
9 p.m.: Texas at Kansas (ESPN)
9 p.m.: Arizona St. at Colorado (ESPNU)
9 p.m.: San Diego St. at UNLV (NCBN)
9 p.m.: Boise State at New Mexico (ROOT)
Sunday
12 p.m.: Penn State at Michigan (BTN)
1 p.m.: Louisville at South Florida (ESPN)
1 p.m.: Ohio State at Wisconsin (CBS)
3 p.m.: Arizona at Utah (PACN)
6 p.m.: Miami at Clemson (ESPNU)
8 p.m.: Wichita State at Illinois State (ESPNU)
I Can't Wait To See …
Eamonn Brennan

Will the real Ohio State please stand up? All season, despite the immense offensive talents of Deshaun Thomas and the perimeter defensive stylings of Aaron Craft, the Buckeyes have felt like a work in progress -- perpetually looking for some combination of players to pick up some of former star Jared Sullinger's slack, desperately searching for a second scorer to pair alongside Thomas, casting about for that extra oomph to get them from "good" to "elite." Last week at Michigan, it appeared they found it: Amir Williams played the best game of his career and Sam Thompson, LaQuinton Ross and Shannon Scott all provided major minutes. The Bucks lost by a bucket in OT, but it was easily their best performance of the season. Then Sunday, with a chance to knock off No. 1 Indiana at home, OSU once again fell flat. Maybe the key is something as simple as consistency. Maybe it's cohesion. Whatever it is, it's hard to get a read on a team that can play as well as it did at Michigan and still look so overwhelmed at home against Indiana. Let's see what they have for us at Wisconsin on Saturday, shall we?
Andy Katz

Oklahoma State has a chance to win the Big 12. Yes, the Cowboys actually can come out of nowhere and unseat the Jayhawks. It's all in front of them, and it begins with the return of the Bedlam game this weekend against rival Oklahoma. OSU lost in Norman earlier this season and already lost at Kansas State. But the schedule is kind to the Cowboys on the back end, after their win at Kansas. Oklahoma and KU come to Stillwater in consecutive games and Kansas State arrives in March. The Pokes can actually control their own destiny by winning at home and not slipping up on the road in spots where they should not fail. The talent is in place and now the charge is to carry out what could be one of the bigger conference-title upsets this season.
Jason King

Even after Wedneday's loss at UConn, the return of James Southerland makes Syracuse the favorite to win the Big East title. But don't crown the Orange just yet. The winner of Saturday's game between Marquette and Pittsburgh will also be in the mix. Marquette pulled off one of the more impressive wins of the Big East season to date by defeating the Panthers in overtime at the Peterson Events Center back on Jan. 12. But Jamie Dixon's squad has since won seven of its past eight and will be high on confidence against a Marquette team that is fresh off a road loss at Georgetown. I always loved watching these two schools lock horns. The Panthers and Golden Eagles are both incredibly well-coached and relish playing defense as much as anyone in the country. The intensity will hard to match.
Myron Medcalf

Nerlens Noel's season-ending ACL injury is a blow for the young man and the entire Kentucky program. The Wildcats, however, will move forward without the talented freshman this weekend. The next seven games will be an audition for a UK squad that must prove itself to the NCAA tournament selection committee. The Cats weren't that convincing when Noel was available, but they'd improved in recent weeks and had finally regained a slot in the AP poll. A Saturday road game against an improving Tennessee team will be the first test. They are certainly a different team without Noel, but they're still one of the league's most athletic and capable crews. That potential hasn't translated to the success John Calipari's teams have experienced in recent years, and it wouldn't be surprising if a team that's already wrestled with bouts of inconsistency would slide again in Noel's absence. Yet, I'm still intrigued by Kentucky's next moves following Noel's unfortunate injury. How will this young group respond to this tremendous adversity?
Dana O'Neil

We've all been understandably captivated by the excitement and chaos in the big conferences, but this weekend I'm going to turn my attention a little off Broadway. OK, way off. Harvard hosts Princeton, which, up until the suspensions of Crimson co-captains Kyle Casey and Brandyn Curry, would have been a circle-the-date sort of game. This is still a big game, even without Casey and Curry (maybe even more so because they aren't around). The Tigers lost to Yale on Saturday, apparently dooming them in the standings and title hunt -- until Harvard lost to Columbia on Sunday. So now we've got both with one loss in this ultimate "yes, the regular season does matter" conference, where the league winner takes the coveted dance ticket.
Robbi Pickeral

I can't wait to see the Virginia-North Carolina rematch. Both teams were projected as 11-seeds in Joe Lunardi's latest Bracketology, and there may be room for only one come NCAA tournament time. The Cavs still have matchups with top-5 Miami and Duke left on their regular-season slate, while the Tar Heels still face rematches with the Blue Devils and NC State, among others. Both have bubble résumés at that point, and any loss makes things that much more slippery -- thus making Saturday's showdown at the Smith Center key for both. Virginia won the first round by 11 points last month in Charlottesville.