Daily Word: Cutting the field to four
>Each day, some of our college hoops experts discuss the biggest issues, trends and themes in and around college basketball.
1. Whose frontcourt would you rather have? Duke's one-man show with Jahlil Okafor or Gonzaga's stable of big men?
Andy Katz: It's hard to turn down the potential No. 1 NBA draft pick. Clearly, the Zags have more options than Duke, but Okafor has the ability to go for major production numbers. As deep as the Zags' frontcourt has become, they don't have one player who can dominate the game.
C.L. Brown: Okafor all day everyday. His talent often can't be replicated even by a rotation of big men. As long as he can pass out of double teams better than he did in the second half against Utah, Duke will be all right.
John Gasaway: I'll take Gonzaga's if we're agreeing that Kyle Wiltjer is part of the "frontcourt." Wiltjer's 2-point percentage in the tournament (67) is, amazingly, almost as high as Okafor's (73), and of course Mark Few's junior also makes 3-pointers. Plus if I act now, you'll even throw in Przemek Karnowski and Domantas Sabonis? Okafor's the best player named here, but I'll give the edge to the Bulldogs' rotation.
2. Who are you more surprised to see in the Elite Eight: Michigan State or Louisville?
Katz: Michigan State. The Spartans hadn't played consistently well until the past few weeks. While Louisville had moments when it looked like a title team, the Cards still had a stud in Montrezl Harrell, who had the ability to carry this team. The Spartans are the surprise of the Elite Eight.
Brown: Michigan State. Easily. The Spartans' talent level might be the weakest of any team Izzo has gotten this far. They lost at home to Texas Southern. Find me a Louisville loss that was as bad. I'll wait. Pitino's 2012 run to the Elite Eight and eventual Final Four appearance was way more surprising.
Gasaway: Definitely Louisville. The Cardinals were one shot away from losing to UC Irvine in the round of 64 and, even with a win, they came out of that game with serious issues on offense. But in two games against Northern Iowa and NC State, Terry Rozier and Harrell have led an attack that has been surprisingly (shockingly?) effective. You have to tip your hat to Rick Pitino.
3. When the dust settles, which matchup will we see in the Final Four?
Katz: Michigan State-Gonzaga. I had the Zags in my original Final Four. I had Oklahoma, but now that the Spartans have won, I'll lean toward Sparty.
Brown: Duke and Michigan State. As good as Gonzaga is, Duke just has too many ways to win. The Spartans waited until the postseason, but they're playing their best basketball at the right time.
Gasaway: Gonzaga-Michigan State. Even though Duke's numbers in the tournament look good on defense, the Blue Devils have been weak on the defensive glass -- I think that gives the Zags an opportunity. And Travis Trice looks more Kemba and/or Shabazz-like with each passing game for Tom Izzo.
Earlier Words: 3/28 » 3/27 » 3/26 » 3/25 » 3/24 » 3/23 » 3/22 » 3/21 » 3/20 » 3/19 »
Games To Watch
Michigan State vs. Louisville, 2:20 p.m. ET, CBS
One the one hand, nobody saw Louisville and Michigan State making the East Region final. On the other, no one should be surprised that Rick Pitino and Tom Izzo have led their teams here as the coaches rank fourth and sixth respectively in NCAA tournament win percentage.
---
Gonzaga vs. Duke, 5:05 p.m. ET, CBS
The Blue Devils are no strangers to the Elite Eight as Mike Krzyzewski is here for the 14th time. Gonzaga, meanwhile, hasn't made a regional final since 1999, the tournament run featuring Richie Frahm and Matt Santangelo that put the Bulldogs on the map. A win would put the Zags in their first-ever Final Four.
ESPNU Basketball Podcast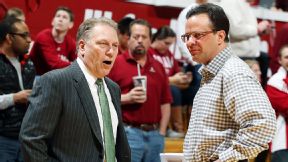 Brian Spurlock/USA TODAY Sports
Andy Katz and Seth Greenberg check in with newsmakers from around college basketball.