Ohio State's Thad Matta quietly gets job done
COLUMBUS, Ohio -- His pregame news conference over, Thad Matta grabbed a chair in the interview room, sat down and -- for 10 minutes and 41 seconds -- dutifully, honestly and occasionally even wittily answered questions about his least favorite topic: himself.
He had been dragged here by Ohio State associate athletic director Dan Wallenberg, who ought to be in line for a raise after pulling off the impossible.
Or, then again, maybe he'll get fired for making Matta do this. It could go either way.
"Dan will tell you, it took everything to get me down here when he told me it was to talk about me," Matta said. "Honestly, I probably turn down eight out of 10, nine out of 10 requests. I just don't care."
Which makes Matta both the absolute right man for the Ohio State job and an anomaly among his peers.
On Tuesday night, the No. 2 and undefeated Buckeyes meet No. 5 and one-loss Michigan State in an early test of Big Ten supremacy.
On Friday night, the No. 7 and one-loss football Buckeyes faced No. 12 and two-loss Clemson in an otherwise meaningless Orange Bowl.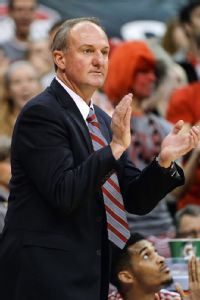 Jamie Sabau/Getty ImagesThad Matta has Ohio State 15-0 and ready for a showdown with Michigan State on Tuesday.
Guess which one people cared about more?
"Football is front and center, strong and heavy," athletic director Gene Smith said. "You don't want to battle that by having a persona that is bigger than that. That's just reality. You don't try and fight it. You embrace it."
Which Matta does, happily and contentedly from behind the scenes. He is not interested in beating Urban Meyer in a popularity contest. He is interested in beating Tom Izzo in the Big Ten and everyone else for a national title.
It is not that he knows his place.
It is that he knows this place.
On many a campus, basketball coaches bristle at the notion that they are working at a football school, the tag somehow implying their programs are second-class citizens. (No doubt, in some places they are.)
Matta could not care less about what others think about Ohio State. He knows the reality. The hoops Buckeyes might be second fiddle during football season, but they are not second-class.
Matta flies on a private plane, just like Meyer does. The team charters. The assistants are compensated well. There is a freshly renovated practice facility for the basketball team and, per Matta's request, the Schottenstein Center has been reconfigured. The deep-pocketed season-ticket holders were relocated three years ago from their courtside seats to make way for the students and give an otherwise bland entertainment center a basketball arena feel.
"We treat our players well," Matta said. "The environment we create, they're taken care of. That's what I care about. I care about our guys. It's not about me."
The funny thing is, if Matta wanted to make it about him, he could very easily and relatively successfully.
Look at his numbers. (Please, for Wallenberg's sake, take a look. The man has sheets of paper detailing Matta's accomplishments, information that Matta refuses to reference.)
In Matta's nine seasons at Ohio State, the Buckeyes have won five Big Ten regular-season titles and four conference tournament crowns, appeared in four consecutive Sweet 16s, two Final Fours, one national championship game and won 265 conference games, better than any other team in that span. And they've had seven players taken in the first round of the NBA draft. Yet, if a casual observer were asked to pick the nation's best college coaches, Matta's name probably wouldn't make the top 10.
The simple reason is the glaring omission from that glittering resume -- a national title. Matta is the new Roy Williams, the new Bill Self -- the best coach to never win it all and, in a world measured only by trophies, Matta still doesn't stack up.
"That's his drive and goal every day. He feels like he owes the university that," assistant coach Jeff Boals said. "But I don't think he personally needs that validation. It's not for him."
And that's the less obvious and, frankly, more real reason that has made Matta the most anonymous winner in sports.
In a world full of Kardashians, Matta is Greta Garbo.
Greg Bartram/USA TODAY SportsTo make the Schottenstein Center less friendly for opponents, coach Thad Matta made sure to get the students closer to the floor.
Social media and the need to sell, sell, sell in college athletics have met in the perfect marriage of self-aggrandizement.
Coaches always have been bigger in the college game. They stick around longer than their athletes; their leadership styles are more of a dictatorship than the democracy of the pros. They are the face of the team, of the department and, often, of the school.
In the ideal world of unicorns and rainbows, recruits pick their future based on schools.
In reality, it is not what can Brown (University) do for you. It's what can (Larry) Brown do for you. Now thanks to social media, which has put the "I" in team and just about everywhere else, there's a resume blowhorn for coaches to say exactly what they can do, have done, will do, what their beliefs are, what their favorite quotes and bagel shops are.
Which makes Matta, who has no Facebook, Twitter or Instagram accounts -- "the only computer he deals with is an iPad to watch game films," Boals said -- a cross between a mime and a Luddite.
"He's not a self promoter and obviously I've been doing this quite a while, so I've seen the self promoters," Smith said. "He's not a guy that the media is coming at so he can talk about what he's done. When you compare him to those kinds of people, I can see why people don't think he measures up. He's out of sight, out of mind."
Wallenberg and his assistants try to nudge him to, if not brag, at least share what he's accomplished. He won't. He has a weekly call-in radio show and TV show (both contractually obligated), but he directs the conversation to game conversation and steers clear of anything about himself.
And while other coaches willingly head to Bristol for what ESPN calls the car wash (a run through of appearances on the network's shows), Matta would prefer to stay home and wash his car.
"He really doesn't care," Boals said. "He wants to coach his team and spend time with his family. He doesn't -- or he won't -- toot his own horn."
The old-school style goes back to his retro roots. Raised in the aptly named Hoopeston, Ill., Matta is a quintessential Midwesterner -- polite, gracious, humble. His dad, Jim, was a basketball coach and Matta and his brother, Greg, starred as players for the local Cornjerkers.
Folks there knew a coach when they saw one and locals saw Matta's destiny even before he did. He took his first job at nearby Indiana State, the first of six stops as an assistant.
He was, not surprisingly, a grinder more than razzmatazz, memorably forcing his soon-to-wife into a hastily arranged wedding rather than waiting a week for a more organized affair because of the recruiting calendar.
"Yeah, that was a good one," Matta chuckles.
And now that he is the CEO, he hasn't changed much. He's still a grinder, a guy who trusts his gut to make a decision more than modern-day analytics. He prefers coaching to recruiting and family time to media time.
Pretty much any topic other than his own life story.
ESPN Senior Writer
College basketball reporter.
Joined ESPN in 2007.
Graduate of Penn State University.
Andy Katz's Weekly Honors
Monday's Game Plan
Game Plan is our Monday morning primer, designed to give you everything you need to know about games that were and the games that will be in college hoops this week. Send us feedback and submissions via email and Twitter.

Theres a great detail in the Associated Press recap of San Diego States 61-57 win over Kansas Sunday, the Jayhawks first nonconference home loss in more than seven years and almost certainly the biggest win in SDSU basketball history. How, exactly, did the Aztecs end KUs 68-game home nonconference streak? What set them apart from so many who came before?
"Our coach never gets rattled," San Diego State forward Winston Shepard said. "He's always even-keeled. & After every timeout, he tells us to take a good thought out there."
"He just tells you to think something positive, whether it's basketball, family, whatever. Think something positive," Xavier Thames said. "I think that really helps."
Think happy thoughts. It is brilliant and endearing in its simplicity, a testament to the work Steve Fisher has done -- is doing -- with yet another of his irrepressible San Diego State teams.
It is also, lets face it, a timely prescription for Kansas fans.
To read all of Monday's Game Plan, complete with ICYMI, state of the week and games you need to see, click here.
Freshman Tracker
Each week we release the Freshman Tracker – and each week there are new names and movement. This past week began league play for most of the young kids, and it'll be interesting to see how these guys fare and whether they hit the dreaded freshman wall sometime later this month.
Here is our updated ranking of the 10 best freshmen in college basketball.

1. Jabari Parker, F, Duke Blue Devils 6-foot-8, 235 pounds
Parker had his first poor outing as a college player on Saturday, scoring just seven points (2-of-10 shooting) and grabbing four rebounds in the Blue Devils' loss at Notre Dame. In fact, Parker played so poorly that Duke coach Mike Krzyzewski benched him down the stretch. Despite his off night, Parker still ranks second in the ACC in scoring and fifth in rebounding.
This week: Tuesday versus Georgia Tech (7 p.m. ET, ESPNU); Saturday at Clemson
Stats: 20.4 PPG, 7.7 RPG, 51 percent shooting, 43 percent 3-pointers | Previous rank: 1

2. Julius Randle, PF, Kentucky Wildcats 6-9, 250 pounds
Randle and the Wildcats were idle this past week, so there isn't anything new to report on him. But he has nine double-doubles already this season and leads the SEC in rebounding, and remains one of the most productive freshmen (and players) in the country.
This week: Wednesday versus Mississippi State; Saturday at Vanderbilt
Stats: 18.1 PPG, 10.6 RPG | Previous rank: 2
To see the entire top 10 in this week's Freshman Tracker, click here.

Freshman Focus
ARIZONA
• Thursday at UCLA, 9 ET, ESPN
• Sunday at USC, 9 ET
DUKE
• Tuesday vs. Georgia Tech, 7 ET, ESPNU
• Saturday at Clemson, 2 ET, ESPN3
KANSAS
• Wednesday at Oklahoma, 7 ET
• Saturday vs. Kansas State, 2 ET on ESPN
KENTUCKY
• Wednesday vs. Mississippi State, 8 ET, ESPN3
• Saturday at Vanderbilt, 3:30 ET
MONDAY
• Maryland at Pittsburgh, 7 ET, ESPNU
• Southern at Texas Southern, 9 ET, ESPNU
TUESDAY
• Baylor at Iowa State, 7 ET, ESPN2
• Georgia Tech at Duke, 7 ET, ESPNU
• Tennessee at LSU, 7 ET, ESPN
• Vanderbilt at Alabama, 7 ET, ESPN
• Ohio State at Michigan State,9 ET, ESPN
WEDNESDAY
• Kansas at Oklahoma, 7 ET, ESPN2
• Harvard at Connecticut, 7 ET, ESPNU
• Miami at North Carolina, 9 ET, ESPN2
• Texas at Oklahoma State, 9 ET, ESPNU
THURSDAY
• Memphis at Louisville, 7 ET, ESPN
• South Florida at Temple, 7 ET, ESPNU
• Auburn at Ole Miss, 7 ET, ESPN2
• Arizona at UCLA, 9 ET, ESPN
• Northwestern at Iowa, 9 ET, ESPNU
• Michigan at Nebraska, 9 ET, ESPN2
• Gonzaga at Portland, 11 ET, ESPNU
FRIDAY
• Radford at High Point, 7 ET, ESPNU
• Wright State at Valparaiso, 9 ET, ESPNU
SATURDAY
• Saint Louis at Dayton, 11 a.m. ET, ESPN2
• North Carolina at Syracuse, noon ET, ESPN
• Iowa State at Oklahoma, noon ET, ESPNU
• Florida at Arkansas, 1 ET, ESPN2
• Missouri at Auburn, 2 ET, ESPNU
• Kansas State at Kansas, 2 ET, ESPN
• Memphis at Temple, 3 ET, ESPN2
• Ole Miss at Mississippi State, 4 ET, ESPNU
• Virginia at NC State, 5 ET, ESPN2
• UCF at Connecticut, 6 ET, ESPNU
• Califronia at Oregon State, 8 ET, ESPNU
SUNDAY
• Maryland at Florida State, 8 ET, ESPNU
• Arizona State at UCLA, 10 ET, ESPNU