Wildcats knock off Wazzu as Bayless continues to excel
AP Photo/Wily Low
Key Shot
By Andy Glockner
ESPN.com
When Arizona stepped onto the McKale Center court Thursday night, it sported a worse record but better RPI than Washington State. As such, the Wildcats'
decisive 76-64 win
over the Cougars wasn't a big shock. Winning anywhere on the road in the Pac-10 this season (outside of Corvallis) is brutal. What was notable, though, is that the win was Arizona's first over an RPI top 50 team this season in five attempts. The quality of Arizona (13-6, 3-3 Pac-10) has been obscured by its record, one that is worse than it should be after star freshman point guard
Jerryd Bayless
missed four games with an injury. Arizona lost three of those games. With Bayless in the lineup, the Cats are now 11-3, with losses to Virginia and at Kansas and Stanford by a combined 11 points. Interim head coach Kevin O'Neill has rightfully been lauded for getting the Cats to buy in defensively. This team is much better on that end than recent vintages. With Bayless in the lineup, though, the Wildcats are potent offensively, too. Sophomore wing
Chase Budinger
is a very nice Plan B, and athletic sophomore big man
Jordan Hill
is a hidden gem. The trio combines for just over 50 points a game. Arizona is working on the nation's longest stretch of NCAA Tournament appearances at 23 in a row. That streak surely will reach 24 this season. The bigger question is whether this edition is good enough to get the Wildcats to the Final Four for the first time since 2001. With a top-10 RPI and the best SOS in the land, a strong finish to the Pac-10 season could land them in the Phoenix regional. Would you bet against them then?
Key Notes
By Jason McCallum
ESPN Research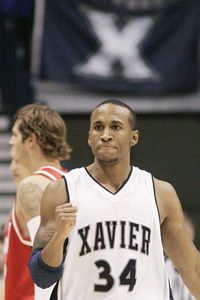 AP Photo/Al Behrman
Xavier rocked Dayton in a battle of A-10 powers.
• No. 22 Xavier beat No. 19 Dayton,
69-43
, and held the Flyers to only 2-of-18 shooting from behind the arc. Over the last five seasons,
Xavier
has played 35 conference home games. Against all opponents other than Dayton, Xavier is 22-8 and its opponents are shooting 31.3 percent from 3-point range. Dayton, however, is 0-5 at Xavier and is an abysmal 24.4 percent from long distance. • Dayton has now lost 23 straight games at Xavier. The last time the
Flyers
won at Xavier was on Jan. 10, 1981 … or 10 days before Ronald Reagan was inaugurated as the 40th President of the United States. •
Kevin Love
was booed when he played his first game at Oregon, the home-state school he spurned in order to attend UCLA. How did he respond? How about a career high in rebounds (18), offensive rebounds (8), free-throw attempts (12), 3-point field goals made (2) and minutes (35)? It was also the 10th double-double of his young career. Not a bad way to respond to a tough crowd. Oh, and UCLA pulled away with an
80-75 win
. • The Pac-10 is the only of the Big Six conferences that plays the majority of its weekday games on Thursdays, and this week was no exception. Through the first three weeks of the Pac-10 schedule, home teams were 8-4 on Thursday nights. But the visitors struck back last night, winning three of the four conference games. The only road team to lose was No. 6
Washington State
-- the highest-ranked school in the conference. •
Kyle Hines
of UNC Greensboro scored 32 points on 14-of-16 shooting in the Spartans'
17-point win
at the College of Charleston. It is Hines' sixth career 30-point game, but only the second time his team has won when Hines has hit that mark. In five games this January, Hines is averaging 22.6 points per game and shooting 64.9 percent from the floor. • The College of Charleston's 88-71 loss is its most lopsided home defeat since Nov. 23, 1985. Only four of the 14 players on the Cougars' current roster were born before that date. •
Arizona "AZ" Reid
of High Point recorded the 40th double-double of his 107-game career Thursday night in a win against Longwood. He has 14 of those double-doubles this season, and only Kansas State freshman
Michael Beasley
has more (15). •
Scott VanderMeer
of Illinois-Chicago pulled down a career-high 21 rebounds in the Flames' four-point loss at Valparaiso. That is the second-most by any Division I player in a conference game this season.
D.J. White
of Indiana (22), VanderMeer and
Paulius Packevicius
of Rice (20) are the only Division I players who have hauled in 20-plus rebounds in a conference game this season, and White's Hoosiers were the only team to win the game. • Has anyone had a stranger week than
Mike Hall
of Idaho? On Thursday, Hall went 9-for-10 from behind the arc and scored a career-high 29 points in 35 minutes as the Vandals beat San Jose State by 11 points. Hall set a school record in making the nine shots from long distance. But on Jan. 17 and Jan. 19, he played a combined 36 minutes, took five shots and scored zero points.
On Tap For This Weekend
Here are some notable games this weekend: • Gonzaga at Memphis (ESPN, Sat., 12 ET)
• Nebraska at KU (ESPN Full Court, Sat., 1:45 ET)
• Wazzu at Arizona State (Saturday, 7 ET)
• Creighton at Southern Ill. (ESPN2, Sat., 9 ET)
• Vandy at Florida (ESPN Full Court, Sun., 1 ET)
• Duke at Maryland (Sun., 6:30 ET)
IUPUI's Hunter coaches without shoes for charity
Did You See?
It appears we have reached a point that no college basketball fan under the age of 40 ever thought possible: Duke is underrated. After the
second-half pullaway
at Virginia Tech on Thursday night, the now No. 3 Blue Devils are 16-1 overall, just one
Levance Fields
jumper away from being lumped in with Kansas and Memphis as the nation's only unbeatens. But Duke hasn't been mentioned in the same breath with those two, or UCLA, this season. Heck, Duke isn't even the biggest buzz team in its own conference, even though North Carolina had been living on the edge for several weeks before falling at home to Maryland. Quietly, the Blue Devils have just kept winning -- and winning at an extremely dominant rate. Entering Thursday, they were second in the country behind Kansas in adjusted scoring margin (average margin of victory, adjusted for schedule) at 23.1. As ASM is a strong predictor of NCAA Tournament success, Duke clearly is a team that needs to be taken seriously at this point. Sure, the Blue Devils have their weaknesses. The easiest one to point out is the lack of size, especially when
Brian Zoubek
is out injured. But so far, that hasn't mattered. Pitt manhandled Duke on the glass and won by one. Clemson outrebounded the Devils by 16 at Cameron and shot 53.2 percent from the field, and the Tigers still lost by 12 because Duke's aggressiveness and Clemson's awful free-throw shooters led to a huge disparity at the foul line. On the plus side, Duke finally goes more than six or seven deep, using a cadre of shooters and athletic slashers to create their own mismatches. Senior
DeMarcus Nelson
is the team's leading scorer and rebounder. For months, the expectation was that North Carolina would cash in by playing its NCAA Tournament games in Raleigh and then Charlotte. Duke looks like it's all but clinched a place alongside the Tar Heels in the Raleigh pod, and the Blue Devils could steal the 1-seed in the East and the huge homecourt advantage that will go with it.
-- Andy Glockner, ESPN.com
Duke bests Virginia Tech on the road
Inside The Blog
• USC's season may have turned with two things: The disciplining of
Davon Jefferson
against Washington State and the win over Washington. According to USC, Tim Floyd's decision to sit Jefferson for some sort of misconduct did wonders for letting everyone know who is in charge of the program. The win over Washington two days later gave the young team confidence, and it carried over into the next week at UCLA. The feeling among the staff was that Floyd showed he's not afraid to put down a hammer when need be, and the move to sit Jefferson may have saved the season. Jefferson scored 25 points in the win over UCLA.
-- Andy Katz, ESPN.com
For more of Andy Katz's blog, click
here

.
Austin Peay knocks off Jacksonville State