Tar Heels get hustle message from unhappy Roy Williams
Gerry Broome/AP Photo
Key Shot
By Dana O'Neil
ESPN.com
CHAPEL HILL, N.C. -- It looked like something out of a church league game -- a 5-for-5 wholesale substitution. Out came
Ty Lawson
,
Danny Green
, Alex Stephenson,
Tyler Hansbrough
and
Marcus Ginyard
. In went
Quentin Thomas
,
Will Graves
,
Deon Thompson
,
Wayne Ellington
and
Mike Copeland
. UNC coach Roy Williams wasn't trying to make sure everybody got a turn. He was making sure the first five got an earful. "I was ticked," Williams said. "My god, you've got to run your [butt] back. It's pretty simple."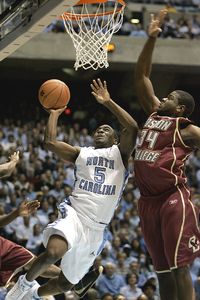 Gerry Broome/AP Photo
Ty Lawson and his teammates said they got the message from Roy Williams.
The coach had just watched Boston College sophomore
Shamari Spears
make like a center fielder, get under the hoop with no one within miles and throw down an easy dunk to tie the score at 21. In the first homecourt game since losing to Maryland, Williams was in no mood to watch his more talented North Carolina team toy with a struggling Boston College team. "When Coach takes us out five at a time, we know we did something wrong," Lawson said. The second five forced three turnovers and two missed jumpers, and by the time the first five returned, they had received the message. The Tar Heels held the Eagles without a bucket for 5:32, sparking a 22-5 run that turned a close game into a 91-69 rout. Jumping the passing lane and swatting at the ball like pesky gnats, UNC forced 17 turnovers overall. That's like giving the Road Runner a headstart on Wile E. Coyote. The Heels turned those miscues into 23 easy points. "It's more about attitude," said Ellington, one of five starters to score in double figures. "Our attitude changed today, and we decided we were going to guard." The No. 4 Tar Heels (20-1, 5-1 ACC) know well the knock on them, that they are a team whose defensive scheme is simply to outrun and outscore everyone, that pushed into a half-court game -- a la Maryland -- they will fail. Williams has preached defense more than a pastor begs for atonement, and although pleased with the defense against BC, he is not about to pronounce the defensive woes over. It is, after all, a little worrisome that a team of such talent still needs its coach to spew venom to make it play hard. "We need to come out stronger than that," Lawson admitted. "We shouldn't have to rely on our coach yelling, cursing and getting on us. We should do it ourselves."
Key Injury
By Andy Katz
ESPN.com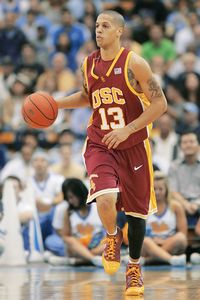 Lisa Blumenfeld/Getty Images
USC can ill-afford to lose Daniel Hackett at this point of Pac-10 play.
LOS ANGELES -- What will USC do now, if
Daniel Hackett
is out for a game or more? If Thursday night's play against Arizona was any indication, the Trojans will have a tough go in the final 10 games of the Pac-10 regular season. Hackett injured his right hip while diving for a loose ball less than two minutes into the game, with the Trojans ahead 3-0. He didn't return. USC scrapped its way through the rest of the game, but without Hackett, the Trojans clearly were out of sync in the 80-69 loss at the Galen Center. A subdued Tim Floyd said following the game that Hackett might have suffered a chipped bone in his hip, or, worse, a cracked rib, since the sophomore was having trouble breathing. Hackett went to the locker room after he was hurt. He returned just before the end of the first half, gingerly sitting behind the bench with a wrap around his hips. He came back for the second half, too, walking to his seat behind the bench but moving very carefully and slowly. Floyd said Hackett would have an X-ray with results pending Friday. He declined to say Hackett definitely was out for Saturday's critical game against Arizona State, but it didn't look good. "Daniel is a critical part of this basketball team defensively," Floyd said. "He's our best penetrator, kick guy, best assist guy, and he's great with his ability to get to the free-throw line." Hackett was coming off his best game of the season, a career-high 28 points in the overtime win last Saturday at Oregon. He was 11-of-15 at the line against the Ducks. Earlier in the season, fresh off a six-week recovery from a broken jaw, Hackett had a triple-double (22 points, 10 rebounds, 10 assists and no turnovers) in a win at South Carolina. "He's one of the toughest guys I know, and if there's any way he was going to be in that game [against Arizona], he was going to, but I feared the worst when he didn't return," Floyd said. In Hackett's absence, freshman
O.J. Mayo
took 23 shots to get 23 points. Guard
Angelo Johnson
was 1-of-4 on 3s, mustering up just seven points. And shooting guard
Dwight Lewis
was not effective, missing all three 3-pointers he attempted. Floyd was pressed into playing walk-on
Ryan Wetherell
five minutes and said he will play more if Hackett is out. The Trojans said Mayo and Johnson will have to pick up the scoring load if Hackett is out against Arizona State. The Trojans (13-7, 4-4 Pac-10), who had been surging with four straight wins before Thursday's loss, then go to Washington and Washington State next week. "We don't want to blame this loss on an injury," Mayo said. "We had the opportunity to win, and sometimes through adversity, you become stronger." Hackett's injury came on the heels of Floyd saying freshman Marcus Simmons might be shut down for the season with his second high ankle sprain. The Trojans also already lost Kasey Cunningham for the season with a torn ACL. "We'll just stick together," Johnson said. "It doesn't really change us much; we've got enough fire power."
On Tap For The Weekend
• UTEP at Memphis, Saturday, 1 p.m. ET
• Pitt at UConn, Saturday, 1 p.m. ET
• Baylor at Texas, Saturday, 1:45 p.m. ET (ESPN Full Court)
• Miami at Duke, Saturday, 3:30 p.m. ET (ABC, ESPN Full Court)
• Stanford at Washington State, Saturday, 3 p.m. ET
• Tennessee at Mississippi State, Saturday, 7 p.m. ET (ESPN Full Court)
• Arizona at UCLA, Saturday, 9 p.m. ET (ESPN)
• Wake Forest at NC State, Sunday, noon ET (ESPN Full Court) For the full schedule, click
here
.
Top 25 Scores From Thursday
• No. 3 Duke 92, NC State 72
• No. 4 North Carolina 91, Boston College 69
• No. 5 UCLA 84, Arizona State 51
• Cal 69, No. 9 Washington State 64
• No. 13 Wisconsin 62, No. 11 Indiana 49
• No. 14 Stanford 65, Washington 51
For all scores, click
here
.
UNC rolls to easy win over BC
SEC/Big East Invitational Matchups
The matchups for the second annual SEC/Big East Invitational were announced Thursday. The event will feature four games in two nights in two cities. Here are the matchups: Dec. 16 (Nashville's Sommet Center):
• South Florida vs. Vanderbilt
• Marquette vs. Tennessee
Dec. 18 (Cincinnati's U.S. Bank Arena):
• Mississippi vs. Louisville
• Mississippi State vs. Cincinnati
Here is a quick recap of the 2007 SEC/Big East Invitational:
Birmingham:
• Georgetown 70, Alabama 60
• West Virginia 88, Auburn 59
Philadelphia:
• South Carolina 68, Providence 67
• Villanova 68, LSU 67

Wisconsin routs IU to take piece of Big Ten lead
Key Notes
By Jason McCallum
ESPN Research
• It was not a good night to be playing against a ranked opponent. Six games on Thursday featured ranked teams, and only one was decided by fewer than 13 points. No. 9
Washington State
lost at home to Cal by five points. The other three teams ranked in the top 10 won home games by at least 20 points (Duke by 20, UNC by 22 and UCLA by 33). • Washington State's 69-64 loss to Cal was its first at home this season and only its third at home over the past two seasons. In the five seasons prior to Tony Bennett's arrival as head coach, the Cougars lost 34 home games. •
Ty Lawson
of North Carolina had 10 assists and no turnovers in the Tar Heels' win over Boston College. He was the first Tar Heel to record double-digit assists since Raymond Felton in the 2004-05 season. • Notre Dame's
Luke Harangody
recorded a career-high 31 points in the Fighting Irish's 81-74 win over Providence. His 14 rebounds were the second-most he has grabbed in a game. Notre Dame is 14-3 when Harangody records a double-double, 10-0 at home. • Notre Dame has won 32 consecutive home games since a Feb. 25, 2006, loss to Marquette. In that same period, Notre Dame's football team has lost seven of 14 home games. • Of
D.J. White
's 23 career double-doubles, six have come on the road. Thursday's 62-49 loss at Wisconsin was the first time in those six games that the Hoosiers lost. It was the third time he recorded 20 points and 15 rebounds, and the Hoosiers won the previous two contests. • On Thursday night, nine games were decided by one possession, and the home teams were 8-1. • IUPUI's
Gary Patterson
took only two shots from inside the 3-point line against Southern Utah -- it was his work from beyond the arc that gave him a Division I-high 37 points. He hit a career-high 11 3-pointers en route to the career-high points. Patterson had only two previous games in which he had surpassed 20 points. • UCLA's
Kevin Love
had his 12th double-double in Thursday's 84-51 win over Arizona State. He tied a career high by making nine field goals on only 11 attempts. It was the ninth time in his young career that Love shot 70 percent or better from the floor. The Bruins are 9-0 in those games. • Stanford's
Brook Lopez
had a career-high 31 points in a 65-51 win over Washington. Prior to Saturday, Lopez had scored 20 or more points in three career road games, and the Cardinal had lost all three of those games. But on Saturday, he scored 23 in a win at California. And the Thursday win over the Huskies made the Cardinal 2-0 in the past six days when he eclipsed 20 points on the road. • Lopez also had 13 rebounds -- the second time in his career he scored at least 20 points and grabbed at least 10 rebounds in a game. The other time was exactly a year before, in a home loss to Gonzaga on Jan. 31, 2007. • In ACC, Big East and Big Ten conference play Thursday, home teams were 4-1. In Pac-10 play Thursday, the home teams went 1-3.
Duke comes to life in the second half