Beasley vs. Mayo the main event on Thursday
Kirby Lee/Image of Sport-US PRESSWIRE/Peter G. Aiken-US PRESSWIRE
Not Lacking Star Power
By Tim Griffin
ESPN.com
OMAHA, Neb. -- The pregame hype has been off the charts. It wouldn't be surprising to find a red-carpet area swarming with paparazzi at the Qwest Center on Thursday night.
The celebrated first-round matchup between freshman phenoms O.J. Mayo of Southern California and Kansas State's Michael Beasley has been trumpeted as the most ballyhooed of the first-round matchups.
There hasn't been this much star power concentrated in this city since Jack Nicholson and Kathy Bates were filming "About Schmidt" here a few years ago. It's made this game the toughest basketball ticket in recent memory and brought a collection of NBA scouts to peruse two potential top-five picks for the NBA draft.
How big is the hype for this matchup? Even players from top-seeded Kansas were talking about the game during their press conferences leading up to their game against Portland State.
USC coach Tim Floyd thinks that games like the Mayo versus Beasley showdown benefit college basketball -- even if it underscores the fleeting one-and-done mentality for most elite players.
"Because you're asking that question, it's good," Floyd said. "That's been the excitement about this year. If you're going to look back, we're going to say it's the year of the freshman. And understand that we're seeing guys that up until a year ago that we would not have seen from 1995 on. They would have been in the league [NBA] without a doubt."
Beasley is a consensus All-American after leading the nation in rebounding and ranking third in scoring. Mayo's numbers haven't been as gaudy, but he's developed into the Trojans' leader in scoring, assists and steals.
Mayo and Beasley became acquainted on the summer all-star circuit and have remained friendly competitors over the years.
"Every time me and him step on the floor against each other, it's pretty intense," Beasley said. "It's back and forth talking. We're fired up to play each other all the time."
Mayo almost attended KSU, nearly following his closest friend, KSU forward Bill Walker to the Wildcats. The two former preschool playmates will meet in a clash that has always been intense.
"Hopefully, we'll be able to finish this game, because usually when we play one on one, there's a lot of arguing and fighting that goes on," Mayo said. "It will be fun playing the game knowing he'll be on the opposing team."
Help From Above
By Dana O'Neil
ESPN.com
WASHINGTON D.C. -- LaceDarius Dunn spent the eve of Selection Sunday in his room, talking to God.
The Baylor freshman barely slept, instead keeping a one-way dialogue with his Maker, hoping maybe the man upstairs had a little pull with the NCAA tournament selection committee.
So when the sleepless night led to a selection show revealing 10 names on the bracket and then 20, slowly creeping upward toward the final 65 without any sign of Baylor, Dunn started talking again.
"I kept saying, 'Where are we?'" Dunn said. "We have to be here. We've worked too hard. We have to be in. Honestly, it's like they tried to make us sweat a little bit."
The protracted wait for a bid 20 years coming led to more than a little bit of angst for Baylor and its large contingent of friends packed into the Ferrell Center. Senior Aaron Bruce said the mood in the team's arena went from electric to "like being at a funeral," as the bracket got down to its final handful of spots.
When Arizona (also sitting squarely on the bubble) was announced as the No. 10 seed in the West, Bruce said an almost audible gasp filled the arena. Dunn, his heart already beating fast, said he could barely look as the last name was revealed.
Someone, of course, has to be last. In the protracted television event that has become Selection Sunday -- a made-for-TV epic that could easily be condensed into 10 minutes but is naturally stretched to 60 -- players from some poor team have to squirm in their seats (and making matters worse for the Bears, with television cameras focused on them), wondering if an at-large bid is coming their way.
That the team waiting until the very last second was Baylor, seeded 11th against sixth-seeded Purdue in the West, was somehow fitting. After everything the Bears have been through since the dark days of former coach Dave Bliss (in a never-can-escape the story twist of irony, the Bears went to the pregame podium yesterday after Georgia, including Dawg senior Dave Bliss), it wouldn't suffice to have Baylor hear its name first, 15th or 50th.
"If we were first, it wouldn't be us," Bruce said. "Adding drama to an already dramatic story."
High Expectations
By Ted Miller
ESPN.com
ANAHEIM, Calif. -- As names ticked by on Selection Sunday, first-year Texas A&M coach Mark Turgeon started to wonder if the NCAA selection committee might be planning to create intrigue at his expense.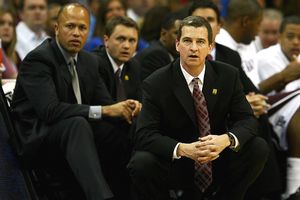 Jamie Squire/Getty Images
Despite all the team's wins, Mark Turgeon hasn't had the smoothest sailing in Aggie-land.
"I really thought we were going to play Kentucky," Turgeon said. "I was hoping they wouldn't do that to the players and coach [Billy] Gillispie."
It didn't happen. Texas A&M squares off with BYU on Thursday. But Kentucky, the 11th seed in the South, and the Aggies, the ninth seed in the West, will share the Honda Center this week.
Of course, Gillispie is the man who transformed Texas A&M from woeful to winners, leading the Aggies to three consecutive 20-win seasons for the first time in program history before leapfrogging to the blue-blood program at Kentucky.
Word these days in College Station is he also turned water into any flavor of Gatorade a person wanted.
At least that's the way it sometimes seems to Turgeon, who got into trouble in January for lashing out at the Gillispie-love, telling reporters, "I'm in a no-flipping-win situation this year, and that puts me in a bad mood. I've got no chance this year. If we win, it's because of Gillispie. If we lose, it's because of Mark Turgeon. So I can't win."
His words were milder during Wednesday's news conference, but it's obvious the strained feelings are still there.
"I've heard a lot of good things about him since I've been in College Station," Turgeon said. "It's tough shoes for me to fill."
Doesn't matter that the Aggies won 24 games this season. Doesn't matter they won a pair of critical games in the Big 12 tournament to earn their tourney bid. Or that they did so immediately after sophomore guard Donald Sloan suffered through the tragic death of his mother.
Gillispie's shadow remains over Turgeon. And the only way to make it go away is with a tournament run.
Kansas State, Beasley vs. USC, Mayo
Knight Makes His Selections
On Tap For Thursday
(all times Eastern)
• WASHINGTON, D.C.
No. 3 Xavier vs. No. 14 Georgia, 12:20 p.m.
No. 6 Purdue vs. No. 11 Baylor, 2:50 p.m.
No. 2 Duke vs. No. 15 Belmont, 7:10 p.m.
No. 7 West Virginia vs. No. 10 Arizona, 9:40 p.m.
• OMAHA
No. 1 Kansas vs. No. 16 Portland St., 12:25 p.m.
No. 8 UNLV vs. No. 9 Kent State, 2:55 p.m.
No. 6 USC vs. No. 11 Kansas State, 7:10 p.m.
No. 3 Wisconsin vs. No. 14 CSF, 9:40 p.m.
• DENVER
No. 5 Michigan St. vs. No. 12 Temple, 12:30 p.m.
No. 4 Pitt vs. No. 13 Oral Roberts, 3 p.m.
No. 4 Washington St. vs. No. 13 Winthrop, 7:20 p.m.
No. 5 Notre Dame vs. No. 12 George Mason, 9:50 p.m.
• ANAHEIM
No. 6 Marquette vs. No. 11 Kentucky, 2:30 p.m.
No. 3 Stanford vs. No. 14 Cornell, 5 p.m.
No. 8 BYU vs. No. 9 Texas A&M, 7:25 p.m.
No. 1 UCLA vs. No. 16 MVSU, 9:55 p.m.
For the full schedule, click here.
Oral Roberts Preps For Pitt
Five Good Minutes: Bruce Pearl
Bracket Toolbox
• Play Tournament Challenge | Bracket Master

• Simulations: BracketCaster | AccuScore

•

Tourney guides: Insider | Blue Ribbon
---
Peter Tiernan's Bracket Strategies

Hubert, Digger Make Their Picks
Stop By And Chat
Ready to talk tourney while the action is under way? ESPN.com's writers and experts will be chatting for several hours on Thursday.
Click here to submit a question
. The lineup and where they're at:
Noon: Ted Miller, Anaheim
12:30 p.m.: Heather Dinich, Raleigh
1 p.m.: Mark Schlabach, Tampa
1:30 p.m.: Reggie Rankin, Scouts Inc.
2 p.m.: Pat Forde, Little Rock
2:30 p.m.: Adam Rittenberg
3:30 p.m.: Joe Lunardi, Birmingham
4 p.m.: Chris Low, Birmingham
4:30 p.m.: Andy Glockner
Five Good Minutes: Scott Drew