ShootAround: It's Curry's world, the rest of the SoCon's just living in it
Streeter Lecka/Getty Images
Davidson and who?
By Kyle Whelliston
ESPN.com
Some prognostications are of the low-risk, low-return variety. "I'm going to go out on a limb here," deadpanned Chattanooga head coach John Shulman. "I'm going to guess that Davidson will be the favorite in our league, and that
Stephen Curry
will be the consensus preseason player of the year." Granted, a team that went an unprecedented 20-0 in conference play, reached the Elite Eight and boasts the nation's returning leading scorer makes for a pretty safe tree branch. But don't forget that 11 other teams play in the Southern Conference, and some of them are pretty good themselves. "What they did last year brought a lot of national attention and notoriety to our league," Shulman said. "And they have been so good … I was talking to [Charleston head coach] Bobby Cremins, and he said, 'When I signed up for this two years ago, nobody warned me about Curry.' "So the rest of us coaches in the league can either whine and cry about it, or work hard to pull ourselves to that level."

It was so exciting to see what they did last year, I was cheering for them. … I'm just disappointed that we only get to play them once this year.
--Houston Fancher, Appalachian State coach
Chattanooga was the last school not named Davidson to win the SoCon in 2005, when Shulman led the team to a 20-victory season and a No. 15 seed in the NCAA tournament. Before Davidson's magic March, the Mocs owned the league's deepest run since before Curry was born -- a Sweet 16 spot in 1997. With its top two scorers returning and a high-profile transfer in former Oklahoma shooting guard
Chris Early
, Chattanooga hopes to spoil Cinderella's coronation. "We won our division, but we didn't take care of our business in the tournament," said Shulman, whose Mocs were the second seed in last season's conference tournament but fell to No. 7 Elon 60-57 in the quarterfinals. "We've got all the motivation we need to go out there and earn another shot." Appalachian State head coach Houston Fancher is looking forward to the new season, too. The Mountaineers went 18-13 in 2007-08 (the same overall record Chattanooga had), but Fancher believes he's redeveloping the same level of backcourt strength App. State displayed during a record-breaking 25-8 campaign in 2006-07. "We're the only team in the league that's beat them in the last two years," said Fancher, whose team topped Davidson 81-74 before the Wildcats began a currently active league winning streak of 36 games. "It was so exciting to see what they did last year, I was cheering for them. And I know how close we are to their level. I'm just disappointed that we only get to play them once this year." That Mountaineers home date, set for Jan. 12, will be one of the SoCon's marquee matchups this winter. As for the current kings of the league, they're not looking past any of their 20 games on the league schedule. "Our 20-0 was not an easy task last season," said Davidson head coach Bob McKillop. "There were plenty of games that we could have lost if not for an opportune situation here or there. You look at what this league did out of conference last year … Charleston beat Temple, Appalachian beat Arkansas, Wofford beat Purdue on their home court. There were plenty of indications that teams in the Southern Conference can play with anybody in the country."
Five Things To Watch in '08-09
By Kyle Whelliston
ESPN.com
•
Point man
With an Elite Eight run that was only a missed
Jason Richards
3-pointer from lasting another week, Davidson earned the entire nation's respect last season. Stephen Curry became a poster boy for the SoCon, mid-major college basketball and impeccable shooting mechanics. The 6-foot-2 junior-to-be scored 128 points in four NCAA games, shooting 46.7 percent from the floor. Richards, the nation's leader in assists last season, ended his collegiate career at Detroit's Ford Field with that 59-57 loss against Kansas, then signed a contract with the Miami Heat. So now comes a move that's been anticipated for the past two years. Curry, who played the point throughout high school at Charlotte Christian, will evolve out of the shooting guard position he has occupied during his first two years at Davidson to play minutes at the point. Curry has spent the summer consulting with NBA point guards and polishing his court sense at elite camps. "I think he's really progressed in his overall game," Davidson head coach Bob McKillop said of his star's summer. "The most important thing for us is that he gets better. He has a mindset that he wants to become a more well-rounded player, and he's worked at it very, very hard." •
Hello, Samford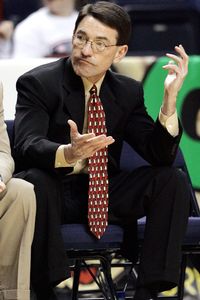 AP Photo/Mark Humphrey
Jimmy Tillette will bring the Princeton-style offense to the SoCon with newest member Samford.
The league's ranks swell to 12 with the addition of Samford. The Bulldogs are rising quickly up the Division I ladder, beginning in the Trans America/Atlantic Sun Conference and spending the past five seasons as Ohio Valley members. Based in Birmingham, Ala., the school just spent its first season in the new $32 million Pete Hanna Center, now the westernmost venue in the conference. For SoCon fans unfamiliar with Jimmy Tillette's team, the Bulldogs run the patient, clock-milking style of Princeton, full of backdoor cuts and slip splits. Tillette is still the only nonmember of the super-secret Princeton coaching fraternity to have been given its blessing, after having proven himself worthy of the skeleton key with study and patience. In compiling a 14-16 overall record last season, the Bulldogs were the nation's top-shooting team from inside the arc, converting a remarkable 57.9 percent of their two-point attempts. •
Is 20 too much?
Samford is familiar with 20-game schedules, as the 11-member OVC played a full home-and-home round-robin last season. But that league hasn't won an NCAA game since 1989 and has a much different set of issues than the SoCon. Even though the Bulldogs give this league an even dozen now, the league will maintain its supersized slate. For a conference chasing two-bid status, having 20 of the 28 allowable schedule slots filled with league games severely limits the number of nonconference opportunities, especially for teams looking to build at-large résumés. For example, Davidson will play West Virginia, North Carolina State, Duke, Oklahoma and Purdue as well as two BracketBusters games (a return with Winthrop and a TBA opponent in February). With little room to work with, McKillop had to turn down a number of TV opportunities. The league's coaches (even the ones who haven't been to the Elite Eight) aren't happy with the giant schedule, which made its debut last season. But in the end, other interests won the day. "Our coaches wanted to go back down to 16, that was a unanimous vote in our league," Appalachian State head coach Houston Fancher explained. "But it was shot down by the people above us. The athletic directors were split on it, but the presidents were pretty adamant about keeping things the way they are. It gives them those 10 guaranteed home games." •
Is there a spoiler in the house?
Teams at this level find it virtually impossible to get home games against power-conference opponents. Despite Davidson's second-consecutive slate full of BCS foes, none dare set foot in 6,000-seat Belk Arena. The Duke game is at Cameron Indoor, the Wildcats will play Purdue and West Virginia on neutral courts, and the NC State game will be another "semi-home" affair at Charlotte's Bobcats Arena. Another way to even the playing field is the exempt tournament. Two seasons ago, Appalachian State gained notoriety for beating Virginia, Vanderbilt and Central Florida at the San Juan Shootout on the way to a 25-win season. This year's Chattanooga team also will head down to the islands hoping to make a splash, entering a Puerto Rico Shootout field that includes Xavier, Southern California and Memphis. And with ESPN's help, College of Charleston has beefed up the field in the inaugural Charleston Classic at its new Carolina First Center. Clemson and Temple will be there too, both 2008 NCAA teams. •
Freshman orientation
At The Citadel, freshmen must shave their heads bald, in part so that upperclassmen can easily single them out for harsh treatment. In the culture of the South Carolina military school, first-year students are derisively referred to as "knobs." "Knob year" took on a whole new meaning on the basketball court during the 2007-08 season. The Bulldogs suited up 11 freshmen, a number that school and SoCon officials believe to be unprecedented in NCAA history. Not surprisingly, the school also lost an unprecedented 19 conference games against a single win (Western Carolina on Feb. 14) and collected just six victories all year (four against lower-division opponents). If there's any good news at The Citadel, it's that things can't possibly get any worse than that. In the fall, most of these freshmen will return as seasoned sophomores. And this time, they'll have hair.
2008-09 Team Capsules
By Kyle Whelliston
ESPN.com

Appalachian State
Last season's Mountaineers featured a vaunted senior frontcourt, but the conference's best shot-blocking team (4.68 bpg) returns only one player taller than 6-foot-5. App. State's primary strength will be its guards, as was the case during the 25-win season in 2006-07.
Donald Sims
was a revelation as a freshman because of his cocky willingness to take any shot (and he made a lot of them, for 11.5 ppg). Be on the lookout for newcomer
Quinche Dowdell
, a 6-5 wing out of Oak Ridge, Tenn., who has polished finishing skills.

Charleston
A 16-17 record (9-11 SoCon) marked the Cougars' first losing season since they joined the league in 1998. It certainly wasn't a fitting way to close John Kresse Arena, but all five starters will return hoping to make the Carolina First Center's inaugural season one to remember. Bobby Cremins' squad is highlighted by a pair of emerging backcourt talents, sophomore
Andrew Goudelock
and junior
Tony White Jr.
. Both scored 13.2 ppg last season. If they can cut down on turnovers and force more on the defensive end, the Cougs should improve.
Chattanooga
After a 15-18 crash two seasons ago, John Shulman's Mocs staged a three-win, six-seed improvement before they were knocked out in the quarterfinals last season. The 2008-09 version will feature a potent inside-outside senior combo in 6-7
Nicchaeus Doaks
(14.1 ppg, 7.1 rpg) and 5-11 shooter
Stephen McDowell
(14.3 ppg).
Jasper Williams
, a highly touted newcomer from Progressive Christian Academy in Maryland, very well could end up developing into the solid point guard that Chatty has lacked for several seasons.

Citadel
Though the Bulldogs lost an NCAA-record 19 conference games, they were second in the SoCon in 3-point field-goal percentage, converting 38.2 percent of their attempts. Granted, it was because the young and undersized squad had just one player in its regular rotation taller than 6-5 and spent most of its time camped out on the perimeter. In all, The Citadel launched 704 3-point attempts, or 24.7 per game. Because the Bulldogs rarely ventured inside, they also were second in the conference in ball control, averaging just 12.4 turnovers per game.

Davidson
It's a tough school to get into. Just ask Greek SF
Alex Vouyoukas
, who attended the same Blair Academy as Chicago Bull Luol Deng but failed to meet Davidson's strict academic requirements. So Bob McKillop turned to long and wiry 7-footer
Frank Ben-Eze
, a former Harvard recruit. Once Ben-Eze recovers from an ACL injury sustained in February, he'll grab some of the rebounds that were left behind when big men
Thomas Sander
and
Boris Meno
(combined 10.2 rpg) graduated.

Elon
Don't forget that it was the surprising Phoenix that acted as the final gatekeeper between Davidson and the 2008 NCAA tournament. A conference-tourney No. 7 seed, Elon held No. 10 Furman to just 37 points, shocked No. 2 Chattanooga 60-57 in the quarters, then beat No. 6 Charleston by 14. The Phoenix hung around in the first half before the Wildcats ended their dreams with a 16-point pull-away. Older and wiser for the experience, 6-5
Brett James
(12.4 ppg) and 6-8 Chicagoan
Ola Atoyebi
(12.1 ppg, 6.3 rpg) will return as seniors.

Furman
Only one senior left a team that finished 7-23 last season and opened the season with 11 straight losses. In most cases, a record like that signals new blood is necessary, but there were small but subtle positive signs in the Paladins' worst season since 1997-98. Such as the steadily improving play of 6-10 Aussie
Alex Opacic
, who notched three double-doubles and led the team with a modest 10.5 ppg. And sophomore guard
Justin Dehm
, who scored 10.4 ppg in his rookie season, could develop into something special if he develops a consistent outside shot.

Georgia Southern
The Eagles jumped out to an 8-2 record before Christmas, then hung around in the race for much of the regular season to finish 13-7 in the SoCon with 20 overall wins. But three of the top four scorers have moved on, including
Louis Graham
(16.8 ppg), who led GSU in scoring 19 times. Shooting guard
Willie Powers
(11.5 ppg) is a keeper, making a positive impression during his freshman year with his poise and straight shot.

UNC Greensboro
The folks in Greensboro loved outgoing senior
Kyle Hines
so much that they retired his No. 42 jersey while he was still wearing it. And it's true, they'll miss the 2,187 points and 1,047 rebounds he contributed in four years as a Spartan. Don't expect too much of a drop-off from a 19-12 record, as a three-man junior core (
Mikko Koivisto
,
Ben Stywall
and
Kendall Toney
) will emerge to collaboratively write the next chapter of UNCG hoops. Koivisto is a high-flying Finn who converted 45.5 percent of his 3-point attempts and 90 percent of his free throws.

Samford
The Bulldogs don't have a lot of history, and even less success, against their newfound conference rivals. Overall, Samford is 0-4 against SoCon teams in the past decade. In a seven-game historical series with Charleston, the Bulldogs are 0-7. They haven't played current conference kings Davidson for a decade and a half; that was a 78-51 loss back in 1993. Thanks to the largest and longest conference schedule in Division I, Samford will have 20 chances to get to know its new leaguemates.

Western Carolina
A promising season in Cullowhee, N.C., was derailed abruptly when
Nick Aldridge
, a 2007 All-SoCon selection, quit the team five games in and transferred to Cincinnati. The wide-bodied forward was averaging 18.8 ppg at the time. Although 6-6
Brandon Giles
stepped in and nearly tripled his scoring load to make up the slack, Western's offense often struggled to manage 40 percent shooting. Giles (15.3 ppg in 2007-08) will return as a junior, and juco point guard
Joey Parker
will attempt to organize a coherent attack.

Wofford
First, the Terriers defeated Purdue on the road (69-66 on Dec. 19) and acted so composed afterward, you'd have sworn they'd beaten hundreds of Big Ten teams before. Then Wofford netted a .500 overall record, something the school has done only once before in its 13-year Division I era. So seventh-year head coach Mike Young definitely has the program moving in the right direction. The next challenge is overcoming the graduations of key backcourt cogs
Shane Nichols
and
Drew Gibson
, whose departures mean a combined loss of 25.6 ppg.
If I were the SoCon commish …
By Andy Katz
ESPN.com I would do what I could to get the bottom of the league to improve. Davidson is the class of the league, a team that should be able to stay at or near the top as long as Bob McKillop is the head coach. But Davidson is hurt by the power rating of the bottom of the league. The Citadel, Western Carolina, Elon and Furman need to improve. Going to 20 games was a good scheduling move because of how difficult it is to get nonconference games. It also allows for a true round-robin and a real champion. But to offset playing more games against fellow SoCon teams, the rest of the league must do a better job of nonconference scheduling.
2007-08 Southern Standings
Overall record
SoCon record
Davidson*
29-7
20-0
Georgia Southern
20-12
13-7
Appalachian State
18-13
13-7
Chattanooga
18-13
13-7
UNC Greensboro
19-12
12-8
Charleston
16-17
9-11
Elon
14-19
9-11
Wofford
16-16
8-12
Western Carolina
10-21
6-14
Furman
7-23
6-14
Citadel
6-24
1-19
*NCAA tournament
#Samford was in the Ohio Valley last season and finished 14-16 (10-10).
For all the SoCon news and notes, check out the league page.
Top Returning Scorers
Player
PPG
Stephen Curry, Davidson, Jr.
25.9
Brandon Giles, WCU, Jr.
15.3
Cameron Wells, Citadel, Soph.
14.4
Stephen McDowell, Chattanooga, Sr.
14.3
Nicchaeus Doaks, Chattanooga, Sr.
14.1
Top Returning Rebounders
Player
RPG
Jermaine Johnson, Charleston, Sr.
8.5
Nicchaeus Doaks, Chattanooga, Sr.
7.1
Dustin Scott, Charleston, Sr.
6.7
Noah Dahlman, Wofford, Soph.
6.3
Ola Atoyebi, Elon, Sr.
6.3
Final Shots
• Which SoCon team ranks the highest since the start of the 1984-85 season?
Prestige Rankings
• Can anyone challenge Davidson for a spot in the 2009 NCAA tournament?
Bracketology
• Missed the other conference breakdowns? Click
here
to check out the ShootArounds archive.