WCC ShootAround: Can anyone dethrone Gonzaga?
AP Photo/Mike Carlson
WCC finally too close to call?
By Nathan Dinsdale
Special to ESPN.com
One team alone has dominated the West Coast Conference for more than a decade. It's a dynastic program whose supremacy has made the conference title an annual foregone conclusion, like Bill Murray waking up to Sonny and Cher in Punxsutawney. And that team is, of course, Loyola Marymount. Just kidding. It doesn't matter what you call the pride of Spokane -- Gone-zag-uh, Gun-zog-uh, Bulldogs, Dawgs, Zags, etc. -- the end result is always the same. When it comes to WCC basketball, there's Gonzaga and there's Everybody Else. At least that's been the case for the last 15 years. During that span, Gonzaga has advanced to the postseason 14 times (including 10 straight NCAA tournament appearances) while winning 12 regular-season WCC titles, including the last eight in a row. All the while, skeptics and opponents have waited for a "rebuilding year" that has yet to come. "It's clear by now that Gonzaga is not going to dip, so the other teams have to rise to their level if they're going to compete," Saint Mary's head coach Randy Bennett said. "I think that's what some teams have done. In the last two or three years, the gap between them and the rest of the league has gotten a lot smaller."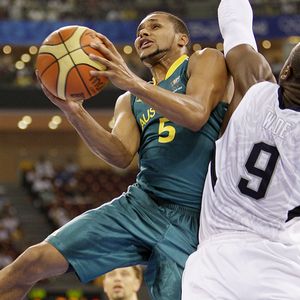 AP Photo/Eric Gay
St. Mary's point guard Patrick Mills starred this summer for the Australian national team in the Olympics.
Last season, three WCC teams (Gonzaga, Saint Mary's and San Diego) made it to the NCAAs for the first time in conference history. In the league's upper echelon, this season is shaping up to be one of the most competitive in recent memory with the top three teams returning 12 of 15 starters and six all-WCC selections (two apiece). "The strength of our league has improved so much since I've been it, now going on my 18th year," Grier said. "Everyone knows Gonzaga, but to see three teams compete on a really high level and make the NCAA tournament last year shows how strong our conference has become. And I think it's only going to get stronger." With reigning WCC Player of the Year
Jeremy Pargo
opting out of the NBA draft, Gonzaga returns at least two potential 2009 draft picks (Pargo and sophomore forward
Austin Daye
) to one of its deepest rosters in years. Saint Mary's isn't exactly bringing back Kibbles 'n Bits either with sophomore guard (and baby Boomer) Patty Mills -- who dropped 20 points on the Redeem Team in Beijing for Australia -- and senior forward
Diamon Simpson
pacing the Gaels. Even last season's WCC upset special, San Diego, brings back its entire roster, led by all-WCC seniors
Brandon Johnson
and
Gyno Pomare
. "Gonzaga is still the team to beat, but all three of those teams are bringing a lot of people back," Bennett said. "Last year it was very close between us and Gonzaga, and San Diego was right on the heels of both of us. I wouldn't want to pick which team will be on top at the end of this season. Among those top three teams, it's really too close to call." Then again, nobody is foolish enough to crown a new king when the reigning monarch is still firmly entrenched on the WCC throne. "Gonzaga has a chance to be very, very good this year, but I think [Saint Mary's] is going to be right in the thick of it and hopefully so will we," said San Diego head coach Bill Grier, a former long-time Gonzaga assistant. "That said, I think it's still their league until somebody knocks them off."
Five Things To Watch in '08-09
By Nate Dinsdale
Special to ESPN.com
•
Vegas, baby
The WCC tournament will be held at a neutral site (Orleans Arena in Las Vegas) for the first time in league history after years of using a host school system that favored programs (like San Diego and Gonzaga) with the largest arenas. The move is intended to both eliminate homecourt advantage and to draw more fans to a host site that offers more enticing amenities than might be found in, say, Spokane. If any team loses from the new arrangement, it's San Diego, as the Toreros earned their last two trips to the Big Dance by winning the auto bid on their home floor. •
Baptism by fire
For years, Gonzaga has boosted its reputation (if not its RPI) by scheduling tough nonconference foes (including Memphis, Washington State and Tennessee last season), and now other WCC teams are following suit. Saint Mary's and San Diego had big résumé-boosting wins (Oregon for Saint Mary's and Kentucky for San Diego) that helped pave the way to their NCAA bids. That trend continues this season with Gonzaga (Connecticut, Oklahoma State), Saint Mary's (Oregon, Wooden Classic, Newell Challenge) and San Diego (UNLV, Oregon, Mississippi State, Paradise Jam) all putting themselves to the test early. •
What I did on my summer vacation
Gonzaga star
Jeremy Pargo
's flirtation with the NBA draft notwithstanding, the WCC's biggest wave-maker this offseason was Saint Mary's sophomore guard
Patrick Mills
. Not only was Mills the only NCAA player to compete in the 2008 Olympics, but he averaged 14.2 points for Australia in Beijing and dropped 20 points on Team USA (admittedly renowned for its olé defense), earning praise from NBA stars like Chris Paul and Kobe Bryant. Another big season and it might be Mills pulling a Pargo next summer. •
Cha-cha-changes
Three teams (Pepperdine, San Francisco and Loyola Marymount) welcome new coaches, but the league itself is also under new leadership. After more than two decades under the guidance of Michael Gilleran, the WCC has a new commissioner in Jamie Zaninovich. The commish has already implemented a few changes, like moving the conference tournament to Las Vegas and changing the format of league games from Saturday/Monday to Thursday/Saturday. Zaninovich is expected to be aggressive about marketing the league, which should translate to even more national exposure. •
Wild cards
Several teams will get a significant boost from transfers this season from both junior colleges and major conferences. Among the more intriguing eligible new faces are Saint Mary's junior center
Ben Allen
(a transfer from Indiana), San Diego forward
Roberto Mafra
(junior college), Portland junior guard
T.J. Campbell
(a junior college all-American last season), Santa Clara junior forward
Decensae White
(from Texas Tech) and San Francisco junior forwards
Blake Wallace
and
Dontae Bryant
.
If I were the WCC commish …
By Andy Katz
ESPN.com
I was a huge proponent of protecting the top teams in the league for years. But that was when Gonzaga was the lone dog in this pack that could stand out. Now, advancing to the semifinals is no longer a necessity for the Zags. The WCC placed three teams in the NCAA tournament last season. That's two at-large berths for the league. Granted, one of them was regular-season champ Gonzaga, but the league is strong enough to handle a full eight-team tournament with everyone playing their way to the final. Losing to a team in the quarterfinals might not cost an at-large bid if the league continues to stay strong. Testing the league tournament at the Orleans Arena in Las Vegas will be interesting. The homecourt advantage in the WCC -- whether it's in San Diego, Santa Clara or Spokane -- is an issue. While this move proves the league has grown up enough to handle a neutral court, I still want to see how it draws before making a final decision on any permanent site.