Hoyas-Huskies, Crosstown Shootout highlight weekend's action
AP Photo/Julie Jacobson
Bilas Breakdown
By Jay Bilas, ESPN
No. 13 Georgetown vs. No. 16 Washington, 2 p.m. ET on Saturday (FSN)

Overview:
The Hoyas played their best game of the season against Butler at Madison Square Garden in a 72-65 win Tuesday, and they will have to play even better to beat Washington. Georgetown can control tempo with its Princeton offense and can make the Huskies play to its pace. The Hoyas' most important player is center
Greg Monroe
, who is coming off a career game with 24 points and 15 rebounds against the Bulldogs. Monroe,
Chris Wright
and
Austin Freeman
are the Hoyas' most reliable offensive threats, and
Jason Clark
and
Julian Vaughn
are much improved. The Hoyas do not have a ton of depth but have a very good starting five. Washington can score, with
Quincy Pondexter
and
Isaiah Thomas
both averaging more than 20 points per game. Thomas is quick and can really penetrate and attack in transition. Pondexter is very good on the baseline and does a nice job posting his opponent. He's also an outstanding rebounder on both ends.
Venoy Overton
is a terrific defender, and
Matthew Bryan-Amaning
is a good position defender on the interior, but this is not a great defensive team. The Huskies can rebound and run with anyone, and it will be interesting to see whether they can play and win at Georgetown's tempo. This will be like playing Oregon State, except Georgetown has much better athletes. U-Dub drilled Oregon State last season, by the way.
Key to game:
Washington's patience
This will not be a fast-paced game for the Huskies, which could easily frustrate them. Washington has to speed the game up with defense, not with offense. If the Huskies throw up a lot of quick shots to speed things up, they will spend most of the game on defense chasing the Hoyas around.
The winner is:
I favor Washington in this one. Georgetown has not done a great job of putting teams away, and the Huskies can score. A lot.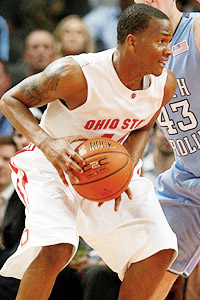 Jim O'Connor/US Presswire
With Evan Turner sidelined with a back injury, Ohio State will need increased production from the likes of William Buford.
No. 15 Ohio State at No. 20 Butler, noon ET on Saturday (ESPN)

Overview:
The toughest break suffered by any team thus far was the injury to OSU's
Evan Turner
. The most versatile and best all-around player in the country broke his back last week and will be out for eight weeks. Turner is leading the team in scoring (18.5), rebounding (11.4), assists (5.9) and offensive rebounds (3.5). He was the touchstone for this team, and it will be incredibly difficult to replace him, especially during finals week with shorthanded practices. With the ball out of Turner's hands and Ohio State forced to play a more traditional style,
Jeremie Simmons
and
P.J. Hill
will have to handle the ball more. Simmons has shot the ball really well, in large measure because Turner has created those shots for him. Simmons is averaging only 16 minutes per game, yet he is averaging 11 points on 65 percent shooting. On most teams, that field goal percentage would lead the team, but
Dallas Lauderdale
has missed only two shots on the year, hitting on 18 of his 20 shot attempts (mostly dunks).
David Lighty
is the team's best perimeter defender, and
Jon Diebler
is the Buckeyes' best shooter.
William Buford
can also shoot it but has not shot particularly well this season. Buford is the guy who can step forward in Turner's absence and raise the level of his game. Even without Turner, Ohio State has a lot of versatile defenders and can mix man and zone against Butler. Butler is a very good team that passes and shoots extremely well. The Bulldogs can spread the floor, set multiple ball screens on both sides of the floor, and find the open man on rotations.
Shelvin Mack
is a powerful guard who can shoot or drive, and
Gordon Hayward
is a big-time wing who simply knows how to play. Hayward leads Butler in scoring (16.3) and rebounding (8.2). It is key for Butler to hit shots, because the Bulldogs cannot rely on making shots in the lane against size. The size and length of Georgetown really bothered Butler, but the Bulldogs had open looks from the perimeter and did not knock them down. If a few shots go down, Ohio State will have to extend its defense. Butler's interior horse,
Matt Howard
, has got to find a way to play without fouling. When Howard is in foul trouble, Butler is nowhere near as good. To beat Butler, you have to handle ball screens, but you cannot "overhelp" and leave shooters open, because this is an outstanding passing team that will find open people. Butler may have overscheduled a bit this season, but that doesn't change that this is a really good basketball team.
Key to game:
Rebounding.
Butler cannot allow Ohio State to get second shots. If the Buckeyes get as many offensive rebounding opportunities as Georgetown did, the result will be the same.
The winner is:
Butler should win this game. Ohio State is more athletic and has more size, but the Bulldogs should be able to take advantage of playing in Hinkle and playing a team without its star.
Kansas State at No. 17 UNLV, 7 p.m. ET on Saturday (ESPN360.com)
Overview:
I have not seen any team play harder on the defensive end than Kansas State. This is a swarming defensive team with athletic forwards, length and grit. When the Wildcats play their best defense and they are on the line and up the line defensively, they really pressure the ball and don't allow a shot from the spot it was caught. K-State helps early and does not allow straight-line drives to the middle. Frank Martin's D does not hope for a miss; it makes you miss.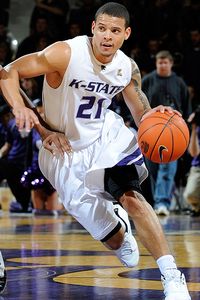 Peter G. Aiken/US Presswire
Denis Clemente scored 21 points against both Dayton and Washington State, two KSU wins.
The Wildcats' best scorers are guards
Jacob Pullen
and
Denis Clemente
. Pullen is really improved, gets to the free-throw line and is averaging more than 18 points a game. Clemente rivals Kentucky's
John Wall
for end-to-end speed with the ball in his hands, and he has taken the most shots of any Wildcat. Inside, KSU has lefty
Curtis Kelly
(a transfer from UConn), who is talented and effective in the post and has grabbed as many offensive rebounds as defensive. Kansas State is not a great free-throw-shooting team and turns the ball over too much, but this is a good team that is really tough to beat. UNLV is really well coached by Lon Kruger and is a solid transition team and an aggressive halfcourt defensive team, but not a great shooting or rebounding team. The Runnin' Rebels essentially have three point guards who can bring it up and initiate offense.
Tre'Von Willis
is a versatile wing who can penetrate and drive it hard to his right;
Oscar Bellfield
is a capable shooter and a strong penetrator; and
Derrick Jasper
is a versatile guard who is really strong and can get to the bucket (and he can guard anyone). Inside, UNLV has three good big men who complement one another well.
Brice Massamba
is a big, strong post player who can run and grab offensive rebounds,
Matt Shaw
is a good perimeter shooter, and
Darris Santee
is very active on duck-ins and on the glass. The question is whether UNLV can score enough points against Kansas State's defense, as only Willis and Bellfield have led the team in scoring in a game this season.
Key to game:
Turnovers and rebounding.
UNLV takes care of the ball better than Kansas State does, and it will have to. If KSU wins the turnover battle and gets second shots against UNLV, that will be the difference.
The winner is:
Even though this will take place at Orleans Arena and it isn't technically a home game, it's still in Vegas, and I like UNLV in a close one.
Why these games matter
By Andy Katz, ESPN.com
Saturday
No. 4 Kentucky at Indiana, noon ET (CBS)
The Hoosiers showed they have plenty of fight in them -- as well as the ability to score -- after running away from Pitt at the Jimmy V Classic on Tuesday night at Madison Square Garden. Look, no one will dispute that Kentucky has more talent. That's a given. But Kentucky had more talent than Miami (Ohio), Sam Houston State and Stanford, and all of those games were close, too. Assembly Hall will be rocking for this one. How Kentucky handles its first true road experience will be a great test. Jeremiah Rivers must be healthy for the Hoosiers to have a shot. If his back settles down from a pinched nerve, IU can make this game ugly, get the Wildcats in foul trouble and try to unsettle them. The only issue is whether it comes down to a late possession. Kentucky has John Wall; Indiana does not.
New Mexico vs. No. 18 Texas A&M, 6 p.m. ET in Houston (FSNSW)
Texas A&M coach Mark Turgeon said in Anaheim two weeks ago that he had no idea that this game would suddenly become this important. New Mexico is the surprise team out West right now after beating Cal and winning at San Diego to remain undefeated at 9-0. The Lobos are more than capable of upsetting the Aggies with the productive play of late from Roman Martinez, who scored 26 on the Toreros. Steve Alford's crew has been getting plenty of balance from Martinez, Darington Hobson and Phillip McDonald. A&M has a scrappy group that continues to improve. The more I watch B.J. Holmes, the more I like his game and ability to create shots late. Donald Sloan will still be the perceived go-to guy, but I wouldn't sleep on Holmes one bit. The Aggies have a tough two weeks ahead, with this game and then a trip to Washington on Dec. 22.
No. 5 Purdue at Alabama, 9 p.m. ET (ESPN2)
This is the one and only true nonconference road game for the Boilermakers. There is a little bit of Indiana-Kentucky in this game, too. The major difference is that I'm not sure Bama fans will produce as much of a frenzy as I know IU's faithful will for Kentucky. Purdue is a top-5 team coming into Tuscaloosa, but the football-crazed Tide fans may need to create chaos for the home team to pull off the upset. The Boilers have been a machine so far this season, showing balance from all five positions and not showing any signs that losing Lewis Jackson is a major issue at the point. Purdue has been blowing out the competition in the second half. Meanwhile, Alabama has won three in a row after losing to Florida State in the Old Spice Classic semifinals, including a win over Michigan in the consolation round. JaMychal Green has to stay on the court and avoid any foul trouble against Purdue's bigs -- and of course the Tide will have to defend the midrange to 3-point line against the Boilermakers. This could be a sneaky-good upset pick if the atmosphere is electric.
Sunday
No. 19 Cincinnati at Xavier, 7 p.m. ET (ESPNU)
I don't care what the records are for either of these teams. This is always a classic in the Queen City. The Bearcats have the big three in Deonta Vaughn, Yancy Gates and Lance Stephenson, but talent can be negated when an opponent walks into the Cintas Center. Cincy can afford a loss to its rival after beating Vandy and Maryland and losing in overtime to Gonzaga. But if Xavier wants to start sniffing an at-large bid again, it must pull off the upset. Xavier lost two of three in Orlando and then fell at Kansas State by double figures. The Musketeers still have road games at Butler and Wake Forest, but they need a signature win before A-10 play begins. This would suffice.
3-Point Play: Weekend preview
Viewers' guide
(All times ET)
Saturday:
Noon: Kentucky at Indiana (CBS)
Noon: Ohio State at Butler (ESPN)
2 p.m.: Georgetown vs. Washington (FSN)
4 p.m.: Oklahoma at Utah (Versus)
5 p.m.: Marquette at Wisconsin (ESPN2)
6 p.m.: New Mexico vs. Texas A&M (FSNSW)
7 p.m.: Kansas State vs. UNLV (ESPN360.com)

Sunday:
3 p.m.: Villanova at Temple (CBS-CS)
7 p.m.: Cincinnati at Xavier (ESPNU)

Pac-10 really needs Washington to win
I can't wait to see …
Fran Fraschilla
This year's Crosstown Shootout Sunday night between Cinncinati and Xavier should be as heated as ever. Any game between these two teams that isn't chippy is rare. The No. 19 Bearcats come to the Cintas Center ranked for the first time since the 2005-2006 season. Lance Stephenson, Mick Cronin's outstanding freshman, is coming off a season-high 17 points against Miami (Ohio). More important, he has fit into Cincy's mix seamlessly. Xavier, on the other hand, has struggled in new coach Chris Mack's initial campaign. With a 5-3 record out of the gates, this game will have "back-to-the-wall" feel to it for the Musketeers. I'd be surprised if Mack's talented young team doesn't respond well.
Andy Katz
I want to see just how Ohio State is going to play without
Evan Turner
, who dominated the ball for the Buckeyes early in the season. He had two triple-doubles and was a go-to player for the Buckeyes when the game mattered most. But can
David Lighty
,
P.J. Hill
or
William Buford
even come close to duplicating his production? Ohio State coach Thad Matta has had a week to digest life without Turner. He has been working feverishly on various combinations. How it translates at Hinkle Fieldhouse will be another matter. Meanwhile, Butler was probably projected too high at No. 10 in the preseason. Now, naturally, everyone is piling on this group. Perhaps it wasn't fair to put them that high in the first place. The good news is that
Matt Howard
should be able to stay on the floor and not get into foul trouble, considering the Buckeyes will go smaller and
Dallas Lauderdale
is the lone primary big. This is a huge game for both squads as Butler tries to rediscover its identity and Ohio State tries to find a new one.
Dana O'Neil
I'm looking forward to the bounce-back game, Ohio State at Butler. Much was expected from both teams this season and much can still be gained, but the Buckeyes and the Bulldogs are reeling as the calendar nears its end. This will be OSU's first game since it lost its epicenter when
Evan Turner
fractured two vertebrae in his back on Dec. 5. There is still plenty of talent on Ohio State's roster, but it will be up to everyone -- especially Turner's backcourt mate
David Lighty
-- to up their production to keep the Bucks in the hunt until Turner returns. Meanwhile, everyone's trendy mid-major pick for a big run is in shambles. Butler has played three ranked opponents and lost to all of them, seriously damaging its NCAA tournament résumé. The Bulldogs, of course, still control much of their own fate. But for a team that entered the season with such lofty expectations, getting at least one good nonconference victory is critical to help salvage some sort of decent seed.
Jay Williams
Greg Monroe
and his Georgetown Hoyas are coming off an impressive performance against Butler. Monroe had a very aggressive offensive mentality, controlling every aspect of the post and finishing with a career high in both points (24) and rebounds (15). Not to take anything away from the Hoyas' victory, but Butler hasn't exactly lived up to the preseason hype, and Georgetown has yet to play an aggressive, athletic team that loves to run. Washington's
Isaiah Thomas
and
Quincy Pondexter
are two of the top guards in the Pac-10. A key for the Huskies is rebounding and turnovers. In their loss to Texas Tech, they turned the ball over 19 times and were outhustled on the glass. This is a game that will be a contrast in style. Georgetown wants to slow the tempo and run its offensive sets, while Washington wants to push tempo and create easy basket opportunities. Who will be able to impose their will? I can't wait to find out.
Five Good Minutes: John Calipari
Player to watch
Jacob Pullen, Kansas State

The 8-1 Wildcats might be the country's best-kept secret, playing in the shadow of that other not-so-shabby team in Kansas. But K-State is quietly building an impressive early-season résumé, with wins over Dayton, Washington State and Xavier.

Pullen
And the leader of that quiet attack is the equally underappreciated Pullen. The junior guard has scored in double figures in each of Kansas State's games this year, dropping 26 in the victory over Dayton in Puerto Rico. He's averaging 18.2 points per game but is far more than just a scorer. The playmaker has dished out as many as seven assists this season and averages four per game.
Pullen and K-State will have another chance to emerge from the shadows Saturday when the Wildcats play the undefeated and 17th-ranked UNLV at Orleans Arena in Vegas.
-- Dana O'Neil, ESPN.com
Syracuse moves to 9-0 with win over Florida
Research guide
• Saturday's matchup will mark the 41st meeting between Ohio State and Thad Matta's alma mater, Butler. However, it'll be the first time a Buckeyes-Bulldogs game has involved two ranked teams.
• Meanwhile, Georgetown and Washington will be playing against each other for the first time ever. The Huskies haven't exactly had a lot of success against the Big East, losing nine straight to current conference members. U-Dub hasn't beaten a team that makes up the present-day Big East since a win over DePaul in 1989. • In the storied history of Kentucky basketball, only the legendary Adolph Rupp got off to a faster start than John Calipari, who is 9-0 in his first year at UK. In his debut season (1930-31), Rupp began 10-0 before losing. The Wildcats play at Indiana on Saturday afternoon. • Top-ranked Kansas takes on La Salle in Kansas City this weekend. The last time the Jayhawks played in the Sprint Center was also a December game against an Atlantic 10 school. Last season, KU shot just 34 percent and was upset by UMass, 61-60. The bad news for La Salle? The Explorers haven't beaten a ranked team in nearly eight years.
Cincinnati tops Miami (Ohio), 63-59