Border War showdown and bubblicious battles highlight weekend
Jamie Squire/Getty Images
Bilas Breakdown of the Must-See Game
By Jay Bilas, ESPN
No. 8 Missouri at No. 15 Kansas
Mizzou is a talented team having a great year and has vaulted back into the Top 10 behind the great play of DeMarre Carroll, Leo Lyons and J.T. Tiller. The Tigers play an all-out, pressing style that thrives on chaos and to beat it, Kansas will have to attack Missouri's pressure at the point it is applied.
When teams press full court, it creates opportunities. There is an opportunity for the pressing team to turn the opponent over and score easy baskets. Remember, when there are "live ball" turnovers against full-court pressure, the defensive team not only has an advantage, but it is closer to the basket and harder to stop once it has possession.
Join Rece Davis, Jay Bilas, Hubert Davis, Digger Phelps and Bob Knight in Berkeley, Calif., on Saturday as they break down the day in college basketball. (ESPN, 11 a.m. & 8 p.m. ET)
Missouri does a great job of getting steals and forcing tough passes, and scoring off of those miscues. But pressing also creates opportunities for the offensive team. If Kansas can handle the pressure -- if they can "catch and face" and make a play -- the Jayhawks will have advantageous situations on the back end of the press. They must be strong with the ball, present themselves as receivers and look to attack in order to punish Missouri for pressing.
This game is the classic example of why round-robin games in conference play are so important. Missouri clipped Kansas in a tight game in Columbia, and now KU gets a chance to redeem itself. Do you think the Jayhawks will be ready to play a heated rival with the Big 12 title on the line, with some Digger-esque "payback" on their minds as well?
Kansas is emerging as one of those teams you don't want to play in March, and this could be Bill Self's best coaching job to date in Lawrence. This is a young team, and Self has pushed all of the right buttons. The leaders of the team are Sherron Collins and Cole Aldrich, but freshman Tyshawn Taylor and junior college transfer Mario Little have played major roles down the stretch to put Kansas in the driver's seat for the Big 12 title.
Key Matchup: Sherron Collins vs. J.T. Tiller
Collins is the heart and soul of this Kansas team. He is a courageous driver and a clutch player who has not an ounce of fear in him. Collins has had a great year, and if not for Oklahoma's Blake Griffin, would make a great case for Big 12 Player of the Year. Tiller may very well be the Big 12 Defensive Player of the Year, and can impact a game without scoring a point. Tiller is disruptive and tenacious, and when he locks down on you, you stay locked down.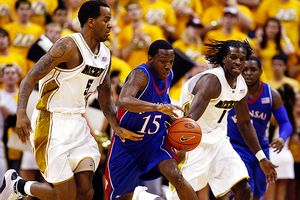 Jamie Squire/Getty Images
Tyshawn Taylor has given Kansas a much-needed offensive boost this season.
X-Factors:
Missouri doesn't really have anyone to match up with Aldrich, but the style of the game can keep him from truly exploiting his size and skill advantage in the post. Watch for Taylor and Lyons as the guys who can be really big contributors. Taylor is going to be a star, and he can play in the open court. He should get plenty of chances to operate in space against Missouri's pressure. Lyons is one of the most talented frontcourt players in the league and will spend time matched up with a freshman. Lyons should be able to win his matchup.
X's & O's to Watch: Keep an eye on the Kansas ball screen offense. The Jayhawks set a lot of wing ball screens, usually slipping the first one and following one on-ball screen with another one. When KU gets the ball moving from side to side with ball screens, the Jayhawks usually get something good, whether a lob dunk, a duck-in, or a drive-and-kick opportunity. Missouri cannot allow Kansas to reverse the ball at will, or it will be free cheeseburgers at The Wheel for everyone.
Key Stats: Turnovers and rebounding
The key to this game will be extra possessions. If Missouri can turn Kansas over, the Tigers can get more shots. If Kansas can dominate the glass, the Jayhawks can get more shots. And the team that is quicker to loose balls is a real key. Why can't we have "50-50 balls" as a stat in a box score? Those are as important as anything in deciding a game.
Who Wins? Kansas gave up a lead in Columbia to a very determined Missouri team. The Jayhawks will be the tougher, more determined team in Lawrence. This game is why both teams have worked so hard all season … the chance to play late in the season with a championship on the line. Kansas wins this one at home.
Bubble Games To Watch
By Mark Schlabach, ESPN.com
Friday

Siena at Niagara, 7 p.m. ET, ESPNU
The Saints have a three-game lead over the Purple Eagles in the MAAC standings and have already won the league's regular-season title. But Siena can't afford to lose at Niagara if it's going to keep its NCAA at-large hopes alive.
The Saints are No. 24 in the RPI, but they don't have a single victory over a top-50 opponent. Siena dominated Niagara at home on Jan. 24, never trailing in an 82-65 victory. Forward Ryan Rossiter led Siena with 18 points and 12 rebounds, and guard Edwin Ubiles scored 20. Siena has won 12 of its past 13 games, losing at Rider 90-88 on Feb. 7. The Purple Eagles have won eight of their past nine games and surely won't be overlooked by the Saints. Niagara is 22-7 with a top-60 RPI and a 15-point road win against a Big East team (South Florida).
Saturday
Texas at Oklahoma State, 6 p.m. ET, ESPN
While the Longhorns are probably only one victory away from locking up an at-large bid, the Cowboys might still need one or two victories to justify their lofty computer profile. OSU has an RPI rating of 32, thanks to its No. 10 ranking in strength of schedule.
But Oklahoma State is only 1-5 against RPI top-25 opponents and 2-8 against the top 50. The Pokes haven't beaten any of the Big 12's best teams, going 0-4 against Kansas, Oklahoma, Missouri and Texas. The Longhorns routed Oklahoma State 99-74 in Austin on Feb. 10, after shooting 64 percent in the first half. Guard A.J. Abrams was one of five Texas players who scored in double-figures, finishing with 20 points.
Nebraska at Kansas State, 8 p.m. ET, ESPN360
Both Big 12 teams have RPI ratings outside the top 70 and are probably on the outside looking in as far as the bubble is concerned. The loser of Saturday's game will be all but eliminated from at-large consideration, while the winner will keep its fleeting hopes alive.
Kansas State has won eight of its past 10 games, but lost at Missouri 94-74 on Wednesday night, which dropped its record to 7-6 in Big 12 play. The Wildcats don't have much of anything to show from their nonconference schedule, but they did beat Missouri at home and beat Texas and Texas A&M on the road.
Nebraska lost to Texas A&M 57-55 on Wednesday night, after Aggies guard Josh Carter made a 3-pointer at the buzzer. The Cornhuskers walloped the Wildcats 73-51 in Lincoln on Jan. 17, which was K-State's third straight defeat to open Big 12 play. Paul Velander scored 20 points for the Huskers, who shot 10-for-18 on 3-pointers.
Sunday
Michigan at Wisconsin, 2 p.m. ET
This could be a bubble elimination game. The Badgers are one of three Big Ten teams with seven losses in league play (8-7), while the Wolverines are only one game back in the loss column with an 8-8 record against conference foes. Michigan saved its at-large chances by upsetting Purdue 87-78 in Ann Arbor on Thursday night, with Manny Harris and DeShawn Sims combining to score 56 points. But the Wolverines, 2-7 away from home, desperately need a quality road victory.
The Badgers had won five straight games before losing at Michigan State 61-50 on Sunday. With a 17-10 record, Wisconsin can't afford too many more losses. But its RPI rating of 29 is better than four other Big Ten bubble teams (No. 37 Minnesota, No. 40 Ohio State, No. 46 Michigan and No. 63 Penn State). Wisconsin beat Michigan 73-61 in Ann Arbor on Dec. 31, with Marcus Landry and Trevon Hughes each scoring 16 points. Harris had one of his worst games of the season, scoring nine points on 3-of-13 shooting from the floor.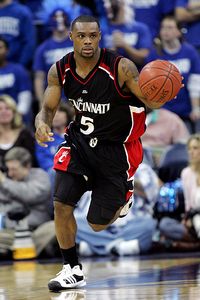 Nelson Chenault/US Presswire
Deonta Vaughn and Cincinnati will look to follow its win over West Virginia with a win at Syracuse.
Cincinnati at Syracuse, 2 p.m. ET, ESPN360
With a 20-8 record and No. 21 RPI rating, the Orange are all but headed to the NCAA tournament. So the game probably means much more to the Bearcats, who are No. 50 in the RPI. Cincinnati helped its cause tremendously by beating West Virginia 65-61 at home on Thursday night. UC has five victories over RPI top-50 opponents (two came against slumping Georgetown), but is 1-7 against the Top 25.
The Bearcats were swept by fellow Big East bubble team Providence, so they need to finish strong. After playing the Orange in the Carrier Dome, Cincinnati plays at South Florida on March 3 and home against Seton Hall on March 7.
Tennessee at Florida, 2 p.m. ET
It's hard to believe two teams battling for the SEC East title might need to win this game to stay on the right side of the NCAA bubble, but that's life in the Southeastern Conference this season.
The Gators and Volunteers both trail South Carolina by one game in the East standings. Tennessee is probably in better shape than Florida because it has played the country's second-toughest schedule. The Vols are rated No. 26 in the RPI -- 15 spots higher than the Gators. UT also blasted Florida 79-63 in Knoxville on Jan. 31. Scotty Hopson scored a then-career-high 20 points for the Vols, who made 12-of-28 3-point attempts in the rout.
Stuff To Impress Your Friends With
• UCLA, which plays at Berkeley on ESPN's Saturday night primetime game, has won four straight and eight of the past nine against California. But that's nothing compared to how the Bears of yesteryear must've felt. From 1961 to 1985, UCLA won 52 straight games against Cal, easily the most consecutive victories against one opponent in Division I history.
• Cal is one of only two teams that ranks in the top 10 nationally in both field goal (49.1) and three-point percentage (44.2). North Dakota State is the other.
• DePaul might be advised to beat St. John's at home on Saturday or risk being just the third team to ever go winless in Big East play. The 0-15 Blue Demons are three losses away from becoming just the ninth BCS conference school in the past 30 years to go winless in league play.
• The Citadel, just 6-24 this past season, looks to continue its remarkable turnaround when it hosts Wofford on Saturday. The school has fielded a basketball team since 1900, but a win this weekend would mean just the second 20-win season in school history. The Citadel has won 11 straight games. That's not only the second-longest current win streak in Division I, but it's also the program's longest since the 1926-27 season.
• Notre Dame plays at Connecticut on Saturday. In three career games against the Huskies, Luke Harangody has averaged 23.3 points and 13.7 rebounds per game. His counterpart, Hasheem Thabeet, has averaged just seven points in those matchups, but has also contributed 10 rebounds and seven blocks a game.
• Oregon State can further the misery of archrival Oregon by winning in Eugene on Sunday night and dropping the Ducks to 1-15 in Pac-10 play. To add insult to injury, an OSU win would also be its 182nd all-time against Oregon. Why is that significant? That would tie for the most victories against any one opponent in college basketball history. Currently, Washington has 182 against -- you guessed it -- Oregon.
-ESPN researchers Katie Sharp, Tyler Korn and Mark Malzewski contributed to this report.

Viewer's Guide
(All times ET)
Saturday:
11 a.m.: "College GameDay" (ESPN)
2 p.m.: Notre Dame at UConn (CBS)
2 p.m.: Clemson at Florida St. (ESPN360)
2 p.m.: Illinois St. at Creighton (ESPN2)
3 p.m.: Arizona at Washington (FSN)
3:30 p.m.: Duke at Virginia Tech (ABC regional)
4 p.m.: Ohio St. at Purdue (ESPN)
4 p.m.: LSU at Kentucky (CBS)
5 p.m.: Utah at BYU (CSN)
6 p.m.: Texas at Oklahoma St. (ESPN)
9 p.m.: UCLA at California (ESPN)
Midnight: "Midnight Madness" (ESPN)

Sunday:
Noon: Marquette at Louisville (CBS)
2 p.m.: Missouri at Kansas (CBS)
2 p.m.: Tennessee at Florida (CBS)
2 p.m.: Cincinnati at Syracuse (ESPN360)
4 p.m.: Michigan St. at Illinois (CBS)

All-Access: Kentucky Wildcats
Infiniti pregame: UCLA at Cal
I Can't Wait To Watch …
Fran Fraschilla
Texas has a very tricky game in Stillwater on Saturday night against resurgent Oklahoma State. The Cowboys have won four in a row and are suddenly in the discussion for an NCAA bid. Sophomore James Anderson, a former McDonald's All-American, has been scorching over the past five games for coach Travis Ford, averaging 27.2 points a game on almost 50 percent shooting from behind the 3-point line. In fact, Oklahoma State shoots 40 percent from behind the arc as a team. The Longhorns' Damion James has had four consecutive double-doubles and is averaging 18.3 points and 11.5 rebounds during that stretch. A win in Stillwater would give Rick Barnes his 10th straight 20-win season as the coach at Texas. However, outside shooting has been the Horns' Achilles' heel this season. Aside from mad bomber A.J. Abrams, they are shooting 25 percent as a team from deep. How well each team shoots the long ball will likely determine the outcome of this game.
Pat Forde
My must-see game of the weekend is Marquette at Louisville on Sunday in Freedom Hall. This has been an exceptional, heated, underappreciated rivalry for more than a decade, dating back to Mike Deane versus Denny Crum and continuing on to Tom Crean versus Rick Pitino. Now Buzz Williams gets his turn in a series that has featured an incredible amount of last-minute dramatics over the years. Most importantly, you can add a potential Big East championship to the stakes. Will Marquette be able to bounce back from the potentially devastating loss of Dominic James? Will Louisville take another step toward its first-ever Big East title and first No. 1 NCAA tournament seed since 1983?
Andy Katz
There are three games I've circled for Saturday: Duke at Virginia Tech, LSU at Kentucky and Arizona at Washington. The Hokies took a huge step toward securing an NCAA bid by winning at Clemson, while Duke re-established itself as one of the top three teams in the ACC with a win at Maryland. Losing at Virginia Tech would only affect Duke's seeding, whereas the Hokies could get NCAA plans ready with a win over the Blue Devils. LSU is running away with the SEC West, while Kentucky took a hit with a road loss at South Carolina. The Wildcats aren't a lock, but separating teams within the SEC East is getting more difficult. South Carolina swept UK. UK swept Tennessee. UK beat Florida. Florida split with South Carolina. Tennessee beat Florida. LSU beat Florida, Tennessee and South Carolina, so Kentucky could at least have something none of its competitors have: a win over the Tigers. Out West, Washington has a chance to win the Pac-10 title while Arizona is still pursuing a berth in the NCAAs. These two teams played a month ago and the score was 106-97. If this meeting is anything close to that one, then it might be the most entertaining game of the day.
Mark Schlabach
Injuries are beginning to take their toll on a few of the country's best teams, which might play a big role in where No. 3 Oklahoma and No. 10 Marquette are seeded in the NCAA tournament. OU probably won't have forward Blake Griffin again when it plays at Texas Tech on Saturday. The Sooners can only hope Griffin has recovered from a concussion by the time they play at No. 8 Missouri on Wednesday night. Marquette won't have guard Dominic James for the rest of the season, after he broke his left foot in Wednesday night's 93-82 loss to Connecticut. The Golden Eagles won't have much time to adjust -- they play at Louisville on Sunday and at Pitt on Wednesday. I, and almost assuredly the committee, will be watching these two teams closely.
Dana O'Neil
I'm looking forward to seeing how a bitter rivalry plays out on the hardwood when No. 8 Missouri travels to No. 15 Kansas with nothing less than first place in the Big 12 on the line. Missouri has never won a Big 12 title … Kansas has won a combined 14 (eight regular season, six tourney) since the league began in 1996. The Tigers haven't made it to the NCAA tournament since 2003 … the Jayhawks won the whole thing last year. This is classic upstart versus tradition between two schools that genuinely don't like one another. Missouri, a team in such disarray that Mike Anderson was catching some heat last season, has won seven in a row and Anderson is now a frontrunner for national coach of the year honors. Kansas, which lost all five starters from that title game, has won 12 of its past 13. The lone loss? At Missouri. Can you say bring it?
Doug Gottlieb
I'm looking forward to that Duke-Virginia Tech game on ABC. I am interested to see how Malcolm Delaney plays against Duke. The Blue Devils used Elliot Williams to deny Jeff Teague the ball this past Sunday in Cameron. They should try to do the same thing against Delaney in what I'm sure will be a raucous environment in Blacksburg on Saturday. The one unspoken key to matching Delaney is matching his talent on the boards and his ability to make plays in scramble situations.
GameDay's All-American candidates
Player To Watch
Jodie Meeks, Kentucky


Meeks
You never know when he might go for another 40 or 50 points, so it's never a bad idea to tune in and watch Meeks. And this weekend the Kentucky guard has bigger fish to fry than ancient scoring records. The Wildcats host SEC-leader LSU on Saturday, and while they aren't yet in a must-win situation, they're getting close. Kentucky, 19-9 and 8-5 in the SEC, is tied with Florida for second in the East with a very bubble-esque RPI of 62. The Cats aren't out of it, but they aren't penned-in-ink in, either. Beating LSU would certainly ease the pressure a bit heading into the final week of the regular season.
And if the Cats are going to win, Meeks is going to be the reason. The junior is the third-leading scorer in the nation, averaging 25.1 points per game. But he is no jack-it-up-and-hope-it-goes-in player. He hits for 47 percent from the floor, good for 14th in the country. Meeks bailed the Wildcats out in another big game earlier in the month, sinking an off-balance 3-pointer to beat Florida and end a disastrous three-game skid. Now with Kentucky's back pushing near the wall again, don't be surprised if Meeks helps the Cats come out swinging.
-- Dana O'Neil, ESPN.com
Bracketology: Movers and shakers
BMOC: Injury woes, tourney hopes