Big East leaders look to stay unbeaten, while Pac-10 just looks for a leader
AP Photo/Nick Wass
Bilas Breakdown of the Must-See Games
By Jay Bilas, ESPN
West Virginia at No. 7 Louisville
Why West Virginia Can Win: Bob Huggins has done a great job of teaching this team how to play. West Virginia runs really good offense with Huggins' "cut and fill" motion, and the main weapons for the Mountaineers are Da'Sean Butler (24 ppg over his last four games) and Alex Ruoff (16.2 ppg). Butler plays his tail off on every possession and has great footwork. Ruoff is the Mountaineers' most efficient player and has to make perimeter shots for West Virginia to win. WVU is a very solid defensive team, and the Mountaineers' defense is better than the Louisville offense. The question is whether the Louisville D can carry the day. West Virginia is athletic and very long-armed, and has the horses to match up well with Louisville. Guard Joe Mazzulla has not been back since a shoulder injury (suffered against Ole Miss) caused him to leave the game against Davidson. Mazzulla's presence would be very helpful against the pressure of Louisville. West Virginia has not shot the ball well in league play, and has had problems rebounding with some of the bigger Big East teams. Watch for long and athletic freshman Devin Ebanks, who can really rebound for West Virginia and should get some easy ones at the end of the press.
Join Rece Davis, Jay Bilas, Hubert Davis, Digger Phelps and Bob Knight in Knoxville on Saturday as they break down the day in college basketball. (ESPN, 11 a.m. & 8 p.m. ET)
Why Louisville Can Win:
Louisville is the best defensive team in the Big East, and one of the top five defensive teams in the country. The Cardinals press full court, and the press can speed you up and wear you down over the course of a game. Louisville will trap the ball handlers and make them give it up, then speed up non-handlers while denying everyone else and making the non-handler turn it over. Even when the Cards don't force a turnover, they often force a quick shot, which is just as devastating. Once back in half-court defense, Louisville plays an active and extended 2-3 matchup zone that gets deflections and steals, and can be difficult for an opposing team to figure out. On the offensive end, U of L can lift up your defense and runs a ton of backscreens and basket cuts, ballscreens and slips, and quick post-ups. Louisville is not a great shooting team but finds a way to get points on the board. Freshman
Samardo Samuels
is starting to post, seal and finish stronger, and he is starting to play more above the rim, a real emphasis of Rick Pitino's.
Matchup to Watch: Da'Sean Butler vs. Terrence Williams.
There is not a better all-around player in the Big East than Terrence Williams, and only Arizona State's James Harden is in Williams' class as an all-around player. He can do everything but shoot lights-out. Williams averages over 13.1 points, 9.3 rebounds, 4.7 assists and 2.5 steals. While Williams does not shoot great percentages, he affects the game in every positive way a player can. In Big East games, he is averaging 14.4 points, 10.3 rebounds, 4.7 assists and is second in the Big East with over 2 steals per game. Butler is the toughest player on the West Virginia roster, and he has to be productive against Louisville. He averages over 17 points and 6 rebounds per game, and needs to be as good as he has been lately for the Mountaineers to win.
Stat to Track: Deflections. Louisville tracks deflections as a key indicator of how hard and effectively it is guarding. If the Cards get 35 or more deflections, they feel confident they can win.
X-Factors: Preston Knowles and Andre McGee. Williams and Earl Clark are the playmaking forwards for Louisville, but the energy of this team comes from Knowles and McGee. Both players have big impacts on the game when they come in off the bench, and they change the energy of the game with their defense. McGee and Knowles get right into the ball handler and pressure the ball, and they can change the tempo and tenor of the game when they come in.
The Winner: Louisville will travel to West Virginia on the last weekend of the regular season, and "College GameDay" will be in Morgantown. But this game is in Freedom Hall, and Louisville is much tougher at home than on the road. With Louisville's press, the Cardinals are in the best position to win. I like Louisville in this one, and I like Louisville to get to Detroit.
No. 23 Georgetown at No. 8 Marquette
Why Georgetown Can Win: The Hoyas are small and lack great depth, but Georgetown executes its offense very well and has several efficient offensive weapons. DaJuan Summers, Austin Freeman and Greg Monroe are all capable of putting up 20 or more points, but Georgetown needs to get better and more consistent play out of Jessie Sapp and Chris Wright. When Georgetown's guards play well, the Hoyas play well. Monroe is having a great season, and has played like a veteran, averaging 13.1 points, 6.5 rebounds, 2.7 assists and 1.7 steals. The one area in which Georgetown has struggled is in protecting its own defensive board. The Hoyas have not been a good rebounding team, and their defense is not over until a defensive rebound has been secured.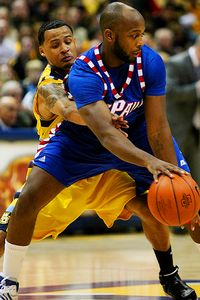 Jonathan Daniel/Getty Images
Dominic James is a handful for opposing point guards.
Why Marquette Can Win:
Guards, experience and toughness. Marquette has the toughest and most experienced guard trio in the country in
Jerel McNeal
,
Dominic James
and
Wesley Matthews
. Nobody is having a better season in the Big East than McNeal. The senior guard is averaging over 23 points per game in Big East games, and had 27 against Notre Dame in a spectacular performance. In league play, McNeal is third in the league in scoring, first in 3-point shooting and sixth in steals. James is the team's best on-ball defender and Matthews is having his best season, leading the team in free-throw attempts at over eight per game.
Matchup to Watch: Lazar Hayward vs. Greg Monroe.
Even though the guards get the headlines, Hayward is as important a player as Marquette can put on the floor. Dwight Burke will probably start out on Monroe, but Hayward will certainly spend time guarding him. Monroe is well beyond his years as a player, and he needs to be aggressive posting up a much smaller Marquette team. The question is whether post feeders will be able to see openings against the Golden Eagles' pressure to deliver the ball to Monroe.
Stat to Track: Turnover margin and paint touches. The Golden Eagles lead the conference in turnover margin at +5.3, and they average under 10 turnovers per game in Big East play. Marquette is adept at putting pressure on the ball, knocking it away and taking away perimeter scorers. Georgetown does a good job of protecting the ball, but the Marquette perimeter defenders, especially McNeal, James and Maurice Acker, can get into you and up underneath you on defense. On offense, Marquette is very good at driving the ball into the lane and getting fouled or finding openings to kick it out for a shot or to attack a close-out. The more Marquette is able to get into the lane, the better chance it has to win.
X-Factors: The benches. Neither team gets much out of its bench on average, but Georgetown has been getting better performances out of Jason Clark. If he, Omar Wattad and Julian Vaughn can come in and provide quality minutes, Georgetown will have a shot to win on the road.
The Winner: Georgetown has already won one of the biggest Big East road games of the season, winning at Connecticut to start things off. But the Hoyas have not played well of late. Marquette is having a great season and is mature enough to process the importance of this game. With a brutal end to the Big East schedule, Marquette needs to make this game important. I like the Golden Eagles to win this one.
Washington at No. 14 Arizona State
Why Washington Can Win: The Huskies have made major strides on the defensive end since the beginning of the season, and have gotten great contributions from the guard spot. Justin Dentmon has moved from the point to the shooting guard position to make room for the top-scoring freshman in the league in Isaiah Thomas. Dentmon has improved his scoring in the process and provides Washington with two ball handlers on the floor. With Jon Brockman, Quincy Pondexter and Matthew Bryan-Amaning up front, U-Dub has the top-scoring team in the Pac-10. The real key to Washington's improvement is the defense … the Huskies are actually starting to play some after a couple of years of simply trying to outscore people. Washington is not a great shooting team, nor a team that forces a lot of turnovers, but the Huskies can rebound, leading the league in rebound margin at +10.2 per game. To beat Arizona State, the Huskies will have to take care of the ball and successfully attack the ASU half-court zone defense. That means dribble penetration into the gaps of the zone and offensive rebounding.
Why Arizona State Can Win: The Sun Devils are one of the toughest defensive teams in the Pac-10 and the country, and are the most efficient team in the country at getting good shots inside the 3-point line. Arizona State is led by James Harden, the lefty swingman that is the best all-around player in the country (along with Louisville's Terrence Williams and Duke's Kyle Singler). Harden is leading the Pac-10 in scoring and steals and he never shies away from contact or a challenge. He is a major part of the Sun Devils' offense, and Harden has to play well for Arizona State to win. Inside, Jeff Pendergraph is one of the hardest-working and most efficient big men in the country. Pendergraph is one of the best finishers and inside scorers in the league, and he rebounds at a high rate and plays good position defense. Arizona State does not have great guards, but solid ones, and handling the ball and taking care of it will be at a premium.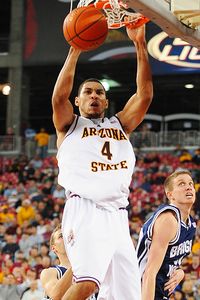 Mark J. Rebilas/US Presswire
Jeff Pendergraph will have his hands full with Jon Brockman when Washington visits Arizona State.
Matchup to Watch:
Jeff Pendergraph vs. Jon Brockman. I'm not sure there are two harder-working big men in the country. Brockman is the second-leading rebounder in the conference at just under 11 rebounds per game, and he is a blue-collar star. Pendergraph leads the league in field goal percentage and is fourth in rebounding.
Stat to Track: Free-throw attempts and offensive rebounds. Washington has shot the most and made the most free throws in the Pac-10, and the Huskies rely upon the charity stripe. Against Arizona State's zone, there will be fewer possessions and fewer opportunities to draw fouls. Washington will have to run the floor and push the ball upcourt in transition to try and beat the zone up the floor. The Huskies also have three of the league's top 10 offensive rebounders in the Pac-10, with Brockman leading the way with 4.4 offensive rebounds per game.
X-Factors: Rihards Kuksiks and Isaiah Thomas. Kuksiks is one of the best open shooters in the country, and Washington has to make him into a driver. If he gets catch-and-shoot opportunities, he can really hit open shots. Kuksiks has hit 46.2 percent of his 3-point attempts, canning 54 of 117 on the season. Thomas is averaging 19 points per game in Pac-10 play, and with USC's DeMar DeRozan has been the best freshman in the league this year. He is ultra-quick and can really break you down off the bounce.
The Winner: This game will be about tempo. If Arizona State can make this a possession game, the Sun Devils will have a great chance to win. If this is an "up and down" game, Washington has the upper hand. I like Arizona State to win this one.
Florida at Tennessee
Why Florida Can Win: You had better be able to defend ballscreens and the 3-point line when you play Florida, because the Gators take advantage of both. Florida really spreads the court and forces you to extend your defense, and the Gators will open up driving lanes against Tennessee. If the Gators use shot fakes and ball fakes, the Vols will fly by and Florida will get good shots. UF's best player is Nick Calathes, who has every skill you want in a player -- thus his triple-double Wednesday night against Georgia. When Calathes learns to lift up his teammates and make them better, he will be a truly great college player. Leadership at its highest level is the only thing that Calathes lacks as a player. He will be the toughest player for Tennessee to guard. Chandler Parsons and Walter Hodge can help spread the floor, but Calathes is the player Tennessee has to stop.
Why Tennessee Can Win: Tennessee plays hard, and that is the true strength of this team. The Vols are not proficient defensively and are not a good shooting team, but they go to the offensive glass and scrap to be the best-scoring team in the league. If Tennessee could shoot or guard, forget it. Tyler Smith is the Vols' best player and averages 18 points per game in SEC play, but Wayne Chism is the most important player. When Chism plays well, UT is much harder to beat. Tennessee has only one player that you absolutely have to play at the 3-point line: redshirt freshman Cameron Tatum. He is a streaky shooter, and you do not want to allow him to hit his first couple of shots. Once Tatum gets confident, he will be much tougher to guard. A real key for Tennessee will be the discipline of its defense. Florida spreads the floor, and if the Volunteers aren't smart and disciplined, Florida will have them flying all over the gym.
Matchup to Watch: Nick Calathes vs. Wayne Chism. Although these two will not guard each other, both are critical to their team's success. Calathes is one of the best all-around players in the country, and if he leads his team, Florida will win on the road.
Stat to Track: 3-point shooting and offensive rebounding.
X-Factors: Chandler Parsons and J.P. Prince. Parsons is coming off of his best game against Vanderbilt, and Prince has yet to truly break out and play his best. Both teams press, so both should have some open court opportunities.
The Winner: I still believe in Tennessee, but Florida is playing and shooting very well. The 3-point line will be the difference in a close Florida win.
Penn State at No. 9 Michigan State
Why Penn State Can Win: The Nittany Lions have really good guards. They are small, but Talor Battle and Stanley Pringle can play. Battle is very quick and can attack off the dribble, and he plays much bigger than he is listed. He is nursing an injured groin, but is third in scoring in Big Ten games, and he is averaging over five rebounds and five assists to go with that. Pringle can really shoot it, and is an alert defender that gets steals and deflections. The toughest matchup on the roster is 6-foot-5 forward Jamelle Cornley, who averages 15.3 points, 6.8 rebounds and 2.5 offensive boards. Penn State has three of the Big Ten's top nine scorers in Big Ten play, and each has to perform at a high level in order to beat Michigan State on the road. This game begins a difficult stretch of games for PSU, and it would be a great start to get a win in Breslin.
Why Michigan State Can Win: The Spartans have good depth, athleticism and can really defend and rebound. Michigan State dominates the glass in Big Ten play, but turnovers and loose ballhandling have hurt the Spartans. The leader of the team has been Kalin Lucas, who is leading the team and the Big Ten in scoring in league games. Lucas is ultra-fast and quick, and has become a much more confident leader and player. Raymar Morgan has been ill, but is still averaging 9.6 points and 6.8 rebounds on 49.2 percent shooting in Big Ten games. Goran Suton is the leading rebounder in the league, and Durrell Summers, Chris Allen and Delvon Roe are all capable of making the difference in any one game. The best defender on the roster is Travis Walton, and he can lock down a perimeter player and make it really tough on him to get open shots.
Matchup to Watch: Raymar Morgan and Jamelle Cornley. Morgan has been a bit up and down, in part because of the recent illness. Cornley is a tough matchup, and he is a load to guard.
Stat to Track: Rebounding and turnovers. The Spartans will get second shots. The key is whether Penn State can hold its own on the glass and win the turnover battle. The Nittany Lions rarely turn the ball over, and Michigan State has been throwing it all over the gym in some games. I think that Michigan State is a very real Final Four contender, but the Spartans need to begin to hit their stride.
X-Factors: Goran Suton and Stanley Pringle. Suton can be the dominant player in this game, and he can be the Spartans' MVP. Pringle can help stretch out Michigan State by knocking down a few shots early.
The Winner: Michigan State is not completely healthy with Morgan still feeling the effects of an illness, but the Spartans should be much tougher to beat at home after the loss to Northwestern. I like the Spartans to win this one.
Viewer's Guide
(All times ET)
Saturday:
11 a.m.: "College GameDay" (ESPN)
Noon: Notre Dame at Pitt (ESPN)
Noon: West Virginia at Louisville (ESPN360)
2 p.m.: Georgetown at Marquette (ESPN360)
3:30 p.m.: UNC at NC State (ABC regional)
4 p.m.: Providence at UConn (ESPN360)
5:30 p.m.: Washington at Arizona St. (FSN)
9 p.m.: Florida at Tennessee (ESPN)
Midnight: "Midnight Madness" (ESPN)

Sunday:
Noon: Penn St. at Michigan St. (Big Ten Network)
6:28 p.m.: Some sort of football game (NBC)
Georgia Tech shocks Wake Forest
Player To Watch
Kyle McAlarney, Notre Dame

Notre Dame is 1-3 on the road in the Big East and 1-4 against ranked opponents in the league. Not exactly statistical security blankets for the Irish, who visit No. 3 Pittsburgh on Saturday (noon, ESPN).

McAlarney
But if ever there was a time for Notre Dame to go against type, this would be it. The Irish are in a four-game skid that has sent a team once ranked in the top 10 and an NCAA lock down the rankings and onto the tournament bubble. Notre Dame is a middling 12-7 overall, just 3-5 in the league, and its RPI has torpedoed all the way to 72.
Let's face it: The Irish aren't going to stop anybody. Their defense is somewhere between "pardon me" and "please don't let me get in your way." What the Irish can do, or used to be able to do, is score. And against a Panthers team that frequently can't (0-for-10 from the arc in the second half against Villanova), that's the easiest path to get Notre Dame off the schneid.
That's where McAlarney comes in. He was just 6-of-27 in losses to Connecticut and Marquette, robbing the Irish of the outside portion of their inside-outside game and leaving Luke Harangody to try to win games by himself.
He can't.
Against Pitt, all eyes will once again be on the big man as he battles in the blocks with DeJuan Blair, but the Panthers have no one who can match McAlarney's long-range abilities.
-- Dana O'Neil, ESPN.com
GameDay crew on coaching changes
Key Games This Weekend
Saturday
• WVU at Louisville, Noon, ESPN360
Before Saturday's game against the Mountaineers, the No. 7 Cardinals will honor their 1959 Final Four team, the first of eight Louisville teams to advance to the national semifinals of the NCAA tournament.
The way the Cardinals have played over the past month, they might soon become the ninth Louisville team to play in the Final Four. Louisville has won eight games in a row, including an 80-54 rout of South Florida on Wednesday night.
With a Monday night showdown against No. 2 Connecticut (7 p.m., ESPN) at Freedom Hall looming large, Louisville needs to be careful it doesn't get caught looking ahead. The Cardinals have played well against West Virginia recently, winning five of the last seven games in the series.
West Virginia has been hot, too, winning four of their past five games to improve to 15-5 overall and 4-3 in Big East play. The Mountaineers blasted St. John's 75-52 on Wednesday night. Da'Sean Butler once again led West Virginia in scoring with 21 points. He was 5-for-7 on 3-pointers, scoring 20 points or more for the fourth consecutive game.
Scoring figures to be at a premium. The Mountaineers lead the Big East in scoring defense (59.5 points per game) and 3-point percentage defense (26.6 percent). The Cardinals are second in field goal percentage defense (38.4 percent) and third in scoring defense (60.2 points per game).
Louisville has been really stingy in the second half lately, holding South Florida to 10-for-27 shooting earlier this week. Syracuse was only 6-for-22 in the Cardinals' 67-57 win at the Carrier Dome on Sunday.
• Georgetown at Marquette, 2 p.m., ESPN360
The reeling Hoyas, who have lost four games in a row, aren't sure they'll have leading scorer DaJuan Summers available for Saturday's game against the Golden Eagles.
Summers, who leads the Hoyas with 14.7 points per game and 28 3-pointers, injured his left foot during the first half of Georgetown's 65-57 loss at Cincinnati on Wednesday night. Summers didn't play at all in the second half against the Bearcats.
Hoyas coach John Thompson III wasn't too confident when he was asked if Summers would play at Marquette.
"Being honest, right now it doesn't look good for him," Thompson said.
If Summers can't go, freshman Greg Monroe will have to step up for the Hoyas, who are mired in their longest losing streak since the 2004-05 season. The 6-foot-11, 250-pound center is averaging 13.1 points and a team-high 6.5 rebounds. The Golden Eagles don't start a player taller than 6-8, but still do a pretty good job of rebounding.
The Hoyas' once-promising season would be in serious jeopardy with a loss to the Golden Eagles, who have yet to lose a game against a Big East foe. Georgetown stunned Connecticut 74-63 on the road on Dec. 29, but has compiled a 2-6 record in January.
• Washington at Arizona State, 5:30 p.m.
A funny thing happened on the way to Saturday's Pac-10 showdown between the surging Huskies and Sun Devils: Both teams lost Thursday night.
The Sun Devils fell to Washington State 65-55 at Wells-Fargo Arena in Tempe, the seventh time they've lost to the Cougars in the past eight meetings. Arizona State's normally stout zone defense faltered, as the Cougars made 10 of 20 3-pointers.
The Sun Devils made only eight of 29 shots in the second half, which helped the Cougars outscore them 38-25 in the final 20 minutes. Arizona State forward James Harden, the Pac-10's leading scorer, had 26 points. But Harden made only eight of 20 shots and missed five of 13 foul shots.
The Huskies lost at Arizona 106-97, which ended their four-game winning streak. It was only the second time Washington lost in its past 15 games. The Wildcats made 41 of 51 foul shots in the game, going 34-for-40 in the second half.
The loss dropped Washington into a first-place tie with No. 16 UCLA in the Pac-10 standings. The Sun Devils are one game back from the Huskies and Bruins.
Arizona State and Washington split two games during the 2007-08 season -- Washington won 72-61 in Tempe; Arizona State won 77-63 in Seattle. The Huskies had won 11 games in a row over the Sun Devils before losing at home last season.
Sunday
• Penn St. at Michigan St., Noon
The Nittany Lions are one of the biggest surprises in the country, as they go into the weekend tied with Illinois for fourth place in the Big Ten standings.
The Nittany Lions have won three games in a row and have already surpassed 15 victories for the first time in coach Ed DeChellis' six seasons at the school. With a 5-3 mark against conference foes, Penn State is off to its best start in Big Ten play since the 1995-96 team went 6-2.
But Penn State faces perhaps its toughest stretch of the season over the next month. Starting with Sunday's game at No. 9 Michigan State, the Nittany Lions will play five of their next seven games on the road. The Nittany Lions have never won in 16 games in East Lansing, Mich. Penn State will also play at Michigan, No. 17 Purdue, No. 20 Illinois and Ohio State.
The Nittany Lions haven't played since a 63-59 victory over Iowa on Jan. 24. The six days of rest certainly helped point guard Talor Battle, the Big Ten's leading scorer with 18.5 points per game. Battle had been battling hip and groin injuries during the past few weeks.
The Spartans won at Iowa 71-56 on Thursday night, their 13th victory in their past 14 games.
-- Mark Schlabach, ESPN.com
Bracketology: Big East blues
Stuff To Impress Your Friends With
• Odd as it might sound, a Pitt loss to Notre Dame on Saturday might actually be a harbinger of good things for the hometown Steelers. While the city's NFL team is 5-1 all-time in Super Bowls, Pitt basketball is 1-5 in its last game before those Steelers Super Bowls. Both teams won the weekend of Super Bowl XIV in 1980, and both lost the weekend of Super Bowl XXX in 1996. However, four of the Steelers' Super Bowl wins were preceded by Pitt hoops losses.
• Oklahoma's Blake Griffin already has 10 games this season in which he's posted at least 20 points and 15 rebounds. That's already the most in a season for any player this decade, surpassing the nine by Louisiana Tech's Paul Millsap in 2005-06. The last player before Millsap to reach nine in a season? Wake's Tim Duncan in 1996-97.
• Georgetown has struggled mightily on the road against ranked teams, losing 13 of its past 15. And now the Hoyas have to play at Marquette, where the Golden Eagles are 8-1 at home vs. ranked conference teams since joining the Big East. The one loss? To Georgetown last season.
• Tennessee has won three straight and seven of its past nine against Florida, despite the Gators winning back-to-back national titles during that span. The Vols have not lost at home to Florida since February 2005.
• A.J. Abrams of Texas needs one 3-point field goal to become the Big 12's all-time career leader for made 3-pointers. He's currently tied at 338 with former Kansas guard Jeff Boschee.
• Heading into its game at Northwestern on Saturday, Wisconsin has lost five straight, the longest losing streak in the Bo Ryan era. It is the first time UW has lost five straight Big Ten games since 1998.
-- ESPN researchers Tyler Korn, Mike Lynch, and John Zoni contributed to this report.
K-State tops Texas in OT