Carolina's class and Christmas at Temple highlight Weekly Watch
Kevin C. Cox/Getty Images
Player of the Week: Dionte Christmas, Temple
By Andy Katz
ESPN.com
Last week: 37 points, 9-of-9 free throws in a 90-85 win vs. Duquesne; 19 points and 5 rebounds in an 85-66 win at La Salle
Junior guard Dionte Christmas has put the Owls in the mix to make noise this week and steal an NCAA Tournament berth. Temple earned the No. 2 seed in the fluid Atlantic 10 and already owns a win over the top seed, Xavier.
Christmas lit up Duquesne with 37 points, making 12 field goals, all nine free-throw attempts and four 3s. He finished the week by pouring in 19 points in a win at La Salle. Christmas has been a workhorse this season, playing 40 or more minutes for Fran Dunphy eight times, and that includes 40-plus in overtime games against Marist, Saint Louis and Rhode Island. Christmas finished the regular season averaging 20.3 points, 6.2 rebounds and shooting 44.6 percent on the season.
Temple finished 18-12 overall, 11-5 in the A-10. The Owls played their usual decent schedule with games against Tennessee, Duke, Villanova and Florida. But they didn't win any of those. Still, the Owls turned it around in the league, in large part because of the production from Christmas.
Team of the Week: North Carolina Tar Heels
By Andy Katz
ESPN.com
Last week: Beat Florida State 90-77; won at Duke 76-68
The Tar Heels had to do something this week to prove they were worthy of a No. 1 seed. Sure, UNC passed the eye test. The Tar Heels looked as though they were one of the four best teams in the country. But beating Duke in Durham was about as loud a statement as the Tar Heels could make about their candidacy. And to do it with defense in the final five minutes made it even clearer.
But there was even more to UNC's week that deserves praise. The Tar Heels were all class. From the administration down to the players, they were respectful and honored the memory of Eve Carson, the UNC student body president who was slain this past week near campus. Team members wore an "Eve" patch on their light blue road uniforms. The staff wore blue ribbons. UNC's program has always been classy, but this was yet another example of it, and during such a tragic time.
3-Point Shot
By Fran Fraschilla
ESPN
1. Call It Both Ways
I was angry Thursday night when a foul was called on Stanford's
Lawrence Hill
that, effectively, decided the outcome of the Cardinal's game with UCLA at Pauley Pavilion, and it might have affected the outcome of the Pac-10 regular season, as well. It was clear, in my judgment, that Hill was in a perfectly legal position in guarding the Bruins'
Darren Collison
. I was forceful in my displeasure about the call because in my coaching days, I had a number of similar incidents with officiating from the Pac-10. Keep in mind that since I have left the sideline, I have become a big fan of college basketball officials and appreciate the good job they do every night. That includes the Pac-10 officials who work other leagues around the country and a number who have worked the Final Four.
So, after watching the replays of California's loss at UCLA on Saturday, I was more saddened than angry that the outcome of another very important game in the Pac-10 could be decided by officiating. Cal's Ryan Anderson was clearly fouled as the Bears were protecting a precarious lead late in the game. The UCLA player, as most fans know, was trying to foul to stop the clock and put Anderson on the line. The ensuing steal gave UCLA a chance to cut into the Cal lead. And, when Josh Shipp's acrobatic shot went over the backboard and into the basket, it clearly violated the rule. Granted, it was a split-second call, but from the angle of the "middle" official -- who is stationed on the sideline -- it seems clear that the ball disappeared behind the backboard.
Here's my point: UCLA is a great team, worthy of all the accolades it gets. It is all deserved. But, there are two teams out on the court fighting for a win. I would not have wanted to have been a player or coach in the Stanford or Cal locker rooms this weekend at Pauley Pavilion. The great thing about college basketball is that sometimes the underdog actually wins, even on the road. Not these two times.
2. 'Tis The Season My favorite two weeks of the college basketball season are upon us. Championship Week and the first two rounds of the NCAA Tournament will give me as much excitement as the the entire rest of the season combined.
There is no greater pressure in college basketball than coaching or playing in a postseason low- or mid-major tournament when, seemingly, every possession of the game matters in determining which team goes to the NCAA Tournament. Eight months of practice, weight and conditioning workouts, team meetings, and games comes down to three or four days in March. It used to make my head almost explode as a coach.
We can argue another time whether the regular-season champion in a league such as the MAAC or the Ohio Valley Conference should be the league's representative to the Big Dance. All I is know is that, while a few teams in the power conferences have bids sewn up and will play like it this week, we will see some great performances and some heartbreaking losses this week in places such as Albany, N.Y.; Richmond, Va.; and Charleston, S.C. Is there anything better than a buzzer beater that will decide who gets to be Cinderella for a week?
Watching Tyler Hansbrough, Kevin Love and D.J. Augustin has been fantastic this year. This week and next, we'll get to discover a few more players equally deserving of the accolades, as well.
3. Good Selection Oklahoma athletic director Joe Castiglione took a calculated gamble when he hired young VCU coach Jeff Capel two years ago. Capel, a terrific player for Mike Krzyzewski at Duke, was the youngest head coach in the country when he was hired at VCU. Four years later, he was snapped up by Oklahoma. Remember, Castiglione also hired Bob Stoops when he was Steve Spurrier's defensive coordinator at Florida.
At the time, I likened the hiring of Capel to drafting a high school player in the first round of the NBA draft. Potentially, Capel had "star" written all over him, but he had not yet proved he could coach in a league such as the Big 12. Right now, it's looking as if Castigione has drafted LeBron James.
Forget the 21 wins and the likely NCAA bid. What has impressed me the most has been Capel's crisis management skills. Hubie Brown used to say, "The notoriety of a coach is directly proportional to his team's execution under pressure." Upon being hired, Capel endured the loss of rising stars Scottie Reynolds and Damion James, who bolted for Villanova and Texas after signing with then-Oklahoma coach Kelvin Sampson. With the returning cast, those two guys would have had the Sooners a top-15 team a year ago.
This season, Capel lost his two leading scorers, Blake Griffin and Longar Longar, for two games each in conference play and went 2-2. With Griffin out with a knee injury on Wednesday, the Sooners won at rival Oklahoma State, which was coming off its best stretch of the season.
Capel has a quiet confidence and relates well to his players. It's obvious. What's also obvious is that Oklahoma has a gem and might have to ward off potential suitors such as South Carolina this offseason. My feeling is that Capel might be about to get a raise at Oklahoma.
Teams To Watch In Conference Tournaments
By Reggie Rankin
Scouts Inc.
• Rhode Island, Atlantic 10 (21-10, 7-9), No. 11 seed; Key wins: UAB, Providence, at Syracuse, Richmond, Dayton
A team that was predicted to finish as high as second in the preseason could make things interesting when it faces Charlotte on Wednesday in the first round of the A-10 tourney. The Rams are very explosive on offense, averaging 78.6 points per game in conference play, and are second in 3-point field goal percentage at 39 percent. Forward Will Daniels, the third-leading scorer in the league at 19.3 points per game, can post up, slash from the perimeter or shoot the 3. Jimmy Baron is a long-range shooter and is excellent from the free-throw line at 88 percent. Point guard Parfait Bitee pushes the ball in transition and is a threat from behind the arc, shooting 54 percent and dishing out 4.4 assists. Kahiem Seawright's activity on the glass put him second in the A-10 in rebounding at 8.8 and first on the offensive end at 4.0 per game. Rhode Island can score in the open court and from its set plays in the half court. If the Rams can get some stops, they could make a serious run, but they will need to improve from being last in the league in scoring defense, giving up 79.1 points per game.
• Georgia Tech, ACC (14-16, 7-9), No. 7 seed; Key wins: Notre Dame, Virginia Tech, at Wake Forest, Clemson, at Boston College
The Yellow Jackets have played a tough nonconference schedule that included losses at Indiana, at Vanderbilt, at UConn and at home to Kansas. Georgia Tech will battle Virginia in the opening round of the ACC tourney on Thursday. Leading scorer Anthony Morrow is an excellent 3-point shooter, averaging 14.2 points per game, and second-leading scorer Jeremis Smith is a physical, athletic finisher and the team's top post defender and rebounder. Maurice Miller and high-energy Matt Causey are the primary ball handlers, along with D'Andre Bell, who is a good perimeter defender. Zach Peacock and Lewis Clinch also help in the scoring department with slashes to the rim and by knocking down the open 3. The Yellow Jackets hold teams to 29 percent from behind the arc but give up 77.6 point per game. If the defense inside the arc can improve and the scoring holds steady at 77.3 points per game, Tech could move into the quarterfinals on Friday.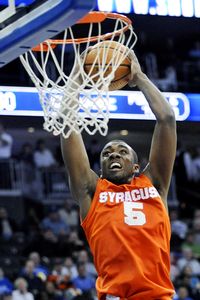 AP Photo/Bill Kostroun
Freshman Donte Greene paces Syracuse in the scoring department.
•
Syracuse, Big East (19-12, 9-9), No. 9 Seed; Key wins: Saint Joseph's, Georgetown, Marquette
The Orange have the second-highest-scoring freshman duo in Division I with
Donte Greene
and
Jonny Flynn
, who combine for 33.4 points behind only Kansas State's
Michael Beasley
and
Jacob Pullen
and their combined 36.6 points per game. Greene and Flynn are both very aggressive scorers who can get hot and score in bunches from behind the arc or in transition.
Paul Harris
will help as he is capable of getting a double-double against anyone and can provide a spark with one of his signature dunks.
Arinze Onuaku
is the leading rebounder and can finish on drop-off passes from Flynn's penetration. Injuries have forced Syracuse to depend on the production of its talented freshmen. In recent years, the Orange have been able to make a run in the conference tourney. Two years ago, they put together a four-game run and won the tournament championship. If the Syracuse zone can cause some shooting woes and the young Orange can rebound and run, this team might get past Villanova on Wednesday.
• Arizona, Pac-10 (18-13, 8-10) No. 7 Seed; Key wins: Texas A&M, Illinois, at UNLV, at Houston, at Washington State
Nic Wise returned to the lineup at Oregon State to give the Wildcats some much-needed perimeter depth. Wise is an offensive spark plug who dropped 15 points and handed out six assists in 34 minutes against the Beavers. In the loss at Oregon on Saturday, Wise had 12 points and eight assists while playing all 40 minutes without a turnover. Leading scorers Jerryd Bayless and Chase Budinger are capable of exploding for huge numbers. Bayless is a scoring machine with deep 3-point range and can create off the dribble. Averaging 20.8 points per game in conference, Bayless has had more than 30 points four times. Budinger is a tremendous shooter off the catch with 3-point range and, at 6-foot-7, has the ability to shoot over smaller defenders. Leading rebounder Jordan Hill is very athletic and can hold his own inside with his ability to finish around the rim and rebound in traffic. Arizona has enough talent and scoring to move past struggling Oregon State in the first round Wednesday and make a strong run at No. 2 seed Stanford on Thursday.
• LSU, SEC, (13-17, 6-10), No. 4 Seed (West); Key wins: at Florida, Mississippi
LSU comes to Atlanta as a winner of four of its past five games under interim coach Butch Pierre. Guard Marcus Thornton is the SEC's leading scorer in conference games, with 21.6 points per game. Thornton is a big-time 3-point shooter at 42 percent and an excellent free-throw shooter at 79 percent in conference play. In the regular-season finale, Thornton dropped 38 points, going 6-for-12 from 3-point range in a loss at Mississippi State. Anthony Randolph is a 6-foot-11 long athlete who can score off the dribble and post smaller defenders in addition to being an excellent offensive rebounder grabbing 3.3 a game in the league. Center Chris Johnson is another 6-11 jumping jack, although he lost six games to injury. Johnson can finish above the rim and will knock down the open 3 with time. Garrett Temple is responsible for handling the ball and is dishing out 3.8 assists a game, and guard Terry Martin comes off the bench, ready to make his presence felt from 3-point range. LSU does a great job at protecting the lane with its shot-blocking ability (second in the SEC at 5.81 blocks per game). If the Tigers can continue to play with confidence and execute on both ends of the floor, they have a great chance to advance against South Carolina on Thursday and earn an opportunity to take down top-ranked Tennessee on Friday after losing to the Vols 47-45 on Feb. 9.
This Week
By Andy Katz
ESPN.com
Here are the top tourney games I'd like to see this week:
• Duke vs. North Carolina, Charlotte, Sunday
The first two games were typical in this rivalry, right down to the last few possessions. Would love to see Round 3 as a lead-in to the selection show.
Xavier vs. UMass, Atlantic City, Saturday
Would like to see whether the Minutemen can get past Charlotte/Rhode Island, then possibly Temple and have enough left to beat (likely) Xavier in the final and earn an automatic berth.
Wisconsin vs. Michigan State, Indianapolis, Saturday
A potential conference semifinal with perhaps the two Big Ten teams with the best chance to go deep in March. This could be a real grind, but not like the 2000 Final Four. There will be more scoring, and plenty of seeding potential at stake.
Memphis vs. UAB, Memphis, Saturday
The Tigers ran the Blazers out of FedExForum on Saturday. Let's see whether the Blazers act as though they deserve an NCAA bid by reaching the final and giving Memphis a game on its home court again.
Kansas vs. Texas, Kansas City, Sunday
The Jayhawks and Longhorns played only once in the regular season. I'd like to see a rematch on a neutral court (albeit not a neutral site) and see how Texas handles KU in that environment.
Georgetown vs. Louisville, New York, Saturday
The second game of the series this past Saturday was good enough for an encore. Put this matchup in New York and it could be a Final Four-type effort from both squads. Both could have a claim on a No. 2 seed, but a win here could go a long way toward determining logistical advantages.
UCLA vs. Stanford, Los Angeles, Saturday
Not to continue the favorite theme of wishing for 1-2 matchups, but Stanford deserves another shot at UCLA after the way the game ended Thursday at Pauley.
North Carolina Wins Duke Rematch
UCLA Gets Miracle Win Over Cal
Ten Teams To Watch Next Season That Might Not (Or Definitely Won't) Make The Field:
1. Florida
2. Wake Forest
3. Cincinnati
4. Washington
5. Cal
6. UAB
7. Ole Miss
8. LSU
9. Alabama
10. Providence
For the Top 25 polls, click here.
Weekend Bubble Winners
Ohio State Boosts Tourney Hopes
Job Well Done
•
Richmond
: The Spiders were somewhat irrelevant a year ago, but Chris Mooney has them in the upper half of the A-10, finishing tied with Saint Joseph's and Charlotte for fourth.
• Virginia Tech: Seth Greenberg wasn't going to project too much about the Hokies in the preseason. Who knew they could be a top-five team in the ACC after going with a youth movement? Yet, at the end of the season, the Hokies were chasing third place.
• Wake Forest: Dino Gaudio has done a tremendous job of keeping the Demon Deacons in the mix in the ACC. The win over Duke put them in position to get a bid. But a mini-slump slid them back toward an NIT berth. Still, with a highly rated recruiting class coming next season, the 7-9 ACC finish was quite impressive and bodes well for next season.
• Miami: The Hurricanes were picked last in the ACC. Frank Haith has the squad in the top six in the ACC and on the verge of an NCAA berth.
• Cincinnati: The Bearcats lost Mike Williams to start the season. But that didn't matter. Cincinnati ended up being one of the toughest outs in the Big East, and the finish in the conference top 10 was an impressive run.
• Pitt: Jamie Dixon had to reshuffle his team because of injuries. No one outside Kentucky's Billy Gillispie had to do it as much. Yet the Panthers were able to finish in the top seven in the Big East and merit an NCAA berth.
• Kentucky: Billy G's Wildcats were left for dead in January but rallied in the SEC and are going to force the committee to make a major decision later in the week if they don't win the automatic berth.
• Davidson, Cornell and Memphis: You win all your games in your league and you should understand you did a tremendous job.
-- Andy Katz, ESPN.com
Weekend Bubble Losers
Clemson Downs Virginia Tech
Disappointments
•
NC State
: No point guard, inability to blend the big men with
J.J. Hickson
, you name it, there were issues with this squad. But there was too much talent to finish last in the ACC at 4-12.
• Boston College: This was one of the worst second-half defensive teams the Eagles have had under Al Skinner. The Eagles blew out Wake Forest and Miami in early January, but since then have had their moments against Duke and North Carolina but couldn't make stops in the second half. A win over NC State was the only thing that prevented the Eagles from finishing last.
• George Washington: The Colonials were once the class of the A-10. No more. GW is facing a rebuilding situation, and it got worse when Maureece Rice was dismissed for violation of team rules.
• Illinois: The Illini have officially dropped off the radar. Falling to 5-13 in the Big Ten is hard to explain in a conference that is mediocre beyond the top four.
• Rice: Did Morris Almond make that much difference? The Owls went from 16-16 (8-8 in CUSA) to 3-26 (0-16).
• Rhode Island, Dayton and Saint Joseph's: All injuries aside, the collapses by these three teams in key games that put them either out or on the bubble proved how dicey making the field can be for some squads.
-- Andy Katz, ESPN.com
Greatest Player of All-Time: Lew Alcindor
Belmont Wins Atlantic Sun
Coach Of The Year Finalists
My top five in order the way I'll vote for the USBWA Henry Iba Award
• Keno Davis, Drake: Picked ninth, finished first. Drake was the story of the college basketball season. It's his first year. He took over for his father. Sound familiar? Yeah, Tony Bennett did it at Washington State (except for the finishing first part). The trend continues. Davis should get the award.
• Matt Painter, Purdue: Painter was supposed to be a year away, but he got the baby Boilermakers in position to challenge for the Big Ten title. Purdue swept Wisconsin, too. Painter has Purdue back.
• Bo Ryan, Wisconsin: OK, the Badgers couldn't beat Purdue, but Wisconsin won the Big Ten title outright a year after losing a national player of the year finalist in Alando Tucker.
• Rick Barnes, Texas: The Longhorns lost the best player in the country in Kevin Durant. Sure, they had D.J. Augustin back, but the development of players such as Connor Atchley and the attitude to play anyone, anywhere and win (see: wins at UCLA and over Tennessee in Newark) should justify a potential coach of the year award.
• Herb Sendek, Arizona State: The Sun Devils were last a year ago. ASU should be in the field this season after sweeping Arizona, knocking off Xavier and beating Stanford. Sendek made a great move heading West.
-- Andy Katz, ESPN.com
Austin Peay Captures OVC Title
Winthrop Wins Fourth Straight Big South Title