Weekly Watch: Marquette flies high, Clemente fills it up
AP Photo/Harry Cabluck
Editor's note: This edition is for games played from Sunday, Jan. 25, through Saturday, Jan. 31.
Player of the Week: Denis Clemente, Jr., G, Kansas State Wildcats
The Miami transfer could always score. That was never a question. The question was: Could he score and lead his team to quality wins? He did that this past week in a significant way.
Clemente opened the week with a solid, productive 10-point game, making 4 of 6 shots, with seven assists, four turnovers and a steal in a convincing 88-72 victory over Missouri.
That win was at home and gave the Wildcats only their second Big 12 win after the first six conference games. But Clemente saved his best performance for their best win of the season, so far. Clemente scored 44 points in a stunning 85-81 overtime victory over Texas on Saturday. He was 13-of-25, 12-of-12 at the free throw line and 6-of-6 on 3s.
Clemente has essentially carried this team to three straight Big 12 wins. The maturity Clemente has shown so far is proving to be the difference for this squad. Clemente was suspended before he left Miami at the end of the 2006-07 season.
Kansas State is a long shot to make the NCAAs at 14-7 overall and 3-4 in the Big 12. But Clemente gives the Wildcats a chance to continue to be a factor from this point forward.
The rest of the starting rotation this week: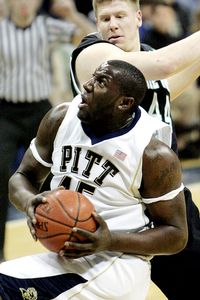 AP Photo/Keith Srakocic
DeJuan Blair bounced back nicely in Pitt's win over Notre Dame.
DeJuan Blair, So., F, Pitt: Blair got into foul trouble in a game earlier in the week and the Panthers lost to Villanova. But it's hard to ignore Blair's turnaround Saturday. Blair scored 23 points, grabbed 22 boards and was as dominant at his position on game day as he has been this season in beating back Notre Dame.
Hasheem Thabeet, Jr., C, Connecticut: Thabeet put up a triple-double with 15 points, 11 boards and 10 blocks in a crushing win over Providence. He was as assertive at both ends of the court as he has been this season. Thabeet has had his moments, but rarely have they come in signature games. Scoring 11 points, grabbing nine boards and blocking three shots at DePaul earlier in the week seems rather pedestrian when compared to Saturday's effort.
Luke Nevill, Sr., F, Utah: Utah had quite a homestand, beating rival BYU and upstart New Mexico. Nevill played a huge role. He scored 32 points, grabbed 10 boards, and was 12-of-14 at the free throw line and an efficient 10-of-12 from the field in the win over BYU. He wasn't as dominant against the Lobos, scoring 11 points and grabbing six boards, but he was effective at getting to the line, making 7 of 8 free throws. The wins put the Utes in a first-place tie with UNLV and San Diego State.
Josh Akognon, Sr., G, Cal State-Fullerton: The former Washington State guard saved his best performance for the Big West's best when he scored 31 points in 40 minutes in a one-point win at Long Beach State. He was off, however, in a win over UC Riverside, needing 21 shots to score 15 points. But the Titans have still won three in a row and with Akognon scoring, the Titans (11-10, 5-4) are a threat to win the Big West tournament.
Team of the Week: Marquette Golden Eagles
Last week
: Won at Notre Dame 71-64; beat Georgetown 94-82.
The Golden Eagles are 8-0 in conference, 19-2 overall. Let that slide down your palate for a second. As much as any team in the Big East, Marquette is deserving of being considered a league favorite and possible No. 1 seed.
Yes, the nonconference résumé isn't strong. The win over Wisconsin doesn't look as good now. The loss to Tennessee in Nashville doesn't, either, and the "good" loss to Dayton on a neutral court is still a loss to a second-place A-10 team. The best nonconference win came against a lower-level ACC team -- at NC State -- on a last-possession shot.
But what happens if Marquette wins the Big East? Isn't this the best conference in the country? If so, shouldn't the best team in the best conference be rewarded? This would be an interesting test case for the selection committee if this were to occur because Marquette's body of work doesn't compare to that of Pitt or Connecticut. But like Louisville, which is also undefeated in the league, struggling in the nonconference isn't a true indicator of this team's true potential.
Marquette still has its most difficult slate ahead with three straight road games pending, albeit two of them against bottom-feeders DePaul and South Florida, before a trip to Villanova. But the final five daunting games might not be as mountainous for the Golden Eagles.
Marquette visits Georgetown, a team it just beat. Then the Golden Eagles host Connecticut at the Bradley Center, where they're extremely tough to beat. Going to Louisville and Pitt back-to-back is the toughest chore any team will have this season in the Big East, but the regular-season finale against Syracuse doesn't look as intimidating. If Marquette can reach the road swing to Louisville and Pitt with one loss or none, the Golden Eagles will have to be taken very seriously for a high seed.
No team in the league has as experienced a backcourt as Jerel McNeal, Wesley Matthews and Dominic James. The play of Lazar Hayward as a face-up forward has been solid so far. The players love playing for Buzz Williams and the mojo with this crew is as smooth as any team's recently.
Teams In Trouble
Arizona State
: The Sun Devils got swept at home by the Washington schools. ASU is still 5-4 in the Pac-10 and 16-5 overall, but the Sun Devils better not slide much further or the bubble is going to look rather ominous. ASU could have a bubble complex after falling off it on Selection Sunday a year ago.
Georgetown: Watch the Hoyas and they certainly look like they should be in the NCAA tournament. Look at the overall body of work and it's still quite good. But falling to 3-6 in the Big East and 12-8 overall is more than a caution flag. The Hoyas better sweep Rutgers and Cincinnati this week.
Notre Dame: The Irish played a grueling slate but they still lost the games, all five of them (including two at home). Winning games is still the best way to get into the NCAA tournament, and a 3-6 mark in the Big East and a 12-8 mark overall could get worse with a road game at Cincinnati and a trip to UCLA upcoming.
Miami: The Canes have NCAA talent, but they're not winning the right games. Falling at home to Virginia Tech and losing at NC State and Maryland isn't going to convince the selection committee. More work needs to be done soon.
Cal: The Bears got swept in L.A. That's after losing at home to Oregon State. The early-season darling in the Pac-10 is sliding and might slip right off the bubble.
Baylor: The Bears fell at home to Texas and then lost at Missouri. Baylor needs to do something against a possible NCAA team within the Big 12 to feel better about its NCAA chances.
Mississippi State: The Bulldogs don't have the nonconference profile but had the look of a team that could win the SEC West. Losing at home to Ole Miss knocked that notion down a bit.
Syracuse: The Orange need to get healthy, but if Arinze Onuaku and Andy Rautins are back this week, then it might be moot. Without them, the Orange struggle and are headed in the wrong direction.
Michigan: The Wolverines are smarting after losing at Ohio State and at Purdue. Michigan's nonconference wins over UCLA and Duke won't matter if they can't survive the Big Ten.
Saint Mary's: Losing Patty Mills is a crushing blow to the Gaels' chances for a possible berth. If he returns, Saint Mary's could be the best team in the WCC. Without him, the Gaels lost to Portland on the heels of Thursday's loss to Gonzaga.
On The Rise
USC
: The Trojans pulled away from Cal late Saturday night behind a solid 19-point performance from
DeMar DeRozan
. The win kept USC on the NCAA path.
Purdue: The Boilermakers are in position to make the two games with Michigan State matter. Michigan State is the team to beat in the Big Ten, but Purdue is attempting to stay within striking distance.
UCLA: The Bruins rebounded quite nicely after the road loss at Washington to smack the Bay Area schools at Pauley.
Washington: The Huskies' win over Arizona State, coming after the disappointing loss at Arizona, keeps Washington in stride with UCLA atop the Pac-10.
Staying in the No. 1 chase
North Carolina
: The Tar Heels just have to keep winning and a No. 1 seed, which seemed to be potentially fading out of reach after two losses, should be back in their hands.
Louisville: The Cards have a great shot to stand up and grab a potential No. 1 spot if they continue their tear with a win over Connecticut.
Connecticut: The Huskies could do wonders for their top-seed candidacy with a road win at Louisville, regardless of a top ranking.
Pitt: The Panthers lost at Villanova, but pulling away from Notre Dame keeps them in stride for a potential top seed.
Oklahoma: The Sooners have one blemish (a loss at Arkansas). Iowa State had a shot to knock them off their top-seeded perch. If this run continues, it would be hard to knock OU as ACC and Big East teams continue to nick each other.
Viewer's guide
(All times ET)
Monday:
7 p.m.: UConn at Louisville (ESPN)

Tuesday:
9 p.m.: South Carolina at Florida (ESPN)

Wednesday:
8:30 p.m.: Minnesota at Michigan State
9 p.m.: Duke at Clemson (ESPN)
10:30 p.m.: USC at UCLA
Saturday:
Noon: Syracuse at Villanova (ESPN)
1 p.m.: Notre Dame at UCLA (CBS)
9 p.m.: Memphis at Gonzaga (ESPN)
• College Basketball Schedule | ESPN Full Court
• College GameDay | ESPNU Campus Connection
Georgia Tech upsets Wake Forest
Play of the week
Iman Shumpert, Fr., G, Georgia Tech
: Shumpert made a pull-up jumper with one second left to beat Wake Forest 76-74. The freshman point guard was supposed to help the Yellow Jackets become a threat within the ACC this season. But attrition on this squad has hampered the Yellow Jackets from reaching their potential. Maybe Shumpert's game-winning shot will be the spark that jump-starts the Yellow Jackets. Shumpert turned
Jeff Teague
two different times and got the shot he wanted in the lane. Tech always had enough talent to beat anyone in the league. We'll see if the Yellow Jackets can continue to play spoilers.
K-State drops Texas in OT
Best performance in a losing effort
Malcolm Delaney, So., G, Virginia Tech
: Delaney scored 37 points, made six 3s, shot 9-of-10 at the free throw line and looked sensational at times in Virginia Tech's loss to Clemson. The Hokies couldn't hold back Clemson's charge as the Tigers won 86-82 on Thursday. Delaney was coming off a 29-point effort in a road win at Miami and 21 in a stunning road victory at Wake Forest. He ended up with 18 in a road loss at Boston College on Saturday night.
Tar Heels hold off Wolfpack
Seeding hits
Wake Forest
: The Demon Deacons aren't toast for a No. 1 seed, but losing at last-place Georgia Tech likely put them at the back of the line.
Texas: The Longhorns weren't going to be a No. 1 or 2 seed, anyway, but losing at home to Kansas State has knocked them down a peg, too.
Pitt handles Notre Dame
Still breathing
Arizona
: The Wildcats got their mojo back with the comeback win over Houston but had to do something in the Pac-10 to reassert themselves in the race for a potential bid. Sweeping the Washington schools did the trick for now.
Utah: The Utes are in the race for the Mountain West title and right now the race is with UNLV and San Diego State. That could change, but the fact Utah is tied for first and BYU isn't marks a significant turn in the season.
Providence: The Friars did get pushed around by Connecticut but the home win over Syracuse gives them more legitimacy as they move forward to mount a potential NCAA campaign.
Marquette stays perfect in Big East
Eight places to be this week
Louisville, Ky., Monday
: The timing couldn't be more perfect for this matchup. The day after the Super Bowl, college basketball serves up a monster matchup between two Big East title and Final Four contenders. Connecticut at Louisville should be one of the games to remember come March.
Clemson, S.C., Wednesday: The ACC road slate for Duke continues to be tough as the Blue Devils travel to Clemson, where the Tigers are hoping to pick off one of the three teams ahead of them in the standings after whiffing on Wake and Carolina.
Austin, Texas, Wednesday: Missouri is coming off of a crucial, NCAA-like win over Baylor while Texas is smarting after a home loss to Kansas State. The pressure is on the Longhorns here.
Westwood, Calif., Wednesday: UCLA upended USC in the first meeting at the Galen Center. USC is playing much more efficient basketball now and a split of the season series would do wonders for the Trojans' profile.
Cincinnati, Wednesday: Notre Dame has lost five straight games. The Irish must break this streak at Cincinnati, especially with a road game at UCLA pending Saturday.
Portland, Ore., Thursday: Who knew that Gonzaga at Portland would be for first place in the WCC? Well, no one could have predicted that Patty Mills would go down for Saint Mary's and set up this matchup. The Pilots took advantage of the situation and are in position for an upset.
Corvallis, Ore., Saturday: Arizona State at Oregon State shouldn't be on this list. But the Sun Devils got swept at home by the Washington schools while Oregon State entered this week on a three-game Pac-10 winning streak. ASU is squarely on the bubble and beating OSU may be a must.
Morgantown, W.Va., Saturday: Providence at West Virginia has bubble written all over it and the Friars do need a quality road win within the Big East.