Weekly Watch: Big East shows dominance in early-season tourney wins
David Butler II/US Presswire
Player of the Week: Hasheem Thabeet, Connecticut Huskies
By Andy Katz
ESPN.com
The player of the week is named based on games from Sunday through Saturday, so Hasheem Thabeet's performances in the Paradise Jam in St. Thomas -- against Miami in the semifinals and Wisconsin in the finals -- are included. One other criterion to win the honor: The player's team must win every game during that week.
Thabeet is asserting himself as the most disruptive true center in college basketball. His presence against the Hurricanes was tough to dismiss. He poured in 19 points, grabbed 14 rebounds and blocked 7 shots in the Huskies' first true test of the season. The Nov. 23 victory over Miami established UConn as the true national contender that the Huskies firmly believe they will be throughout the season. Thabeet made 8 of 11 shots, got to the line five times and completed 3 free throws. He didn't need to be as dominant against Wisconsin in the title game. He scored 9 points, grabbed 7 boards and blocked 3 shots. But he still was disruptive. Against provisional Division I Bryant University, Thabeet was nearly untouchable. He racked up 16 points, 12 boards and 3 blocks. The buzz is spreading on Thabeet, and plenty of NBA personnel have discussed him and Oklahoma's
Blake Griffin
as possible top-five draft picks. Thabeet will be a dominant presence in key games and throughout the Big East. The rest of the starting rotation this week: 2.
Sam Young
, Sr., F, Pitt: The race for Big East Player of the Year will be quite a chase. Young is definitely in the mix. He's leading the Panthers with 20.2 points a game and is becoming the team's go-to guy. The senior forward had quite a week with 33 points against Belmont and 24 against Texas Tech in the semifinals of the Legends Classic in Newark, N.J., then capped off his week with a solid 15 points and 8 boards in the title victory over Washington State. 3. Blake Griffin, So., F, Oklahoma: It's hard not to put Griffin in this category every week. Griffin was his usual dominant self in the NIT Season Tip-Off semifinals with 32 points and 15 boards in the win over UAB, then teamed up with guard
Willie Warren
to dispatch Purdue in overtime for the title. Griffin had another monster night on the boards with 21. He also contributed 18 points and made 8 of 13 free throws. 4.
Chris Warren
, So., G, Ole Miss: Injuries have depleted the Rebels. So what did Warren do? He stepped up his game. Warren lit up Marshall for 28 points in the Glenn Wilkes Classic in Daytona Beach, Fla., then helped lead the Rebels to a crushing 78-46 win over Central Florida after the Golden Knights had just taken out New Mexico on the road. He followed that up with 25 points in a win over Morgan State. The Rebels are 5-1 despite losing two key players to injury for the season, and Warren deserves a lot of the credit. 5.
Jodie Meeks
, Jr., G, Kentucky: Kentucky won its first regular-season tournament title since winning the 1996 Great Alaska Shootout by claiming the Las Vegas Invitational. Meeks is one of the main reasons. He scored 19 in the title game win over West Virginia on Saturday night. He lit up Kansas State with 37 points Friday night. A key stat for Meeks is how much he's reaching and making shots from the free-throw line. He was 12-of-12 against West Virginia, 11-of-13 against Kansas State.
Team of the Week: Syracuse Orange
By Andy Katz
ESPN
Last week
: Beat No. 18 Florida 89-83 (CBE Classic); beat No. 23 Kansas 89-81 in OT (CBE Classic); beat Virginia 73-70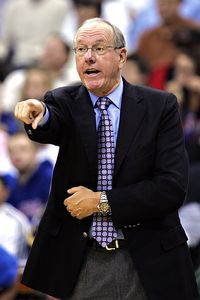 Douglas Jones/US Presswire
Jim Boeheim's early-season scheduling may pay late-season benefits.
Syracuse had to differentiate itself before Big East play. That's the goal of every team that won't challenge for the top four. But the way that Syracuse is playing, it would be a mistake to rule out the Orange for a top-four finish in the Big East. Coach Jim Boeheim loaded up the Orange schedule, as witnessed by last week's trip to the CBE Classic in Kansas City on Monday and Tuesday, then a home game against Virginia on Friday. Syracuse won them all. It beat Florida on a neutral court (Sprint Center in K.C.), then a Kansas team that might have been playing on a neutral court by definition, but clearly not in a neutral arena. Beating the Jayhawks so close to Lawrence should count for extra points with the selection committee. Taking out an erratic Virginia team that had lost to Liberty at home still will count for something because the Cavs will get plenty of points for playing in the balanced ACC. Syracuse will play one other high-profile nonconference game at Memphis on Dec. 20, but winning that game won't have as much importance now that the Orange have collected the two wins in Kansas City. Syracuse is setting itself up quite well to earn an NCAA bid, as long as it doesn't fall flat in the Big East and finish in the ninth to 11th range. Somehow, that seems like a long shot.
Résumé Builders
By Andy Katz
ESPN
Xavier
: The Musketeers won the Puerto Rico Tip-Off Classic on Nov. 23 by beating Memphis in the title game. The Musketeers also took out Miami of Ohio. Xavier is the class of the A-10.
Seton Hall
: The Pirates are the only team projected to finish in the bottom six of the Big East that has stood out so far. Seton Hall beat USC on Nov. 20, then beat Virginia Tech on Nov. 23. The Pirates have two wins against teams that likely will be in the NCAA tournament come March. Don't discount Seton Hall from being a serious bubble team when March rolls around.
Notre Dame
: The Irish have to go a bit without
Luke Harangody
because he has pneumonia. But before the Irish learned that disturbing news, they took out Texas in Maui. Notre Dame won't have to worry about making the NCAA tournament, but the Texas win should help its seeding come March.
Baylor
: The Bears' Sunday night 76 Classic title game loss to Wake Forest in Anaheim, Calif., will count toward next week's Weekly Watch because the Weekly Watch goes from Sunday to Saturday. Before that game, the Bears earned one of the best wins of the season by beating Arizona State in the semifinals. Baylor is clearly a player in the Big 12 and should be taken seriously to challenge for not just a top-four finish but also the conference title.
UTEP
: Miners coach Tony Barbee said UTEP can contend for the Conference USA title. He knows his team. UTEP took out Saint Mary's in the first round of the 76 Classic in impressive fashion. That win could be a key nonconference win come March.
Blemishes that might not go away
By Andy Katz
ESPN.com
UNLV
: The Runnin' Rebels were one of the two Mountain West favorites. They still might win the league. But UNLV's at-large hopes took a blow when it lost two home games to Cal and Cincinnati.
Auburn
: The Tigers lost to Dayton in suburban Chicago. That's not a bad loss by any means. But dropping a game to Northern Iowa in the same event proves the Tigers aren't ready for prime time yet.
Rutgers
: The Scarlet Knights lost to St. Bonaventure at home last week and Lehigh this week. Rutgers wasn't expected to become an NCAA tournament team this year, but now it seems it could be in a fight not to finish 16th in the Big East.
Creighton
: The Bluejays may have a hard time earning an at-large berth. Unfortunately, the margin for error is thin, and dropping games to Arkansas-Little Rock and Nebraska on the road isn't a shock. They were road games, after all. But the Bluejays have to make up for those losses somewhere on the schedule.
UMass
: The Minutemen dropped to 1-4 after losing to Wisconsin-Green Bay on the road. UMass was supposed to challenge Xavier for the A-10 title. Losing
Luke Bonner
to a knee injury is clearly having an effect.
Viewer's Guide
(All times ET)
Tuesday
:
9 p.m.: Duke vs. Purdue (ESPN)
ACC-Big Ten Challenge
Wednesday
:
9:15 p.m.: North Carolina vs. Michigan St. (ESPN)
ACC-Big Ten Challenge
Thursday
:
7 p.m.: USC vs. Oklahoma (ESPN2)
Big 12-Pac-10 Hardwood Series
9 p.m.: UCLA vs. Texas (ESPN2)
Big 12-Pac-10 Hardwood Series
Saturday
:
9:30 p.m.: Wisconsin vs. Marquette (ESPNU)
•
College basketball schedule
|
ESPN Full Court
No. 2 UConn tops Bryant, 88-58
Line of the week
Stephen Curry
, Jr., G, Davidson Versus Loyola, Md.: Loyola coach Jimmy Patsos went for the 4-on-3 power-play on Curry. He stuck two players on Curry for the whole game. Curry was fine with hanging in the corner and didn't show any issue with seeing his scoring average dip for a game. He played 32 minutes, took only three shots, missed those three and didn't score. The Wildcats still won 78-48. Curry is averaging 29.2 points a game and remains as much a national player of the year candidate after the odd result as he was before it.
Syracuse shocks Kansas to win CBE Classic
Play of the Week
Syracuse sophomore point guard
Jonny Flynn
is a big-game, big-play lead guard. He hit a 3-pointer with 6.4 seconds left to tie the Jayhawks and send the Syracuse-Kansas game into overtime Tuesday in the championship of the CBE Classic. Flynn finished the game with 25 points. Flynn has a good sense of when to shoot and when not to, and he seems to love big-game moments.
-- Andy Katz, ESPN.com
Irish sneak by Texas in Maui thriller
Five places to be this week
West Lafayette, Ind.
: Duke doesn't play a ton of true road games during the nonconference portion of the schedule. But the ACC-Big Ten Challenge has provided a quality matchup, and Duke heads to Purdue on Tuesday. This should be a physical affair with two quality scorers in
Robbie Hummel
for the Boilermakers and
Kyle Singler
for the Blue Devils on display. The big question will be how
Gerald Henderson
will perform for the Blue Devils and whether he can be a difference-maker yet again.
Detroit
: Michigan State will host top-ranked North Carolina at Ford Field on Wednesday in what was supposed to be the headline event in the ACC-Big Ten Challenge. It still is, but the Spartans aren't yet ready for a Final Four preview if
Goran Suton
can't play because of a left knee sprain. Still, the Spartans will have the partisan crowd, and this should be North Carolina's last test in nonconference play before heading into hostile environments in the ACC.
Coral Gables, Fla.
: Miami was overmatched at times by Connecticut in the Paradise Jam semifinals in St. Thomas. Playing Ohio State at home Tuesday in the ACC-Big Ten Challenge should provide a good look so that we can see how elite the Hurricanes are this season. This is a game the Canes should win at home. But it will provide a quality test in a week during which the Canes also play at Kentucky.
Austin
: Texas will host UCLA on Thursday in the Pac-10-Big 12 series. The Longhorns couldn't finish against an elite Notre Dame team. That's fine. Texas will have plenty of other chances against comparable teams. One of those opportunities will be this game against the Bruins. UCLA got a 20-spot from freshman guard
Jrue Holiday
in a win over Florida International, and the Bruins seemed to have settled down after their loss to Michigan. But this is still a monster road test for UCLA. A win would be huge for this squad, but playing competitively down to the final minutes also will tell us quite a bit about where this team can end up in March.
Milwaukee
: Marquette was upset by Dayton on Saturday in suburban Chicago. Wisconsin was overmatched by Connecticut in the final of the Paradise Jam. But this will be Buzz Williams' first experience as a head coach in the intensity of the Marquette-Wisconsin rivalry. Marquette will host the game on Saturday in what is annually one of the better games on the nonconference schedule. If the Badgers can win this road game, they'll be further ahead at this point in the season. Marquette needs to hold serve at home because a monster game against Tennessee in Nashville looms on Dec. 16.
-- Andy Katz, ESPN.com
OU needs OT to top Purdue and win NIT
North Carolina beats Notre Dame to win Maui