Weekly Watch: Beginning to look a lot like Christmas in the Atlantic 10
AP Photo/H. Rumph Jr.
Editor's note: This edition is for games played from Sunday, Dec. 7, through Saturday, Dec. 13.
Player of the Week: Dionte Christmas, Sr., G, Temple Owls
By Andy Katz
ESPN.com
To beat Tennessee, Temple needed Dionte Christmas to be something special. He scored 35 points on 12-of-22 shooting and nailed 7 of 14 from the 3-point line. Christmas must be an elite performer throughout the season if the Owls are to get back to the NCAAs. He can be the premier player in the league if he maintains his average of 21 points per game and continues to lead the Owls to wins.
Temple lost to Clemson in Charleston, S.C.; at Buffalo (ask Connecticut how tough that is); and to one of the tougher defensive teams in the country in Miami (Ohio). Christmas struggled in that game, going 3-of-12. He wasn't needed as much in a win over Penn State in which he went 1-of-7 for just two points. But for an elite win against the Vols -- a win that can have serious shelf life -- Christmas had to raise his game, and he did. He delivered on the big stage when it mattered most. Now he needs to make that kind of effort a regular occurrence, not just a highlight. The rest of the starting rotation this week:
2. A.J. Abrams, Sr., Texas: Abrams was sensational in a win over Villanova in the Jimmy V Classic at Madison Square Garden, registering 26 points (including four 3s), four assists and one steal. In an eight-point win over Texas State in which he played all 40 minutes, Abrams tossed out 30 points and made 11 of 12 free throws as one of the few consistent performers in what, by the Longhorns' standards, was a bit of a lackluster effort.
3. Booker Woodfox, Sr., Creighton: The Bluejays picked up two key victories, winning at Saint Joseph's and then beating Dayton in impressive fashion. Woodfox was instrumental in both wins, scoring 29 points in 27 minutes against the Hawks and 21 points in 23 minutes against the Flyers. The senior guard should get strong consideration for conference player of the year.
4. Jordan Hill, Jr., Arizona: Hill is turning into quite a performer around the basket, enjoying a monster game in a huge Arizona win over San Diego State. He played all 40 minutes, scored 25 points, grabbed 14 boards and was 8-of-14 from the field. He also hit 9 of 12 from the free-throw line and recorded six blocks. Hill's emergence, more than anything else on this team, is making Arizona a real threat to keep that streak of 24 consecutive NCAA tournament appearances alive.
5. Lazar Hayward, Jr., Marquette: The Golden Eagles' guards -- Jerel McNeal, Dominic James and Wesley Matthews -- get much of the credit, and they should. But Marquette isn't going to go far without Hayward inside. Hayward scored 19 points, grabbed 18 boards and blocked a shot in a win over IPFW.
Team of the Week: Massachusetts Minutemen
By Andy Katz
ESPN.com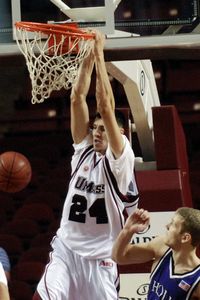 AP Photo/Nancy Palmieri
Tony Gaffney has played a large role in getting a reeling UMass team back on track.
Last week: Beat Holy Cross 73-59; beat Kansas 61-60 in Kansas City.
The Minutemen turned their season around with a stunning one-point win over Kansas in Kansas City on Saturday.
With a 3-6 start, UMass has a ways to go to get an at-large berth. But once Luke Bonner returns from a knee injury, this squad could be dangerous for Xavier, Temple and Dayton -- the new projected top three in the Atlantic 10 race.
The Minutemen's season turned when they blew an 11-point halftime lead at Southern Illinois in the Coaches vs. Cancer tournament in Carbondale. The team lost Bonner in that game and never seemed to recover. A blowout loss at Memphis and a home-opening loss to Jacksonville State left the Minutemen reeling, and then an unfortunate schedule sent a team that suddenly lacked confidence to UW-Green Bay and Toledo. Two more losses. The Toledo setback was only a one-point loss, but a haze still seemed to hover over UMass. The Minutemen had Boston College down but couldn't finish the Eagles in an overtime loss at home.
The win over Holy Cross earlier in the week was the primer for the Kansas game. But no sane person outside Amherst expected the Minutemen to beat KU in Kansas City. It doesn't matter that this game wasn't in Phog Allen and that the Jayhawks had lost in the Sprint Center earlier this season to Syracuse: This was still a home game for the Jayhawks. But KU didn't shoot well against the Minutemen and hit only one significant 3-pointer, a late one by Sherron Collins.
UMass has one of the better guard tandems in the Atlantic 10 in Chris Lowe and Ricky Harris, but the issue for the Minutemen had been whether someone can produce up front. Tony Gaffney has done just that for the Minutemen. Gaffney grabbed 13 boards, blocked six shots and was generally disruptive against the Jayhawks. He also got a piece of Collins' final shot. (You have to figure new coach Derek Kellogg knew the play KU was going to run, considering he was on the Memphis bench at the end of regulation in last year's national title game.) Gaffney was a major reason the Minutemen nearly beat BC, too. He grabbed 18 boards, scored 15 points and played 43 minutes in the overtime loss.
Massachusetts now must make that win over Kansas matter by beating teams it should. That means winning at Houston, beating Vanderbilt at home and defending its home court at the start of A-10 play against teams like Dayton and Temple.
Résumé Builders
By Andy Katz
ESPN.com
Xavier
: The Musketeers have been sensational so far and have picked up a crushing win over Ohio and a gritty 10-point win over rival Cincinnati. Duke and Butler are up next for a squad that is looking capable of landing a top-four seed.
Georgetown: The Hoyas continue to improve since a lackluster game against Wichita State in the first round of the Old Spice Classic in Orlando, Fla. Georgetown got by Savannah State as expected and outlasted Memphis in overtime for its first win against a team that's an NCAA tourney lock.
Missouri: If you're a frequent reader, you'll know that a week in this space is Sunday to Saturday. That means Missouri's home drubbing of Cal means the Tigers had a great week. Beating always-sound Murray State to close the week is also significant.
Evansville: The Purple Aces are off to a 7-1 start after beating Western Kentucky at home Saturday. Evansville is right on the heels of Illinois State and Creighton as a team that could hang around throughout the Valley chase. (Never dismiss Southern Illinois, of course.) Evansville's solid run so far may come to a screeching halt for at least one game -- Thursday brings top-ranked North Carolina.
Texas A&M: The Aggies have one blemish this season: a loss to Tulsa. But Texas A&M picked up its first true road win by beating Alabama in overtime. Josh Carter and his teammates are being overshadowed in the Big 12 by Oklahoma, Texas and Baylor. But so far, the Aggies are doing their part to make themselves matter in March.
Ohio State: The Buckeyes continue to impress with a solid home win over Butler. Ohio State was the reigning team of the week after wins at Miami and over Notre Dame in Indianapolis. OSU is beating teams that will be in the NCAA tournament and those that will not.
Blemishes that might not go away
By Andy Katz
ESPN.com
Texas Tech
: Losing at Lamar will sting a bit more because the next game is at UTEP, which should be even more difficult. Pat Knight has done a great job so far putting his imprint on the Red Raiders. There will be hiccups, especially on the road, and this was one of them.
Washington State: The Cougars did end the week by beating Montana State in Seattle. And maybe it's too much to expect Wazzu to beat Gonzaga. But the Cougs had two Top 25 teams come to Friel Court the past two weeks -- Baylor and Gonzaga -- and failed to beat either of them, scoring just 52 points in each. It marked the first time in more than 20 years that WSU lost back-to-back nonconference home games.
Oregon: The Ducks are going to be inconsistent with such a young roster. That's why losing to San Diego in Portland shouldn't come as a shock after they beat Kansas State at home Sunday.
Alabama: The Tide has lost two home games so far this season -- to Mercer and Texas A&M. Maybe both will be in the NCAAs, but at this rate, Bama may not be.
Cincinnati: Losing to Xavier is hardly a reason to pout -- the Musketeers are clearly one of the best teams in the country. But the Bearcats did miss an opportunity to pick up a huge home win against a top-10 team.
Florida: The Gators still don't have that signature win. Maybe Florida State won't be considered a signature opponent by March if the Seminoles don't make the tournament. Regardless, the Gators missed out on that road opportunity Sunday night in a loss to FSU.
Viewer's Guide
(All times ET)
Tuesday:
9:30 p.m.: Marquette vs. Tennessee (ESPN)
SEC/Big East Invitational (at Nashville, Tenn.)

Saturday:
2 p.m.: Xavier vs. Duke (CBS) at East Rutherford, N.J.
2 p.m.: Michigan State vs. Texas (CBS) at Houston
4 p.m.: Connecticut vs. Gonzaga (CBS) at Seattle
4 p.m.: Davidson vs. Purdue (CBS) at Indianapolis
6 p.m.: Syracuse at Memphis (ESPN)

Temple of Doom for No. 8 Vols
Line of the week
Ben Woodside
, Sr., G, North Dakota State
Too bad the Bison couldn't beat Stephen F. Austin in a 112-111 triple-overtime loss at the Hy-Vee Classic. If they had, Woodside would have been a candidate for player of the week. He scored 60 points against SFA (most by a Division I player since 2000), half of which came from the free-throw line (30-of-35). Overall, Woodside was 14-of-32 from the field and just 2-of-6 on 3s, which is amazing in itself. He grabbed eight rebounds and had eight assists, four turnovers, one steal and only one foul. Woodside made more free throws (30) than the Lumberjacks (23), tying an NCAA single-game record set by the legendary Pete Maravich in 1969. North Dakota State plays in the Summit League, so keep an eye out for Woodside's numbers this season. He's averaging 26.9 points a game for the Bison, who play at USC on Saturday.
UMass stuns Kansas, 61-60
Play of the Week
Stephen Curry
, Jr., Davidson
Curry buried two 3s, one to cut the deficit to one and the other essentially to win the game against West Virginia at the Jimmy V Classic in Madison Square Garden. Curry began the game just 4-of-19 from the field, but he finished with 27 points (on 27 shots) in 40 minutes. He also had 10 assists (eight turnovers) and four steals. He concluded the week by pouring in 41 points and making 14 of 18 free throws to help the Wildcats pick up their first win in the Southern Conference, a 100-95 victory over Chattanooga. Curry has scored over 40 points in three games this season, and had 39 in another.
-- Andy Katz, ESPN.com
Curry heats up when it matters
Eight places to be this week
Nashville, Tenn., Tuesday
: Even though it's a few hours down the road, Tennessee essentially hosts Marquette in the SEC/Big East Invitational. The Vols are coming off a poor performance against Temple. Marquette has one signature win at home against Wisconsin but lost to Dayton on a neutral court and could use a marquee win away from the Bradley Center.
Houston, Saturday: This has turned into quite a doubleheader. The headline game is Michigan State against Texas. The Longhorns and Spartans continue to play two of the toughest schedules in the country. Texas got its shelf-life wins over UCLA and Villanova. The Spartans are still looking for their first. The undercard should be quite a treat, though. LSU plays Texas A&M in a game the Tigers need more than the Aggies. LSU hasn't played a tournament-level team yet. Texas A&M has a home win over Arizona and a road win at Alabama.
Meadowlands, Saturday: Duke makes another trip to the tri-state area, and what a neutral-site test it will be for the Blue Devils. Xavier is playing like a top-10 team, having picked up a huge win over Cincinnati last week.
Glendale, Ariz., Saturday: This doubleheader at the home of the Arizona Cardinals provides four potential tournament teams with a high-level barometer. Louisville plays Minnesota in a matchup of two close friends, Rick Pitino and Tubby Smith. The Gophers got off to a 9-0 start, while the Cards' only slipup was against Western Kentucky in Nashville. But the better game may be undefeated BYU against Arizona State. A win over the Sun Devils would not only give the Cougars a ranking, but would also make a statement that they should be taken very seriously from this point on.
Seattle, Saturday: The game of the season so far will be the Battle in Seattle as Gonzaga welcomes Connecticut to the Evergreen State. The two programs have been matched in two epic games, one in the '99 Elite Eight in Phoenix and another in the '05 Maui Invitational final. This game doesn't have as much significance, but could be a Final Four preview between two potential No. 1 seeds.
Indianapolis, Saturday: The John Wooden Tradition gives the Midwest another chance to see Stephen Curry on display as Davidson plays Purdue. The undercard of Saint Mary's against Southern Illinois also puts the Gaels' Patty Mills on a national stage.
Memphis, Tenn., Saturday: Syracuse plays a true road game for the first time, and it comes against a Memphis team desperate for a signature win. Syracuse might become just that for the Tigers.
Lawrence, Kan., Saturday: Temple's trip to Kansas became much more significant after the Owls beat Tennessee and Kansas lost to UMass in Kansas City.
-- Andy Katz, ESPN.com
Georgetown slugs past Memphis in OT
Xavier wins battle of the Queen City