Weekly Watch: Arizona's Hill, West Virginia take home honors
AP Photo/Wily Low
Editor's note: This edition is for games played from Sunday, Dec. 21, through Saturday, Dec. 27.
Player of the Week: Jordan Hill, Jr., F, Arizona Wildcats
By Andy Katz
ESPN.com
OK, quick: Who had Jordan Hill as the leading scorer for Arizona and a challenger to James Harden of Arizona State for Pac-10 player of the year at the beginning of the season? Doubt many, if any, after Chase Budinger returned to the Wildcats and Lute Olson abruptly retired. But Hill has been one of the best individual stories this season. The 6-foot-10, 235-pound junior has made himself into a legit first-round NBA draft prospect. His live body is a force around the basket and he has increased his post moves to the point where he's becoming a tougher matchup every single outing. Last week, in Arizona's only game, Hill was sensational again. He scored 23 points, delivered 11 boards and blocked a pair of shots in Arizona's 84-67 victory over Kansas in Tucson. Hill's efficiency was needed, considering Budinger was 1-of-9 from the field. Hill is averaging a double-double (18.9 ppg, 11.8 rpg) and looking like the go-to player for a surging Wildcats team.
The rest of the starting rotation this week:
2. Alex Ruoff, Sr., SF, West Virginia: Joe who? Alexander? What's he doing now? He's averaging four points in just 12 minutes a game for the Milwaukee Bucks. Ruoff has quickly made Alexander a memory the past three games. In his return from back spasms that kept him out of a loss to Davidson in New York and a win at Duquesne, Ruoff scored 15 points in a home win over Miami (Ohio) on Dec. 20. But for this week's honors, on Tuesday, Ruoff scored 38 points and grabbed eight boards in a 35-point win over Radford. He followed that up with 17 points in a crushing 76-48 win at Ohio State on Saturday.
3. Patrick Patterson, So., PF, Kentucky: Patterson looks healthy after battling injuries at the end of last season and in the spring. Patterson scored 27 points, grabbed 14 boards and blocked three shots in a closer-than-expected game against Florida Atlantic on Saturday. He started the week by contributing 33 points and 11 boards in a win over Tennessee State on Monday. In the two games combined, Patterson was 27-for-33 from the field.
4. Willie Warren, Fr., SG, Oklahoma: For Oklahoma to be competitive for the Big 12 title, forward Blake Griffin can't be the only special player. Fortunately for the Sooners, Warren has been special, too. Warren scored 31 points, making 11 of 17 shots and four 3s, in Oklahoma's win at Rice on Monday. Warren's 14.9 points a game is good for second on the team, behind Griffin.
5. Patrick Mills, So., PG, Saint Mary's: The Gaels are on quite a roll, improving to 11-1 with seven wins away from Moraga, including true road wins over Oregon, Kent State and Pacific. Mills was solid as usual last week, with 23 points, three assists and one turnover in the Gaels' win over Pacific on Tuesday, and 17 points and four steals (but six turnovers) in a home win over San Jose State on Saturday.
Team of the Week: West Virginia Mountaineers
By Andy Katz
ESPN.com
Last week
: beat Radford 89-54 on Dec. 23; won at Ohio State 76-48 on Dec. 27.
West Virginia coach Bob Huggins was pretty direct in the hallway of Madison Square Garden after losing to Davidson in the Jimmy V Classic on Dec. 9. He didn't like losing, he said, and the Mountaineers probably wouldn't have lost if they had their backcourt of Alex Ruoff and Joe Mazzulla healthy. Neither played, and the Mountaineers weren't able to stop Stephen Curry from making two clutch 3s to win the game.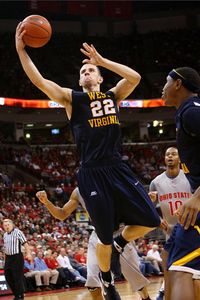 AP Photo/Terry Gilliam
Alex Ruoff scored 55 points over his past two games for the Mountaineers.
Since then, the Mountaineers have gotten healthy and are on quite a tear. While the Miami (Ohio) win counts for the previous week in this column, that win started a roll, and West Virginia is heading toward the Big East slate with as much momentum as any other team in the conference.
The Mountaineers beat Miami 82-46 at home. They followed that with a crushing defeat of Radford. But the best came Saturday, when West Virginia gave Ohio State its first loss of the season -- one of the worst home losses for any elite team this season -- pounding the Buckeyes 76-48. WVU's Big East slate opens with two road games against Seton Hall and Marquette, sandwiched around a monster home game against Connecticut. Nothing about the way West Virginia is playing now seems to hinder the Mountaineers' ability to beat anybody on their schedule the rest of the season. They'll still take their share of lumps, but they'll continue to have weeks like this one.
Résumé Builders
By Andy Katz
ESPN.com
Arizona
: The Wildcats pulled away from Kansas in Tucson for their second significant victory of the season. Wins over Kansas and Gonzaga (in Phoenix) will make it hard for the selection committee to dismiss Arizona, barring a collapse in the Pac-10.
Clemson: The Tigers dominated Miami in the second half and pulled away for a 19-point win over the Canes in their ACC opener Dec. 21. Clemson is once again in contention to finish in the top five in the ACC.
Texas: The Longhorns had issues finishing games against Michigan State in Houston and against Notre Dame in Maui. That wasn't the issue at Wisconsin on Tuesday. Texas pulled away in the final possessions for a solid five-point win at the Kohl Center.
Pitt: The Panthers played their first true road game of the season Dec. 21 and won an ugly affair at Florida State.
Louisville: Rick Pitino tinkered with his starting lineup to re-energize his team. The motivational tactic worked, as the Cardinals looked much sharper in beating UAB on Saturday behind a strong effort from Terrence Williams, who was three assists short of a triple-double.
LSU: The Tigers couldn't pull out their first win against a possible NCAA tournament team when they lost to Texas A&M in Houston on Dec. 20. But on Saturday, the Tigers beat a Washington State team that at the very least should be a postseason club, something that might be hard to find on the Tigers' schedule in November and early December.
Butler: The Bulldogs pulled off a nonconference upset by winning at Xavier. At 10-1 through Sunday, the rebuilding Bulldogs hardly look like a work in progress.
Illinois: The Illini had a significant neutral-court win over Missouri in St. Louis to jump-start their Big Ten chase.
Lower-level statements: Portland State, Niagara, Northeastern and Vermont are all making strong statements in nonconference play that they will be players in their respective conference title races. Portland State won at Gonzaga, Niagara beat St. Bonaventure, Northeastern won at Indiana, and Vermont opened the Rainbow Classic on Saturday with a win over George Washington.
Blemishes that might not go away
By Andy Katz
ESPN.com
South Florida
: The Bulls had a trip to Puerto Rico they'd like to forget, losing to Oral Roberts by 23 and Wright State by 17. The Bulls righted themselves with a 13-point win over Iona, but the sting of the Puerto Rico trip may linger.
Gonzaga: The Bulldogs played with poor effort, didn't defend and were flat overall in a surprising home loss to Portland State.
Georgia: The Bulldogs continue to struggle at home, losing to Texas A&M-Corpus Christi in overtime. Georgia previously beat Wofford by one in overtime at home.
St. John's: The Red Storm didn't exactly storm the Madison Square Garden floor, losing to Virginia Tech at home Dec. 21 in the final of the Holiday Festival and then falling to Miami on Saturday.
Seton Hall: The Pirates did rally to beat Fairleigh Dickinson on Saturday, but started the week with a road loss at middling CAA team James Madison on Monday.
Missouri: The Tigers were ranked entering the Braggin' Rights game, but were shown the door quickly by Illinois in Tuesday's rout.
Viewer's Guide
(All times ET)
Monday:
7 p.m.: Georgetown at UConn (ESPN2)
Tuesday:
7 p.m.: Clemson at South Carolina
Wednesday:
Noon: Michigan State at Minnesota
Thursday:
2:30: Villanova at Marquette (ESPN2)
Friday:
10:30: Arizona State at Stanford
Saturday:
Noon: Pitt at Georgetown (ESPN)
Noon: Ohio State at Minnesota
West Virginia upsets Ohio State
Line of the week
John Bryant
, Sr., Santa Clara
The Broncos lost to Stanford 77-69 at home for their third straight loss. But it's hard to blame Bryant. The 6-foot-10, 300-pound center scored 27 points, grabbed 22 rebounds and blocked two shots in the loss. Bryant also was 9-of-10 from the free throw line, and he has had seven double-doubles for the Broncos (5-7) this season. This comes after he was stabbed in the back in the offseason.
-- Andy Katz, ESPN.com
Marquette tips NC State
Play of the Week
Dominic James
, Sr., Marquette
James hit a 3-pointer with 0.4 of a second left to give Marquette a critical 68-65 road win at NC State on Monday. Marquette desperately needed a quality win away from Milwaukee after losing to Dayton in suburban Chicago and to Tennessee in Nashville.
-- Andy Katz, ESPN.com
Butler stuns Xavier
Eight places to be this week
Hartford, Conn., Monday
: The most anticipated Big East season in the past four years opens with co-favorite Connecticut hosting surprising Georgetown.
West Lafayette, Ind., Tuesday: The Big Ten season opens with Illinois at Purdue. The Illini probably got the attention of everyone in the league with an impressive thumping of Missouri in St. Louis. A road win here would certainly send a strong statement that the Illini are a serious player this season.
Minneapolis, Wednesday: Michigan State goes to undefeated Minnesota for its Big Ten opener. With the win over Louisville, the Gophers made sure they will be taken seriously. MSU is playing much better now that Goran Suton is healthy, and a road win at Minnesota would do wonders for this team's confidence.
Louisville, Ky., Wednesday: UNLV shook off an early-season slump and thumped Arizona two weeks ago. The Runnin' Rebels provide a quality test for a Louisville team that is still trying to figure itself out.
Palo Alto, Calif., Friday: Let's see whether Stanford is ready for prime time in the Pac-10. The Cardinal get first crack at one of the Pac-10 favorites in Arizona State. At the beginning of the season, the Bay Area trip didn't look so daunting, but that was before Stanford and Cal got off to surprisingly good starts.
Washington D.C., Saturday: Pitt at Georgetown. Get used to big-time Big East games coming fast and furious every week for the next two months.
Provo, Utah, Saturday: BYU puts its 53-game home-court winning streak -- best in the nation -- to the test against Wake Forest.
Lawrence, Kan., Saturday: Tennessee continues its grinding schedule at Kansas in what could turn out to be a huge seeding-type game for the Jayhawks.
-- Andy Katz, ESPN.com
Texas holds off Wisconsin
Tom Brennan: What I Learned