Weekly Watch: Wake's Teague, Pittsburgh shine the brightest
AP Photo/Luis M. Alvarez
Editor's note: This edition is for games played from Sunday, Dec. 28, through Saturday, Jan. 3.
Team of the Week: Pittsburgh Panthers
By Andy Katz
ESPN.com
Last week
: won at Rutgers, 78-72; won at No. 8 Georgetown, 70-54.
Say hello to the new Big East favorite and the newest challenger to North Carolina for the national title.
Pitt took apart Georgetown in D.C., after the Hoyas did the same to the previous Big East favorite and Carolina challenger, Connecticut, earlier in the week in Hartford. The Panthers started the week with a comeback win at Rutgers.
If you think it's easy to go on the road for two games to start the Big East, ask Notre Dame. After beating DePaul, the Irish couldn't escape with a win at St. John's.
Questions about Pitt's perimeter shooting were answered this week when Brad Wanamaker made shots off the bench and Levance Fields made them in the starting lineup. DeJuan Blair shook off foul trouble at Rutgers to dominate at Georgetown. Sam Young continues to quietly put together player-of-the-year type performances, and there might not be a better four-year role player in the Big East than Tyrell Biggs.
If Gilbert Brown can stay healthy, the Panthers have an elite player coming off the bench who can deliver a little bit of everything from the wing.
Pittsburgh has experience, toughness and the ability to play fast or slow. The Panthers will be tough to beat at home and are clearly showing they can win on the road.
Don't start picking on Pitt's inability to get to the Elite Eight in years past. That means nada to this team. What matters is that the Panthers are handling their business quite well and are the new -- and likely long-term -- favorite in the league for the next two months.
Player of the Week: Jeff Teague, Soph., G, Wake Forest Demon Deacons
By Andy Katz
ESPN.com
All the Demon Deacons' freshman big men got the hype in the preseason. That's fine. But it was clear from the beginning that the best player on Wake -- the most important player on Wake -- was Jeff Teague (19.6 ppg, 4.2 apg, 4.1 rpg, 53.6 FG, 84.4 FT, 51.5 on 3s). He has emerged as one of the tougher guards to stop.
Teague can elevate to the rim, change the mood of the game and take over. He did just that to help Wake pull off a monster road win at BYU late Saturday night. Teague scored 30 points, making a high percentage from the field (8-of-12), getting to the free throw line (12-of-14), making a couple of 3-pointers (2-of-4) and totaling four boards, four assists and just one turnover. Earlier in the week, Teague had 19 points in an easy win over Radford.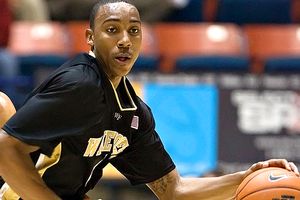 Getty Images/Brian A. Westerholt
Jeff Teague averaged 24.5 ppg in two wins for the Demon Deacons this week.
In a text after the BYU game, Wake Forest coach Dino Gaudio said of the Marriott Center: "Wow, what a tough place to play, 23,000 and loud. Couldn't hear the officials whistle." This was not a good win for Wake Forest; this was a great win, in which the Demon Deacons knocked out BYU and its national-best 53-game home winning streak.
Wake Forest, still undefeated, now gets a week off to get ready for a home game against North Carolina on Jan. 11 at the Lawrence Joel Coliseum. The Demon Deacons are in the midst of their toughest stretch of the season. The BYU game preceded the Carolina game, which is in advance of a two-game road trip to Boston College and Clemson. During stretches like that, having someone who is a leader, a scorer and a big-time go-to guy is a must. Teague fits all three descriptions.
The rest of the starting rotation this week:
2. Michael Washington, Jr., F, Arkansas: The Hogs are getting great play inside from Washington. He was huge in the win over Oklahoma, scoring 24 points on 10-of-12 shooting and grabbing 11 rebounds. He followed that performance with another high-percentage night: In what was a tight game against North Texas, Washington made 12 of 15 shots, scored 34 points and grabbed 11 boards. He also got to the line and made 10 of 12 free throws.
3. DeMar DeRozan, Fr., SG, USC: DeRozan isn't dominating, but his production is becoming much more predictable. DeRozan began the week with 18 points and five boards in a win over Oral Roberts and then started a road swing to Oregon with a double-double of 14 points and 12 boards.
4. Patrick Christopher, Jr., G, Cal: Mike Montgomery's Bears are a success story so far, and a lot of that has to do with Jerome Randle and Christopher. Christopher helped beat a decent Portland team with 13 points earlier in the week. He then helped the Bears beat Arizona with 23 points, making 9 of 18 shots and dishing out four assists with two steals and no turnovers in the beginning of a critical two-game homestand against the Arizona schools.
5. Ronald Steele, Sr., G, Alabama: Alabama coach Mark Gottfried has been waiting for Steele to put together one of those special performances after he sat out last season with a knee injury. Steele may have given him a clip with his 23 points (7-12 FG, 4-4 FT, 5-8 on 3s), 10 assists and two steals in an 11-point win over Georgia Tech. The SEC West is hardly intimidating. So the better Steele plays, the more likely the Tide can make some noise in the division.
Signature wins
By Andy Katz
ESPN.com
Illinois State:
The Redbirds hammered Creighton by 22 at home. Illinois State is still unbeaten and clearly the team to beat in the Missouri Valley.
Michigan State: Road wins can't be dismissed. The Spartans opened the Big Ten with two road wins for the first time in school history. Here's another one for you: Can you believe that Michigan State has only played four true home games this season? Gonzaga is the only other Top 25 team to play so few. Amazing. Michigan State's two road wins over Minnesota and Northwestern helped the Spartans assume their rightful place atop the standings.
Washington: The Huskies snapped a losing skid to Washington State with a road win in Pullman. The Huskies have won eight straight (seven at home) and now get Stanford and Cal in Seattle.
Florida: Nick Calathes scored 32 and the Gators won a critical nonconference home game against struggling NC State.
Cal: The Bears began a Pac-10 opening homestand with a win over Arizona, proving the Bears might just be in this race for good.
Clemson: The Tigers won on the road against archrival South Carolina. Clemson's start isn't a joke. This team is for real.
Arkansas: Beating Oklahoma could be a résumé win that gets the Hogs noticed on Selection Sunday.
Buffalo: The near-miss against UConn apparently wasn't a fluke. Buffalo won the watered-down Rainbow Classic with a win over Colorado State and served notice that the Bulls may be the team to beat in the MAC.
Arizona State: The Sun Devils crushed Stanford by 30 in Palo Alto. That certainly serves notice of a potential contender and pretender.
Georgetown: No shame in losing at home to Pitt. The Hoyas can still celebrate the significance of a road win at Connecticut.
Illinois: The Illini picked up a road win at Purdue to start the conference season. That's a victory few teams, if any, will get this season.
Wisconsin: Great week for the Badgers, who won at Michigan and then beat back Penn State at home to start the Big Ten 2-0.
Utah: The Utes had a superb week by taking down Gonzaga at home and then opening Mountain West Conference play with a win over Wyoming.
UNLV: There weren't many better wins than UNLV's victory at Louisville without Wink Adams, who then returned to play 18 minutes off the bench in a home win over New Mexico.
Kansas: The Jayhawks needed a win to scream about, and taking down Tennessee at home will have shelf life.
South Carolina: The Gamecocks couldn't close out Clemson at home, but picked up a key road win at No. 20 Baylor. South Carolina is quietly 10-2.
Providence: Beating St. John's and DePaul at home isn't groundbreaking. But it does mean the Friars are at least beating the teams they're supposed to in the Big East, so far.
St. John's: The Red Storm beat Notre Dame at home for their first signature win of the season. St. John's isn't going to make the NCAAs, but taking out the Irish at home makes them more relevant.
West Virginia: The Mountaineers are one of the hottest teams in the country. West Virginia has won five straight by margins of five (Duquesne), 36 (Miami-Ohio), 35 (Radford), 28 (at Ohio State) and 26 (at Seton Hall).
Stony Brook: The Seawolves had quite a week, winning at Air Force and then opening America East play with a road win over defending champ Maryland-Baltimore County.
Viewer's Guide
(All times ET)
Monday:
7 p.m.: Georgetown at Notre Dame (ESPN)
Tuesday:
7 p.m.: UConn at West Virginia (ESPNU)
7 p.m.: Ohio State at Michigan State (ESPN2)
9 p.m.: Texas at Arkansas (ESPN2)
Wednesday:
7 p.m.: Davidson at Duke (ESPN)
9 p.m.: Gonzaga at Tennessee (ESPN2)
Saturday:
Noon: West Virginia at Marquette (ESPN360)
1 p.m.: Kansas at Michigan State (CBS)
2 p.m.: Duke at Florida State (ESPN)
Pitt throttles Georgetown
Stings a bit
George Washington:
The Colonials lost to Longwood on the road. That followed three losses in Hawaii to Vermont, Hawaii and Coppin State.
UMass: The Minutemen blew an opportunity to beat an SEC team by getting blown out at home in Amherst by Vanderbilt, 78-48.
Georgia Tech: Give the Yellow Jackets credit for going on the road in nonconference (losing at Alabama). But opening the ACC with a home loss to Virginia will sting.
Creighton: The Bluejays were supposed to be the class of the Valley this season, but got rocked by Illinois State, 86-64.
Stanford: The Cardinal didn't have to beat Arizona State to prove the undefeated season wasn't a fluke. But how do you explain losing by 30 at home?
Southern Illinois: The Salukis are a young bunch that is clearly struggling to find its way. SIU is now 0-2 in the MVC after losing at home to Northern Iowa.
Gonzaga: The Zags went to Utah and couldn't pull it out against the Utes. That loss wouldn't look as bad had Gonzaga not lost at home to Portland State.
-- Andy Katz, ESPN.com
St. John's stuns Notre Dame
Six places to be this week
South Bend, Ind., Monday
Georgetown at Notre Dame -- Someone is coming out of this game at 1-2 in the Big East and on a two-game losing streak. That's how unforgiving the Big East will be this season.
Fayetteville, Ark., Tuesday
Texas at Arkansas -- The Hogs have a chance to do what most in the Big 12 may not: beat Oklahoma and Texas at home in the same season.
Morgantown, W.Va., Tuesday
UConn at West Virginia -- The Huskies better bring their A-game to Morgantown with the way Huggs has his crew playing right now.
Durham, N.C., Wednesday
Davidson at Duke -- Sharpshooting will be on display at Cameron with Stephen Curry and Jon Scheyer likely to launch plenty of 3s in what should be an entertaining affair.
Knoxville, Tenn., Wednesday
Gonzaga at Tennessee -- The rematch has lost a bit of luster after the Zags' slide and Tennessee's loss at Kansas. Still, Gonzaga should expect a rude awakening in Knoxville. Michigan got revenge on Duke in an in-season rematch at home after a neutral-site loss. Don't be surprised if the same occurs here.
East Lansing, Mich., Saturday
Kansas at Michigan State -- The Spartans have gotten their groove back and will get to show a national audience why they can be taken seriously again as a Detroit-bound team.
-- Andy Katz, ESPN.com
KU chalks up win versus Vols
Gophers top Buckeyes
Numbers to know
Georgetown at Notre Dame:
The Fighting Irish enter the game with 43 straight wins at home, the longest streak in Division I after BYU's loss to Wake Forest. Georgetown has had recent success against Notre Dame, winning the past five meetings between the two teams.
Ohio State at Michigan State: The Spartans have won 25 straight home games, but Ohio State has won four of the past six meetings between the two schools. The Buckeyes have dropped three straight Big Ten road games dating back to last season.
Davidson at Duke: Stephen Curry and Davidson will try to end Duke's dominance at home against nonconference opponents as the Wildcats head to Cameron Indoor to face the Blue Devils. Duke has won 66 straight home games versus nonconference opponents, which is the longest such streak in Division I. Over the past 13 seasons, Davidson is 0-13 in true road games versus ranked opponents.
Gonzaga at Tennessee: While they've struggled on the road this season, the Volunteers will look to continue their success at home. Tennessee has won a school-record 37 straight home games and is a perfect 28-0 at home against nonconference opponents under Bruce Pearl. Gonzaga enters the game the losers of three straight and four of its past five. This is the first time the Bulldogs have lost three straight games since a four-game losing streak during the 2006-07 season.
-- ESPN Research
UNLV leaves Freedom Hall with W