Weekly Watch: Cal, MSU's Lucas take home honors
AP Photo/Al Goldis
Editor's note: This edition is for games played from Sunday, Jan. 4, through Saturday, Jan. 10.
Player of the Week: Kalin Lucas, So., G, Michigan State Spartans
By Andy Katz
ESPN.com
When Michigan State was struggling earlier in the season -- notably while Goran Suton was hurt -- Spartans coach Tom Izzo said if he needed a basket, he would look to Kalin Lucas. He said Lucas would be the go-to player for the Spartans. Well, it took a while, but Izzo is proving to be prophetic. When the Big Ten season opened, Lucas was the difference in a win at Minnesota, scoring 24 points. He poured in a solid 17 and dished out nine assists in another road win, this time over Northwestern.
Last week, Lucas was once again the difference, scoring 20 points in an efficient outing against Ohio State (6-of-8 from the field, 2-of-3 on 3s, 6-of-7 at the line). He then got to the line 10 times, converting nine, against Kansas, finishing with 22 points and five boards.
If Lucas can be a decision-maker, a decisive presence for the Spartans, then they have a chance to win the Big Ten and reach their ultimate goal: getting to Detroit.
The rest of the starting rotation this week: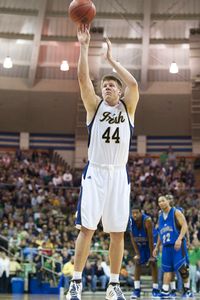 Icon SMI
Luke Harangody averaged 30.5 points per game in Notre Dame's two wins last week.
2. Luke Harangody, Jr., F, Notre Dame
Harangody again asserted himself when the Irish needed him most. Coming off a loss to St. John's, Harangody dominated Georgetown with 31 points and 11 boards in 33 minutes in a six-point win. He then torched Seton Hall with 30 points and 16 boards, including a 14-of-16 effort at the free throw line. Harangody hasn't scored fewer than 20 points since Notre Dame lost to North Carolina on Nov. 26. Harangody is now the favorite to repeat as Big East player of the year and should be in the conversation with Blake Griffin (Oklahoma), Tyler Hansbrough (North Carolina), Stephen Curry (Davidson) and James Harden (Arizona State) for national player of the year.
3. Ahmad Nivins, Sr., F, Saint Joseph's
Nivins had a monster performance in the Hawks' triple-overtime win over Rhode Island. He played 54 minutes, scored 28 points, grabbed 20 boards, blocked 3 shots and got to the line 18 times, converting 10. Nivins has to carry this squad and he certainly did against the Rams.
4. Patrick Christopher, Jr., G, Cal
Christopher scored 27 points, made four 3s, sank 7-of-8 from the line and grabbed 11 boards in the Bears' triple-overtime win at Washington. Christopher poured in 22 in the win at Washington State and on Jan. 4, he scored 20 in a home win over Arizona State.
5. Gerald Henderson, Jr., G, Duke
It's no secret Henderson can be the difference for Duke. When he plays above the rim and makes shots -- he did both against Florida State -- the Blue Devils are that much tougher to beat. Henderson scored 25 points, made 3 of 4 3s, grabbed 5 boards and had 3 steals in a win in Tallahassee.
Team of the Week: California Golden Bears
By Andy Katz
ESPN.com
Last week
: won versus Arizona State 81-71; won at Washington State 57-50; won at Washington 88-85 in 3OTs.
If coach of the year were a midseason award, Mike Montgomery would get the honor. The former Stanford and Golden State Warriors coach is doing one of his best coaching jobs ever and has the Bears in position to legitimately challenge for the Pac-10 title.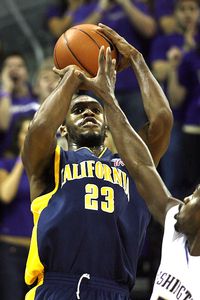 AP Photo/Joe Nicholson
Patrick Christopher scored 20, 22 and 20 in Cal's three wins last week.
The Bears swept through the Washington schools in impressive fashion, holding off Washington State in Pullman and then outlasting the Huskies in triple-overtime. The Bears have won nine straight games, their best run since the 1959-60 team won 19 straight en route to going 28-2 and reaching the title game against Ohio State.
Cal simply finds ways to win games. Its perimeter shooting is outstanding and its guard play is as solid as anyone's in the country, with Jerome Randle and Patrick Christopher enjoying a renaissance under Montgomery.
The Bears started out Pac-10 play with a home sweep of Arizona and Arizona State, and then the question was: What will Cal do on the road, especially at Washington? Well, Cal won both games. Next up is Montgomery's return to Stanford on Saturday. The rivalry is raw for tons of fans, but those who know Montgomery best should applaud the job he has done reviving the Bears, even if they are the Cardinal's most contested rival.
Week to remember
By Andy Katz
ESPN.com
TCU
: Jim Christian is off to a fantastic start with the Horned Frogs. All Christian needed after leaving Kent State was a chance to prove himself. He's doing that so far in Fort Worth, with wins over Texas Tech on the road and against UNLV at home for an 11-5 (2-0 Mountain West) start.
Louisville: The Cards had quite a week, beating Kentucky on a buzzer-beater Jan. 4, knocking off South Florida on the road and then taking down Villanova in the final few seconds by holding off a Wildcats rally.
Gonzaga: The Zags reasserted themselves in the national picture with an overtime road win at Tennessee. Then, the Bulldogs reasserted themselves as the team to beat in the WCC by dominating from the opening tip in a convincing win over Portland.
Duke: The Blue Devils are looking every bit like a No. 1 seed at this juncture. Duke crushed Virginia Tech, outdistanced Davidson and then pulled away from Florida State on the road.
Marquette: The Golden Eagles haven't missed a beat under Buzz Williams. Marquette is off to a 4-0 start in the Big East. Last week, Marquette won at Rutgers and crushed West Virginia by 22, one of the most impressive wins in the league so far.
Mississippi State: The Bulldogs easily beat Western Kentucky at home and then stunned Arkansas by 14 to open the SEC West season and signal that the Bulldogs are a player to win the division.
Connecticut: The Huskies are in the midst of a three-game road swing. So far, the Huskies have been up to the challenge, winning at West Virginia and Cincinnati.
San Diego State: The Aztecs are on a roll, winners of five in a row. They are off to a 2-0 start in the league and are coming off an impressive home win over Utah.
Program-changing weeks?
By Andy Katz
ESPN.com
Oregon State
: Craig Robinson's Beavers snapped a 21-game (23 if you include conference tournament games) Pac-10 losing streak with a home win over USC. The Beavers then lost handily on the road at each of the Arizona schools. But the win over USC gave the Beavers confidence and signaled that at least the program is moving forward. Remember, Oregon State didn't win a Pac-10 game last season.
Harvard: The Crimson avoided a disastrous end to a momentous week. Harvard beat BC, behind Jeremy Lin's 27 points, earlier in the week for its first win against a ranked opponent. But then the Crimson needed an Oliver McNally 12-foot shot with 12 seconds left to beat two-win Dartmouth 63-62 in Hanover, N.H.
Morgan State: Todd Bozeman has to have a lot of fight in him to resurrect his coaching career. He's doing that now in the MEAC, and Morgan State's win at Maryland is the first step -- that win gives the program immense credibility in the D.C.-Baltimore area. Winning the MEAC tourney for an NCAA bid would do even more for the program.
Viewer's Guide
(All times ET)
Monday:
7 p.m.: Notre Dame at Louisville (ESPN)
9 p.m.: Texas at Oklahoma (ESPN)
Wednesday:
7:30 p.m.: Syracuse at Georgetown (ESPN2)
Saturday:
Noon: Notre Dame at Syracuse (ESPN)
1:30 p.m.: Georgetown at Duke (CBS)
3:30 p.m.: Wake Forest at Clemson (ABC)
3:45 p.m.: Arizona State at UCLA (CBS)
6 p.m.: Pitt at Louisville (ESPN)
Louisville edges Villanova
Still cruising
George Mason and Northeastern
: The CAA's two undefeated teams are headed for a showdown Jan. 21 at Northeastern. Mason beat Old Dominion and won at Towson last week to remain unbeaten in league play at 5-0, while Northeastern won at Georgia State and beat Towson at home to also improve to 5-0.
Butler: Once again, the Bulldogs control the Horizon League -- they're off to a 5-0 start in the league, and are 14-1 overall.
Utah State: The Aggies are 15-1 overall and 3-0 in the WAC, after winning on the road at Louisiana Tech and New Mexico State.
Davidson: The Wildcats couldn't beat Duke, but they can beat everyone in the Southern Conference. Davidson is 4-0 in the league after beating The Citadel on the road behind Stephen Curry's 32 points.
-- Andy Katz, ESPN.com
Duke handles Florida State
Ten places to be this week
Norman, Okla., Monday
: Texas and Oklahoma play the first of two games this season. These are the two best teams in the Big 12 and the league's only two Final Four contenders.
Louisville, Ky., Monday: The Cardinals seem to have their groove going again and Louisville plays host to a hot Notre Dame squad on the first of what should be many highly competitive Big Mondays.
Provo, Utah, Tuesday: Suddenly, TCU-BYU is an intriguing game after the Horned Frogs knocked off UNLV. TCU has to be taken seriously now in the MWC.
Washington, Wednesday: Syracuse is rolling, but Georgetown needs this win so it doesn't drop too far behind in the Big East title chase.
Louisville, Ky., Saturday: The monster homestand continues for the Cards, with top-ranked Pitt in town.
Durham, N.C., Saturday: When has Georgetown-Duke not been an anticipated game?
Clemson, S.C., Saturday: Wake Forest is in for a wild week with a home game against North Carolina on Sunday night, a road game at BC on Wednesday and then a trip to Clemson on Saturday.
Westwood, Calif., Saturday: Cal may have a say in the Pac-10 title chase, but the game between Arizona State and UCLA at Pauley Pavilion is still a matchup of the two projected title contenders.
Knoxville, Tenn., Saturday: South Carolina comes to Tennessee looking to prove the Gamecocks are a real player in the race.
East Lansing, Mich., Saturday: Illinois goes to Michigan State in a true test for the Illini's Big Ten title chances.
-- Andy Katz, ESPN.com
Tennessee holds off Georgia
Oddest week yet
Boston College
: It's hard to describe the Eagles' week. BC started off with a stunning road win over North Carolina. Then a poor mental effort led to a home loss to Harvard. And then the Eagles couldn't keep Miami off the glass and lost to the Hurricanes, too.
-- Andy Katz, ESPN.com
Michigan State tops Kansas
Back to reality?
Arkansas
: The Hogs were the toast of the SEC after beating Oklahoma and Texas at home and looked like they might be the only ranked team in the league. But then Mississippi State came into Bud Walton Arena and sent a strong message to the Razorbacks that the division title must be earned.
Illinois State: The Redbirds were one of the last unbeaten teams in the country, but now Illinois State is 3-2 in the Missouri Valley Conference after dropping consecutive road games at Bradley and in overtime at Indiana State.
-- Andy Katz, ESPN.com
Clemson stays unbeaten
Big 12 snapshot
Nebraska, Oklahoma State, Texas A&M and Missouri: Missouri and Texas A&M were supposed to be more likely tournament teams than Nebraska and Oklahoma State. It's just one road game, but the conference season started and Missouri lost at Nebraska and A&M lost at Oklahoma State -- making it clear that nothing will be easy on the road in this league. Don't be surprised to see a muddled picture in the Big 12, rather than clear separation. -- Andy Katz, ESPN.com