Weekly Watch: A surprise (Oregon State) and a staple (Blake Griffin)
J.P. Wilson/Icon SMI
Editor's note: This edition is for games played from Sunday, Jan. 18 through Saturday, Jan. 24.
Player of the Week: Blake Griffin, So., F, Oklahoma
Blake Griffin is starting to create distance in the player of the year race. He sprained his left ankle during the Sooners' 95-76 win over Baylor on Saturday, but it didn't seem to bother him much. Griffin finished with 20 points, 17 boards and four assists, and he shot 8-of-10 from the free-throw line. On Wednesday, Griffin poured in 27 points and 18 rebounds in an efficient 11-of-16 performance from the floor as Oklahoma beat Nebraska 72-61.
Griffin has had 16 double-doubles this season and is becoming a virtual lock to score and rebound in double figures. In fact, Griffin has piled up nine games with at least 20 points and 15 rebounds so far this season. How good is that? He already has tied Paul Millsap (who scored 20 points and 15 rebounds nine times for Louisiana Tech during the 2005-06 season) for the most such performances in the past dozen years of college basketball. Not many coaches can count on such a lofty performance every game.
The rest of the starting rotation this week:
Roeland Schaftenaar, Jr., F, Oregon State: Schaftenaar is perfect for head coach Craig Robinson's Princeton-style system. He's 6-foot-11 and has no problem playing a point-forward position at the top of the circle to get the offense going. He averaged 4.6 points a game last season and is averaging 7.9 this season. But he shone this past weekend in the Bay Area. Schaftenaar scored 22 points in the Beavers' win at Cal, making all four 3s he attempted. He scored 18 in the win at Stanford, converting eight of 11 shots. If he can continue this performance, the Beavers might not be out of tournament contention yet.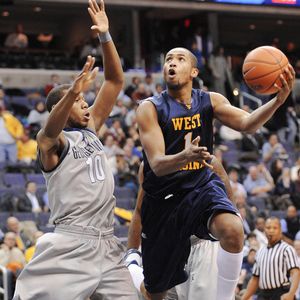 AP Photo/Nick Wass
Da'Sean Butler scored 27 points on 11-of-18 shooting in West Virginia's blowout of Georgetown.
Da'Sean Butler
, Jr., F, West Virginia: Butler was sensational in the Mountaineers' 75-58 win at Georgetown on Wednesday. Butler scored 27 points, made 11 of 18 shots (four of nine 3s) and grabbed eight boards in the shockingly easy win for West Virginia. Beating Georgetown wasn't the surprise, but the margin of victory was a stunner. WVU owns two of the more shocking margins of victory for a road team this season after beating Ohio State by 28 points and Georgetown by 17.
Stephen Curry, Jr., G, Davidson: Southern Conference teams can't touch Curry. He scored 33 points in a win over Wofford and 30 in a win over Furman this past week. He made 13 treys in the two games, but just as impressive was his assist-to-turnover ratio. He had 12 assists and only two turnovers in the two games. Curry also made five steals in the win over Furman.
Wayne Ellington, Jr., G, North Carolina: The reason the Tar Heels are suddenly looking like a title favorite again is Ellington. A week ago, he scored 23 points and made seven 3s in a rout over Miami. Then, in the Tar Heels' lone game this week, Ellington scored 25 points in a 24-point rout of Clemson. He was an efficient 9-of-15 from the field (5-of-6 on free throws) with seven assists.
Team of the Week: Oregon State Beavers
Last week
: Won at Cal 69-65; won at Stanford 77-62.
Craig Robinson scheduled a home game against Cal State Bakersfield for Monday night because he'd assumed the Beavers would need some confidence going into Saturday's Civil War matchup against Oregon in Corvallis.
Robinson had had no idea the Beavers would be one of the hottest teams in the Pac-10 after an improbable road sweep of Cal and Stanford. He'd had no clue the Beavers would have three Pac-10 victories, including a home win over USC. That's one more conference win than Arizona, three more than winless rival Oregon, and as many as Stanford and Washington State.
Why would he? Oregon State went 0-18 in the Pac-10 last season, the first team to go winless in that league since it expanded to 10 teams in the 1970s. The Beavers lost three scholarship players from last season's team -- Marcel Jones, C.J. Giles and Sean Carter -- and replaced them with one redshirt and three walk-ons, including the rugged Daniel Deane, who came up with big buckets against the Cardinal on Saturday night.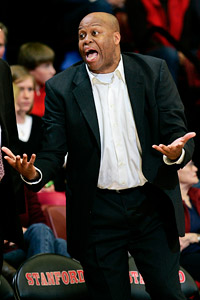 AP Photo/Paul Sakuma
As if seeing his brother-in-law Barack Obama sworn in as president wasn't enough, Craig Robinson finished the week with a Bay Area sweep.
Eleven players returned from a 6-24 team that ended last season on a 20-game losing streak and endured a midseason coaching change from Jay John to Kevin Mouton and a feeling of hopelessness around the program.
So let's face it: Sweeping the Bay Area teams was flat-out improbable for the Beavers. It's the first time the school has done it since the 1992-93 season, which also was the last time Oregon State had won at Stanford. OSU was 5-13 in the Pac-10 during the 2005-06 season, which was the last time the Beavers won two road games in the same season and the last time they won at Cal. Oh, and the Beavers were 3-15 in 2006-07, which means the Beavers have won as many league games by Jan. 24 as they had in the past two seasons combined.
Oregon State's Calvin Haynes said in Sunday's Oregonian that Robinson could have jettisoned players from last season's team, but he didn't take that route. He stuck with them, and it's paying off. Things such as the Princeton principles and the 1-3-1 zone defense are working well for the Beavers and flustering teams such as Cal and Stanford. We'll see whether their success continues, but the Beavers should have a better home-court advantage at Gill Coliseum, one of the better old barns in college basketball, with upcoming games against Oregon, Arizona and Arizona State. Could the Beavers (8-10) win these games, reach a 6-5 record in the Pac-10 and be better than .500 overall? Remember, this is the same team that was trying to learn how to win early in the season after losing at Howard and to Yale and Montana State at home.
This also is the same team that had to deal with some distractions this week when its head coach was off in Washington, D.C., for two days watching his brother-in-law become the 44th president. Quite frankly, this has been one phenomenal week for Robinson's family, the Beavers and the ultimate direction of the program.
Rolling
Washington:
The Huskies swept the L.A. schools and moved to 6-1, alone atop the Pac-10. If they had closed out Cal instead of falling flat in triple overtime, the Huskies would be undefeated in league play. Washington should be ranked and truthfully deserves to be the highest-ranked Pac-10 team this week.
Duke: The Blue Devils are making a overwhelming case for a No. 1 seed with the way they are pounding opponents. Duke's defense has been sensational, its offense balanced and its focus tremendously precise. Next up is Wake Forest, and even if the Blue Devils lose, that shouldn't derail their quest for a top seed.
Connecticut: The Huskies reasserted themselves as a team to beat for the Big East title with the road win at Notre Dame. Connecticut still has to play Louisville, Pitt and Marquette, and it hasn't yet played one of the supposed contenders for the title in the league. The road win two weeks ago at West Virginia is looking more impressive, too.
Kentucky: OK, who had the Wildcats as the best team in the SEC after the November loss to VMI? That seems so last year. Kentucky continues to roll in the SEC with the best inside-outside combination of Jodie Meeks and Patrick Patterson.
Butler: Just try to put 60 points on the Bulldogs. Try. Good luck. Butler's defense will determine whether the Bulldogs become a Sweet 16 team.
Marquette: The Golden Eagles continue to roll through their schedule. It will get tougher, though, beginning Monday night at Notre Dame.
Illinois: Say hello to the newest Big Ten contender. Bruce Weber is putting together another Big Ten Coach of the Year résumé. He has found hidden gems such as Mike Davis and has Assembly Hall rocking once again.
Xavier: The Musketeers did the Atlantic 10 proud by outdistancing LSU on Saturday night in Baton Rouge. Xavier's shoulders might grow tired carrying the conference, but the Musketeers may be the A-10's only NCAA tournament representative if no one can beat them in the conference tournament.
Signature wins
West Virginia:
The Mountaineers slammed Ohio State on the road for a signature nonconference win. But this team needed a win it could stand up and shout about in the Big East. The Mountaineers got one at Georgetown.
Memphis: The Tigers were almost forgotten for a few weeks until it was time to play a high-profile nonconference game on national television again. Memphis earned the win by a deuce over rival Tennessee. That will speak volumes for this team's confidence, and ultimately its seeding, come Selection Sunday.
Virginia Tech: Early on, the Hokies were as hard-luck on last possessions as any team in the country. They lost to Xavier on a buzzer-beater in Puerto Rico, to Wisconsin on a last possession at home and the same at Georgia. That's why Tech had to pull off a shocking win, such as the one at Wake Forest, if it was to get back into the NCAA-bid conversation.
Northwestern: The Wildcats beat a ranked Minnesota team at home. But nothing compares to knocking off Michigan State in East Lansing. That upset might not be enough to get the Wildcats into the NCAA tournament on their own, but it sent a message to the Wildcats' faithful that coach Bill Carmody's methods work, given the right players and sufficient time.
Signature performance in a losing cause
Craig Brackins, Iowa State:
Against Kansas on Saturday, Brackins was nearly unstoppable. He scored 42 points and made 11 of 19 shots, three of five 3-pointers and 17 of 21 free throws. He also grabbed 14 boards in the Cyclones' 82-67 loss. Brackins is quietly having a great season in Ames. The sophomore is averaging 19.3 points per game and 9.1 rebounds per game.
Muddled mess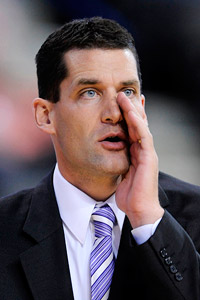 AP Photo/Paul Beaty
Coach Ben Jacobson has surprising Northern Iowa in first place by two games in the Missouri Valley Conference.
Missouri Valley:
Northern Iowa is the class of the MVC at 7-1, holding a two-game lead over Illinois State and Bradley and a three-game lead over Creighton, Drake and Evansville. Once again, this will be a competitive race down to the final regular-season weekend. That's great for balance and interest, but it's hard to tell whether the competition will hurt the Valley's multiple-bid chances.
Mountain West: The competition is great in the MWC. If UNLV, TCU, Brigham Young, San Diego State, Utah or New Mexico wins the league, no one will be shocked. All those teams have two conference losses. But the reality is, having this balanced a league won't bode well for the prospect of landing multiple bids in the tournament. The teams need to separate themselves soon.
SEC: Mississippi State and LSU are looking like the two best teams in the West. But neither has a quality nonconference résumé. Kentucky is the only undefeated team in the East. But once again, the Wildcats didn't stand out in nonconference play, save for a win over West Virginia in Las Vegas. How the selection committee breaks down the best teams in the SEC that don't have a great overall body of work will be one of the tougher tests for the 10-member crew.
Viewer's guide
(All times Eastern)
Monday:
7 p.m.: Marquette at Notre Dame (ESPN)
9 p.m.: Oklahoma at Oklahoma State (ESPN)

Tuesday:
9 p.m.: Northeastern at VCU (ESPNU)
Wednesday:
7 p.m.: Duke at Wake Forest (ESPN)
7 p.m.: Pittsburgh at Villanova (ESPNU)

Thursday:
9 p.m.: Illinois at Minnesota (Big Ten Network)
11 p.m.: Saint Mary's at Gonzaga (ESPN2)

Saturday:
Noon: West Virginia at Louisville (ESPN360)
5:30 p.m.: Washington at Arizona State (FSN)

• College Basketball Schedule | ESPN Full Court
• College GameDay | ESPNU Campus Connection
OU beats Baylor for 29th straight time
Reeling
Wisconsin:
The Badgers have lost four straight games in the Big Ten, their longest winless streak in league play since 1998. The magic isn't completely gone from Bo Ryan's crew in Madison. But the team will have to really grind it out in the next seven weeks to make the tournament.
Texas A&M: The goodwill from the Aggies' solid nonconference slate that included wins over Arizona, Alabama and LSU is gone after a 1-4 start in the Big 12.
Maryland: Remember, the Terrapins beat Michigan State in Orlando, Fla., and Michigan at home. But the selection committee would have a hard time forgetting how Georgetown throttled this club, as well as the embarrassing beatdown Duke gave the Terps on Saturday.
Beating up on the bottom
Providence:
The Friars are off to a 5-2 start in the Big East. That's great news for PC fans. But a word of caution: None of the five wins has come against a likely NCAA tourney team. Now will come the test. Providence will play eight of its final 11 games against projected NCAA tournament teams. The Friars can't just beat the three remaining non-NCAA tournament teams in the Big East and expect to earn a bid.
Missouri: The Tigers are much like the Friars. Missouri is off to a 4-1 start in the Big 12. But the four wins came against teams that aren't likely to be in the NCAA tournament. For Missouri to be taken seriously, it must beat tourney-likely Big 12 teams. But its schedule isn't littered with them, thanks to the league's unbalanced scheduling. Of Mizzou's final 11 games, six are against likely NCAA tournament teams.
UConn ends nation's longest home win streak
Baffling
Harvard's loss to Dartmouth:
Boston College beat North Carolina, then lost some of the luster when it lost to Harvard. The Crimson beat BC for its first-ever win over a nationally ranked team, received national attention … and then two weeks later lost to Dartmouth at home by nine points in overtime. Harvard has earned lasting legacy for its win over BC, but ultimately, its goal is to win the Ivy League. Losing to Dartmouth derails the Crimson's chances of catching Cornell.
Arkansas at home: Suddenly, Bud Walton Arena isn't as daunting -- at least for SEC teams. Arkansas beat Texas and Oklahoma at home to earn national recognition, but the Hogs are 0-4 in the SEC, including home losses to Mississippi State and Auburn. Saturday's stunning 73-51 win by the Tigers was the Razorbacks' most lopsided loss ever at Bud Walton.
Overtime pay: Boston University's John Holland: Holland is clearly in shape. The sophomore wing played all 60 minutes in BU's quadruple-overtime win over Stony Brook on Monday, then 44 of a possible 50 minutes in the double-overtime win over UMBC on Thursday. In those two games, Holland was a combined 14-of-32 from the field, 11-of-13 at the free-throw line and 8-of-19 on 3s. He contributed 47 points, 16 boards, five assists, five turnovers and two steals, and committed five total fouls.
Pass of the week
South Carolina's
Zam Fredrick
converted
a layup as time expired to beat Florida 70-69
on Wednesday. But Fredrick wouldn't have had the opportunity if not for a picture-perfect pass from teammate
Mike Holmes
. Holmes took a missed free throw by
Chandler Parsons
, grabbed the rebound and, in one motion with his left hand, threw a bullet pass on the run to Fredrick for the fast-break, buzzer-beating layup. Fredrick had missed what would've been a tying free throw with 4.7 seconds left before making the layup.
Bozo of the week
Aubrey Coleman, Houston:
This clown should be suspended by Houston coach Tom Penders. Coleman's purposeful stomp on Chase Budinger's face during the Houston-Arizona game Saturday night was as classless as it gets. Coleman should check his behavior at the door and not return until he talks over his issues.
If ever there was a time to root for a player to come back and win a game, it was Budinger on Saturday night. He finished with 15 points, and teammate Jordan Hill had a monster performance with 30 points and 18 boards in the Wildcats' improbable comeback. Arizona rallied from eight points down in the final one minute and 30 seconds to force overtime, then eventually won 96-90. Coleman was ejected after the flagrant foul with 9:51 left and was called for a charge. But that shouldn't be his only punishment. Coleman should be given a childlike timeout for his behavior.
Best team no one knows
Utah State:
The Aggies beat Hawaii late Saturday night in Honolulu to move to 19-1 overall and 7-0 in the WAC. Utah State is holding teams to an average of 59.4 points a game, hasn't lost at home (11-0) and is 8-0 in road games. Its only loss was by five points to BYU in Salt Lake City.
But how many likely NCAA teams have the Aggies beaten so far? The answer, quite possibly, is zero -- and that's a fair point. Still, Utah State shouldn't be taken lightly. It is doing something right defensively and has plenty of scorers in Gary Wilkinson (who's averaging 17 ppg), Jared Quayle (12.6) and Tai Wesley (12.5).
Memphis gets revenge on rival
Upcoming showdowns
Colonial:
George Mason's chances of winning the CAA took a major hit with
John Vaughan
's concussion. The Patriots weren't able to complete a comeback against Northeastern on the road, then couldn't win at VCU without him. George Mason's losses help set up a showdown between one-loss Virginia Commonwealth and one-loss Northeastern on Tuesday in Richmond, after the Huskies won for the first time ever at Old Dominion on Saturday. The Colonial Athletic Association really should look at tiered scheduling. VCU, Mason and NU were supposed to be three of the best teams in the league. Yet, VCU faces both George Mason and NU at home this season, a clear advantage for the Rams. NU and Mason play a home-and-home series.
West Coast: The WCC plays a straight round-robin schedule. That's good news for a true champ as the two best teams, Gonzaga and Saint Mary's, meet twice. This rivalry helps both programs' profiles as they prepare for the selection committee to review their strength of schedule, and it aids in getting both of them ready for the NCAA tournament.
Seven places to be this week
South Bend, Ind., Monday:
Marquette is heading into Notre Dame undefeated in the Big East. The Irish are smarting from their first home loss in years. A Golden Eagles win would speak volumes about this squad.
Richmond, Va., Tuesday: Northeastern will play at VCU in a first-place showdown in the CAA. This game will match two of the best guards in the league in NU's Matt Janning and VCU's Eric Maynor.
Winston-Salem, N.C., Wednesday: Soon-to-be No. 1 Duke will play at soon-to-be-former No. 1 Wake Forest. If the atmosphere at this game is anything like that of the North Carolina-Wake Forest game on Jan. 11 -- and there's no reason to doubt it will -- the audience will be in for quite a treat.
Spokane, Wash., Thursday: A first-place showdown in the West Coast Conference will pit Saint Mary's at Gonzaga. The Gaels live for playing the Bulldogs. This should be one of the better conference games in all of college hoops this season.
Westwood, Calif., Thursday: The first of two meetings between Cal and UCLA. The Bruins are smarting from a road loss to Washington, while the Bears will be tested to make 3s against the Bruins' D.
Minneapolis, Thursday: In the preseason, it would have been far-fetched to project a late January game between Illinois and Minnesota as having Big Ten title ramifications.
Tempe, Ariz., Saturday: First-place Washington will be the hunted as it travels to play Arizona State after a Thursday game at Arizona. This trip surely will test the Huskies' stamina as a Pac-10 title contender.