College hoops' underrated and overlooked
RALEIGH, N.C. -- North Carolina State senior Scott Wood fondly remembers the first time he encountered teammate/classmate Richard Howell.
"He was the first player I met the first day I came on campus," Wood said last week. "My parents took us out to Pizza Hut, and the first thing I said when we got back was that he was the quietest kid I've ever been around. He wouldn't say nothin'.
"And now," he added, laughing, "you can't get him to hardly shut up."
It's sort of like the progression of Howell's game.
[+] Enlarge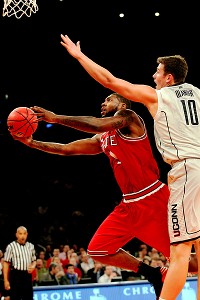 Brad Penner/USA TODAY SportsRichard Howell has developed into another threat for NC State.
After three rather quiet seasons, the 6-foot-8 wide body from Marietta, Ga. -- aka, the "other guy" on a team with more recognizable names such as Wood, C.J. Leslie and Lorenzo Brown -- has made for a loud presence during the No. 23 Wolfpack's eight-game winning streak.
Saturday's ACC-season-opening win at Boston College -- a down-to-the-wire affair punctuated by Wood's 12 points in the final four minutes and freshman Rodney Purvis' season-best 19 points -- also marked Howell's seventh double-double during that time span and his eighth of the season. He's also shooting a sizzling 61.4 percent and averaging 13.2 points.
Wood calls Howell the team's "unsung hero" for all that he contributes -- without the spotlight.
"Just about every area he's gotten better,'' coach Mark Gottfried said last week. "Daily work habits, concentration level, obviously he's rebounding well. He's scoring a little bit more, he's providing a little more leadership for our team. He's just doing a lot more things.
"And he's a senior, he steps up. I've always felt like seniors, they approach things a little differently. They start to realize that this is it, no matter what, this is their last year. Things start to matter a little more than sometimes they do when they're younger."
Howell admits he began his final season with the Wolfpack more focused than ever. After helping State to a Sweet 16 berth last year, he said he realized how much further his team could go with the return of four starters and the addition of some highly touted freshmen.
So he spent the offseason on a strict workout plan, hitting the weight room while giving up sweets in order to shave about 15 pounds off his now-250-pound frame. He worked on his conditioning, knowing that more energy could keep him from getting into the foul trouble of years past. And he focused on his demeanor and body language, knowing that if he did ever get into foul trouble, he didn't want to show his frustration on the bench, as he did in years past.
But the biggest -- and most important -- change in Howell may have occurred in mid-November, following State's 20-point loss to Oklahoma State in the Puerto Rico Tip-Off.
Frustrated by what he saw when he watched the game film -- "a lack of intensity, a lack of leadership, a lack of having somebody on our team saying, 'We've got to play better, we've got to do this, and we need to stick together,'" he said -- the formerly reticent Howell approached Gottfried and made this promise:
"I told Coach, after that game, that was the last time he'd see us play like that,'' Howell said. "I'm going to make sure my team is ready to go from now on; that's what I've been doing, and I'm going to continue to do that."
It was a bold proclamation from a guy who, dating back to his days of playing football in middle school, preferred to have his teammates in the spotlight, preferred to "just be in the back and chill."
"You can feel how much he wants it this year,'' Brown said after a recent victory. "He's really been a leader."
Indeed, since that loss to the Cowboys (which pushed NCSU out of the top 10), the Wolfpack have lost only once, to No. 3 Michigan in a game in which State rallied at the end.
Howell refuses to take credit for his team's success and rarely gets the attention, what with Brown topping the league in assists, Leslie leading the team in scoring, the sharpshooting Wood making 43.2 percent of his 3-pointers and T.J. Warren (another one of those "other guys" at the beginning of the season) making an early case for ACC Rookie of the Year.
But Howell also doesn't care whether his name is in the national headlines. Especially if his team is winning.
"Since I've been here, you hear [about] C.J., you hear Lorenzo, you hear Scott Wood and all of that, and I feel like ... it's great, just to have those players on my team, and for people to applaud them, I like that. And whether it's me or my teammates, I just want someone on my team getting that type of praise."
Some of the other "other guys" who have emerged around the nation this season:
Travis Releford, Kansas Jayhawks
When defense is your calling card -- as was Releford's last year -- you tend to get somewhat overshadowed. And although teammates Ben McLemore and Jeff Withey get most of the headlines, Releford has been just as key to the sixth-ranked Jayhawks' 11-1 start.
Not only is he still defending, the senior guard has boosted his scoring to 13.3 PPG this season -- third-best on the team and about five points better than last season -- and he's shooting 61.7 percent. He always had the ability to score, but now he's doing it consistently -- notching double-digit outings in his past nine games after beginning the season in a shooting slump.
[+] Enlarge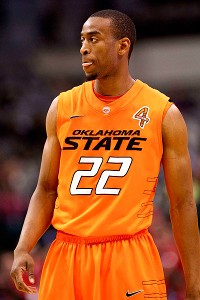 Kevin Jairaj/US PresswireMarkel Brown deserves more love for leading OSU in scoring.
Markel Brown, Oklahoma State Cowboys
Le'Bryan Nash, last season's Big 12 Freshman of the Year, is one of the Cowboys' top scorers. So is Marcus Smart, a candidate this season. But after Saturday's 19-point performance during the Cowboys' loss to No. 25 Kansas State, Brown -- a junior guard who bided his time during his first two seasons -- pushed ahead of both. He's now averaging a team-leading 14.5 points and has become a key cog in this season's 10-3 start.
The difference in him this season: consistency. After posting 14 double-digit scoring games as a sophomore, he's posted 13 already this season (his only single-digit game occurred against NC State). And coach Travis Ford has said he wants Brown, who was averaging 14.2 points prior to Saturday's loss, to shoot even more.
Cashmere Wright, Cincinnati Bearcats
The Bearcats boast one of nation's best scorers in Sean Kilpatrick. But also key to No. 14 Cincinnati's 13-2 start has been Wright, who had increased his scoring average from 10.9 PPG last season to 14.9 PPG -- while still dishing out 3.3 assists per outing.
"Last year I was more of a facilitator," Wright told ESPN.com's Jason King last week, before the Bearcats lost by a point to St. John's on Saturday. "This year coach [Mick Cronin] told me I've got the green light to score. He just told me to be aggressive. It did wonders for my confidence, especially since I know deep down that I can score. It gives me the freedom to go out and be me."
The 6-11 forward doesn't always get the notoriety of teammates Mason Plumlee (a national player of the year candidate), Seth Curry (starring despite a lingering leg injury) or freshman starter Rasheed Sulaimon. But he's been a positive piece to the Devils' undefeated start and No. 1 ranking.
On offense, he both knocks down 3-pointers and crashes the boards (as shown during his 22-point performance against Wake Forest on Saturday). On the other end of the floor, he teams with Plumlee as the last line of defense -- a skill he focused on during the offseason.
"God gave me some height and ability but didn't necessarily give me lateral quickness or the little things that make a talented defender,'' he told reporters last week. "But I've worked my butt off, and I think I'm pretty good at it."
Observations from Saturday's games
By Eamonn Brennan
ESPN.com
[+] Enlarge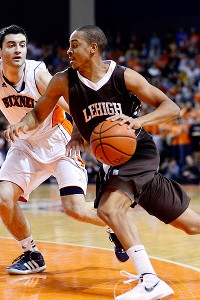 AP Photo/Ralph WilsonLosing C.J. McCollum puts a dent into Lehigh's Patriot League hopes.
C.J. McCollum's injury looks like a real bummer. Before we eulogize McCollum's season, it's important to note that we don't know exactly what injury caused him to watch Lehigh's near-miss 59-55 loss at Virginia Commonwealth from the bench, crutches in tow. During the game's broadcast, it looked an awful lot like McCollum said "I broke my foot" to a teammate. But that, revealing as it may be, is not an official doctor's diagnosis. After the game, Lehigh coach Brett Reed told reporters "there may be a break," but didn't want to say anything definitive until McCollum received more tests. In short, it really seems like McCollum broke his foot, but there's a chance that's not the case.
That uncertainty makes it hard to know whether McCollum is doomed to miss the rest of his senior season. It also makes it impossible to know how, or whether, his injury could affect his NBA draft status. Last season, McCollum exploded onto the national scene (and the NBA radar) with a sublime 30-point performance in No. 15-seed Lehigh's upset of Duke. He eschewed the NBA to return for his senior season -- his family didn't need the money, he wanted to get his degree, and he wanted to play his final season with his teammates. His performance has been just as good as last season -- at 25.7 points per game, McCollum entered Saturday as the nation's leading scorer -- and his draft status has only improved. He is widely considered a safe first-round pick (Chad Ford ranks him at No. 13).
All of which made it a huge shame to see him get injured, and disconcerting to wonder if that injury could play a role not only in his and Lehigh's season, but in McCollum's upcoming draft circuit. I don't know any college hoops fan, writer, analyst, player or coach (well, OK, maybe the Patriot League) that doesn't want to see McCollum on the floor this season. As Dana tweeted earlier today: fingers crossed.
Ohio State is worrying me. Don't get me wrong: Illinois was impressive Saturday -- Brandon Paul & Co. are looking as consistent and self-assured as ever -- and, yes, it is going to be hard to win on the road in the Big Ten this season. But Ohio State's offense just laid an absolute egg in the 74-55 loss. Actually, check that. That's an insult to eggs. (Eggs are delicious!)
No, Ohio State's offensive performance was worrying because Illinois' defense really hasn't been all that good this season. When the Illini have beaten good teams, they've typically done so because they simply outshoot them on the offensive end. But the Buckeyes held Illinois to 8-of-27 from beyond the arc and still lost by 19. How? OSU went 4-of-19 from 3 and 20-of-60 from the field. That's one answer. The other answer is that even when the Buckeyes shoot it well, their lack of a reliable interior anchor (Amir Williams still isn't there) can make them look downright average.
"Arizona just wants it more." This is the kind of phrase you hear when a team wins a lot of close games. It is a phrase you might have heard about Arizona after it knocked off Florida and San Diego State, both one-possession victories decided in the final moments. But then you get the "Sabatino Chen Shot," and that whole thing about "wanting it more" and "making plays when they matter" goes out the window, because that was just plain referee-caused dumb luck.
So what do we make of the Wildcats' 60-57 home win over 8-6 Utah? I think we can safely say that Arizona, at least right now, has a nasty habit of playing down or up to its competition. Actually, I shouldn't even say "up," because Arizona is legitimately good, and the Wildcats didn't have to play "up" to beat Florida at home, or SDSU in Hawaii. But you don't want to be leaving teams like Utah -- losses: Sacramento State, SMU, Cal State Northridge and Arizona State -- chances to beat you in the final minute of games. Eventually, luck turns.
To read all of Eamonn's observations from Saturday's games, click here.
Team of the week: Saint Louis

The Billikens hammered New Mexico on New Year's Eve, a few days after the Lobos stunned Cincinnati on the road. The victory for SLU was a clear indicator that the Billikens are prepared to assume their role as a league favorite in the A-10.
The victory was a significant statement for SLU in its quest to chase the league title along with Butler, VCU and Temple. SLU has won eight in a row heading into its A-10 opener Thursday against UMass. The late Rick Majerus would be so proud in the way this team is playing, valuing the basketball and defending. Interim coach Jim Crews has SLU playing in Majerus' honor by holding true to his basketball virtues.
Five others worthy of mention
Minnesota: The Gophers had one of the most important regular-season victories under Tubby Smith with a win over Michigan State in their Big Ten home opener. It was a sign to the rest of the conference that the Gophers should be taken seriously.
Gonzaga: In their first true road game of the season, the Bulldogs won at Oklahoma State, then opened WCC play on the road with wins over Pepperdine and Santa Clara. The Zags continue to show they are a legit Final Four contender.
Marquette: The Golden Eagles had struggled to win key games outside of their rivalry home game against Wisconsin. That's why if Marquette had a chance to be a player in the Big East, it had to win its first two league games of the season. And it did, beating UConn in overtime and Georgetown -- both at home. Neither was a good-looking game, but Marquette made the right plays.
Kansas State: The Wildcats had to protect serve at home and did so by knocking off Oklahoma State. Second place behind Kansas will be wide open this season in the Big 12 , and Kansas State looks the part of a true contender for that spot.
Towson: Pat Skerry's crew finished 1-31 last season. Now, Towson has three wins in one week! The Tigers followed up an overtime road win at Oregon State with two road wins to start the CAA season -- at UNC Wilmington and against preseason favorite Drexel.
Upset prediction for this week

Oregon over Arizona, Thursday: I have no clue who will be favored in this game and wouldn't be surprised if the Ducks were given the advantage, even though the Wildcats rank higher in the Pac-12. Arizona has flirted with losing multiple times lately, and Oregon has the frontcourt size and length to be a problem for the Wildcats. The guards need to stop Arizona's penetration to have a shot at a win, but it's doable. Oregon has the potential to have an intimidating home court, and this game should provide the necessary motivation for the Ducks' faithful. An Oregon win would also put the Ducks in play as a real contender in the Pac-12 race.
-- Andy Katz
Editor's note: This edition is for games played from Sunday, Dec. 30, to Saturday, Jan. 5.
Three observations

1. No offense to Buzz Williams, but when I looked at Marquette's Big East schedule, I wouldn't have pegged the Golden Eagles to be 2-0 in league play with wins over Connecticut and Georgetown. But that's the scenario following Marquette's overtime victory against the Huskies on New Year's Day and Saturday's 49-48 squeaker against the Hoyas. Marquette lost its top two players (Jae Crowder and Darius Johnson-Odom) from last season's team and didn't really replace them with much. Before last week, its best win was against a mediocre Wisconsin squad. And who could forget that 33-point loss to Florida? As always, though, the Golden Eagles are playing great defense under Williams. Georgetown's 48 points were 18 below its season average of 66.

2. West Virginia has been the most disappointing team in the Big 12, but I didn't know the Mountaineers were this bad. WVU lost 67-57 to Oklahoma on Saturday. At 10-3, the unranked Sooners certainly aren't a terrible team. In fact, Lon Kruger's squad had already defeated West Virginia once this season. But the 77-70 victory on Nov. 25 occurred on a neutral court. Saturday's win came in Morgantown, where West Virginia supposedly has a huge home-court advantage. If Bob Huggins' team can't defeat a bottom-tier Big 12 squad on its own turf, who can it beat? The talent on West Virginia's roster may not be great, but there are some decent players. There's no way the Mountaineers should be losing home games like the one it dropped on Saturday.

3. Considering the way it's been manhandling its opponents, I was a little surprised at how VCU struggled against Lehigh on Saturday -- especially after Mountain Hawks guard C.J. McCollum left the game in the first half with a foot injury. The Rams still managed to win by four points (59-55) at home. VCU's previous four victories had come by an average of 35.8 points. But Shaka Smart's team shot just 36.1 percent against Lehigh and missed 22 of its 27 attempts from 3-point range. The Rams host Dayton on Wednesday.
-- Jason King
Three things I learned

1. It is going to be really hard to win on the road in the Big Ten. Indiana fans may have been a bit nonplussed by the Hoosiers' opening 69-65 road win at Iowa; it was a little too close for comfort, after all. But IU may look back on that win as one of the best of its regular season. That and Michigan's demolishing of a really bad, banged-up Northwestern on Thursday night are the only road wins in Big Ten play to date. Ohio State got a taste of how hard things will be with its loss at Illinois on Saturday.

2. You should pay attention to Bucknell. The Bison have been one of the nation's more under-the-radar mid-majors in recent seasons, led by one of the nation's more under-the-radar stars, forward Mike Muscala. Hard-core fans already knew how good both were, and NBA scouts have been taking a keen interest in Muscala since last season. But after Muscala's 25-point, 14-rebound, four-assist, two-block performance in a two-point loss at Missouri on Saturday, the rest of the country also knows by now.

3. Pittsburgh is confusing. I'll be honest: This was a weird one for me. I, and other tempo-free enthusiasts, have been screaming from the rooftops about how underrated Pittsburgh was all November and December, how its tempo-free stats said "elite" while the Panthers' ranking remained nonexistent. And then, of course, Pitt went 0-2 to start the Big East season, first with a loss at home to Cincinnati (understandable) and Saturday's loss at Rutgers (less so). So are the Panthers so underrated they're overrated? Vice versa? It makes my head spin. What I do know is that the Panthers should level out soon, and if they don't, I'll eat the appropriate amount of crow.
-- Eamonn Brennan
This week's starting five
The Starters
Phil Pressey (Missouri): The starting point guard for the No. 12 Tigers scored 26 points in his team's 66-64 win over Bucknell on Saturday. He struggled early but ultimately finished 10-for-22 from the field. He also recorded five assists and three rebounds.
Troy Daniels (VCU): The senior guard was a machine in a 109-58 win over East Tennessee State on Wednesday. Daniels connected on 11 of 20 3-pointers, an Atlantic 10 record, and scored 33 points while grabbing 10 rebounds. On Saturday, he mellowed a bit and finished with 11 points, four rebounds and an assist in VCU's 59-55 win over Lehigh.
Mike Muscala (Bucknell): The 6-foot-10 senior committed a costly turnover at the end of the loss at No. 12 Missouri on Saturday when he stepped out of bounds in the final seconds. But that did not take away from the spectacular effort (25 points, 14 rebounds, four assists and two blocks) that nearly led the Bison to an upset. He finished with 13 points, 11 rebounds, four assists and four blocks in a 72-56 win at Cornell on Wednesday.
Kelly Olynyk (Gonzaga): The 7-footer finished with 33 points, 10 rebounds, two blocks and one assist in an 81-74 win at Santa Clara on Saturday. He had 16 points in a 78-62 win at Pepperdine on Thursday. And he recorded 21 points and nine rebounds in a 69-68 victory at No. 22 Oklahoma State on Monday.
Solomon Hill (Arizona): It's been a great week for the senior forward. He had 19 points (6-for-7 shooting) and six rebounds in a 60-57 win over Utah on Saturday, and he had 15 points and eight rebounds in a 92-83 overtime victory over Colorado on Thursday.
The Bench
Brandon Paul (Illinois): He had 19 points, seven rebounds and three assists in a 74-55 win over No. 8 Ohio State on Saturday and 15 points (4-for-7 shooting), three rebounds and three assists in a 68-61 loss at Purdue on Wednesday.
Ryan Arcidiacono (Villanova): He recorded 32 points and two steals in a 98-86 win over St. John's on Wednesday.
D'Angelo Harrison (St. John's): He put up 15 points, seven rebounds and three assists in a 53-52 win at No. 14 Cincinnati on Saturday and 36 points, three rebounds and two steals in a 98-86 loss to Villanova on Wednesday.
Terone Johnson (Purdue): He had 25 points, nine rebounds and four assists in a 68-61 upset win over No. 11 Illinois on Wednesday and 11 points and four assists in an 84-61 loss at Michigan State on Saturday.
Stan Okoye (VMI): He had 39 points, three steals and eight rebounds in a 86-77 win at Presbyterian on Saturday and 21 points in a 110-54 victory over Shenandoah on Wednesday.
-- Myron Medcalf