ACC-Big Ten Challenge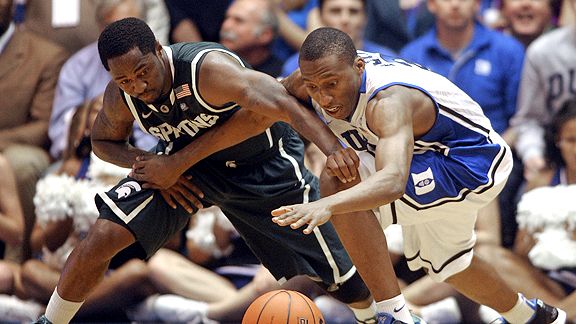 The ACC/Big Ten Challenge is a basketball tournament that matches teams from the Atlantic Coast and Big Ten conferences. The tournament began in 1999 and has aired every year on ESPN, which played a key role in its creation. The series features some of the best nonconference matchups of the season.
The ACC won the Challenge each of the first 10 seasons. The Big Ten followed that by winning three straight, before the conferences split the 12 games in 2012.
The ACC/Big Ten Challenge began in 1999 as a showcase for two of the top conferences in college basketball; in alternate years, the tournament is called the Big Ten/ACC Challenge. For the first six years of the Challenge, the ACC had only nine teams, so two Big Ten squads were omitted from the series every year. When the ACC expanded to 12 teams in 2005, one ACC team did not participate each year. Since Nebraska joined the Big Ten, beginning with the 2011-12 season, all 12 schools from each conference are playing in the Challenge.
When the ACC expands to 14 -- and eventually 15 -- schools, the conference will use the previous season's RPI to determine which schools participate, with the schools with the lowet RPI being left out.
ESPN holds the broadcast rights to all the games and played a large part in the tournament's creation. The network also worked with the ACC and Big Ten to extend the Challenge for an additional six years in 2005 (also when the series expanded).
The ACC won the first 10 editions of the Challenge, winning 62 of the 107 games played. The first four years of the Challenge were close, with the ACC winning 5-4 in 1999, 2000 and 2002 (the ACC won 5-3 in 2001 after one game was canceled at halftime because of poor court conditions).
The ACC's major domination began in 2003; the Big Ten won more than three games only once from 2003 to 2008. Its Challenge stronghold was finally broken in 2009, when the Big Ten won its first series, 6-5.
In 2005, North Carolina met Illinois in a rematch of the previous season's national championship game, with the Tar Heels winning both times. In 2008, UNC's matchup with Michigan State proved to be a preview of the national title game, with the Tar Heels again winning both meetings.
The series always is held the week after Thanksgiving and is hosted by the participating schools.
In 2007, the ACC/Big Ten Women's Challenge began. The ACC won the first four editions of that tournament before a tie in 2011.
TOP STORY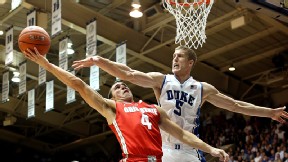 Another Challenge Met
Duke avenged last season's lopsided loss and added OSU to its early list of top-five wins this season. Recap »
2012 SCHEDULE
Nov. 27
Minnesota 77, Florida State 68
Watch
Replay
Nov. 27
Virginia Tech 95, Iowa 79
Nov. 27
Michigan 79, NC State 72
Watch
Replay
Nov. 27
Maryland 77, Northwestern 57
Watch
Replay
Nov. 27
Nebraska 79, Wake Forest 63
Nov. 27
Indiana 83, North Carolina 59
Watch
Replay
Nov. 28
Virginia 60, Wisconsin 54
Watch
Replay
Nov. 28
Purdue 73, Clemson 61
Nov. 28
Miami 67, Michigan State 59
Watch
Replay
Nov. 28
Illinois 75, Georgia Tech 62
Watch
Replay
Nov. 28
Boston College 73, Penn St. 61
Nov. 28
Duke 73, Ohio State 68
Watch
Replay
YEAR-BY-YEAR RESULTS
| | |
| --- | --- |
| 2012 | Big Ten 6, ACC 6 |
| 2011 | Big Ten 8, ACC 4 |
| 2010 | Big Ten 6, ACC 5 |
| 2009 | Big Ten 6, ACC 5 |
| 2008 | ACC 6, Big Ten 5 |
| 2007 | ACC 8, Big Ten 3 |
| 2006 | ACC 8, Big Ten 3 |
| 2005 | ACC 6, Big Ten 5 |
| 2004 | ACC 7, Big Ten 2 |
| 2003 | ACC 7, Big Ten 2 |
| 2002 | ACC 5, Big Ten 4 |
| 2001 | ACC 5, Big Ten 3 |
| 2000 | ACC 5, Big Ten 4 |
| 1999 | ACC 5, Big Ten 4 |
TEAM RESULTS
| ACC | Big Ten |
| --- | --- |
| Duke 12-2 | Illinois 7-7 |
| Wake Forest 10-3 | Ohio State 6-6 |
| Maryland 10-4 | Purdue 6-6 |
| Clemson 9-5 | Michigan State 6-7 |
| Virginia 8-5 | Minnesota 6-8 |
| North Carolina 7-7 | Northwestern 6-8 |
| Boston College 6-1 | Wisconsin 6-8 |
| Florida State 6-8 | Indiana 5-7 |
| N.C. State 5-8 | Michigan 5-7 |
| Georgia Tech 4-9 | Penn State 5-7 |
| Virginia Tech 3-5 | Iowa 2-10 |
| Miami 2-4 | Nebraska 1-1 |
| Total 82-61 | Total 61-82 |