SEC-Big East Challenge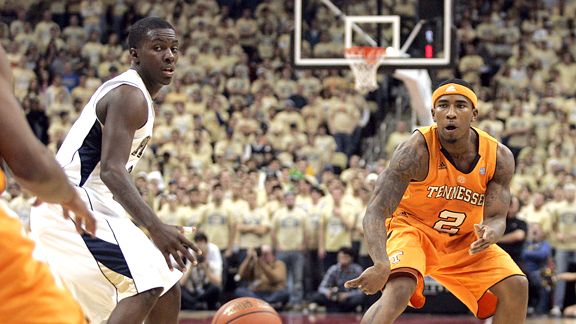 The SEC/Big East Challenge is a college basketball event that matches up 12 teams from the SEC against 12 of the 15 teams from the Big East. The 2012 event will take place from Nov. 29 to Dec. 1.
Though 2011 marked the debut of the Big East/SEC Challenge (called the SEC/Big East Challenge in alternating years), the event has its roots in the previous SEC/Big East Invitational, which took place from 2007 to 2010. The invitational featured four games between SEC and Big East schools, held as doubleheaders at primarily off-campus arenas in the areas of the two conferences. Over the four years of competition, each school participated in at least one game, with the two conferences splitting the 16 games at eight wins apiece.
Big East/SEC Challenge
2011 - Big East 8, SEC 4
Providence 76, South Carolina 67
Kentucky 81, St. John's 59
Ole Miss 70, DePaul 58
Georgetown 57, Alabama 55
Syracuse 72, Florida 68
Cincinnati 57, Georgia 51
Louisville 60, Vanderbilt 60 (OT)
Seton Hall 81, Auburn 59
Connecticut 75, Arkansas 62
Pittsburgh 61, Tennessee 56
LSU 55, Rutgers 50
Mississippi State 75, West Virginia 62
SEC/Big East Invitational
2010 - SEC 3, Big East 1
Arkansas 71, Seton Hall 62 (at Freedom Hall)
Kentucky 72, Notre Dame 58 (at Freedom Hall)
Rutgers 63, Auburn 54 (at CONSOL Energy Center)
Tennessee 83, Pittsburgh 76 (at CONSOL Energy Center)
2009 - SEC 2, Big East 2
St. John's 66, Georgia 56 (at Madison Square Garden)
Kentucky 64, Connecticut 61 (at Madison Square Garden)
Mississippi State 76, DePaul 45 (at St. Pete Times Forum)
Syracuse 85, Florida 73 (at St. Pete Times Forum)
2008 - Big East 2, SEC 2
Vanderbilt 71, South Florida 52 (at Sommet Center)
Tennessee 80, Marquette 68 (at Sommet Center)
Cincinnati 75, Mississippi State 63 (at U.S. Bank Arena)
Louisville 77, Ole Miss 68 (at U.S. Bank Arena)
2007 - Big East 3, SEC 1
Georgetown 70, Alabama 60 (at BJCC Arena)
West Virginia 88, Auburn 59 (at BJCC Arena)
South Carolina 68, Providence 67 (at Wachovia Center)
Villanova 68, LSU 67 (at Wachovia Center)
TOP STORY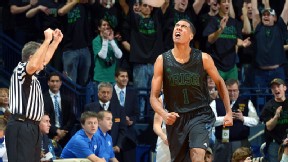 Upset In Name Only
Calling Notre Dame's thrashing of No. 8 Kentucky an upset is less a statement about the Irish than a credit to John Calipari's remarkable tenure. Story »
2012 SCHEDULE
Date
Time
Nov. 29
Notre Dame 64, Kentucky 50
Watch
Replay
Nov. 29
St. John's 89, South Carolina 65
Nov. 29
Florida 82, Marquette 49
Watch
Replay
Nov. 29
LSU 72, Seton Hall 67
Nov. 30
Georgetown 37, Tennessee 36
Watch
Replay
Nov. 30
South Florida 64, Georgia 53
7 ET, ESPNU
Nov. 30
Syracuse 91, Arkansas 82
Watch
Replay
Nov. 30
DePaul 80, Auburn 76
Dec. 1
Providence 73, Miss. St. 63
Dec. 1
Ole Miss 80, Rutgers 67
Dec. 1
Cincinnati 58, Alabama 56
Watch
Replay
Dec. 1
Villanova 62, Vanderbilt 52
Watch
Replay