Big Ten Men's Basketball Tournament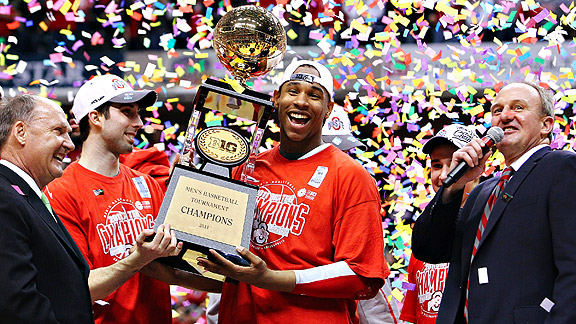 The Big Ten men's basketball tournament is the conference championship for the Big Ten Conference. It has been played every year since 1998, making the Big Ten one of the last conferences to start a postseason tournament.
The winner of the tournament receives the Big Ten's automatic bid to the NCAA Tournament and is designated the Big Ten tournament champion. Michigan State won the conference tournament in 2012.
The Big Ten was one of the last remaining Division I conferences without a postseason tournament when its council finally decided to institute a championship in 1996. Two years later, the inaugural conference championship was held.
Michigan won that first tournament in 1998, while its crosstown rival Michigan State took the next two titles. In the next year, sixth-seeded Iowa became the lowest seed ever to win the tournament by beating Indiana.
Since then, four other schools have won the tournament. Ohio State won its first title in 2002 before winning again in 2007, 2010 and 2011. Illinois won a title in 2003 and 2005, and Wisconsin took home the crown in 2004 and 2008. Purdue won its first title in 2009.
Ohio State's four titles are the most of any school in the Big Ten. Four times the Big Ten tournament winner has reached the NCAA Tournament's Final Four Michigan State in 1999 and 2000 (when the Spartans won the title), Illinois in 2005 and Ohio State in 2007.
CBS has aired the Big Ten tournament every year since its inception.
The first Big Ten tournament was held at the United Center in Chicago, as were the next three editions of the championship. Starting in 2002, the tournament alternated between the United Center and Indianapolis' Conseco Fieldhouse.
In 2008, the Conseco Fieldhouse began a five-year run of hosting the tournament. The venue was renamed the Bankers Life Fieldhouse following the 2010-11 season. Starting in 2013, the tournament will once again alternate between Indianapolis and Chicago.
Big Ten Tournament Year-by-Year Results
| Year | Champion | Score | Runner-up | MVP | Venue |
| --- | --- | --- | --- | --- | --- |
| 2012 | Michigan State | 68-64 | Ohio State | Draymond Green, Michigan State | Bankers Life Fieldhouse |
| 2011 | Ohio State | 71-60 | Penn State | Jared Sullinger, Ohio State | Conseco Fieldhouse |
| 2010 | Ohio State | 90-61 | Minnesota | Evan Turner, Ohio State | Conseco Fieldhouse |
| 2009 | Purdue | 65-61 | Ohio State | Robbie Hummel, Purdue | Conseco Fieldhouse |
| 2008 | Wisconsin | 61-48 | Illinois | Marcus Landry, Wisconsin | Conseco Fieldhouse |
| 2007 | Ohio State | 66-49 | Wisconsin | Mike Conley Jr., Ohio State | United Center |
| 2006 | Iowa | 67-60 | Ohio State | Jeff Horner, Iowa | Conseco Fieldhouse |
| 2005 | Illinois | 54-43 | Wisconsin | James Augustine, Illinois | United Center |
| 2004 | Wisconsin | 70-53 | Illinois | Devin Harris, Wisconsin | Conseco Fieldhouse |
| 2003 | Illinois | 72-59 | Ohio State | Brian Cook, Illinois | United Center |
| 2002 | Ohio State | 81-64 | Iowa | Boban Savovic, Ohio State | Conseco Fieldhouse |
| 2001 | Iowa | 63-61 | Indiana | Reggie Evans, Iowa | United Center |
| 2000 | Michigan State | 76-61 | Illinois | Morris Peterson, Michigan State | United Center |
| 1999 | Michigan State | 67-50 | Illinois | Mateen Cleaves, Michigan State | United Center |
| 1998 | Michigan | 76-67 | Purdue | Robert Traylor, Michigan | United Center |
2013 BIG TEN TOURNAMENT SCHEDULE
| Game | Matchup | Time |
| --- | --- | --- |
| 1 | Illinois 51, Minnesota 49 | Recap |
| 2 | Michigan 83, Penn State 66 | Recap |
| 3 | Nebraska 57, Purdue 55 | Recap |
| 4 | Iowa 73, Northwestern 59 | Recap |
| Game | Matchup | Time |
| --- | --- | --- |
| 5 | Indiana 80, Illinois 64 | Recap |
| 6 | Wisconsin 68, Michigan 59 | Recap |
| 7 | Ohio State 71, Nebraska 50 | Recap |
| 8 | Michigan State 59, Iowa 56 | Recap |
| Game | Matchup | Time |
| --- | --- | --- |
| 9 | Wisconsin 68, Indiana 56 | Recap |
| 10 | Ohio State 61, Michigan State 58 | Recap |
| Game | Matchup | Time |
| --- | --- | --- |
| 11 | Ohio State 50, Wisconsin 43 | Recap |
BIG SIX CONFERENCE TOURNAMENTS