Jim Calhoun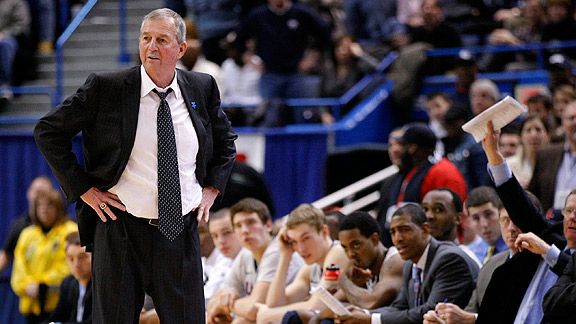 Jim Calhoun, born May 10, 1942 in Braintree, MA has been head basketball coach at the University of Connecticut since 1986, and turned the previously indistinctive program into a perennial NCAA Championship contender, winning titles in 1999, 2004 and 2011, eventually compiling over 800 victories and earning himself induction into the Naismith Memorial Basketball Hall of Fame.
Jim Calhoun was born and raised in Braintree, MA., where he was a three-sport standout at Braintree High School. Calhoun's father died when Calhoun was 15.
Calhoun he received a basketball scholarship to Lowell State (now UMass-Lowell), but only attended the school for three months, after which he returned home to help support his mother and siblings.
After nearly two years away from school, Calhoun returned to college, this time at American International College in Springfield, MA. He led the basketball team in scoring as a junior and senior, and captained the '67-68 team to a spot in the Division II NCAA Tournament. Calhoun graduated in 1968 with a bachelor's degree in sociology.
After a brief one-year stint as a high school coach at Old Lyme High School in Connecticut and another season at Westport High School in Massachusetts, Calhoun finally found success at Dedham High School, rebuilding a struggling program in 1971-72 to a 21-1 record, and a trip to the Massachusetts State Division I semi-finals.
Northeastern University (1972-1986)
The following October, Calhoun got his first college coaching job at Northeastern University in Boston. Starting out as a Division II program, Calhoun eventually helped to transition the school to Division I play, and ended up coaching at the school for 14 seasons. During his final three years with the university, he had a record of 72-19 and received three automatic bids to the NCAA tournament. Calhoun average just under 18 wins a season over his career at Northeastern.
University of Connecticut (1986-Pres.)
After his success at Northeastern, Calhoun was named the 17th head coach of the University of Connecticut in Storrs, Connecticut on May 15, 1986. Although his first season ended in a disappointing 9-19, by 1988, his team had done well enough to be invited to the NIT -- a tournament the school won, beating Ohio State, 72-67. By 1990, the Huskies were Big East Champions with a record of 29-6, and advanced to the NCAA's Elite Eight. Calhoun was named the National Coach of the Year by both the Associated Press and the UPI.
With Calhoun at the helm, UConn quickly became a household name. The school was able to attract All-American talent to the university, like Donyell Marshall and Ray Allen. From 1993-94 through 1995-96, the Huskies posted a record of 87-12 and made it at least as far as the Sweet 16 in each of those seasons. Two seasons later, a young team led by Richard Hamilton, advanced to the Elite Eight on a buzzer-beating fall-away jumper, 75-74 over Washington. Although the team lost to the top-ranked Tar Heels of North Carolina in their next game, it was clear that Calhoun's charges were ready to take the next step.
After becoming the first team in Big East history to win back-to-back regular season and tournament titles, the Huskies earned a No. 1 seed in the West Region and eventually advanced to their first Final Four after a 67-62 win over Gonzaga.
In St. Petersburg, UConn defeated Ohio State, 64-58 to advance to the National Championship Game where they upset heavily-favored Duke, 77-74 to finish the season at 34-2 and become the first team in 33 years to win the national championship in its first trip to the Final Four.
The next two seasons for UConn weren't nearly as successful, as the team lost in the second round of the NCAA Tournament in 1999-2000, and ended up with only an NIT bid in 2000-01. However, in 2001-02, Calhoun had clearly righted the ship.
After a double overtime win over Pittsburgh in the Big East tournament final, UConn had once again pulled off the "Big East double." They advanced all the way to the Elite Eight before losing to eventual champion Maryland.
On Feb. 3, 2003, Calhoun announced he had been diagnosed with prostate cancer. he took a leave of absence from coaching the Huskies and underwent surgery three days later. Calhoun missed just five games due to the surgery, and returned to coach the team on Feb. 22 against St. John's.
In 2004, Jim Calhoun became only the second coach since the NCAA tournament expanded to 64 teams in 1985 to win multiple championships. Calhoun's Huskies started the year as the preseason No. 1 team, and ended the season in that very same lofty position. Connecticut won their sixth Big East Tournament Championship, and went on to a 33-6 record.
At the Final Four in San Antonio, UConn found themselves down eight points to Duke with less than three minutes to play. Somehow the team rallied and beat the Blue Devils, 79-78 in the national semifinals. After that, the team coasted to the title with a nine-point victory over Georgia Tech in a game that led by as many as 25 points before taking their foot off the gas.
The following season, after losing Emeka Okafor and Ben Gordon to the NBA Draft, as well as the school's all-time assist leader, Taliek Brown, there was some doubt as to how far Jim Calhoun could take the Huskies. In addition to the regular rebuilding process, AJ Price suffered an intracranial hemorrhage and Rashad Anderson had an infected skin abscess on his right leg that required emergency hospitalization. Despite all these hardships, Calhoun was able to lead the team to a 23-8 record and its ninth Big East regular season title.
On September 9, 2005, with many of his former players in attendance, Jim Calhoun's was enshrined into the Naismith Memorial Basketball Hall of Fame. Then, without skipping a beat, he had another standout season. In 2005-06, Calhoun won 30 games for the sixth time in his tenure at the school, and took home his tenth Big East crown. A trip to the Elite Eight earned the team the right to be ranked No. 2 in the final Associated Press poll of the season.
In November of 2006, Coach Jim Calhoun was again honored by his peers, as he was named a member of the Founding Class of the National Collegiate Basketball Hall of Fame.
After two somewhat disappointing seasons, including Calhoun's first season without either an NCAA or NIT bid since his first season at the school in 2006-07, there were rumblings about the coach's time possibly coming to an unceremonious end. However, the 2008-09 season immediately quashed any such rumors from gaining momentum. The Huskies went 31-5 in '08-09, reaching the Final Four before losing to Michigan State. The following season, UConn got off to a slow start, before Calhoun was forced to take a medical leave. The Huskies ended up settling for an NIT bid.
Not much was expected of UConn in 2010-11, however the Huskies pulled off a stunning run at the Maui Invitational, vaulting into the top 10 of the rankings. The Huskies faltered a bit once conference play rolled around, falling to 9th in the Big East. However, led by Kemba Walker, UConn won 5 games in 5 days to give Calhoun his seventh Big East Tournament championship (and first since 2005), then won four games in the NCAA tournament to advance to the Final Four for the fourth time in school history. Two more wins gave Calhoun his third title, and made him the oldest coach to win an NCAA Men's Basketball Championship.
However, in 2011, Calhoun was also cited by the NCAA for failing to create an atmosphere of compliance, in connection with UConn's recruiting violations related to the recruitment of Nate Miles. Calhoun was suspended for the first three Big East games of the 2011-12 season. Connecticut went 2-1 in his absence. Calhoun was forced to leave the team again in February, this time to deal with back problems. UConn went 3-5 without him, and finished ninth in the Big East. The Huskies qualified for the NCAA tournament, but fell to Iowa State in the Round of 64.
Calhoun and his wife, Pat, married in 1967 and currently live in Pomfret, Connecticut. The couple has two sons, James and Jeff. Jeff Calhoun played two seasons for the Huskies.
Calhoun and his wife are actively involved in multiple charities, including the Pat and Jim Calhoun Cardiology Center at UConn and the annual Jim Calhoun Holiday Food Drive. In 1998, a $125,000 gift from Jim Calhoun and his wife Pat established the Jim and Pat Calhoun Cardiology Research Fund at . In 2003 and 2004, Calhoun served as the host of the Coaches vs. Cancer "Hoops For Hope" black tie gala, raising more than over $400,000 for the American Cancer Society. Calhoun has also been the Honorary Chairman of the Juvenile Diabetes Foundation.
Health Issues
In addition to his 2003 bout with prostate cancer, Calhoun has battled health issues throughout his career. Entering the 2009-10 season, Calhoun had missed either all or a portion of 21 games for health-related reasons, including Connecticut's first-round game in the 2009 NCAA Tournament.
Calhoun was treated for skin cancer in 2007, and in May of 2008 he was diagnosed with squamous cell carcinoma. He underwent treatment that summer and returned in time to coach the Huskies in 2008-09.
On Jan. 19, 2010, Calhoun announced he was taking a medical leave of absence from his head coaching position, due to a temporary medical condition unrelated to his previous bouts with cancer. He returned to the team after missing seven games.
Calhoun once again took a leave of absence from the Huskies on Feb. 3, 2012 to deal with worsening spinal stenosis, a lower back condition that causes him pain. He underwent surgery to correct the problem, and returned to UConn's bench for the regular-season finale on March 3 against Pitt.
VIDEO RESULTS FOR JIM CALHOUN
NEWS RESULTS FOR JIM CALHOUN
AUDIO RESULTS FOR JIM CALHOUN
JIM CALHOUN QUICK FACTS
Birth date: May 10, 1942
Birthplace: Braintree, MA
College: American International
Career as head coach: 1972-1986, Northeastern
1986-pres, Connecticut
NCAA Tournament Appearances: 23*
Final Four Appearances: 4
National Titles: 3 (1999, 2004, 2011)
Basketball Hall of Fame: Inducted in 2005
JIM CALHOUN COLLEGE COACHING RECORD
| Season | Team | W-L | Postseason |
| --- | --- | --- | --- |
| '72-73 | Northeastern | 19-7 | -- |
| '73-74 | Northeastern | 12-11 | -- |
| '74-75 | Northeastern | 12-12 | -- |
| '75-76 | Northeastern | 12-13 | -- |
| '76-77 | Northeastern | 12-14 | -- |
| '77-78 | Northeastern | 14-12 | -- |
| '78-79 | Northeastern | 13-13 | -- |
| '79-80 | Northeastern | 19-8 | -- |
| '80-81 | Northeastern | 24-6 | NCAA 2nd Rd |
| '81-82 | Northeastern | 23-7 | NCAA 2nd Rd |
| '82-83 | Northeastern | 13-15 | -- |
| '83-84 | Northeastern | 27-5 | NCAA 1st Rd |
| '84-85 | Northeastern | 22-9 | NCAA 1st Rd |
| '85-86 | Northeastern | 26-5 | NCAA 1st Rd |
| '86-87 | Connecticut | 9-19 | -- |
| '87-88 | Connecticut | 20-14 | NIT Champs |
| '88-89 | Connecticut | 18-13 | NIT QF |
| '89-90 | Connecticut | 31-6 | NCAA Elite 8 |
| '90-91 | Connecticut | 20-11 | NCAA Sweet 16 |
| '91-92 | Connecticut | 20-10 | NCAA 2nd Rd |
| '92-93 | Connecticut | 15-13 | NIT 1st Rd |
| '93-94 | Connecticut | 29-5 | NCAA Sweet 16 |
| '94-95 | Connecticut | 28-5 | NCAA Elite 8 |
| '95-96 | Connecticut | 30-2 | NCAA Sweet 16* |
| '96-97 | Connecticut | 18-15 | NIT 3rd Rd |
| '97-98 | Connecticut | 32-5 | NCAA Elite 8 |
| '98-99 | Connecticut | 34-2 | NCAA Champs |
| '99-00 | Connecticut | 25-10 | NCAA 2nd Rd |
| '00-01 | Connecticut | 20-12 | NIT 2nd Rd |
| '01-02 | Connecticut | 27-7 | NCAA Elite 8 |
| '02-03 | Connecticut | 23-10 | NCAA Sweet 16 |
| '03-04 | Connecticut | 33-6 | NCAA Champs |
| '04-05 | Connecticut | 23-8 | NCAA 2nd Rd |
| '05-06 | Connecticut | 30-4 | NCAA Elite 8 |
| '06-07 | Connecticut | 17-14 | -- |
| '07-08 | Connecticut | 24-9 | NCAA 1st Rd |
| '08-09 | Connecticut | 31-5 | NCAA Final Four |
| '09-10 | Connecticut | 18-16 | NIT 2nd Rd |
| '10-11 | Connecticut | 32-9 | NCAA Champs |
| '11-12 | Connecticut | 18-13 | NCAA Round of 64 |
| TOTAL | | 873-369 | |