Last day of the circus
February, 14, 2011
02/14/11
1:13
PM ET
ROCK HILL, S.C. -- At 11 a.m., Al Leonard took a sweeping look at the emptying auditorium before him and exhaled.
"Finally," the principal said with a smile, "I think things can finally return to normal now."
There was nothing normal about Monday morning in Rock Hill, S.C., at South Pointe High School. Truth be told, there has been nothing normal about life around the 1,400-student school for months now, particularly the past two weeks.
[+] Enlarge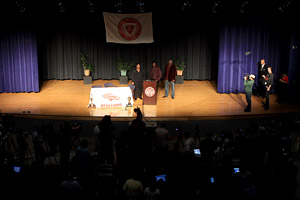 Streeter Lecka/Getty ImagesWhile staff and peers tried to protect him from the spotlight, Clowney basked in the spectacle.
"I know what you're here for," a teacher joked as I walked into the school, located about 30 minutes south of uptown Charlotte. "You're here to interview our basketball team about making the playoffs ... or maybe the 11 wrestlers who made it to states?"
I wasn't, and she knew it as she slid the sign-in sheet over to me. I, along with nearly 50 other media members, was there to see Jadeveon Clowney, the nation's No. 1 high school football recruit, announce his college choice.
To the relief of South Carolina fans, he chose the Gamecocks.
To the relief of his classmates and teachers, he finally just made a choice.
"It has been unusual, to say the least," said Leonard, who admitted being even happier the announcement was done than over the fact that Clowney chose his alma mater. "But I give everyone here at South Point High School a lot of credit. I think we helped Jadeveon balance his class work and his obligations as a student with his sudden obligations as the No. 1 recruit."
The biggest part of that job included reminding the kid that he could say "no" from time to time. It is an art with which the defensive lineman openly confesses to struggling with.
"Of course it's a struggle," said South Pointe head coach Bobby Carroll. "You're getting calls from ESPN The Magazine, Sports Illustrated and every big-time football coach in the world. A 17-year-old would be nuts not to want to do everything that people like that ask him to. But it's always been our job to keep that stuff from eating him alive."
Leonard and his faculty made sure that when coaches came to visit, they did so at lunchtime. When he made his campus visits, from Eugene to Tuscaloosa, they sent his assignments with him and made sure they were done when he returned. And if he started to look like a kid who was being eaten alive, Leonard, Carroll and athletic director Mike Drummond all made sure to pull Clowney into their offices to give him, in Drummond's words, "a little shelter from all the noise outside."
"

The recruiting part of it is nothing new for us. But I think everyone around here will tell you this has been a whole different animal when it comes to handling the hype. That's been the biggest job for us. Trying to keep things normal for the LeBron James of high school football.

"

-- South Pointe head coach Bobby Carroll
"The recruiting part of it is nothing new for us," explained Carroll, referring to current Stallions-turned-Gamecocks Stephon Gilmore and DeVonte Holloman, both of whom were ESPN 150 recruits in 2009. "But I think everyone around here will tell you this has been a whole different animal when it comes to handling the hype. That's been the biggest job for us. Trying to keep things normal for the LeBron James of high school football."
They were on the job again Monday morning. Leonard began the proceedings by commending Clowney on how he had handled it all. Leonard mentioned how the five-star recruit had even managed, albeit politely, to scold the national media and their "so-called sources" when writing stories about both his decision and reports that he is having trouble qualifying academically.
"That was not an accident," the principal explained. "People writing things just to get a story out first, whether it's some individual writing a blog on a website they run personally or a writer at a national media outlet, they need to think about the damage they might be doing to young man and his family."
Minutes after announcing his decision, Clowney himself admitted that he had brought a lot of the attention and pressure on himself, saying during the open media Q&A session: "I'm happy now. ... I wish I had gone on and done it on the second [national signing day was Feb. 2]."
But he didn't, moving his announcement date from the Under Armour All-Star Game on Jan. 5 to national signing day and ultimately to Monday, also his 18th birthday. Those who know Clowney best -- from Leonard and his co-workers to the Stallions football players I sat with during the announcement (by the way, they honestly had no clue where he was going) -- say that his intention was never to draw more attention to himself. Rather, as his father, David Morgan, said onstage after his son's press conference, "I think it was about enjoying the experience, seeing things and meeting people that a kid from down here in Rock Hill, South Carolina, could've never ever thought he'd get to do."
That includes being on ESPN.
When "SportsCenter" approached Clowney about making his announcement live during the morning edition, he quickly agreed. That decision led to a 10-minute pause between his first remarks at the podium and when he finally made his announcement, during which he chatted with the producer in his ear and kept giving the anxious crowd time cues, such as "two minutes." In the auditorium, it felt like six hours. A spontaneous round of "Happy Birthday To You" came up from the group of students and teammates lining the left side of the auditorium. A documentary film crew, whom Clowney had agreed to let follow him around over the past two weeks, took advantage of the pause to run onstage and capture some footage.
However, even Clowney admits that the pause, quickly trumpeted on Twitter as everything wrong with the sports world, was as much his own fault as TV's.
"I said yes to it. I could have said no. But I didn't. That's how I wanted to do it. It was my choice. Waiting for a few minutes wasn't any fun because I was so nervous. But I thought it was pretty cool."
Therein exists the truth about the signing-day hype that seems to escalate beyond anyone's expectations each and every year. The national media outlets and the blogosphere aren't going anywhere. So mornings like the one we had in Rock Hill are only going to become more common and more intense.
Ultimately, it will be up to the kids to stop it. But only if they want to.
"You have to be smart about it. I feel like I was," Clowney said as he tried to make his way out of the school auditorium, dogged by teammates, media members and two autograph collectors who had sneaked into the auditorium with stacks of photos no doubt aimed for eBay. "My family and my teachers and coaches never let it get out of control. The next guy that's in this position next year, if he wants to talk to me about it, get some advice, I hope he does. You don't know what it's like until you're in the middle of it."
Then, wearing a South Carolina ball cap, and with a Gamecocks flag draped around his neck, Jadeveon Clowney left the auditorium.
Good thing. The drama department needs it for "You're A Good Man, Charlie Brown."