ESPN'S TAKE
Auburn was a heavy favorite, but Brian Calhoun, John Stocco and company dominated by passing the football and running it, and that's tough to do against this Auburn team. The Badgers' defense set the tone with early turnovers, which gave Wisconsin confidence. In my mind, it was a surprising and dominating effort by Wisconsin and a great win for Barry Alvarez in his last game. -- Jim Donnan


Fantasy
Here's your chance to be the expert and pick the Bowl winners. Create your FREE entry and compete for a chance to win a home theater system.
College Bowl Mania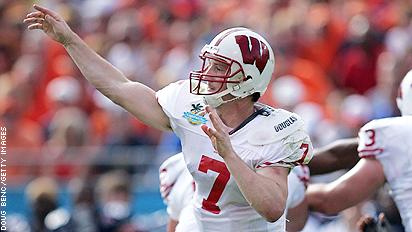 Happy Ending
Auburn finished the regular season on a hot streak, but the Tigers were no match for an emotional Wisconsin team in the Capital One Bowl. The Badgers, fueled by Barry Alvarez's last game as coach, got two touchdown passes from John Stocco and 213 rushing yards from Brian Calhoun to defeat Auburn 24-10.
Story
|
Highlights

CAPITAL ONE OVERVIEW
It was over when ....
---
Wisconsin scored the first touchdown of the game. The Badgers never looked back after taking a 17-0 lead at halftime.

Game ball goes to ...

---
Barry Alvarez. Brian Calhoun, John Stocco and Brandon Williams had huge games, but who else could we give this to?

Stat of the game...

---
548: The Badgers totaled 548 yards of offense, including 311 in the first half.