ESPN'S TAKE
Oklahoma's defense looked like the Oklahoma of old and was the key to the game. Besides a game saving interception in the last minute, the Sooners took away Oregon's ability to throw the deep ball all game, which is the key to Ducks' offense. Oklahoma used a variety of blitzes to harass Oregon's two quarterbacks. The Ducks really only got back in the game in the fourth quarter by going to screen passes to take advantage of Oklahoma's aggressive defense. -- Rod Gilmore


Fantasy
Here's your chance to be the expert and pick the Bowl winners. Create your FREE entry and compete for a chance to win a home theater system.
College Bowl Mania

Official Web site
For more information on the Pacific Life Holiday Bowl please visit the official bowl Web site.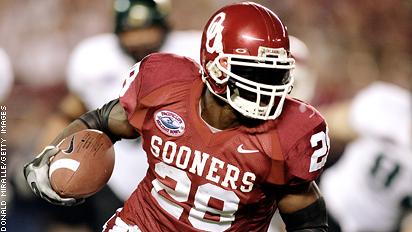 Sooner Rather Than Later
Adrian Peterson found his groove and Oklahoma started clicking. He sparked two third-quarter touchdowns to put the Sooners on top, but No. 6 Oregon made some late noise. OU needed Clint Ingram's interception with 33 seconds left to quash the Ducks 17-14.
Story
•
Sooners survive late threat from Ducks
HOLIDAY BOWL OVERVIEW
It was over when ....
---
Clint Ingram picked off Brady Leaf's pass at the Sooners' 10-yard line with 33 seconds left to finally silence Oregon's attempt at a
come-"quack".

Game ball goes to ...

---
Adrian Peterson. The sophomore managed just 8 yards in the first half, but wouldn't quit. He kept pounding away to spark the entire Sooners' offense in the second half and finished with 23 carries for 84 yards.

Stat of the game...

---
5. Clint Ingram's game-saving interception was his fifth of the season for the Sooners.