ESPN'S TAKE
The Wolfpack received a dominating performance from their defense. When playing in your first-ever bowl game, it helps to get off to a fast start. South Florida didn't do that. The Bulls could not capitalized on some chances early in the game and their passing game was ineffective. If NC State can find a way to improve its passing attack, the Wolfpack will be dangerous in 2006. -- Jim Donnan


Fantasy
Here's your chance to be the expert and pick the Bowl winners. Create your FREE entry and compete for a chance to win a home theater system.
College Bowl Mania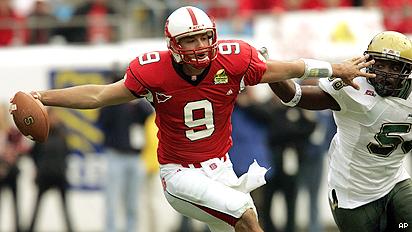 Power Pack
The NC State defense made sure South Florida's first-ever bowl trip didn't include a win. While the defense dominated, quarterback Marcus Stone led the Wolfpack to two second-quarter scores in a 14-0 shutout win.
Story
MEINEKE CAR CARE OVERVIEW
It Was Over When …
---
The Wolfpack defense took the field. NC State held the Bulls scoreless to move to 4-1 in bowl games under coach Chuck Amato.

Game Ball Goes To …

---
Stephen Tulloch. The NC State linebacker was devastating. He recorded 14 tackles with three sacks and five tackles for a loss. No wonder he picked up MVP honors.

Stat Of The Game …

---
0. It took 100 games, but South Florida finally was shut out. The Bulls were held scoreless for the first time in their history.