ESPN'S TAKE
As in earlier games against Georgia and Fresno State, Boise State had trouble against the big, physical Boston College team. The Broncos couldn't handle the Eagles' size advantage early in the game. But Boise made enough plays to get back in the game and the blue-field magic almost worked again. BC should get lots of credit for its six straight bowl wins -- that is not easy to do. QB Matt Ryan looked very good and should have the Eagles in the thick of the ACC race in 2006. -- Jim Donnan


Fantasy
Here's your chance to be the expert and pick the Bowl winners. Create your FREE entry and compete for a chance to win a home theater system.
College Bowl Mania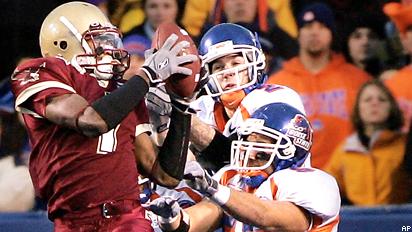 Bronco Busting
Sure, Boise State had won 31 consecutive games at Bronco Stadium, but Boston College had five straight bowl wins. Make that six. The Eagles jumped out to a 24-0 halftime lead and held off a late Broncos charge to win the MPC Computers Bowl 27-21.
Story
•
Bowl officials apologize to BC
|
QB Ryan sparks Eagles

MPC COMPUTERS OVERVIEW
It Was Over When …
---
Boston College safety Ryan Glaspar picked off Boise State QB Jared Zabransky in the end zone with 37 seconds left to end the Broncos' furious comeback attempt.

Game Ball Goes To …

---
Matt Ryan. The sophomore quarterback gave Boston College what turned out to be an insurmountable lead with 3 first-half TD passes. He finished 19-for-36 with 3 TDs and 1 INT.

Stat Of The Game

---
31. Boise State suffered its first loss at home in 31 games, a streak that spanned coach Dan Hawkins' tenure. Hawkins lost his first home game as coach in 2001 and his last on Wednesday before leaving to coach Colorado.