ESPN'S TAKE
It was a pretty even game except for the gifts that Florida got in the form of the blocked punt and interception return. Iowa is a real gritty team and it almost came back and beat an SEC team in a New Year's bowl game for a second year in row. I was impressed with how Chris Leak threw the ball. It's clear he has a better understanding of what Urban Meyer is trying to run at Florida. -- Jim Donnan


Fantasy
Here's your chance to be the expert and pick the Bowl winners. Create your FREE entry and compete for a chance to win a home theater system.
College Bowl Mania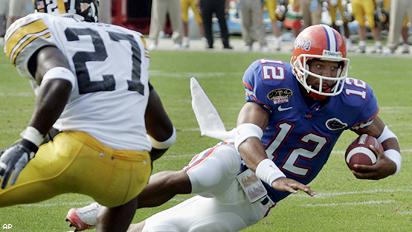 OUTBACK BOWL OVERVIEW
It was over when ....
---
Iowa was unable to recover a second onside kick attempt after it scored a touchdown to make the score 31-24 with 1:24 left. The Hawkeyes recovered the first attempt but were flagged on a questionable offside call.

Game ball goes to ...

---
Dallas Baker. The Florida wide receiver had 10 catches for 147 yards and two touchdowns -- including a highlight-reel one at the end of the first half.

Stat of the game...

---
9. Urban Meyer matched Ray Graves (1960) and Steve Spurrier (1990) for most victories for a coach in his first season at Florida.