ESPN'S TAKE
Matt Flynn looked more like a QB with lots of big-game experience than a first-time starter. He made tremendous decisions and ran the offense very well. I was amazed at LSU's ability to pound the ball right at Miami. The LSU defense was simply outstanding and stifled the Hurricanes from the start. Look for Miami to spend spring practice working on pass protection, which was a key in each of its three losses. With Flynn, JaMarcus Russell and Ryan Perrilloux all returning next season, the QB battle in Baton Rouge should be very interesting this spring. -- Jim Donnan


Fantasy
Here's your chance to be the expert and pick the Bowl winners. Create your FREE entry and compete for a chance to win a home theater system.
College Bowl Mania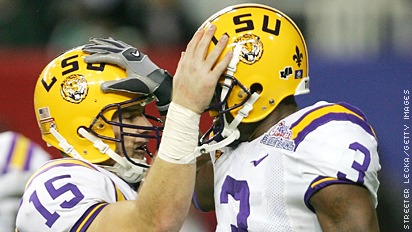 Petting Zoo
They may
look
docile in their traditional purple and gold, but make no mistake: These Tigers have bite. Just ask Miami. Led by backup quarterback Matt Flynn and running back Joseph Addai, LSU mauled the Hurricanes in the Peach Bowl Friday night, 40-3.
Story
PEACH BOWL OVERVIEW
It was over when…
---
Jacob Hester's 1-yard touchdown run gave LSU a 34-3 lead with 5:27 left in the third quarter.

Gameball goes to…

---
LSU quarterback Matt Flynn. Though running back Joseph Addai deserves an honorable mention, Flynn was unflappable for the Tigers in the absence of JaMarcus Russell, completing 13-of-22 passes for 197 yards and 2 TDs against 0 INTs.

Stat of the game…

---
152. That was the total number of yards that Miami was able to muster on offense.