ESPN'S TAKE
Colorado State wasn't prepared for the Navy triple option. The Midshipmen ran up more than 300 yards rushing with Reggie Campbell accounting for 5 touchdowns (3 rushing and 2 receiving). Navy took control of the game with a TD on the last drive of the first half and put it away on TD drive, which included a fourth-down conversion, to open the second half. -- Rod Gilmore


Fantasy
Here's your chance to be the expert and pick the Bowl winners. Create your FREE entry and compete for a chance to win a home theater system.
College Bowl Mania

Official Web site
For more information on the San Diego County Credit Union Poinsettia Bowl please visit the official bowl Web site.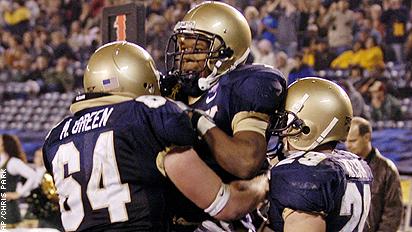 Smooth Sailing
For an Academy geared toward life at sea, Navy sure has a lot going for it on the ground. Reggie Campbell ran for 116 yards and three TDs, and the Midshipmen finished with 467 rushing yards in Navy's 51-30 win over Colorado State in the Poinsettia Bowl.
Story
|

POINSETTIA BOWL OVERVIEW
It was over when…
---
Marco Nelson's 21-yard touchdown run gave Navy a 48-24 lead with just under 12 minutes left in the game.

Gameball goes to…

---
Reggie Campbell. Campbell had 116 yards rushing, 89 yards receiving and 85 yards on kickoff returns. While those numbers alone might have gotten Campbell the gameball, he also scored five touchdowns.

Stat of the game…

---
1,183. That is the number of combined yards put up by these two titanic offenses.